LIBERTÉ EGALITÉ UPHOLSTERY: 15 Reasons Ligne Roset Rules Seating
Low and loungy, all squishy foam and scrunched up upholstery — few sofas are as recognizable as the Togo. While it's been the toast of the post-millennial design gram recently, the modular lounger actually dates back to 1973, when French industrial designer Michel Ducaroy designed it on a commission from French furniture manufacturer Ligne Roset. The company, based near Lyon, was founded in 1860, and has a long history of supplying the French public with that certain je ne sais quoi for the home, especially since WWII. In addition to working with Ducaroy, Ligne Roset has collaborated with some of France's most notable designers and architects, including Erwan and Loic Bouroullec, Pierre Paulin, Inga Sempé, and Jean Nouvel, to name but a few. While most companies would be lucky enough to have one bestseller in their collection, for Ligne Roset the Togo is just one of many hits. PIN–UP selected 15 faves, in no particular order. 
The Pumpkin three-seater sofa by Pierre Paulin. The original Pumpkin series was designed in 1971. It has been in production by Ligne Roset since 2007.

A Pumpkin chair and sofa by Pierre Paulin seen at the Chimney House in Copenhagen, designed by David Thulstrup. © Irina Boersma / Hampus Berndtson, Studio David Thulstrup
Pierre Paulin, Pumpkin, 1971
If Ligne Roset is a French national institution, the same can be said of designer Pierre Paulin (1927–2009). So it only makes sense that the design company counts among its collection some of Paulin's most important works. The Pumpkin, as the fabric-covered foam disk is known, was originally designed for the presidential Palais de l'Élysée under Georges Pompidou. Launched under the auspices of the Mobilier National, which furnishes France's embassies and state buildings, as part of a national program instigated by André Malraux to further French luxury production, the original production stopped in 1973 and has since become highly coveted by collectors. In 2007, two years before his death, Paulin collaborated with Ligne Roset to manufacture the more streamlined and affordable version that has been available ever since.
Ruché armchair and pouf (2010) by Inga Sempé for Ligne Roset. © Sempix
Inga Sempé, Ruché, 2010
In 2010 Ligne Roset launched Ruché, a line of sofas and armchairs (and even a bed) designed by Inga Sempé, France's first lady of textiles. The Ruché (literally "ruched") takes the casual gesture of tossing a throw over a sofa and incorporates it into the sofa itself, making integral and giving structure to what is normally seen as an accent. Known for her innovative use of textiles and fascination with quilting, pleating, and folding, Sempé has achieved a thoughtful transformation of fabric into form with Ruché, an innovative version of an ongoing idea that reverberates to this day, from Cini Boeri's Strips to Faye Toogood's Puffy.
The classic Togo sofa, designed in 1971 by Michel Ducaroy for Ligne Roset.

A group of white Togo sofas and pouf in the L.A. home of architect Mahfuz Sultan. © Mahfuz Sultan Instagram
Michel Ducaroy, Togo, 1973
No other sofa in Ligne Roset's collection is as iconic as Michel Ducaroy's Togo, a bestseller since it was launched in the early 1970s. The ultimate recliner, the Togo has a distinctly low seat upholstered either in leather or a signature tufted fabric. The Togo's simple shape allows it to be combined with other Togos and matching ottomans to create an endless lounging landscape. An art-director favorite, the Togo continues to capture the imagination while garnering double-taps when shown in the interiors of style influencers like Loulou de la Saison and architects alike. A more unusual recent exposure was for luxury leather brand Coach in the snowy streets of New York, photographed by Jürgen Teller and featuring Hari Nef. 
Pierre Paulin, Curule chair (1982). Re-editioned by Ligne Roset in 2010.

Pierre Paulin's original Curule chair, seen here with Bonheur du Jour secrétaire (1982). Image courtesy of Demisch Danant gallery, New York.
Pierre Paulin, **Curule, 1982
*While Pierre Paulin is now mostly associated with his space-age upholstered volumes, his back catalogue demonstrates a marked penchant for fine woodworking, especially in pieces from the 1950s and 1980s. The Curule chair is Paulin's reworking of the imperial sella curulis*, the symbol of power in ancient Rome. Far more accessible than the ivory-incrusted seats of yore, Paulin's 1982 version (which originally came with a matching secrétaire) was made of pale sycamore and amaranth. Ligne Roset's 2009 reissue comes in natural or stained beech with a leather-upholstered backrest for additional comfort.
The Asmara modular seating group, designed by Bernard Govin in 1966.

Bernard Govin, Asmara sofa system (1966). Re-editioned by Ligne Roset in 2020.
Bernard Govin, Asmara, 1966
Bernard Govin's instantly recognizable 1966 Asmara was very much in the spirit of its time, anticipating the deconstruction of bourgeois conventions by turning the living room into a landscape, inspired by the casual sprawling seating style of his student days. Asmara's five curved-foam modules can be infinitely combined and configured to create lounging universes for solo sitting or collective gathering. Respected dealers such as Suzanne Demisch of Demisch Danant, one of the galleries instrumental in reigniting interest in Pierre Paulin, have long been fond of Govin's work, which often explored ideas of radical modularity. The renewed interest in Govin's oeuvre wasn't lost on Ligne Roset, who reissued the system to much acclaim in 2020 as part of its 160th birthday celebrations.
Yabu Pushelberg, Pukka, 2020
Since founding their eponymous architecture and interior-design practice in 1980, the Canadian duo George Yabu and Glenn Pushelberg has branched out to design just about everything from dinnerware and typefaces to buildings and landscapes (they even have their own magazine). As of 2020 Yabu Pushelberg's catalogue includes Pukka, a small sofa line designed for Ligne Roset. Fittingly for a company that produces for the Mobilier National, the Pukka makes subtle nods to Pierre Paulin's Élysée collection while maintaining a level of irreverence that is reminiscent of Gaetano Pesce's bulbous UP! series from 1969. The Pukka armchairs, sofas, and ottomans are the perfect pared-down continuation of Ligne Roset's all-upholstery design legacy: simple curved spongy foam forms wrapped entirely in welcoming velvet.
Ronan & Erwan Bouroullec, Ploum (2011).

Ronan & Erwan Bouroullec, Ploum (2011).
Ronan & Erwan Bouroullec, Ploum, 2011
Among the most widely known French designers of the 21st century are the Bréton brothers Erwan and Ronan Bouroullec. It goes without saying that the fraternal duo has also left their mark on the Ligne Roset legacy, with four designs to their name. Among them is Ploum, a 2011 sofa whose name could be a clin d'oeil to the English pronunciation of plume (the French word for feather). Despite its considerable volume, the Ploum maintains an airy appeal thanks to the single quilted covers of wool-and-synthetic that stretch over its foam and steel structure. A result of the brothers' continued research into the technicalities of comfort, Ploum could be considered a more democratic and de-complicated evolution of their 2009 couch Quilt.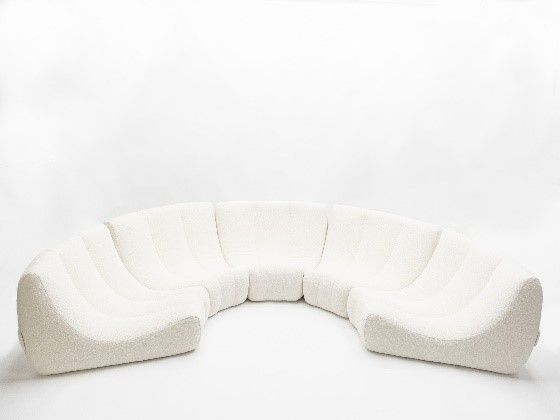 Michel Ducaroy, Gilda, 1972
Michel Ducaroy's Gilda from 1972 is among the 20th century's most inspiring modular sofas that look great in a circle (The DS-600 by Sven Adolph and Don Chadwick's Modular Seating are also on that list). Like his Togo and Saparella, Gilda is modular and low-slung, carving out space near the ground, while its curved form encourages conviviality. Unlike all aforementioned sofas, the Gilda is unfortunately no longer in production, and vintage ones aren't easy to come by. A few can be found still, upholstered in some rather standout bouclés and velvets. À quand, la réédition?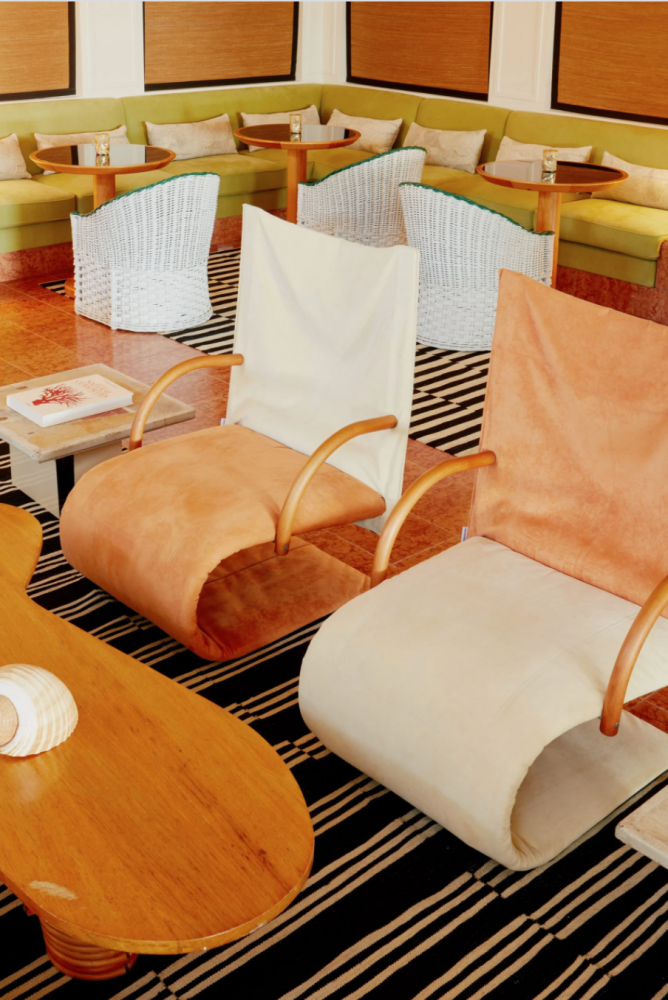 Claude Brisson, Zen, 1986
To engineer a comfortable cantilever chair is many designers' great ambition. Claude Brisson pulled it off with remarkable ease in Zen, which comes with the option of an equally cantilevered footrest. Inspired by the Pop sensibilities of the mid-1980s, the Zen was often sold in two-tone primary-color combinations — blue and red or yellow and black — but its inventive construction technique becomes evident in monochrome leather, showing off the backrest loosely suspended between two structural metal rods. The chair's name could be understood as Brisson's subtle bow to Japanese designer Toshiyuki Kita's and his iconic Wink chaise-longue (1980), both designs sharing the cantilever construction and the preference for two-tone color combinations. But while Wink wears its versatility and structural innovation on its sleeve, Zen's primary purpose is to invite repose without any unnecessary fuss. (No longer in production.)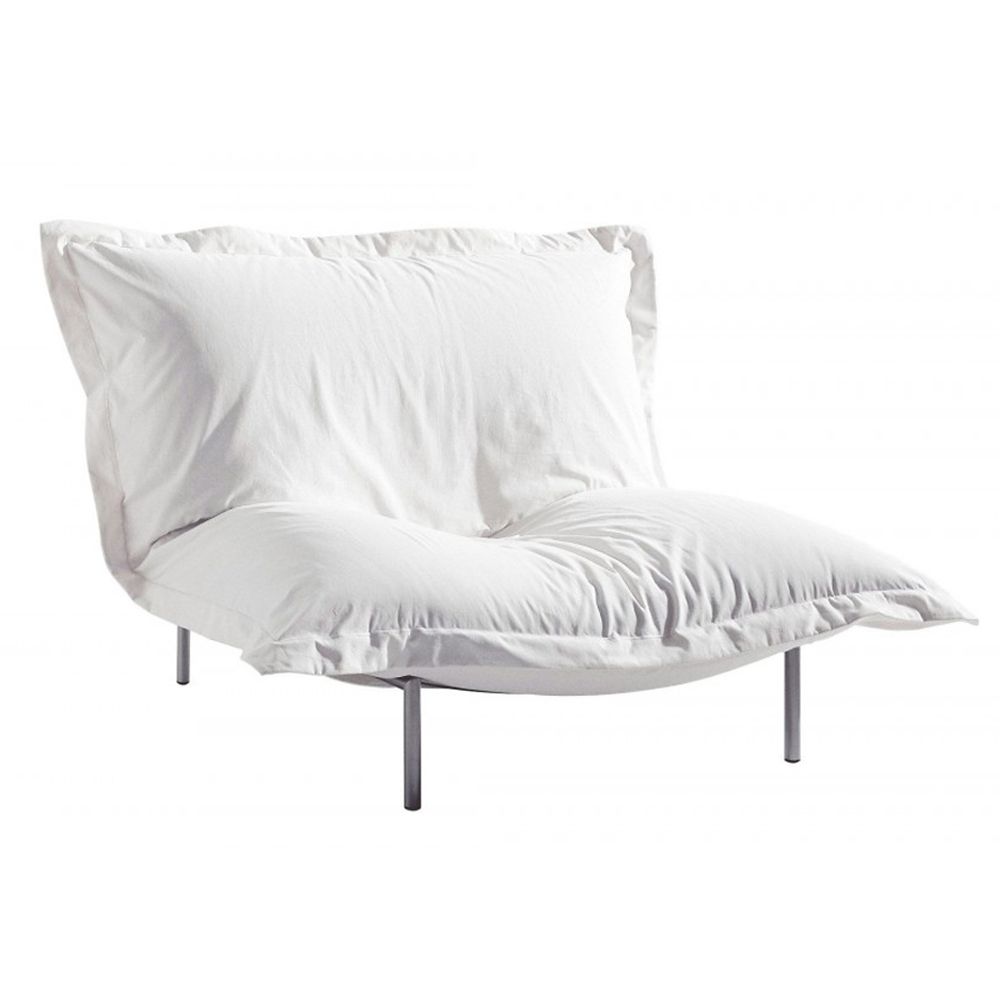 Pascal Mourgue, Calin, 1994
The dreamy Calin chair was the first piece by French designer Pascal Mourgue that Ligne Roset produced. Like a giant pillow folded and blown up, the ultra-cushiony Calin ("cuddle") cuts anything but a sleepy figure with the radical simplicity of its design. Also made as a sectional and an ottoman, the clever concept shares a common thread with the oneiric impulses of the Surrealists, taking a common form and making it uncanny and strange — yet embracing and comforting. An upright chair that offers all the restfulness of a full night's slumber, the Calin is sadly currently no longer in production.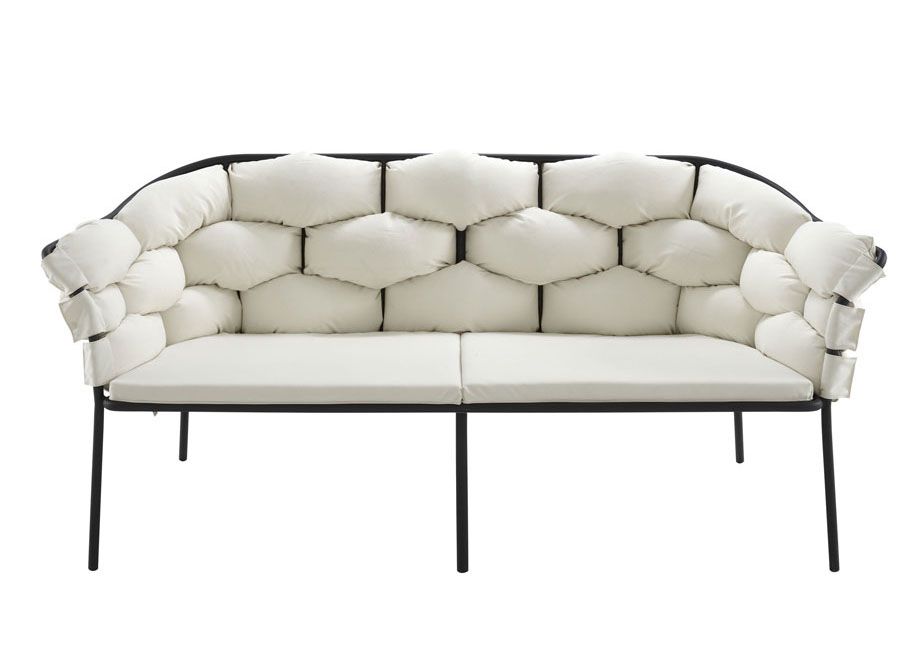 Eléonore Nalet, Serpentine, 2012
After 16 decades in operation, Ligne Roset's collection inevitably speaks across generations. Take, for example, the work of Eléonore Nalet, the young French designer who got her start as an assistant to Inga Sempé. In the Serpentine collection one can clearly see the interest in textiles that Nalet shares with her mentor. Tubular pillows weave in and out of a delicate metal structure like vines through a pergola. While the back is intentionally overstuffed, like a high-end boyfriend pillow, the seat is thin and flat, creating a play of scales and volumes. Originally launched in steel, it was reissued in 2018 in lightweight aluminum along with an accompanying settee. The Serpentine collection is intended for outdoors use, but would look just as good inside the home.
Philippe Nigro, Hemicycle tête-à-tête seating (2020).

Philippe Nigro, Hemicycle tête-à-tête seating (2020).
Philippe Nigro, Hemicycle, 2020
Furniture in France has long been an affair of state, from Louis XIV to President Pompidou, both the ancien and nouveau régimes having sponsored French manufacturing knowhow in the decorative arts. Philippe Nigro continues this tradition with Hemicycle, a series produced in collaboration with the Mobilier National, whose name immediately recalls the famous hemicycle of France's lower chamber, the Assemblée Nationale. While the protective curved backs of the armchair and sofa stand out, the Hemicycle really toys with form in the conversation seat, which features two interlocking curves that form a sort of twisted sofa — ideal for a future when we can once again sit face-to-face.
Jean Nouvel, Simple Bridge chair and ottoman (1993/2011).

Jean Nouvel, Saint James chair (1989/2011).

Jean Nouvel's Saint James chairs seen in the restaurant of the Saint James hotel in Bouliac, near Bordeaux (1987–89).

Jean Nouvel's Saint James chairs seen in one of the rooms at the Saint James hotel in Bouliac, near Bordeaux (1987–89).
Jean Nouvel, Saint James, 1989, and Simple Bridge, 1993

Jean Nouvel is a French national treasure, and it is therefore only natural that he has produced pieces with Ligne Roset. Usually developed in concert with his architecture, Nouvel's many furniture designs include the sprightly Saint James chair, originally designed with replaceable slipcovers for the Garonne Valley restaurant and vineyard of the same name, and the Simple Bridge armchair and sofa, conceived for the Vinci International Conference Center in Tours. Ligne Roset reissued them in 2011 along with Nouvel's Simplissimo series inspired by French philosopher Vladimir Jankélévitch, a collection of "straightforward furniture made with simple techniques," as he described it. Sadly Nouvel's pieces are not part of Ligne Roset's current collection.
Plumy sofa, by Annie Hiéronimus for Ligne Roset (1980).

Plumy armchair sofa in two sizes, by Annie Hiéronimus for Ligne Roset (1980).
Annie Hiéronimus, Plumy, 1980
Before Ploum and Calin, there was Annie Hiéronimus's featherweight champion, the Plumy. Ligne Roset's idea of luxury always has a pragmatic element, and the Plumy is no exception to this rule. Its unusual aesthetics are in fact born of its multi-functionality. You can plop on top like with a conventional sofa or chair or unfold its flanges into a lounge chair. Already reminiscent of a downy duvet (the couch's structure and fill are in fact a mix of goose feathers and foam), one could even slip inside the flaps, perhaps sprawling out on the tripled-up sofa version of the versatile seat. Originally launched in 1980, the Plumy had a successful comeback in 2016. Like most of Ligne Roset's upholstered designs, the Plumy comes as an armchair, medium sofa, and full-size couch. A lozenge-like ottoman rounds out the set.
Pierre Charpin, Slice (1996/98).

Pierre Charpin, Slice (1996/98).

Pierre Charpin, Slice (1996/98).
Pierre Charpin, Slice,1996/98
Mid-century French furniture was revolutionized in the 1960s by doing away with spindly details and structures and instead creating curvaceous volumes wrapped in upholstery. Soft, surprising, and comfortable, the forms — which were often made from foam, sometimes with added wooden or metal structures — offered inviting biomorphic shapes for a changing era that adored bold hues. Twenty years after the trente glorieuses (France's three-decade postwar economic boom which gave birth to such innovative design classics), designer Pierre Charpin created Slice, his own version of the upholstery-only seat. Daring and humorous, Slice is an homage to the 1960s but also, Frankenstein style, splices in an older formal lineage. Now reissued once again, Slice is like an oversized LEGO set, the remixable blocks allowing color to stand out front and center in arrangements that could theoretically stretch to infinity.
Text by Drew Zeiba and Felix Burrichter
Images courtesy of Ligne Roset unless otherwise noted.