Fantasia and Simulations at the FiDi Arsenale, an Exhibition in an Irish Pub in New York City
While the full effect of the COVID-19-related shutdown on New York real estate won't be clear until later this year, Manhattan has always been an extreme and curious case study in economic excesses. Even before the current crisis, nearly 20 percent of storefronts in Manhattan remained unoccupied. Commercial spaces might go for months, even years, without a tenant willing or able to sign on to sky-high leases. The Barleycorn is one such example: an Irish pub on Tribeca's Park Place, it was forced to vacate following the collapse of a luxury tower under construction next door, a metaphor perhaps too obvious for even fiction.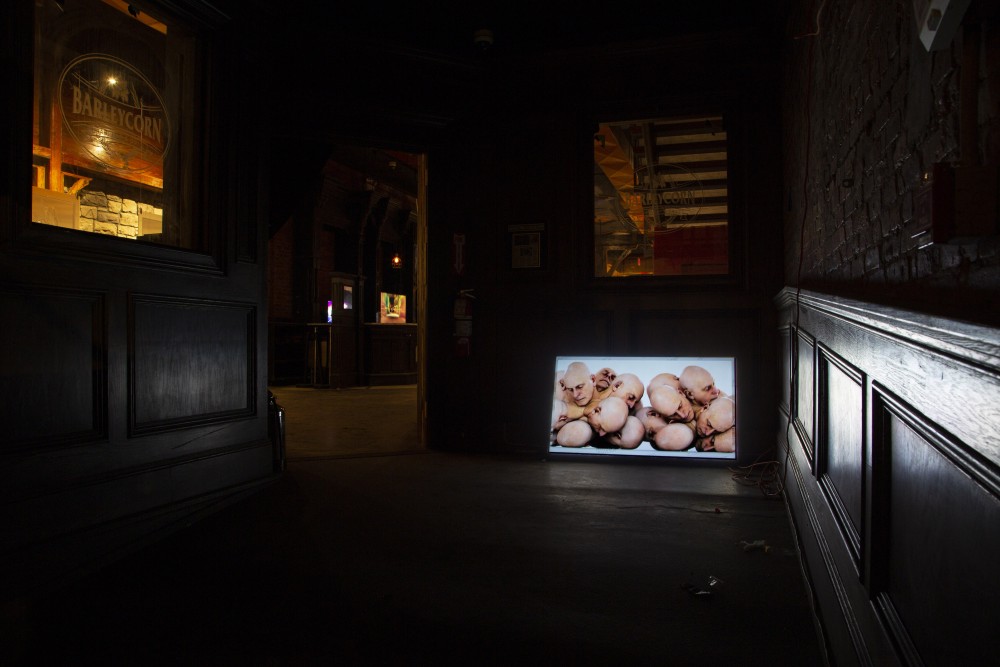 Now, in its plate glass window that reflects the Robert A.M. Stern-designed Four Seasons residence across the street, there's a large, red "FOR RENT" sign. But for a few weeks this past March, through smudged glass doors that still bear the etching of the logo from the now-defunct bar, a flashing monitor could be seen resting on the floor. It played a 3D-rendered video, something like a Twitch stream, its audio a frenzied cacophony that greeted you as soon as you entered, blending with sound effects, voices, and high-BPM EDM coming from all directions.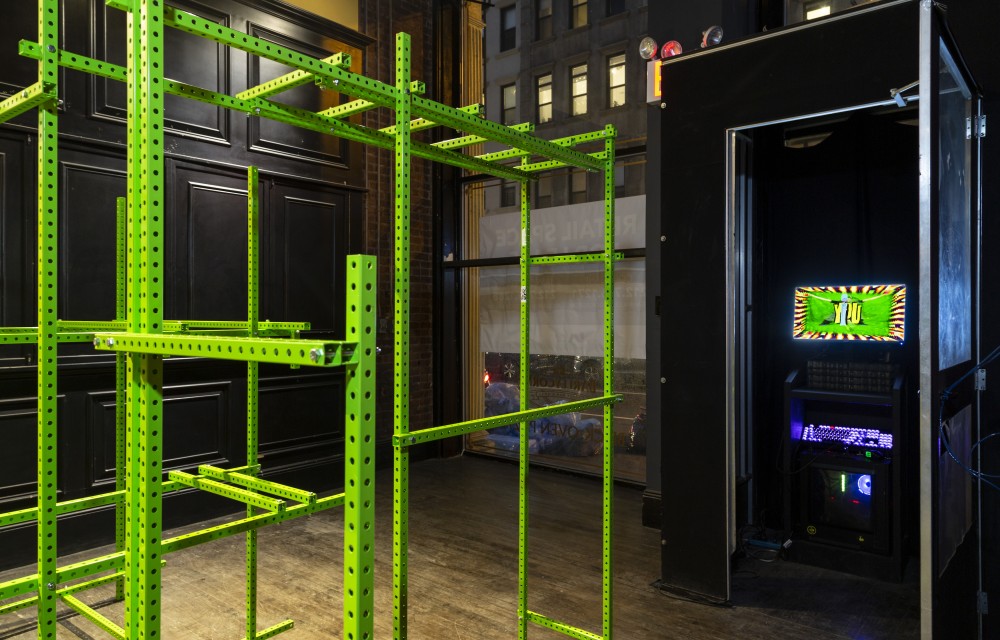 This was The FiDi Arsenale, an exhibition organized by architect Bika Rebek, critic and editor Matt Shaw (both of the peripatetic architecture exhibition platform Hot Air), and Collin Clarke, who helps run the exhibition space Mery Gates. The exhibition's name makes reference to the Arsenale, a former shipyard in Venice, Italy, that every two years hosts the Venice Architecture Biennale. FiDi stands for Financial District.
While it can't rival the size of the original Arsenale, the bizarre Barleycorn space — now devoid of liquor bottles, tables, or patrons — resembles a spacious, elongated pseudo-medieval ruin that spans an entire city block, from Park Place to Murray Street. With Celtic-ish arches, decorative stone walls, and worn wood, Clarke compared it to an "inn from an RPG," referring to the gathering places common to popular video games like The Elder Scrolls series or World of Warcraft (a virtual environment visited in Filip Kostic's Booty Bay Open Studios on display). It reminded me of an Epcot-style environment ready for LARPing. Rebek, Shaw, and Clarke called on a host of artists to showcase their work, which includes a jacuzzi, a virtual reality headset, and a computer tucked into its own private room.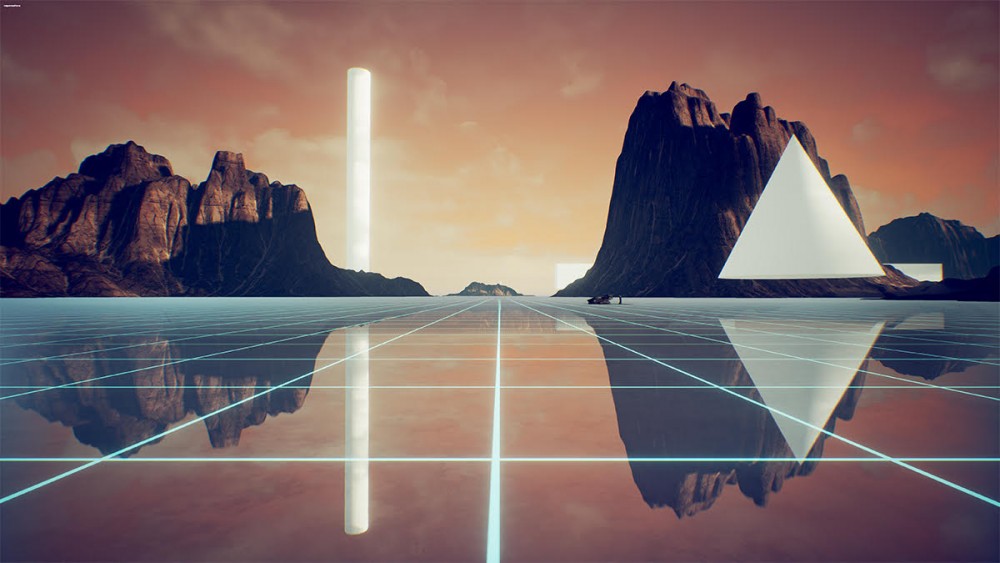 While many of the exhibitors are architects — such as Stock-a-Studio, Leah Wulfman (who has worked with various design practices, and teaches at ArtCenter and SCI-Arc), Damjan Jovanovic (also a faculty member at SCI-Arc), and Rebek herself (Some Place Studio) — most are usually shown within the realm of fine art. The tools architects and some artists are using overlap significantly — VR, video game software like Unity, and 3D modeling solutions among them. "I think the edges of these new media practices are blurring the lines between these disciplines," explains Clarke, "especially when it comes to speculative spaces that don't have to go through the same kind of architectural rigor (as a built project). Art can expand these tools architects are using." This is especially true of much of the architectural work coming out of Los Angeles, Shaw suggests, pointing to practices emerging from the tech-centric architecture school SCI-Arc "where a history of virtuosic use of digital tools is now expanding into new media, such as AR, VR, MR (mixed reality), game engines, and other online networks to create innovative and architecturally-rich experimental digital spaces."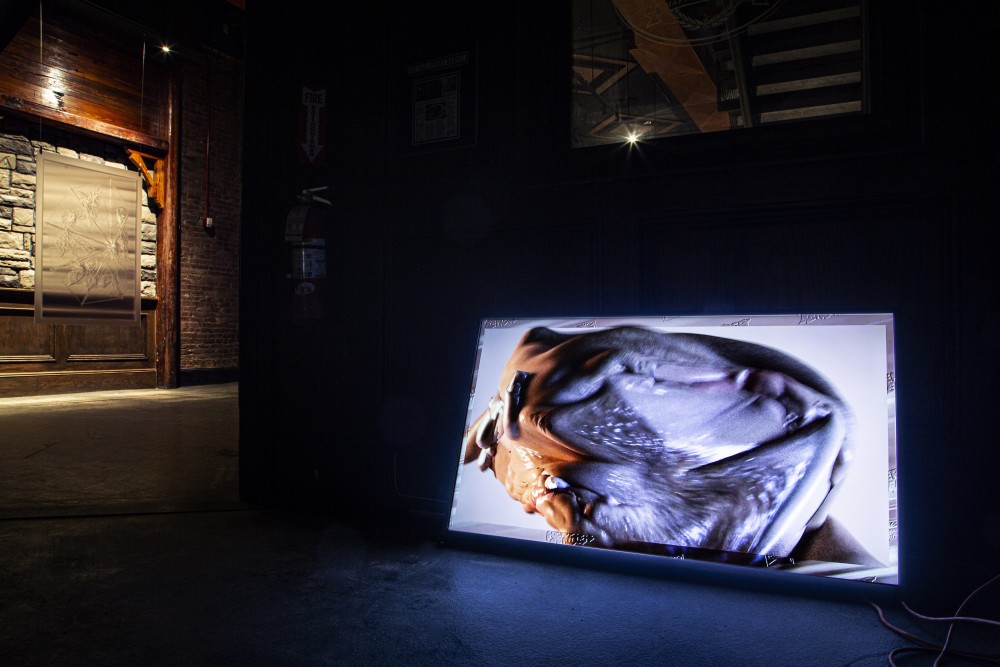 Perhaps both most clearly and sublty disrupting neat boundaries between art and architecture, image and object, "real" space and virtual, is Merch Mulch, 3D-rendered exploration of empty shopping malls by artist Claire Hentschker. "I got really fascinated with YouTube as a collective memory," she said of the impetus for the project. In particular, she became fascinated by shopping malls, which have been disappearing as American consumer habits change, spelling the end for many air-conditioned villages, with their false palazzos and pseudo-gardens, hyperreal, borderline fictionalized spaces that in many ways mirror the ersatz nature of the ex-Barleycorn that houses The FiDi Arsenale. Hentschker began watching numerous videos of empty malls, and cross referencing them with records found online to see which of those captured by YouTubers had been destroyed, investigating like an "Indiana Jones of the year 4000" might archaelogize our ruined culture.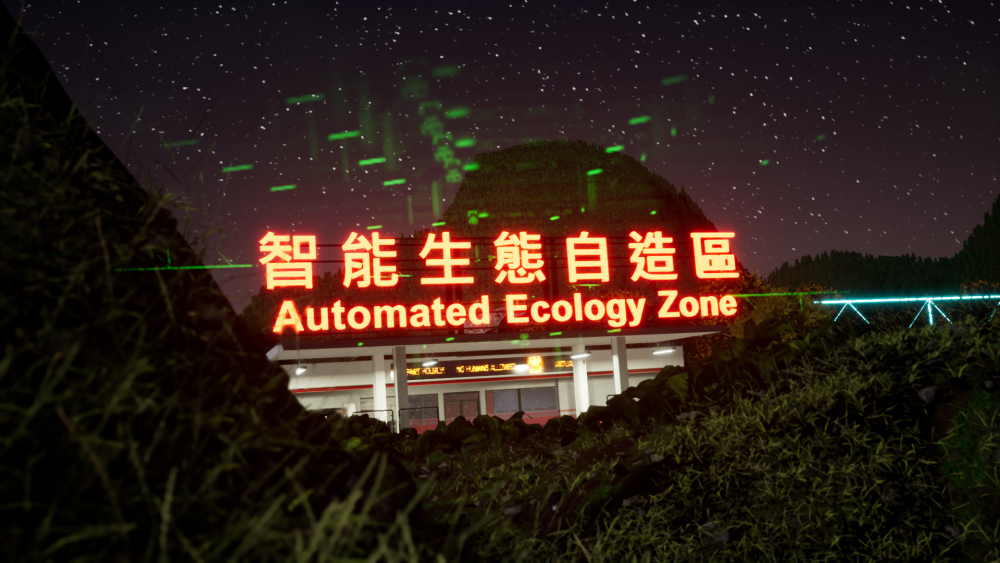 Rather than just editing together the videos, Hentschker performed photogrammetry on them, a technique typically used by architects to construct a hyper-realistic model of a space based on thousands of images. (Rebek's video Barley Corn is also made from a photogrammetry analysis of the former bar, which shown within the space is a virtual dissociative trip.) However, by performing the high-precision technique on low-res videos, a level of abstraction and inaccuracy enters the result, drawing attention to the technique itself. "I like breaking tools," Hentschker explained. And because of the idiosyncrasies of her user-made source materials, Merch Mulch is a "very subjective reconstruction, almost like a data visualization of what somebody thought mattered."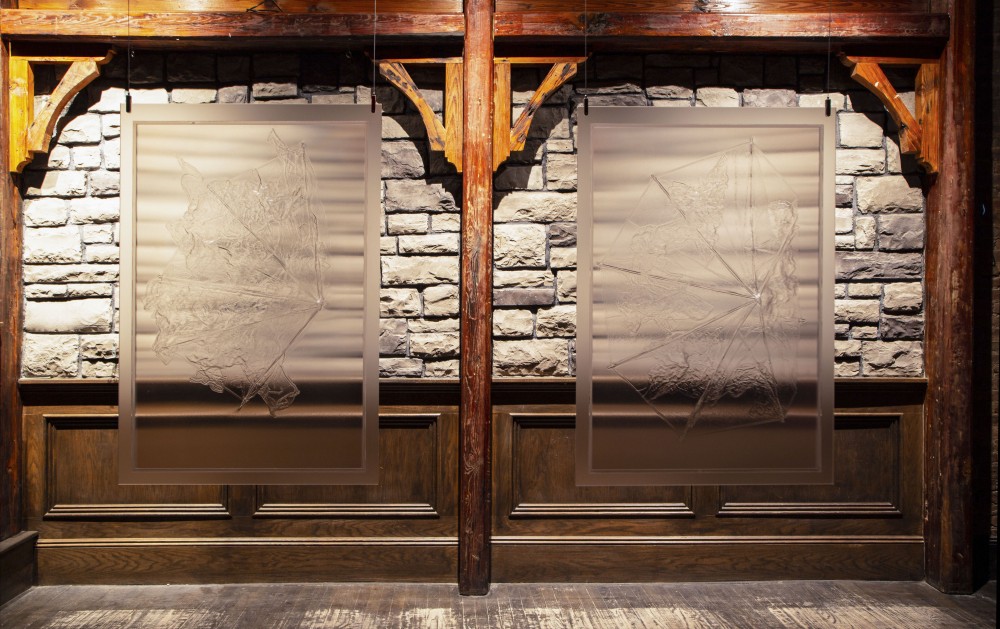 For Hentscheker, there is a clear resonance between the simulation and fiction of the mall, the mythology of disappearing IRL environments, and the virtual construction of space. Merch Mulch is a redirection of a commercial fantasia casualty much as The FiDi Arsenale is, in taking over a disused Tribeca space. And now since COVID-19 has required social distance, the show can only be experienced online anyway. For those who have the privilege to be able to stay safe indoors, this is the acceleration of a mediation of experience already taking place. Even before the onset of the coronavirus, our "public" and communal lives increasingly took place in private domestic architectures. We reveal our homes only on Zoom or congregate in video game landscapes or lie in bed, scrolling, experiencing the radically despatialized environment of Twitter's flat feed. Representation and reality intersect and diverge; perhaps simulation has never felt — or been — so real.
Text by Drew Zeiba.
Video:
Claire Hentschker, Merch Mulch (2017); 360° video; Music by R. Luke Dubois.
Installation photography by Jason Isolini. Video stills courtesy of artists.