Mind the Snake: Elmgreen and Dragset's Dystopian Debut at Pace Gallery
A few weeks ago the artist duo Michael Elmgreen and Ingar Dragset went dancing at Boiler Room in New York at the infamous yet flamboyantly dingy East Village spot. Contrary to its name, the iconic gay bar doesn't house a boiler, unlike the pair's recent exhibition, The Nervous System, at Pace Gallery. "All you only need to create a homey feeling is a fireplace," Elmgreen says. They were struck by how effective the placement of the fireplace in Lina Bo Bardi's Casa de Vidro in São Paulo, which was an essential anchor in the living room, where Dragset adds, "and since then, we've always included one in our domestic installations." 
Though the pair is drawn to how to tell stories through the architecture, this current exhibition as with many of the previous installations provide anything but a warm feeling of heat. The atmosphere recalls the razor's edge feeling of a Michael Haneke film, where something could go awry at any second and stain the upper middle-class home. In this current iteration of the exhibition, five men of different ages are scattered around an eerie interior with Modernist furniture and a tennis court. With all of them cast in bronze lacquer, the life size sculptures might represent different stages of a protagonist's life, but who's to say? The oldest, Bogdan, sits contemplatively on a wheelchair over a wool rug marked by 364 lines like the ones prisoners draw on walls to keep count of the days, though in this case, it's just one day short from the completion a year. The youngest, on the other hand, holds a gun in his small hand while staring into a light box–contemplating his next move.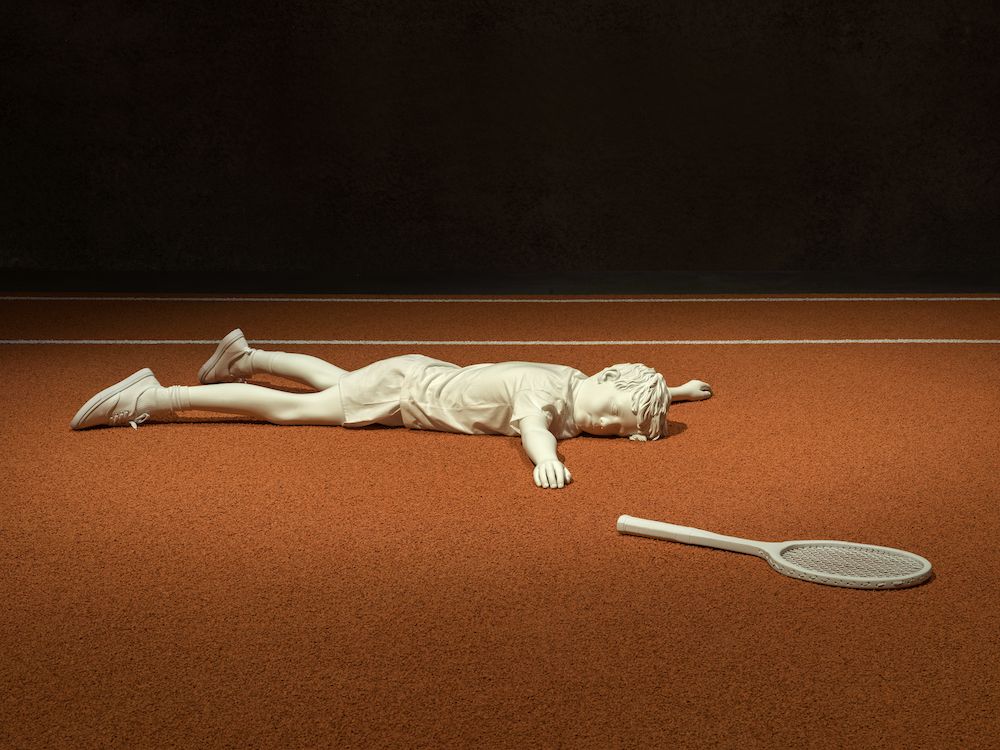 Elmgreen and Dragset are no strangers to orchestrating domestic installations, such as their staging of the Kensington apartment of the fictional 74-year-old Cambridge scholar named Norman Swann for their Victoria & Albert Museum exhibition, Tomorrow, in 2013 (featured in PIN–UP 15). "We had brought in every element to his apartment, from letters to left over coffee cups," Elmgreen remembers. "Each installation is enclosed within its own universe, and the ambiguous scenery might well be whatever Bogdan remembers from his past," Dragset says. And, given the holes over the second rug, he has a point. Just like the missing dots of a memory — be it from a day ago or a decade — the flooring has circular carvings that render it somewhat dysfunctional. 
But who cares about function? "We built the interior like how we all remember our past homes, not in full detail but with an armchair over here and a lamp over there," Elmgreen adds. The duo has designed tables and have gone as far as making a rice cooker for past installations, mostly because they were not able to find the exact object needed to tell the story. In their current show, they introduce sculptures that have more of a presence (which in this case means heavy), such as, the mint green ceramic lamp, titled Coupled Lamp. It's reminiscent of their gently erotic dual sink sculpture, Marriage (2004), which recalls the coupled clocks in Felix Gonzales-Torres's Untitled (Perfect Lovers) pieces. In their case, the object's two bulbous bodies are joint in harmony. The duo based the lamp, which they created in four different shades, on a Qin dynasty era vase they saw in Taipei. "More than function, the furniture in this show plays a psychological role," Dragset says. Just like any couple attempting to decorate a home, arguing at some point about where to put the couch was inevitable. "But luckily we do this together; otherwise, it'd be so much work for a solo artist to decorate a home alone."  After working together for decades — apart from briefly dating — it's clear Elmgreen and Dragset have found a niche for presenting the erotic while furnishing a home together. "This is about all of the homes we never got to decorate," they both muse.