THE REAL STATE OF ISTANBUL: SERDAR BILGILI BELIEVES IN THE TRANSFORMATIVE POWER OF ART (AND BUSINESS)
When it comes to transforming Istanbul's reputation as a global cultural hub to international businesses and the creative industries,  few people have played a more crucial role in  than real-estate magnate Serdar Bilgili. Born in Instanbul in 1963, Bilgili's capital and personality have managed to lure trendy hotel chains like the W Hotel to the ancient Bosphorus. The sprawling former army barracks was rebranded as the Akaretler Row Houses, and now serve as posh retreats. In similar fashion, Bilgili purchased the building which once housed Turkey's U.S. embassy and turned it into a branch of Soho House, the members-only hangout that caters to an even more exclusive segment of the globalized art, media, and fashion elite.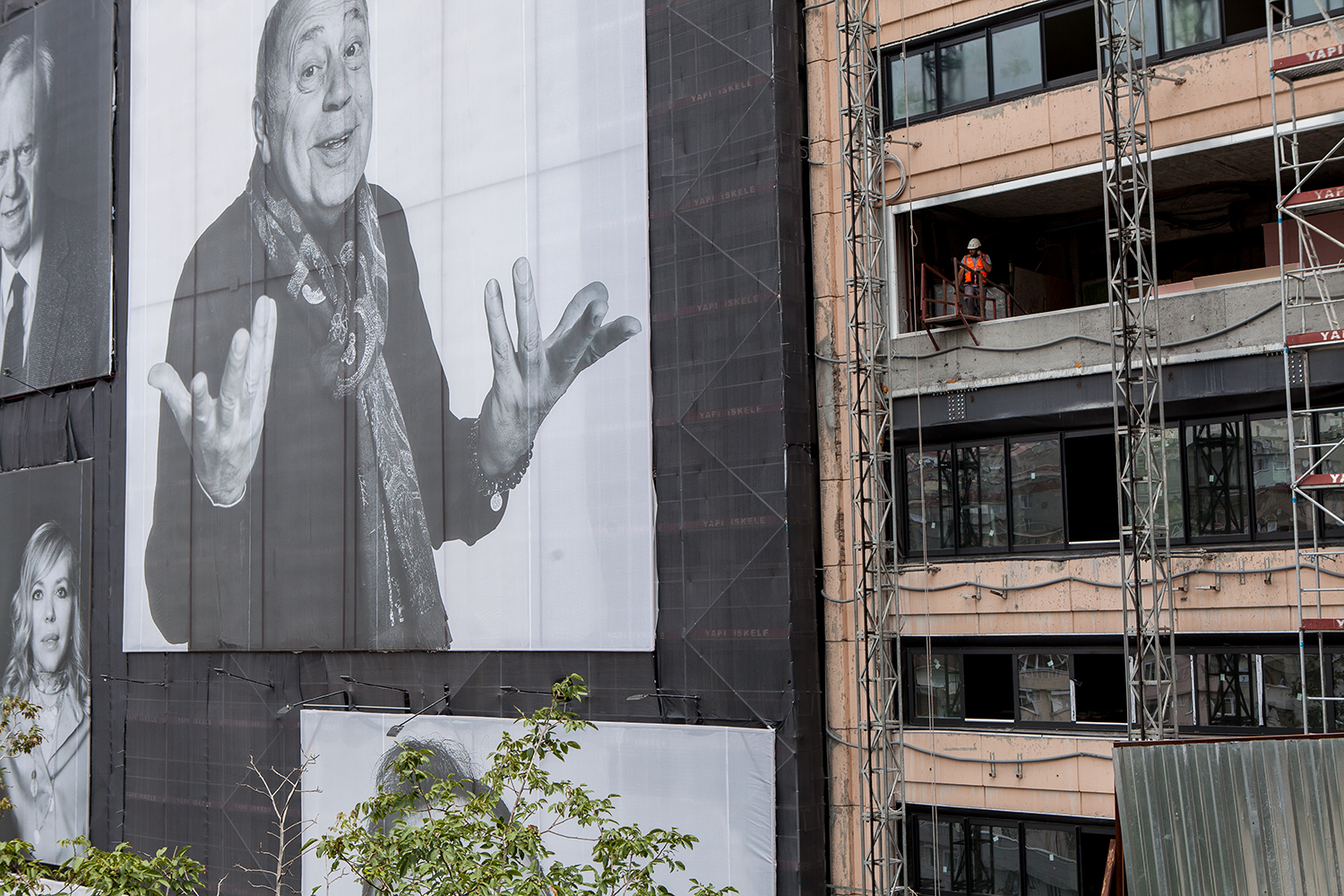 Since his college days, however, Bilgili has lived something of a double life: though he majored in business administration as an undergrad at the University of Redlands in Southern California, he also studied photography, and has been shooting ever since. While chairing both Bilgili Holdings and BLG Capital, as well as briefly serving as president of Istanbul's Beşiktaş J.K. football club, Bilgili the photographer has exhibited his work around the world, including collaborations with other creatives, such as Turkish designer Umit Benan. Bilgili's latest work, Portraits Of Nişantaşi, was hung in August 2017 to adorn the scaffolding of VK108, his company's luxury development in Istanbul's upscale Nişantaşi neighborhood. Shot with a 100-megapixel Hasselblad in his local studio, 35 of Bilgili's portraits of Nişantaşi locals were pieced together to cover each side of the construction project, printed on a mesh vinyl usually reserved for billboards. Bilgili worked with an engineer and architect to specially design the prints; too few perforations and they could catch the wind like sails, too many and the quality of the photograph would be diminished. The pieces were then stitched together, comprising a total area of more than 50,000 square feet of prime visual real estate in the heart of the city, making the show a Guinness Book of World Records contender for the largest outdoor photography exhibit in the world. But for Bilgili, as he casually explains over coffee in the lounge at Soho House, the art isn't about earning any titles: "We wanted to celebrate the people that live in this area, the people that hang out here a lot, the people that you're accustomed to seeing as you walk down the street."
The larger mission, according to Demet Muftuoglu Eseli, the exhibit's creative director and co-founder of gallery and collaboration space Istanbul '74, is to foster international interest in the city's cultural scene. The portraits were a fitting project, timed to drum up excitement around the opening of this year's Istanbul Biennial, curated by the artists Elmgreen and Dragset and which opened last month. Events like these serve as welcome (albeit temporary) relief to the tense, factious mood that has become the norm in Turkey under Erdoğan's increasingly authoritarian rule. In what seems like a quiet yet powerful rallying call for continued international cultural exchange, Bilgili's acclaimed art collection proudly shows Turkish contemporary artists like Taner Ceylan and Ekrem Yalcindag alongside a roster of international artists, including Aaron Young, Marc Quinn, and Alexandre and John Gailla.
All this is not to say that Bilgili's endeavors are never met with controversy. His redevelopment plan for Istanbul Modern, Turkey's first modern art museum, is part of a much larger project known as Galataport, which aims to gentrify the once working class waterfront. And along Galtaport's cruise ship terminal, the masterplan also calls for the city's first Peninsula Hotel, room for which was made by razing buildings once deemed historical treasures. As the art world descends upon Istanbul for the biennial (on view until November 12), more than ever it will find a city in the throes of change. At the center of it all is Serdar Bilgili, ever upholding the faith in the unlikely pairing of art and business.