Toilet Paper Holders Are Given an Art and Design Makeover in Chinatown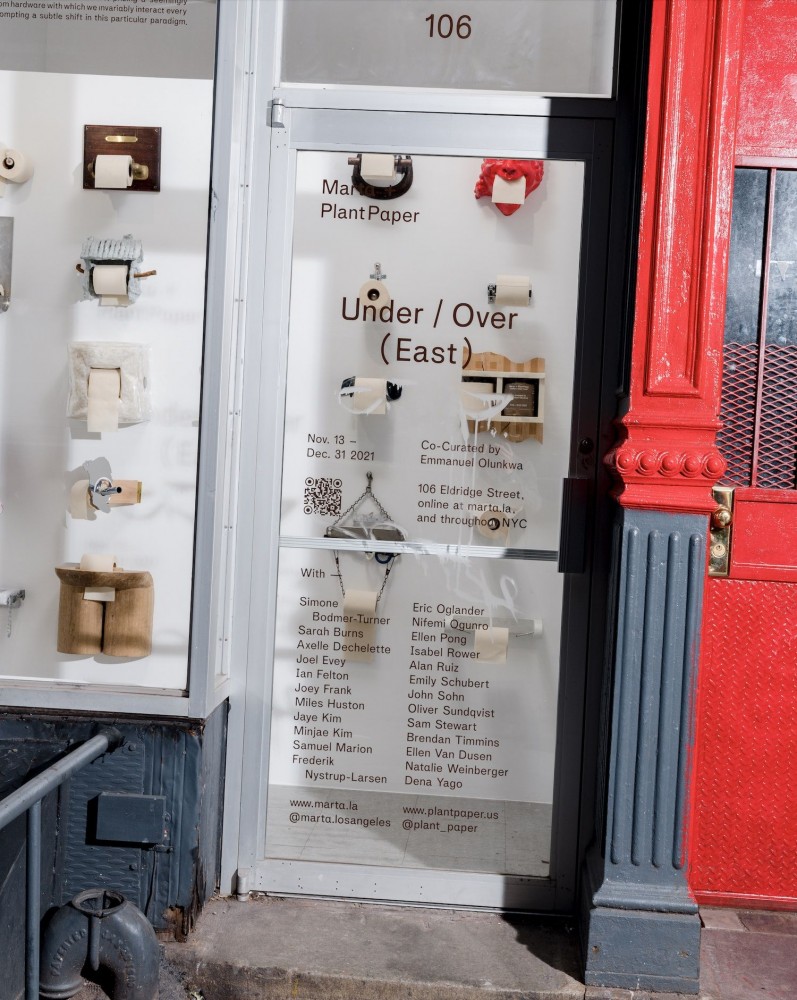 At that highly coveted plot of cultural real estate (you know the one, it's at that corner, where art meets design?) the group show "Under / Over (East)" has put in an offer. The exhibition is a collaboration between the Los Angeles-based Marta gallery and the sustainable toilet paper company Plant Paper, with PIN–UP's very own editor Emmanuel Olunkwa stepping in as guest curator. The exhibition is the second installment in a traveling series that was first staged in the fall of 2020, "Under/Over," at the LA space, now calling forth a selection of twenty-four New York-adjacent artists and designers to reinvent the wheel (but this time, out east). And that proverbial disc, in this case, being toilet paper holders.  
The overlooked domestic object is turned inside out and examined thoroughly, asserting a kind of provocation and transformation of the mundane. The staging of objects not only asks what utility can look like, but it takes a crack at the arguably more compelling question of what a toilet paper holder could be.  This survey of art-cum-utility items focuses on when design and function find their way to the same intersection. 
Take, for example, Jaye Kim's Sanctuary series (2021): resembling chunky birdhouses or fairy cottages, the set of four ceramic sculptures evoke the charm and ham-fisted touch of a child's, one that would fit seamlessly in a family's guest bathroom or kindergarten washroom. The effect is endearing, yes, but its accommodation of joy – which is especially apparent against stark white gallery walls – brings a much-needed sense of levity to the quotidian article.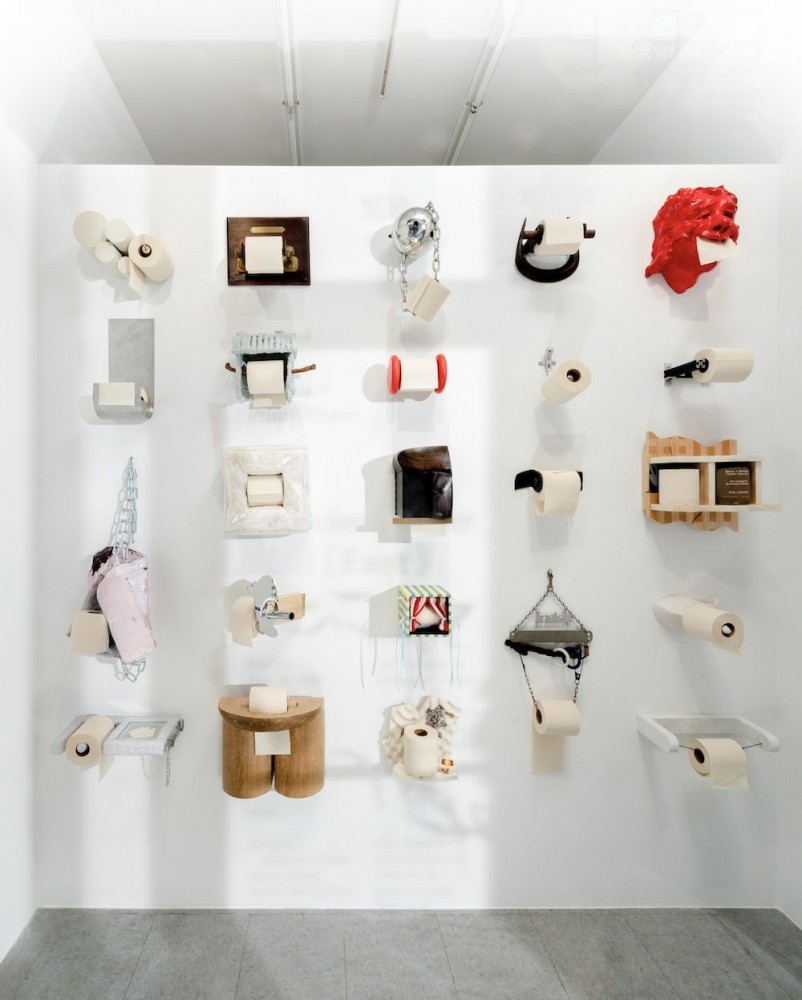 Others have taken a shared approach in humor, opting to err on the side of camp; the associative bodily function to these objects deems this a fitting, if not entertaining, sensibility. There's Son of Man Eat This Roll (2021) by Emily Schubert, a goofily sinister, blood-red interpretation of a 3D dramaturgical mask whose mangled expression reads somewhere between tragedy and comedy. Dispensing the toilet paper like a lolled tongue, the piece is strikingly spooky yet sexy, thanks to the cheeky addition of a silver eyebrow piercing that sits above the left socket. It's details like these that spur that jolt of glee one feels when they discover something pleasant, funny, or cool in an unexpected context, and can, however subconsciously, acknowledge and appreciate the forethought that went into constructing a conceptual object which operates beyond its basic function.
And don't worry: "Under / Over (East)" leaves plenty of room for the consideration of beauty and high-minded design in our waking lives, too. Sculptor Simone Bodmer Turner, known for her subdued, Noguchi-esque forms and monochromatic palette,  has contributed her take here, the nominally titled Toilet Paper Holder (2021). The delicate work, a white, teardrop-shaped ceramic piece, is equally functional (it includes a shallow well for a matchbox or a slim stick of Palo Santo) as it is elegant; a small reminder that attention paid to the most unremarkable of objects can improve our quality of life, however subtle or inconspicuous that upgrade may feel.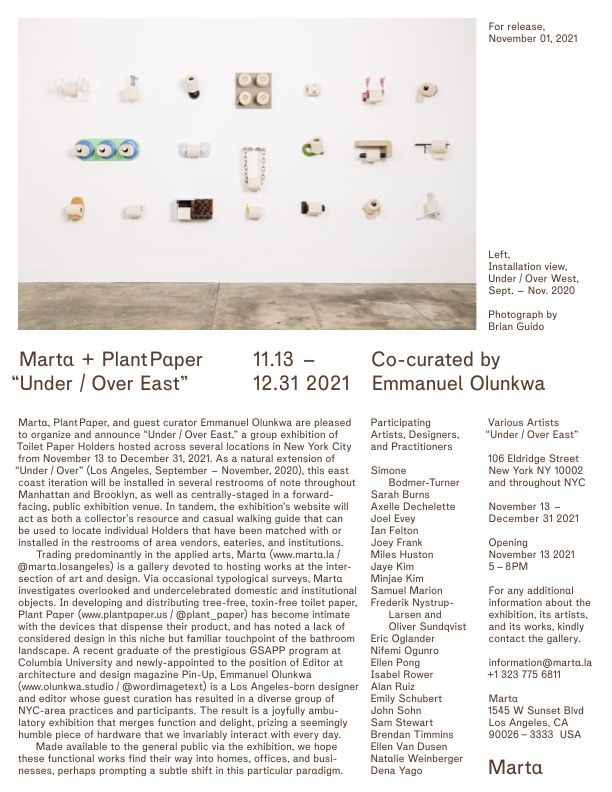 Viewing these toilet paper rolls in conjunction (displayed both in a grid formation on a gallery wall in a Chinatown storefront, which is viewable twenty-four seven, as well as installed in the restrooms of various downtown spots like the clothing boutique, Cafe Forgot, or at the dance club, Public Records) we're challenged to ask more of the quotidian that ubiquitously fill the spaces in our homes and work and schools. And why shouldn't we? With an object so underappreciated, there is clearly capaciousness for something to go beyond its basic purpose. It's up to those willing to push the boundaries of monotony, who are willing to dive into the vastness of human expression, to do so. This time, it happens to be on display for everyone to see.