CONVERSATION PIECES: FOSTERING DESIGN IN COLUMBUS, INDIANA
With a post office by Kevin Roche, a library by I.M. Pei, and a church by Eliel and Eero Saarinen, Columbus, Indiana, is the Rust Belt's modest mecca of mid-century Modernism. About an hour's drive from the state capital, this small town (pop. 47,000) boasts more than 70 Modernist landmarks, a design legacy fueled by mid-century manufacturing money, and one which Columbus hopes can help it launch a 21st-century comeback. How? Through Exhibit Columbus, a new design biennial helmed by local furniture designer Jonathan Nesci and Landmark Columbus director Richard McCoy. The first iteration, on view now through November 26, showcased over two-dozen installations by an impressive international roster of artists, designers, design galleries, and schools, including Aranda\Lasch, Cody Hoyt, Formafantasma, Oyler Wu Collaborative, Pettersen & Hein, PRODUCTORA, and Snarkitecture, to name but a few.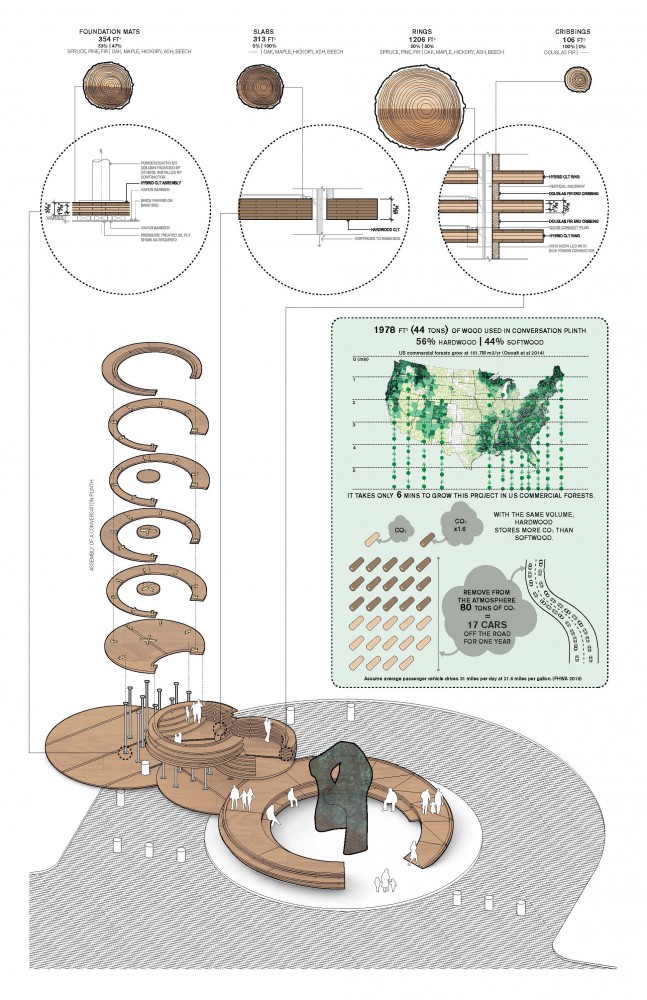 Many of the temporary installations were inspired by Columbus's architectural gems, for example Conversation Plinth, by Boston-based IKD, which referenced the relationship between design and industry specific to Columbus. In the courtyard of Pei's 1969 Cleo Rogers Memorial Library, IKD designers Yugon Kim and Tomomi Itakura constructed a series of timber discs ascending like a staircase to nowhere, circling Large Arch, a 1971 bronze by Henry Moore. Made from Indiana-hardwood cross-laminated timber (IHCLT), the installation is part of IKD's ongoing exploration of this new building material, which upcycles timber byproduct from Indiana's abundant hardwood forests (while softwood CLT has long existed in the U.S., a hardwood variant is new). Kim and Itakura built Conversation Plinth to prove IHCLT's viability and encourage local business: as Kim explains, while Columbus's history is one of design through industry, their project strives to inspire the reverse, industry through design.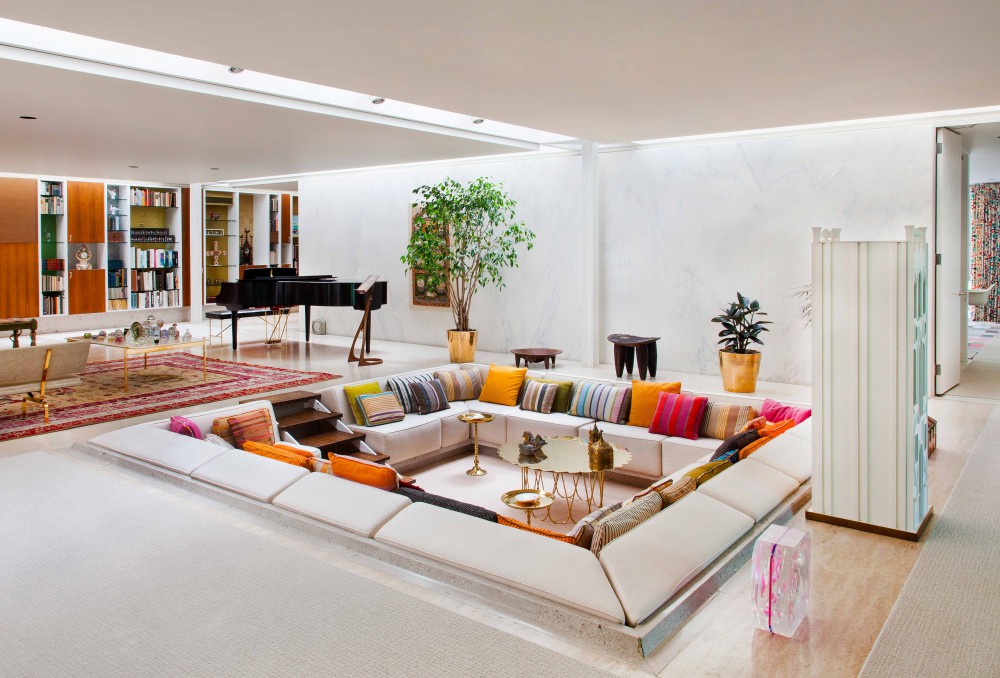 Columbus's architectural legacy is intertwined with its industrial prosperity. In the late 1950s, under the leadership of then-CEO J. Irwin Miller, the Columbus-based diesel-engine manufacturer Cummins Inc. — today a Fortune 500 corporation — created the Cummins Engine Foundation, which offered to pay the architect's fees for community buildings on the condition that the architect be chosen from a list of supplied names. Through this program and other endeavors, Miller was a driving force behind Columbus's investment in design and architecture, which he hoped would attract the best and brightest to the town. Conversation Plinth is also a nod to the dialogue-encouraging conversation pit in Miller's living room, part of the quintessential modern home designed for him by Eero Saarinen in 1957. Echoing the national discourse around the state of American industry, IKD's contribution and Exhibit Columbus as a whole generated a rich conversation about how to make this small Midwestern city great again.
Text by Whitney Mallett. Taken from the forthcoming PIN–UP 23, Fall Winter 2017/18.