NEOFUTURIST CHASTITY: ABDU ALI'S MUSIC VIDEO AT SAARINEN'S NORTH CHRISTIAN CHURCH
Baltimore-based Abdu Ali's video for their new single "Chastity" was filmed in Columbus, Indiana featuring the town's landmark architecture. Director and PIN–UP frequent contributor Whitney Mallett reflects on what motivated the choice.
North Christian Church looks like a spaceship. I aspired to use this sci-fi vision manifested in metal and concrete as the principal location for Abdu Ali's music video "Chastity" because of how this work of Modern architecture designed by Eero Saarinen in 1964 and the music track which Ali categorizes as "Post-Future" both express ideas of radical world building. Progressive social and political ideals are central to Modern architecture's bold reinventions of our built environment and they're also at the heart of Ali's project which centers their Black queer experience and foregrounds their resistance to the oppressive systems that methodically make attacks on their freedom. Through Ali's lyricism addressing police violence — "a little piggly wiggly tried to catch and kill me" — and innovative blending of genres — rap, punk, jazz, Baltimore club — they make plain the urgency for reimagining this world while at the same time giving us a new soundtrack for a collective revisioning. To me, Ali is an artist as well as a spiritual leader. What better place for them than this otherworldly hexagonal building with a 192-foot spire reaching up to the heavens, standing at the pulpit below an oculus emitting in rays of light like a portal to a new future?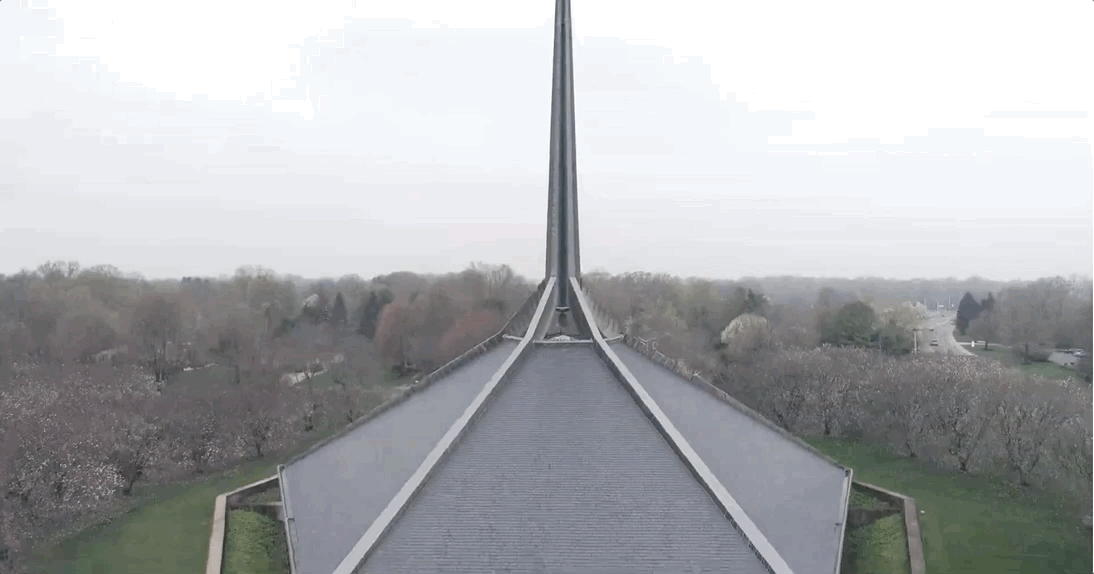 I was first introduced to the beauty and power of North Christian Church in 2017 during the inaugural design biennial Exhibit Columbus. I was awestruck. I also noticed signifiers that suggested that the church's congregation held progressive ideals that matched their building's innovative design — a rainbow flag in the window, a sign on the lawn that expressed solidarity with Muslims. Columbus, Indiana is a 47,000-person town with a complicated reputation. They're known as both the birthplace of Vice President Mike Pence who has a notorious anti-LGBTQ record and the home of some of the country's most future-forward architectural gems — in the video we also feature a post office designed by Kevin Roche and a library designed by I.M. Pei. North Christian Church's leadership share the progressive ideals that Ali's music champions and they were extremely generous and welcoming in letting us film our project in their space of worship.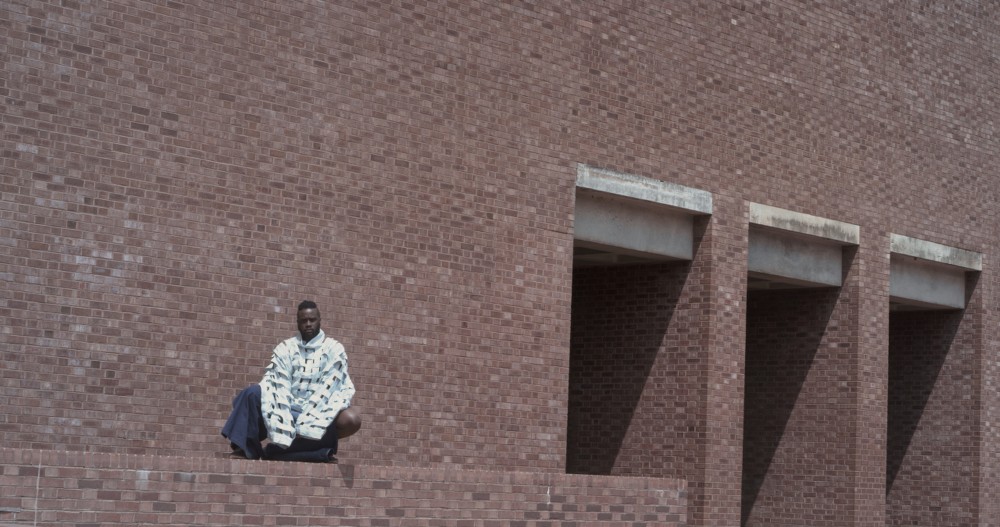 It's interesting how a building can set the tenor for what goes on in a place. There's another church in Columbus also designed by Saarinen, together with his father Eilel, First Christian Church (1942). It's a more traditional structure than North Christian Church and the congregation there is much more conservative. Reverend Tonja Gerardy who leads the congregation at North Christian Church told me they don't even allow women in leadership positions at First Christian Church. Architecture and media both help us imagine what's possible — they can be spaces where we realize progressive ideals on a micro scale before we can manifest them on a larger one. It's my hope that these moving images of Ali commanding North Christian Church give someone a more expansive vision of what's possible and a blueprint for building, to quote Ali's lyrics, "a place past fantasy."
Text by Whitney Mallett.
Stills from Abdu Ali, "Chastity" video directed by Whitney Mallett; cinematography by Kofi Regan Carson; edited by Brian Agamie; produced by Lauryn Siegel; featuring performance and choreography by Tara-Jo Tashna.