FIELD EXPERIMENTS: HARDLY TOGETHER
Field Experiments is a self-described "nomadic" design collective. Its members—Paul Marcus Fuog, Karim Charlebois Zariffa, and Benjamin Harrison Bryant—are, much like their projects, scattered across the globe in Australia, Canada, and the U.S., respectively. After gaining notoriety for the "souvenirs" they developed in collaboration with craftspeople in the farming village of Lodtunduh, Bali, the collective has landed their practice somewhere decidedly less rural: New York City.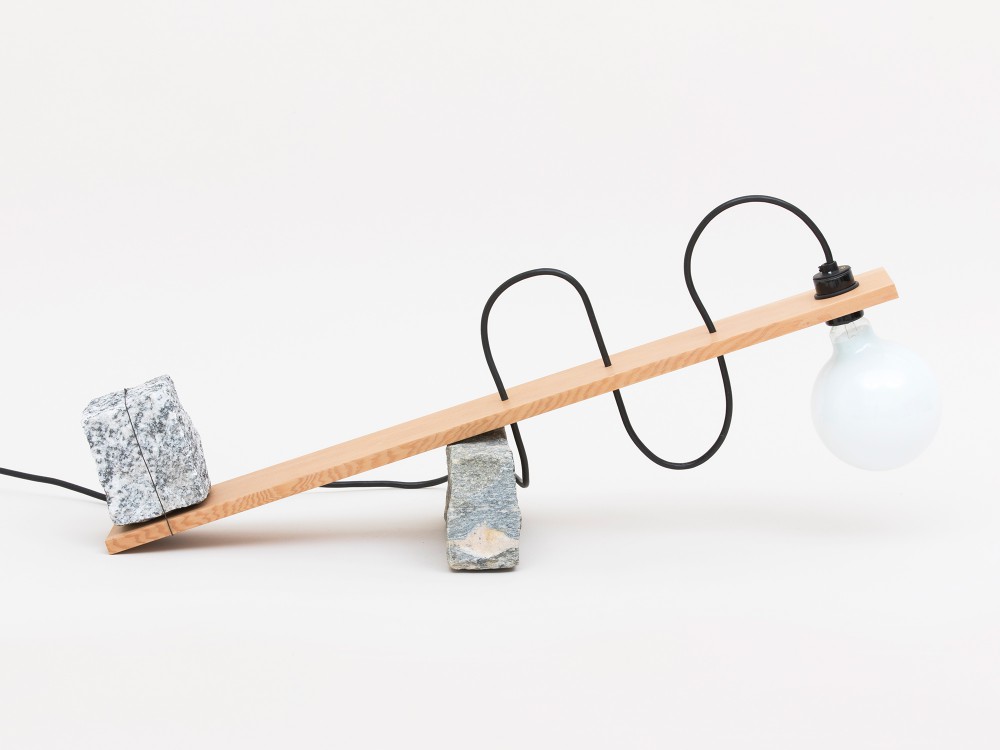 The pieces in Field Experiments' Hardly Together, on display at the Bushwick gallery Fisher Parrish, at first glance, approach the absurd — already lit, now inert matches lay poised before still unlit candles, an industrial fan blows into a terracotta tube, and plungers serve as lamp stands. These material juxtapositions and functional oppositions, which characterize the trio's work, are mirrored in their broader project of creating souvenirs, at once hyperlocal (made of the materials and with the craft traditions of their locale, and made to remember the locale by) and built entirely out of the collective's re- and dislocation. This new series of souvenirs calls upon the ordered chaos that so defines New York, a bricolage of not only materials, but of meanings. Instead of wood and marble, the post-natural resources of the Anthropocene —cinderblocks, asphalt, bricks — are mined for new designs. Street detritus acts not as found object, but as raw material that just so happens to take familiar form. These are souvenirs that estrange us from their source as much as they recall it.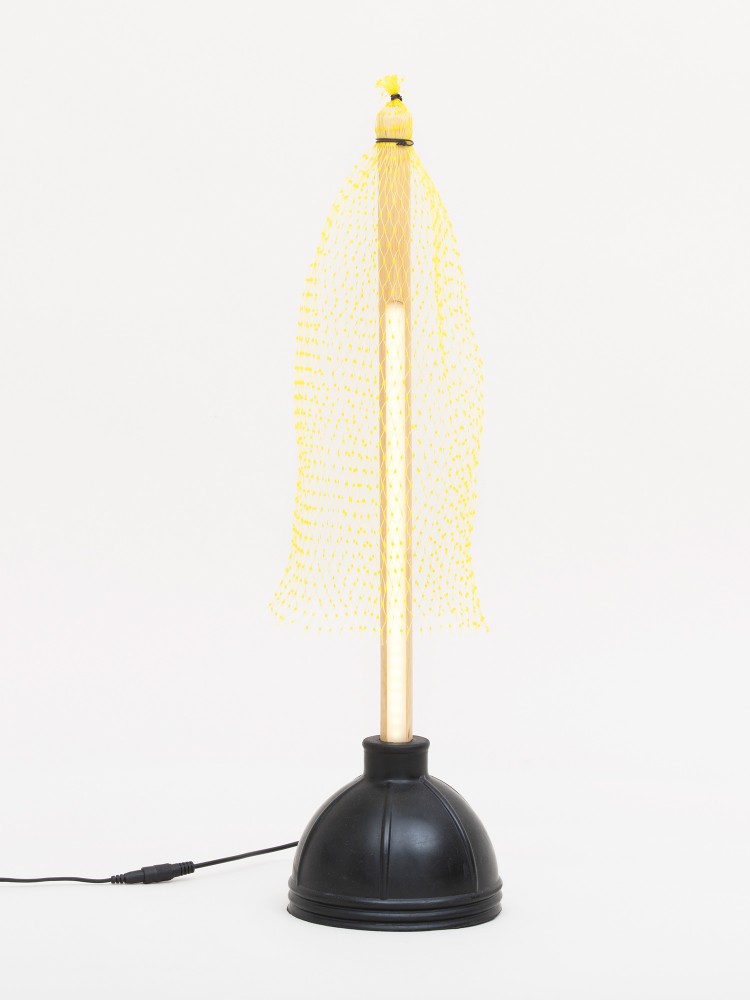 The assemblages in Hardly Together parallel the hybrid nature of the cosmopole —where people, voices, and communities constantly collide with one another on busy streets. Cast off objects are made functional again in their combination and reconfiguration, such as Souvenir 157 - Domestic Light #3, a lamp made of plunger and mesh, whose materials are listed as "Wood, rubber, nylon mesh, wire, lighting parts (LED)," rather than their more familiar component parts. Or, more interestingly, traditional functions are rerouted — a glove becomes a planter, a tire a mirror. These acts of estrangement are so earnest, it is as if the creators never knew the product's original function.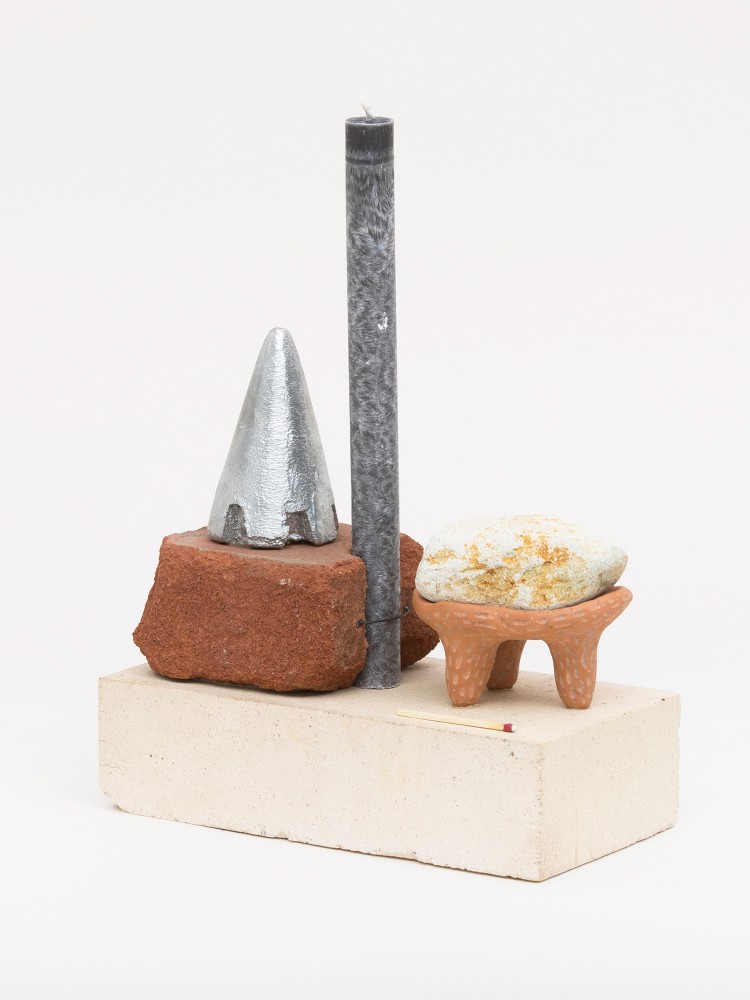 The materials in Hardly Together live on—they are the residue of the city, objects personified and citizens in their own right. In Brick Candle, biomorphic forms meld onto the rigidness of bricks, as if fungal outcroppings of a posthuman age, suggesting the life that the city breaths in its glass and concrete. And while plants might sprout from some rough-hewn products of urban life, such as in the Weeds and Pavement series, their naturalness serves only to suggest the era's blurry boundaries between organic and artificial. The live plants sprouting as if from sidewalk cracks are no more natural than the human-engineered rocks that hold them.
The exhibition's title, Hardly Together, perhaps says it all. These objects, in all their material and functional characteristics, are smashed together in unexpected ways that, on a superficial level, might not seem to add up. Much like the city where millions of people are crammed in with a plethora of sights, sounds, smells, and objects, the show's resulting sum of parts is characterized by a wonderfully precarious togetherness. Far from "I Love New York" t-shirts or fake mass-produced license plates marketed to tourists, Field Experiments' souvenirs — hybrid objects, collisions of materials and identities — are truly of the city which their constituent parts are mined from — energetic, messy, and elegant in their grit.
Text by Drew Zeiba.
All images courtesy Fisher Parrish.