A Short History of the Mirrored Glass Façade
How did shiny office buildings become the dominant corporate architectural expression of the late-20th century? Just as perfectly mirrored façades deflect light, they resist analysis. Where did they come from, growing like crystals in cities across the world all at once? And who is responsible for their ubiquity?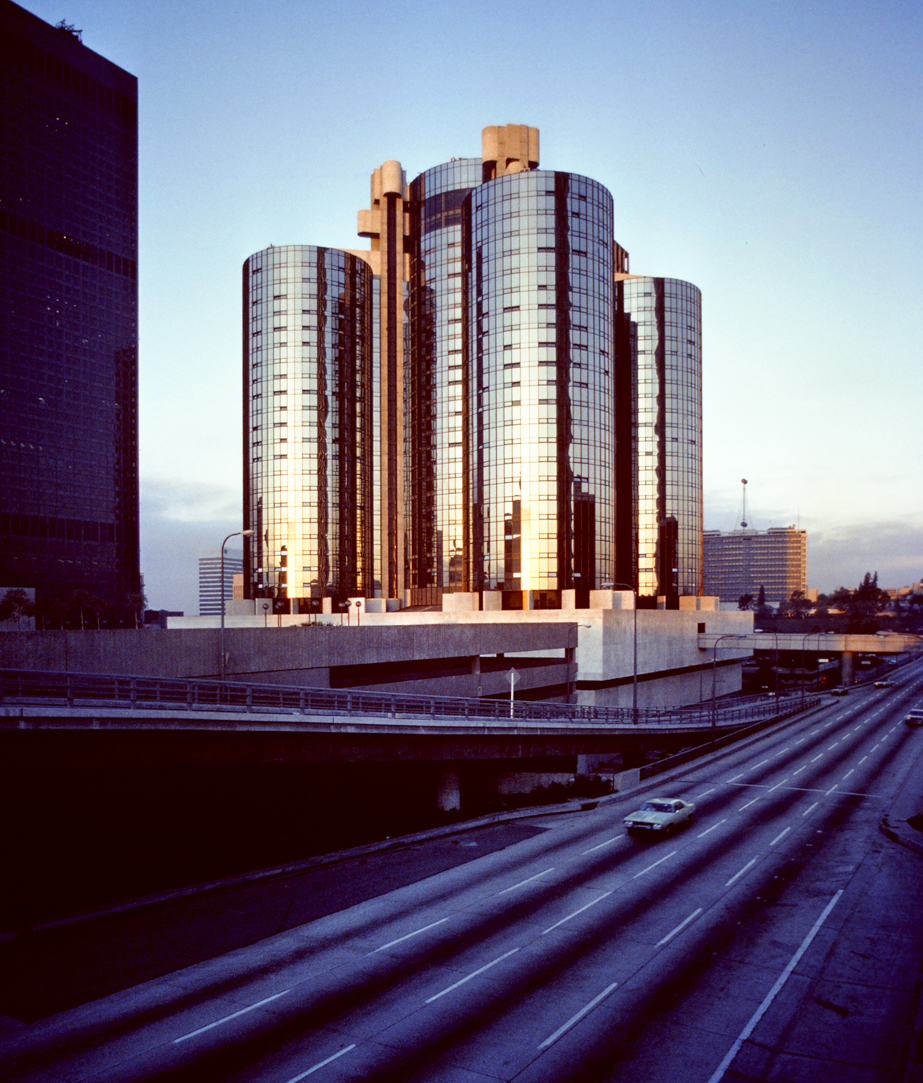 Intrigued by the phenomenon, L.A.-based architecture historian Daniel Paul decided to investigate. "The development of the mirrored building can be credited to a few individuals working at large corporate firms," Paul explained to a captivated crowd during a recent lecture at the Los Angeles County Museum of Art. "In the 1950s, Kevin Roche was design director at Eero Saarinen when they developed the first mirrored glass for the iconic Bell Labs project (Holmdel, New Jersey, 1957–62). He said Roche was inspired by seeing a Life magazine cover showing the new mirrored aviator sunglasses." For Bell Labs, Roche and fellow Saarinen architect John Dinkeloo together developed the first architectural mirror glass. A young designer named Anthony Lumsden, who was also working on the project, came up with the idea of further smoothing out the façade by moving the mullions to the interior. While this idea was not adopted at Bell Labs, Lumsden took it with him when he started working for the Los Angeles-based firm Daniel, Mann, Johnson, and Mendenhall (DMJM, one of the first combined architecture and engineering offices in the U.S.). There he worked under César Pelli, who joined DMJM from Saarinen in 1964 and took Lumsden with him as assistant director of design. Together they applied the new glass-wrapper concept to a number of projects, producing powerfully fluid surfaces. "Under Pelli's design direction at DMJM, Lumsden had the opportunity to develop what became the dominant office vernacular in the 1960s and from there on forth. The equal size of the vertical and horizontal mullions and the simplicity of the grid appealed to clients because it reduced the cost of construction and encouraged repetition in the shape of each floor," adds Paul. And under the reflective, solar-efficient wrapper, HVAC systems were also able to blossom, accommodating broader building footprints that allowed for cubicles ad infinitum.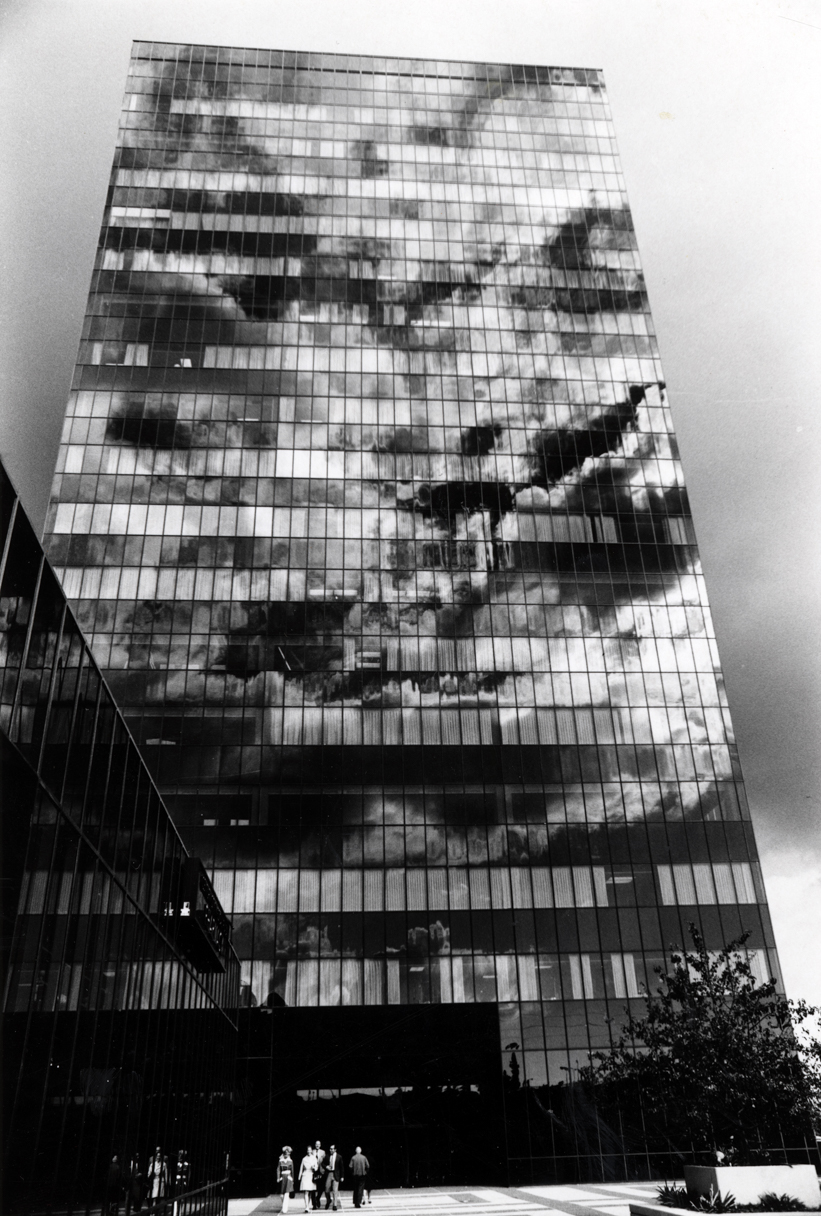 Some of the best early examples in Los Angeles, such as Teledyne Labs in Northridge (DMJM, 1966–68) or the Federal Aviation Administration in Hawthorne (DMJM, 1966–73), stretched the mirrored face of the building around a monolithic form. Both were low and serpentine, reflecting their carefully landscaped surroundings of lawns and ficuses, slithering with a continuous grid of slim mullions. Another early classic is Langdon Wilson's inscrutable Central Civil West Courthouse (1971) opposite MacArthur Park, squatting on contoured concrete slopes that have endeared it to skateboarders. The first building completed with an all-over reversed mullion glass skin, which its designers, Pelli and Lumsden, referred to as "non-directional, non-gravitational," was Century City Medical Plaza (1969), a pair of multistory black boxes handled with a feel for late-1960s art-world Minimalism. And while practices like DMJM and Langdon Wilson were responsible for the mirror-glass trend on the West Coast, firms like the Tokyo-based Kajima Corporation accelerated its spread outside the U.S., designing buildings for the likes of Nissan, Mitsubishi, and Kawasaki on the other side of the Pacific. Meanwhile, back in the U.S., as late-Modern cities like L.A. or Dallas became a mise en abîme of mirrored corporate mega-headquarters reflecting each other in their downtowns, the other side of the looking glass was the rapid rise of these cities' suburbs, where all those office workers actually lived.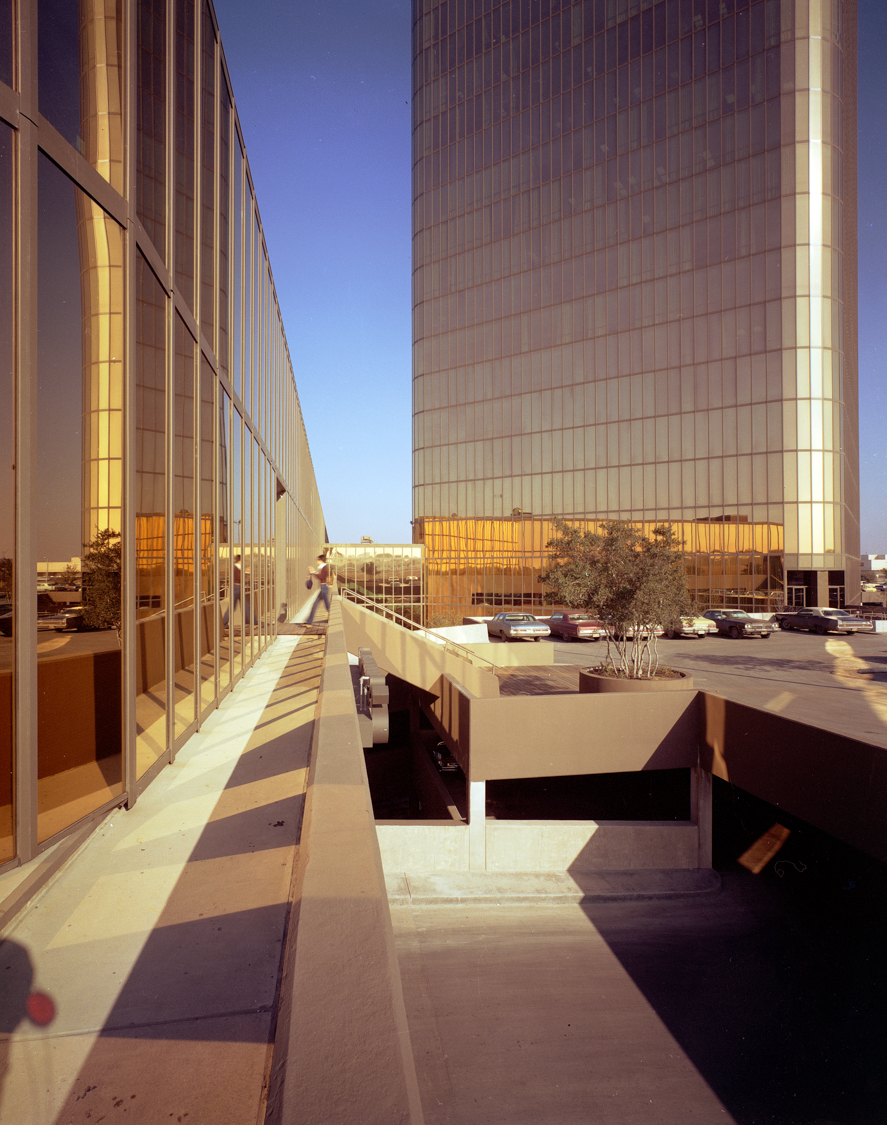 One of the paradoxes of corporate glass-skinned office buildings is their opacity when seen from outside. "The buildings possess a trans-nodal quality that falls in line with late-capitalist concepts of globalism, and their opacity asserts this," notes Paul. One could make a case for mirrored skyscrapers being an urban camouflage for shady global corporate expansion. But some of the finest examples also share a formal integrity with Minimalist sculpture, perhaps thanks to Pelli's social connections with the thriving L.A. art scene of that era, which included sculptors like Larry Bell or Peter Alexander. Late in his career, Lumsden was contacted by Giorgio Moroder to discuss the music producer's long-held dream to develop mirrored pyramids. They were to be conceived at varying scales, from lawn sculpture to an entire city. Lumsden died in 2011, and these ideas only exist on paper, but, should they one day be built, they would stand as perhaps the most humanistic example of a hugely popular yet strangely stand-offish building typology that's been mostly left out of the standard story of Modernism.