INTERVIEW: The Brothers Grau Make New Lights With No Strings Attached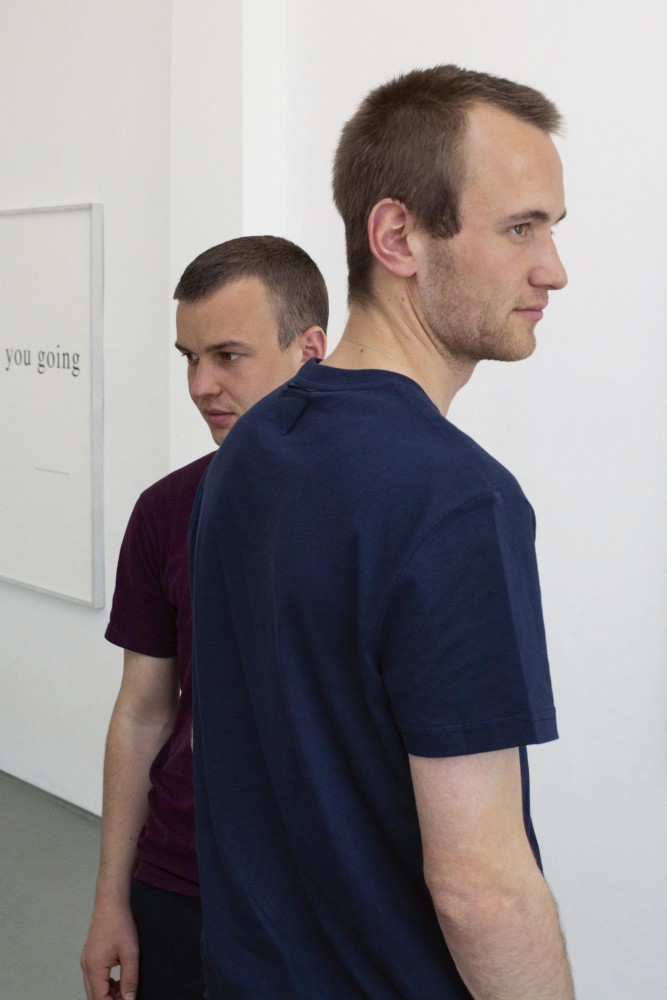 In the 30-year history of storied German lighting manufacturer Tobias Grau, there has been only one designer: Tobias Grau. Recently, however, the 61-year-old has opened up — just a little — and allowed two of his sons, Timon and Melchior Grau, to enter the fray. Unlike their father, who trained as a designer, Timon and Melchior are artists first. After studying with professors Ai Weiwei and Hito Steyerl at Berlin University of the Arts, they worked primarily in performance and installation. But this year the two 20-somethings introduced their first original creation for Tobias Grau. Called Parrot, it is a wireless floor lamp with an extendable shaft and an expressive articulated round head, somewhere between sculpture and a portable best friend. Just as Parrot is flying the nest and hitting Tobias Grau stores this fall, PIN–UP checked in with the two newly minted artists-turned-designers.
Was growing up Grau a blessing or a curse?
It was definitely a blessing. From a very young age, our parents started a dialogue with us and encouraged us to be creative. We could set up a little studio in the basement and began to experiment with whatever we could find.
So you spent your childhood surrounded by light fixtures?
We were always interested in our father's work and we talked a lot about light and form. Not just in the context of design — it could be anything: the sun, the headlight of a car, or even a sculpture by Giacometti or Jeff Koons.
The Parrot lamp in white, designed by Timon and Melchior Grau for Tobias Grau. Photographed by Paul Hutchinson for PIN–UP.

The Parrot lamp designed by Timon and Melchior Grau for Tobias Grau. The wireless luminaire comes in four choices of colors: blue for sunrise, orange for sunset, black for night and white for day. Photography by Simon Menges.
You're both trained as artists, not designers. What made you want to develop Parrot?
Through our work in performance and installation, we became increasingly interested in the contemporary portrait and the figure of the human body in space. To us, Parrot functions as an object that appears in different contexts, like a readymade. But maybe Parrot is more like an object made ready. It's also never the same thanks to the head that rotates and tilts freely. So it's like an abstraction of the human body, always with a different expression. It makes Parrot alive.
You're the first "external" designers to design for Tobias Grau. What gave your father the confidence for letting you do it?
Our creative dialogue with Tobias is ongoing and we are happy that he believes in our work. The first mock-up that we showed him was made of wood and cardboard. It was quite abstract, but both our parents were interested in the approach and encouraged us to develop it further.
Timon and Melchior Grau photographed by Paul Hutchinson for PIN–UP.

Timon and Melchior Grau photographed by Paul Hutchinson for PIN–UP.
You have another brother and sister, both of whom are younger. Do they show any ambition to do lighting as well?
We all share a fascination for the medium of light. Light has such an installative quality and can change the whole space or context in which we perceive a situation. Light is what we see. Light is seeing.
Other than Parrot, what's your favorite light from the Tobias Grau catalogue?
One of our favorites is probably Twist, a full aluminum table lamp that looks like a bird. Steve Jobs had it standing on his desk! This spring Tobias also presented a new, battery-powered luminaire for the table that we really like. It's called Salt & Pepper.  
The Parrot lamp in orange, designed by Timon and Melchior Grau for Tobias Grau. Photographed by Paul Hutchinson for PIN–UP.

The Parrot lamp in black. Thanks to its battery power, the Parrot offers 10 hours of wireless lighting while its height-adjustable body, rotating head, and touch-dim LED light make it one of the most flexible lights available. Photography by Simon Menges.
How is selling and buying lighting in 2018 different from, say, 1998, or 1978?
Light is free now. A new generation of lights revolutionizes the way we use and live with light. Battery-powered lights don't have a fixed place anymore, they move around. A few years ago, speakers and computers were fixed by cables, then they broke free. The same is now also happening in lighting and it changes our relationship with light. You don't need to know where to place a lamp when you buy it — it lives with you.
Which leads to the question: in what kind of environment do you want to see Parrot?
The Parrot was not designed for one specific place. It can be next to your bed, your sofa, the table, … But most importantly, we see it moving around. In Mutterzunge, our most recent exhibition, we presented an installation of Parrots in an old cinema in Berlin. The show was accompanied by film screenings and performances. For another project with Alessio Bolzoni, Parrot became part of a fashion shoot. We enjoy these jumps of context and see them as the soul of the object. And we also like the democratic aspect of product design. We hope Parrot will reach a wide audience and enters as many different homes and environments as possible.
Text by Felix Burrichter.
Photography by Paul Hutchinson for PIN–UP, unless indicated otherwise.