GREEK RUINS: Proud Olympic Vestiges From a Pre-crash Era
While architectural photographs are often devoid of people, Felix Friedmann's shots of the Athens Olympic Park have a particularly uncanny air of foreboding, of apocalypse, or perhaps of political curfew, seemingly recording a site that has just been abandoned. The empty stadia look pristine, apart from a few tell-tale marks of rust around the structural joints. This is a ghost Olympic village, with empty seats, extinguished floodlights, and silent loudspeakers that less than 15 years ago blasted Björk's "Oceania" in a spectacular opening ceremony conceived by experimental stage director Dimitris Papaioannou. A ceremonial arched "agora," built to welcome visitors and to host the opening parade of Olympians, resembles the skeletal remains of a beached whale, through whose ribs you can catch glimpses of the arid Mediterranean landscape.
Under the motto "Welcome Home," the 2004 Olympic Summer Games were heralded as the return of the Olympics to Athens, where the first modern games had taken place in 1896. Located in Marousi, in the northeast of the city, the Olympic Athletic Centre of Athens (OAKA) was originally built in 1991 for the Mediterranean Games, and later hosted the 1997 World Championships in Athletics. In October 2001, with less than three years until the Olympic opening, Spanish architect Santiago Calatrava was commissioned to redesign the site for the big event. He covered the existing main stadium with a new roof, suspended from two triumphal arches, a structure that was echoed in his smaller velodrome. He also created four entrance plazas, with vaulting, wavelike steel canopies. Almost 15 years later, most of the venues have fallen into a state of disrepair. Indeed, many Athenians considered the OAKA a 9-billion-euro boondoggle that contributed to the ongoing Greek debt crisis. The government could not afford to maintain the OAKA, and images famously circulated in the international media that showed its faded, weedy, flooded, waste-strewn air of decay. In the light of these photographs, the 2004 Olympics were interpreted as an event without a legacy and an apt symbol of a Greece trapped in economic depression with record unemployment, homelessness, and poverty. But, as is often the case, the truth isn't quite so straightforward: while some of the facilities are indeed now vacant, many remain in use, such as the principal stadium, which is the home ground of AEK Athens F.C., one of the largest soccer clubs in the country.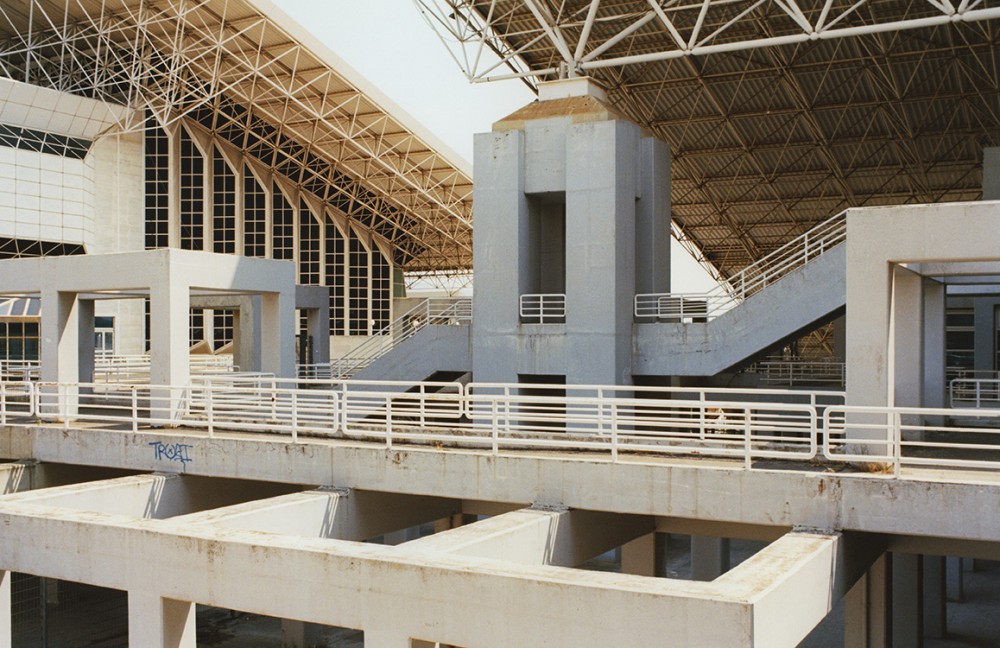 These photographs do not focus on the site's obvious state of decay, but record it as a classical ruin, as monumental sculpture — like a 21st century Acropolis. Indeed Friedmann's images are reminiscent of Oscar Niemeyer's partly unfinished Modernist structures for Lebanon's International Fair complex in Tripoli (1963–74), which were abandoned after civil war broke out. With their curves and space frames, bleached aesthetic and exploding "foliage," Calatrava's designs also evoke a tropical utopianism that has fallen into neglect. As Modernist architects pursued social perfection with uncritical zeal, utopian ideals often degenerated into dystopian realities. Friedmann took the photographs of the Athens Olympic Park, all shot in landscape format and printed full frame, on a handheld Leica M6, to give a human sense of perspective, which perhaps adds to their slightly menacing air of romanticism. "I didn't want to shoot the obvious traces that illustrate the terrible state the site is in," he says. "I wanted instead to keep distance and allow the spectator the space to have their own thoughts about what they see, and to let the architecture convey its beauty. The structures appear to be full of emotion, not brutal or dead."