Hollow Insides, Bodily Outsides: Peter Schlesinger Tours Us Around His Ceramic Vessels
Peter Schlesinger had a life-changing breakup in 1987. No, not his parting of the ways with David Hockney, for whom he was a muse for some of his most seminal homo-aquatic paintings. After 20 years of being in a committed relationship with figurative painting, the artist left behind his easel for ceramics. He felt "stuck in painting," he told me, standing amidst a suite of vessels in his ongoing exhibition at Tribeca's David Lewis gallery, but pottery offered him the sweet arms of a new love. "I never looked back." 
Schlesinger started off by making animal-shaped vessels with long necks — his first, a duck, and then different kinds of birds, swans, and colorful koi fish — but his new show is a testament to the artists' growth as a ceramicist. Schlesinger points out each vessel's hollow nature. Even Two Men (2005), which monumentalizes two nude boys as they shyly court one another, is airy on the inside. He lifts the glazed stoneware to show me their empty innards, which accounts for the piece's unexpected lightness. "I started from the feet and worked my way up," he explains of his rendering of this intimate scene. "As I pile the clay, the process tells my fingers where to go next."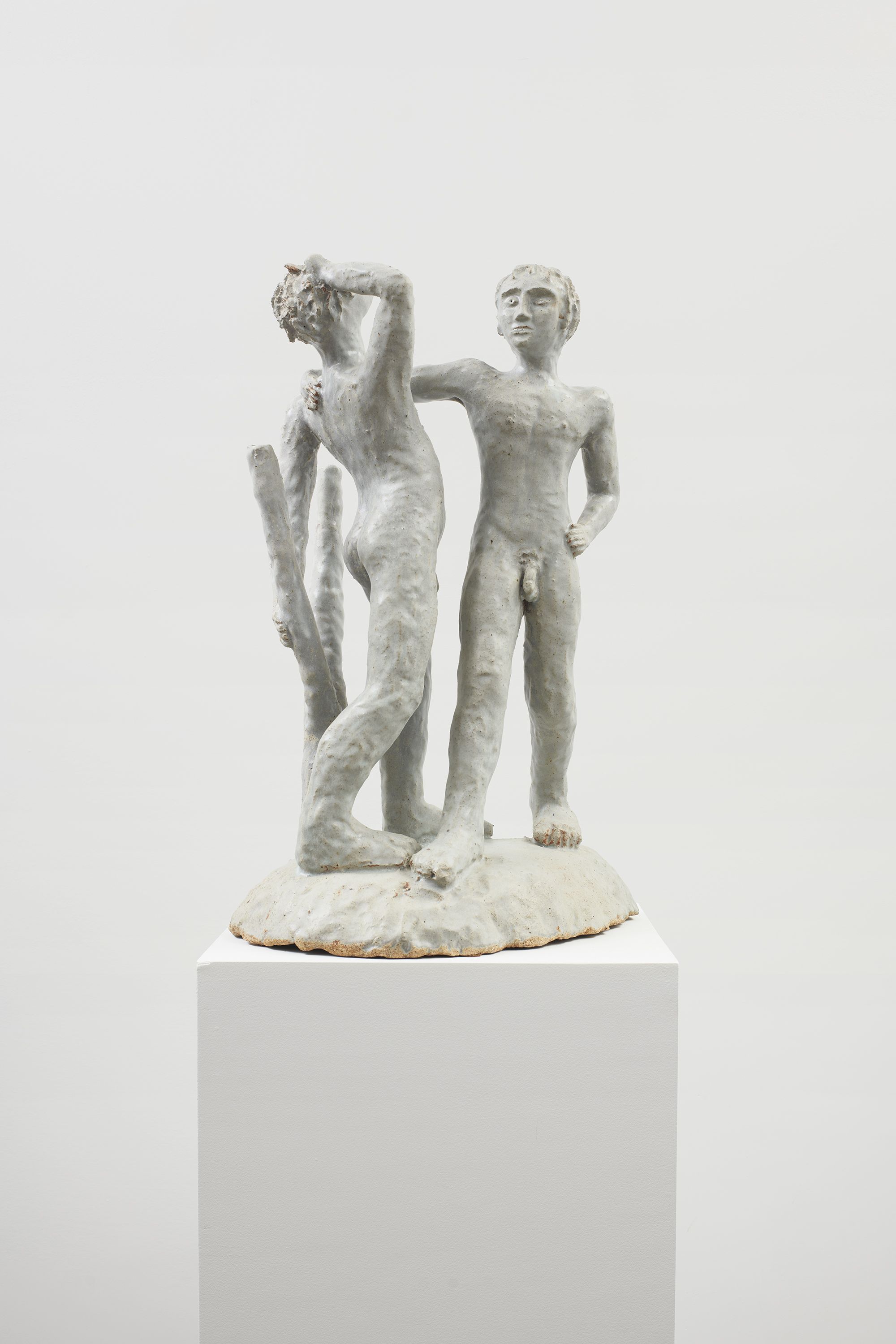 His photographer side — he's collaborated recently with Gucci and Maison Kitsuné — occasionally comes into play. He'll sometimes sculpt from an image, but the pandemic has distanced him from his brand new camera. The artist doesn't make many pictures anymore, but isolation's natural reclusivity has been a boon for his passion for clay. 
Despite abandoning figuration on canvas, Schlesinger enjoys flirting with references to the body in his ceramics. There's only one corporal representation in the gallery, and the other vessels range from interpretations of the typical urn structure to sensual biomorphic formations. Phallic growths populate a teal-colored untitled vessel (2019), the acorn-shaped bulges piling up to the height of a small tree; Five trees (2013) is a grander statement, a quintuple of saplings minimized to their simplest representation as trunks holding faintly green paddles. 
The traditional pot shape is where Schlesinger reveals his true inspirations. He brings together different aesthetic traits from Spain, China, Egypt, and Mesopotamia. There's a sheen of antiquity via his use of wood ash-glazed surfaces — he finds shiny glaze particularly "vulgar". Oscillating between generous curves and tightened necks, the vessels seem excavated, as if they were artifacts brought onto pedestals for our contemporary eyes' adoration. The artist dresses them with different motifs, serpentine lines, checkerboard grids, and rather painterly marks, such as the hour glass-shaped black and white vessel, Stripe (2006).
Schlesinger has been living with these sculptures for many years — nearly two decades in the case of the older works in the exhibit — at his studios in Manhattan and Bellport, Long Island. "They suddenly look different under luminous gallery lights," he says. He uses his city studio, which is also one of his living spaces, for shaping the clay, and he fires his works in the gas kiln in his summer house's garage. His gentle kneading of soft clay is most traceable in an untitled mauve-colored vase from 1999. The evidence of his fingertips and its dripping, nearly sweaty, glaze defy the fact that the piece is the show's oldest. It looks like he took it out of the kiln just a few days ago. "Seven hours to heat up and two days to cool down," Schlesinger says about a typical firing ritual, so "glazing has its surprises." 
David Lewis's basement hides the delightful surprise of Black Balls (2006), my favorite ceramic of the exhibit. It's a large-scale black-glazed stoneware covered in tiny balls, set against dramatic lighting inside a dark nook. "I rolled each ball by hand and placed them onto the body," Schlesinger says. The rounded bits look both innocent and precarious as they cover the urn and reflect large shadows onto the brick walls that surround them. It's a piece that underscores just how right he was to put down his paintbrush 35 years ago.
Peter Schlesinger, (Untitled), 2019, glazed stoneware.

Photo courtesy the artist; David Lewis.

Peter Schlesinger, Five Trees, 2013, glazed stoneware.

Photo courtesy the artist; David Lewis.