LOVELAND: SOUTH KOREA'S NSFW PLEASURE PARK
Jeju Loveland is an 18+ erotic sculpture park located on Jeju Island, a subtropical resort destination, just off the southwestern tip of South Korea. Particularly popular with hormone-heavy newlyweds, Loveland boasts 140 larger-than-life carnal statues exaggerate the male and female anatomy (especially the phallus), staging them in a variety of blissful postures and racy interactions. Loveland, which opened its doors in 2004 following years of commercialized expansion on the island after the Korean War, isn't the only sex park on Jeju. The 714-square-mile island is also home to two other similarly themed attractions: the World Eros Museum and the Museum of Sex and Health, both of which adopt a more serious approach than Loveland, with straightforward instructional diagrams and wellness lectures.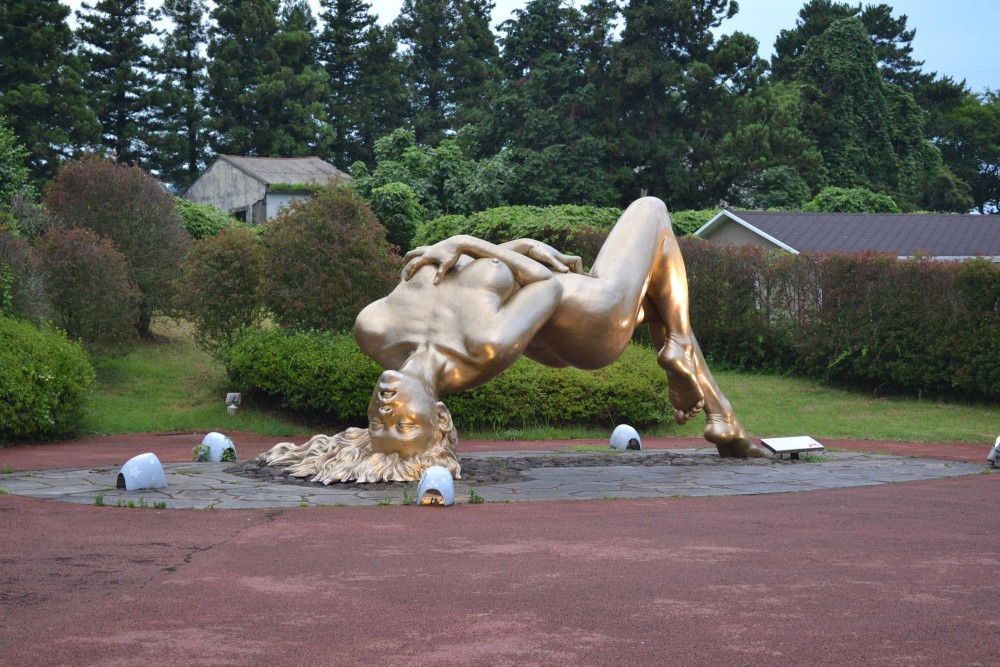 "History repeats itself neither as farce nor as tragedy but as a themed environment," wrote the architectural critic Aaron Betsky on the occasion of the 1992 opening of Forum Shops in Las Vegas — a common-or-garden mall improbably dressed up in imperial-Roman garb. While 1992 might already seem eons ago, the modern themed environment, Loveland included, can in fact be traced back to the "pleasure gardens" of the 16th century, initially created for European royalty and aristocracy but later made available to a wider public with the expansion of the merchant classes. Fast forward from the mass-leisure events that were the Industrial Age's world fairs to the Postmodern era and today's service industry, and we arrive in an era where theme parks flourish in all their niche specificity like never before. As a result today you'll find designed environments dedicated to Ferrari cars, video games, the Wild West, as well as to a variety of foods, cinema, animated characters, and…sex.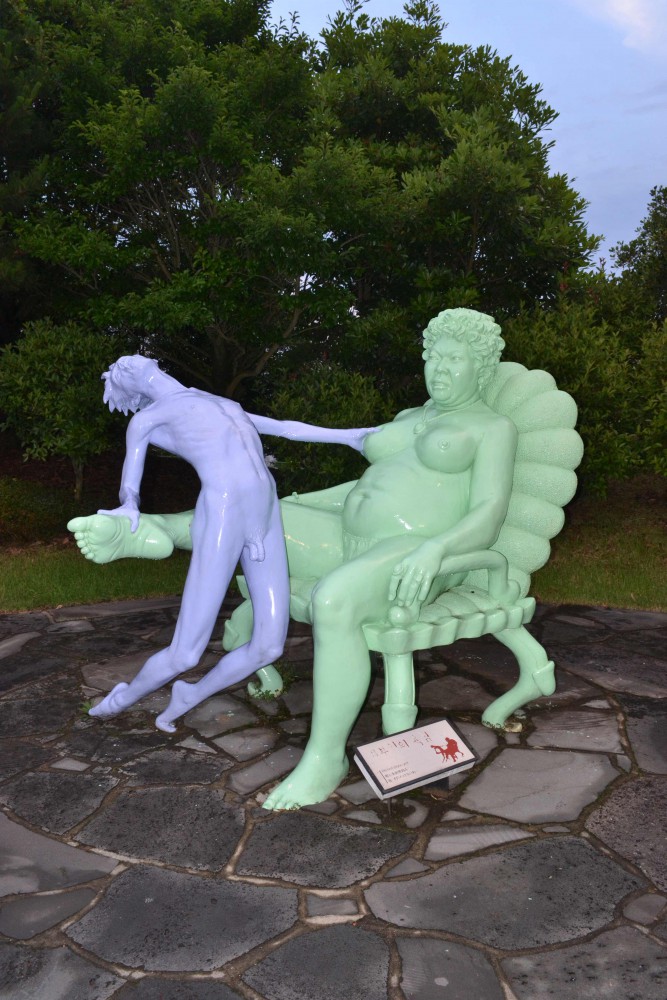 Loveland was originally created by 20 artists and graduates from Seoul's Hongik University, in part motivated to celebrate "the natural beauty of sexuality" and to break away from stereotypical taboos around sex. Yet Loveland's erotic narratives are exclusively heteronormative, subordinating the act of sex itself into overly simplified recreation. The result makes for a hilarious yet strangely regulated, sanitized, and synthetic experience. Perhaps the most interesting thing about themed environments, whether they're about Imperial Rome or about sex, is that they convey the cultural, social, and economic context of their development; as "amusementscapes" they are capable of constructing a specific perspective of the world. Beneath its garishness, Jeju Loveland provides one such rather narrow point of view, which nevertheless allows for the occasional eruption of unadulterated joy.