KITCHEN MIXERS, MANOLOS, AND MORE: THE INAUGURAL MADRID DESIGN FESTIVAL
Just when you thought we'd surely reached peak architecture-biennial/design-week/city-triennial fever, along comes another one: the Madrid Design Festival (MDF), whose first edition opened on February 1, 2018 and is running until the end of the month. The MDF is the brainchild of creative agency La Fábrica who also founded the photography festival PHotoESPAÑA. The design festival is taking place in numerous locations all around the Spanish capital, and is set to become an annual fixture, overlapping with ARCO, the Madrid art fair, to turn February into "the month of art and design." Based on the tried-and-tested model of events such as the London Design Festival, it features the expected mixture of public and private and official and "off" exhibitions and happenings. Star turns include a substantial retrospective for national design icon Jaime Hayón at the Centro Cultural Fernán Gómez, as well as a tribute to Spanish fashion god Manolo Blahnik at the Museo Nacional de Artes Decorativas. For this first edition, the organizers have made sure to include a solid grounding in history with a show about Art Deco design at the Museo ABC, two exhibitions about fashion in the work of painter Joaquín Sorolla (1863–1923) — one at the Museo Sorolla itself, the other at the Thyssen-Bornemisza — an investigation of record-cover design in the golden age of vinyl (at Fernán Gómez), as well as a show about the history of everyday household and kitchen appliances (also at Fernán Gómez). The inclusion of the last two was a nice touch, clearly seeking to remind us that design isn't just about unaffordable fashion and posh hotel interiors but has ramifications for society at large.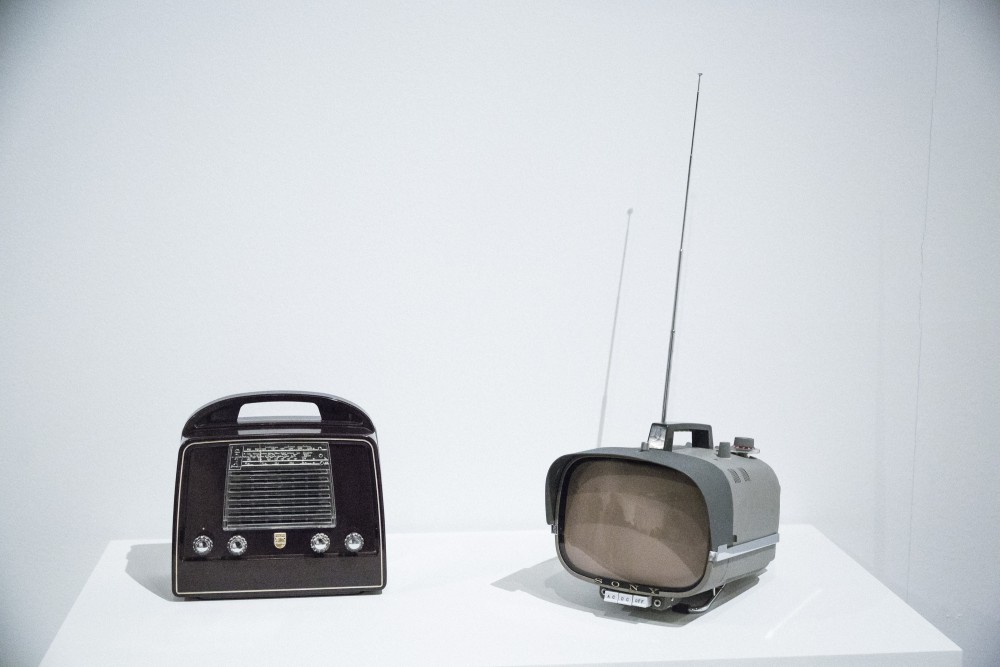 While the relationship between design and fashion is emphasized at the festival the often hazy boundary between architecture and design is rather less explored (perhaps because Madrid already has an architecture week in the fall). One project that does address this subject is Montaña en la Luna, an installation by Enorme Studio in collaboration with car brand MINI in Madrid's Plaza de Santa María Soledad Torres Acosta, a mouthful that is colloquially known as the Plaza de la Luna. A large greenhouse on wheels, doubled up with exterior planting and tribune seating, the "mountain" is hosting a series of events that are designed to get local residents thinking about the future of urbanism.
Another project that explores what design can do to space, albeit in a very different way, is young duo Estudio Mayice's Filamento in the "off" section of the festival. Fascinated by crystal and its potential use in lighting, the designers developed a system for long dining tables that appears to be a filament of light running through individually made turned-glass forms (each one unique) that are reminiscent of old-fashioned chair legs. But in fact the "filament" is purely an optical illusion, the light sources being located in the metal boxes that join each piece of turned glass together. Attached end-to-end they subtly transform the space in which they are placed, regulating its atmosphere and materializing a virtual horizon.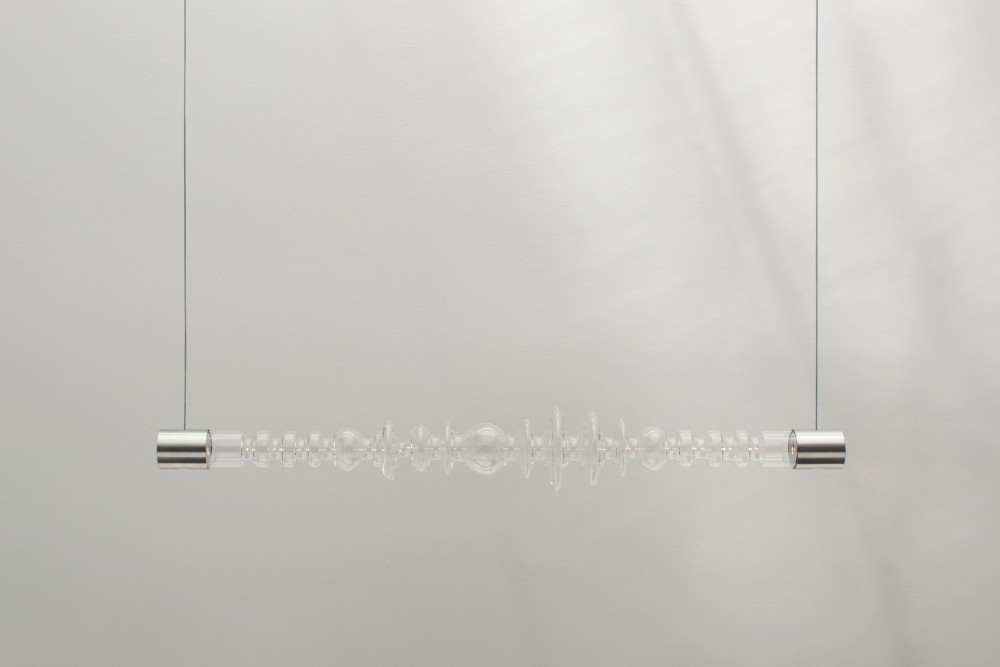 Another "off" highlight is Jorge Penadés's Poli-Piel at the Machado-Muñoz gallery. Piel of course means "skin," and these pieces — a valet, tables, a chair, a table mirror, two lamps, and a tray (as he prosaically describes them) — use a process invented by Penadés whereby strips and offcuts of leather are squashed up and glued together to form blocks which, if you didn't know better, you'd take for some form of exotic tropical hardwood. Cut, rather against the grain, into perfectly orthogonal shapes, they're combined with equally orthogonal pieces of marble, metal, and mirror in a sort of S/M bondage pairing of the warm and the cold, literally strapped together with leather belts fastened by studs and buckles. The result is singularly disconcerting.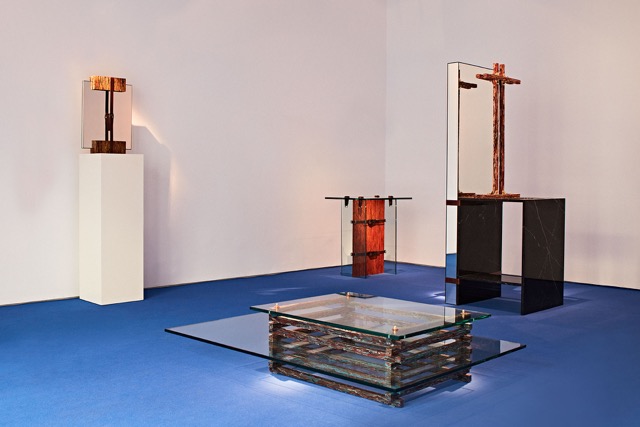 No design festival worth its salt could get away without programming lectures, talks, and workshops, and the MDF has duly put on a whole series at the Colegio Oficial de Arquitectos de Madrid (a rather nice building from 2012 by architect Gonzalo Moure Lorenzo). Perhaps a little self-conscious about the recent proliferation of design festivals around the globe, the organizers included a panel discussion featuring Kari Korkman — founder and director of the Helsinki Design Week, and also president of the World Design Weeks network (WDW) which currently counts 25 members in Europe, Asia, and the Americas —, James Bill, deputy director of the London Design Festival (LDF), and Ghassan Salameh, the new creative director of the Beirut Design Week (BDW). Bill began by pointing out how since the creation of the LDF, 16 years ago, the number of design festivals worldwide has mushroomed from about five to 150. And for him their justification is to a large extent to be found in the democratization of design that they promote, the opening up of something rather "exclusive" to the "ordinary" person in the street — and the concomitant increase in general design literacy that he claims is the result. He was also keen to justify the LDF in terms of figures — business returns, visitor numbers, job creation — although one statistic on his spreadsheet he chose not to dwell on was rather telling: despite London's internationalism, only about 20% of festivalgoers were from abroad, all the others living locally. This also matched up with a statistic quoted by Korkman, whereby authorities in the Netherlands had discovered that government investment in promoting Dutch design as an international brand was in fact a waste of money, since only six percent of Dutch design companies actually worked abroad. It's all about the local, seemed to be the conclusion, including social media, which have made design festivals much easier to promote. Salameh, in the very specific context of Lebanon, felt that the BDW (founded in 2012), whose initial goal was to promote design as an independent discipline in a country where it wasn't well understood, could also play a political role. But however important their local impact, what all three speakers seemed implicitly to agree on, without ever actually saying so, is that design festivals are an inherently urban phenomenon. If outreach really is the goal, then bringing design to the countryside, democratizing it across the entire spectrum of society, may be the next great frontier…
The role of design festivals in spreading design literacy was a point also made by Erwan Bouroullec in his acceptance speech at the Madrid Design Festival Awards. He and his brother Rowan had been selected alongside Catalan designer Martí Guixé and American street artist Tristan Eaton, even though none of them ostensibly had anything to do with the MDF. Neither Guixé nor the Bouroullecs had any need of yet another award, and had presumably been chosen with a view to bringing some big-name legitimacy to the fledgling festival. But what was so interesting about the MDF, rather than foreign imports and established stars, was the glimpse it gave of a thriving madrileño and Spanish scene, and the opportunity to discover younger and lesser-known practitioners. Much more in the right direction was the Rado Star Prize, sponsored by the Swiss watchmaker, which selected two young Spanish designers, Paula Clavería and Pablo Vidiella Huguet, as this year's laureates. Let's hope that next year's MDF, having gained in confidence, will spread its wings and really let fly with all the potential of Spanish design.
Text by Andrew Ayers.
The Madrid Design Festival ends on February 28, 2018, but many of the exhibitions run throughout May.