DANCE AND ARCHITECTURE: A Dancer Selects Five Of The Most Inspiring Sets
If, as Aldo Rossi once said, "architecture is setting the table," then dance is the sumptuous meal. Considered by many to be the first arts, dance and architecture came before language: early humans communicated and expressed themselves through gesture and bodily movement, and the paradigmatic Primitive Hut is as old as humanity itself. While one is corporeal, emanating from the inside out, the other is structural, bringing the outside in. Dance and architecture both define space and employ the same techniques: geometry, proportion, scale, repetition, ornament, color, and light. Nowhere is the creative reciprocity between them more directly evident than in set design. Inspiring sets share one commonality: they enhance the choreography, because they maintain their own identity. Below are five works that span different epochs and illustrate the sublime synchronicity between architecture and dance.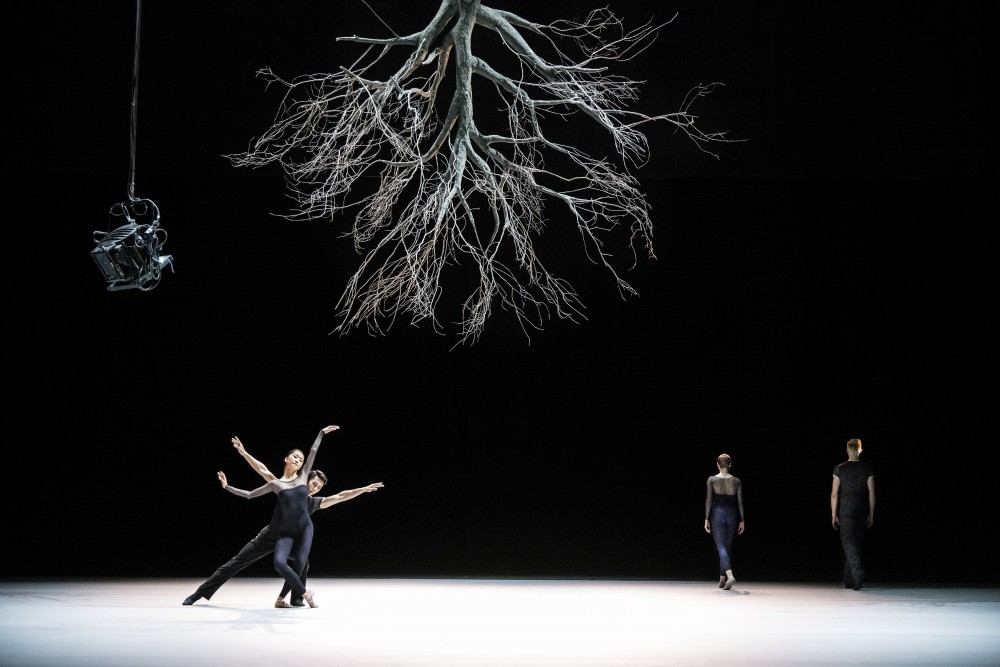 Jiri Kylian, Wings of Wax
In 1997, the Nederlans Dans Theater premiered Czech master Jiri Kylian's Wings of Wax. The minimalist set, concepted by Kylian himself and fabricated by Michael Simon, adds a mysterious beauty to the overall dark tone of the ballet. The stage perimeter is cloaked in black curtains, and eight dancers dressed in all black bodysuits with soft shoes emerge and exit from its shadows. There is a stark contrast between light and darkness. The dancers' lush movements take place beneath a mobile light suspended from the ceiling which circles the stage, and an inverted tree with bare outstretched branches...or are they roots? The set offers ambiguous beauty and a sense of wonder. In response to criticism that Kylian can be unspecific, he expressed in the 2011 documentary, Jiri Kylian: Forgotten Memories: "I prefer to leave some possibility of interpretation. So ambiguity is not because I don't know precisely I want to say, but it is because I want the active participation of the public in whatever I'm presenting."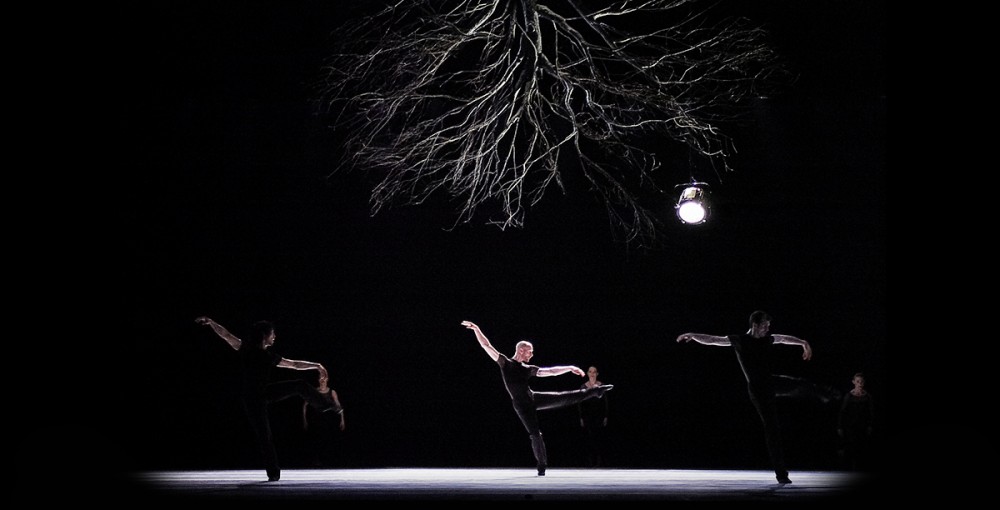 The ballet's title refers to the ancient Greek myth of Icarus and Daedalus, and viscerally evokes their fight to find freedom, the ultimate human desire. While the piece makes no literal reference to the myth, Kylian explains how the concept relates to this age-old narrative, writing that the "dancers also find themselves in a strange kind of imprisonment… Their art has been defined by their desire to defy gravity… Wings of Wax is an attempt to show not only the rationality of laws which govern the technique of the dancers, but by equal measure to show the spiritual and emotional value of these physical exercises." The ballet is intended to represent our everyday struggles. How close to the sun do you fly? What would happen if you fell?
George Balanchine, Serenade
George Balanchine's Serenade was choreographed in 1934 on students of the School of American Ballet. He wanted to teach the dancers how to present themselves onstage. It has no explicit "story," yet is exploding with profound beauty in gesture. 
The curtain rises on an azurean landscape. Seventeen dancers stand still, placed in a formation like that of an orange tree grove. Each is dressed in light blue — a camisole bodice and a long tulle skirt that skims the ankle. In Serenade, both the dancers themselves and the color blue, achieved through lighting design (mastered by Ronald Bates) simply are the set. Many of Balanchine's 20th-century masterpieces, especially his black and white leotard ballets (which even today feel modern), are contrasted by a blue set. 
Martha Graham, a contemporary of Balanchine, wrote in her memoir Blood Memory about the lighting of her Appalachian Spring in 1944, that she needed a "clear blue American sky — uncluttered, simple, no kitsch, or effects." Balanchine who was born in Russia, was known to love America. I can't help but think he had a similar liking for this "American clear blue sky" in his work, ultimately letting the dancers and their movements speak the loudest.
Serenade is an instructive tool for dancers to learn to have presence in motion and develop one's individual style, but it also teaches you how to be one of many. Each dancer learns little tricks to measure body proximity at different angles to create geometrically complex formations and flight patterns as a unit. Instead of rigid set pieces, the blue landscape provides a simple backdrop for the dancers' formations. I love this aspect of many of Balanchine's great works like Serenade, Symphony in C, Theme and Variations, and Jewels. If you fast-forward a video of the choreography, the movement patterns are revealed as highly mathematical. The stage is a field filled with symmetries and asymmetries, and the exactitude of these patterns carve and define the space.
Gabriela Carrizo, The missing door
Gabriela Carrizo's The missing door, much like the work of Pina Bausch, dissolves the boundary between theater and dance. Carrizo cites photographer Gregory Crewdson as an inspiration for the piece — and the disturbing, surreal quality of the production is like one of his macabre photographs come to life. 
The set is a simple stage structure of movable walls containing several doors and a woman sitting in an unremarkable green armchair, with a shaded floor lamp next to it, and lit sconces around the doors. Carrizo intends to begin her work with an essence of realism and banality, but that is before we dive into the narrative's shifting parallel realities. The piece takes place inside the mind of a man experiencing the final minutes of his life — the in-between twilight zone of life and death.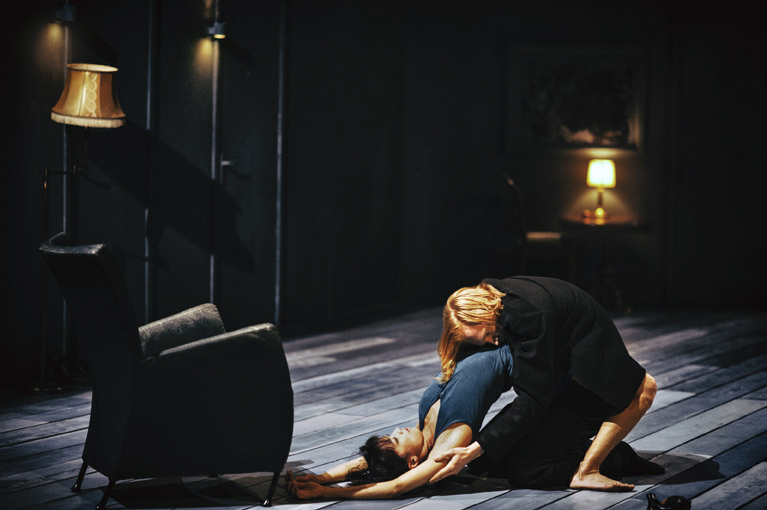 Rather than concealing scene changes by closing the curtain, the audience witnesses their evolution. Carrizo keeps one dancer in character, while others on stage assemble the next scene. Instead of it feeling like a pause or blip, the integration is seamless.
At times, the nightmarish sounds (by Raphaëlle Latini) clank and crash in coordination with the dancers' and the set's physical movements, like when we see a man lying face down bounce his body off the floor as if in an armless plank pose over and over, precisely in time with the sound of a creaking door.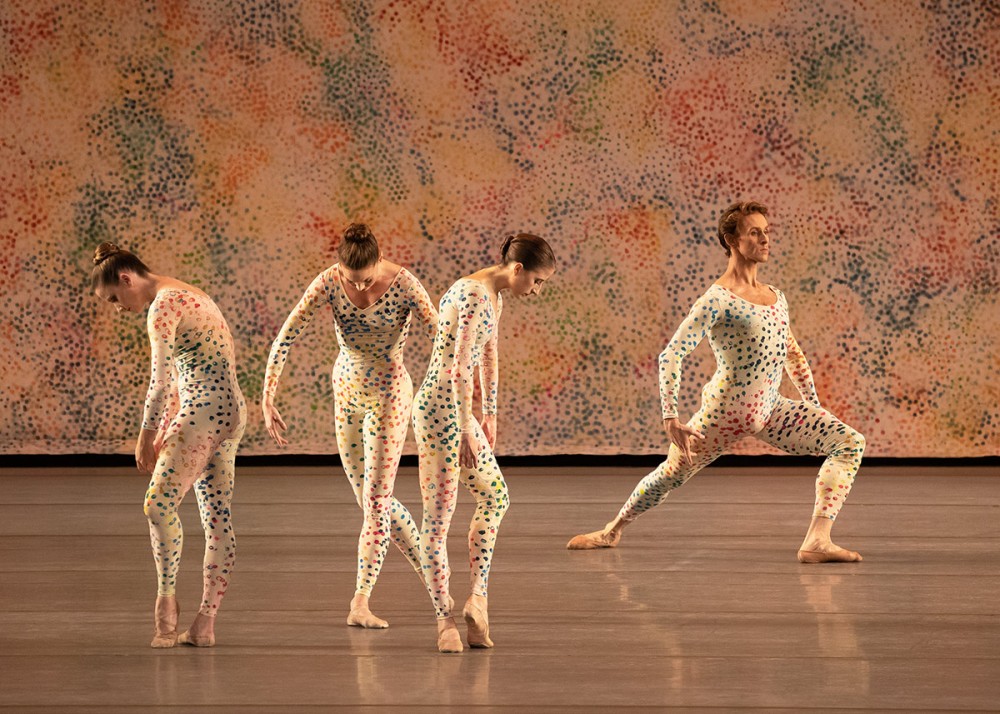 Merce Cunningham, Summerspace
Summerspace, which premiered in 1958, is one of the most famous collaborations between choreographer Merce Cunningham and artist Robert Rauschenberg. The two began working together in 1954, and collaborated on lighting, set, and costume design for over 20 performances. Cunningham's unique approach to dance-making was that music and décor function separately from choreography, so as not to make anything subservient to the other. All elements are equal in importance, and often only come together in the final moments. Rauschenberg and Cunningham's relationship must have been rooted in deep creative trust, improvisation, and respect in order to have created such enduring work.
In Summerspace the dancers, costumes, lighting, music, and sets fuse together to evoke the hazy bliss of summertime. The continuity of Rauschenberg's paint-speckled costumes and backdrops creates the feeling of dancers dancing on a canvas — as if part of a vast Impressionist painting. The choreography of two men and two women is bird-like, taking different flight patterns, and flitting their fingertips like hummingbird wings. The music, Morton Feldman's Ixiom, is like the subtle wildlife sounds people might play to help them drift off to sleep. The environment of the ballet fills you with enchanting warmth.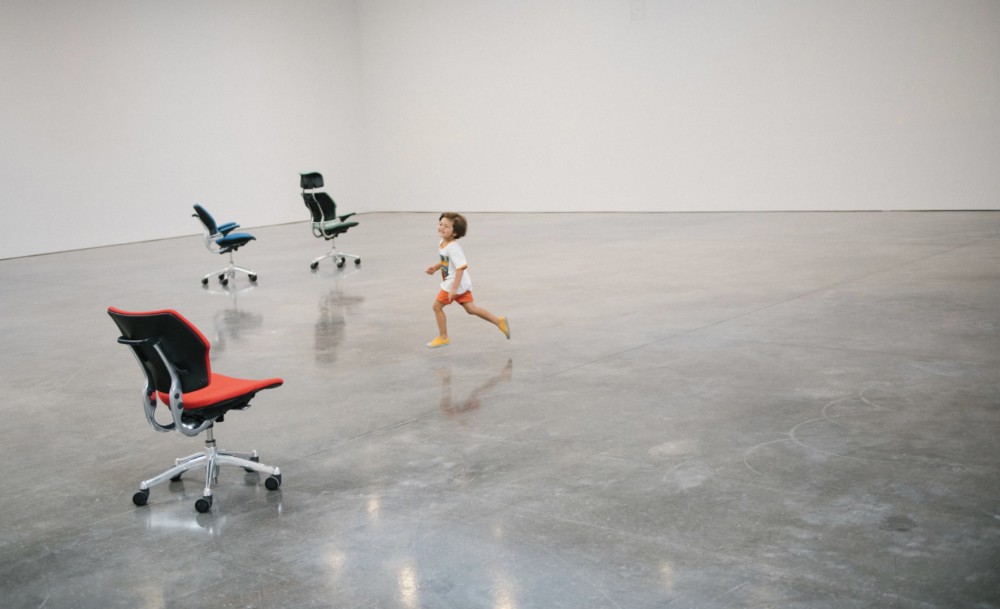 Urs Fischer with Madeline Hollander, PLAY
I think of PLAY by Urs Fischer, with choreography by Madeline Hollander, as "expanded dance." It doesn't take place on stage, but in a gallery — with nine mid-century modern-inspired robotic office chairs moving around the space. PLAY underscores the notion that furniture can influence behavior by subsuming human behavior itself.
The chairs, even without movement, have style. While each has five wheels and a rotating chrome base, the upholstered chairs are all different colors, some have armrests or headrests, some don't, and their programming gives each one a unique anthropomorphic sequence, combining different speeds and rates of acceleration. Each chair has a distinct personality; aggressive, flirtatious, introverted, etc. It's not the object that makes us feel something sentient, but its movement. Ultimately, the piece isn't really about the chairs — it's about the audience.
PLAY highlights how inanimate objects influence behavior on both the conscious and unconscious level. The choice of the office chair brings to mind the history of 20th-century office furniture design and the development of modern ergonomics, which has shaped how we work to this day. Hollander explains that PLAY "brings up the question of who's being choreographed: are you choreographing your day, or is a machine or workflow choreographing your day?" At the opening of the show, when a chair bumped into me, I said "oh sorry!" as if it were a human. For a moment, it was.