DESIGN STORY: SELFIE LOUNGE
Never one to miss a perfect selfie moment, artist Analisa Teachworth is seen here draped over the iconic D.153.1 armchair, designed in 1953 by Giò Ponti, one of the most influential Italian architects and designers of the 20th century. This version has a brass frame and was recently reissued by MOLTENI&C, who upholstered it in a velvet Punteggiato fabric, another Ponti design (for Rubelli in 1934). Analisa's skirt is by BOTTEGA VENETA, the bracelet is by FAUX/REAL, while the socks and bra are vintage.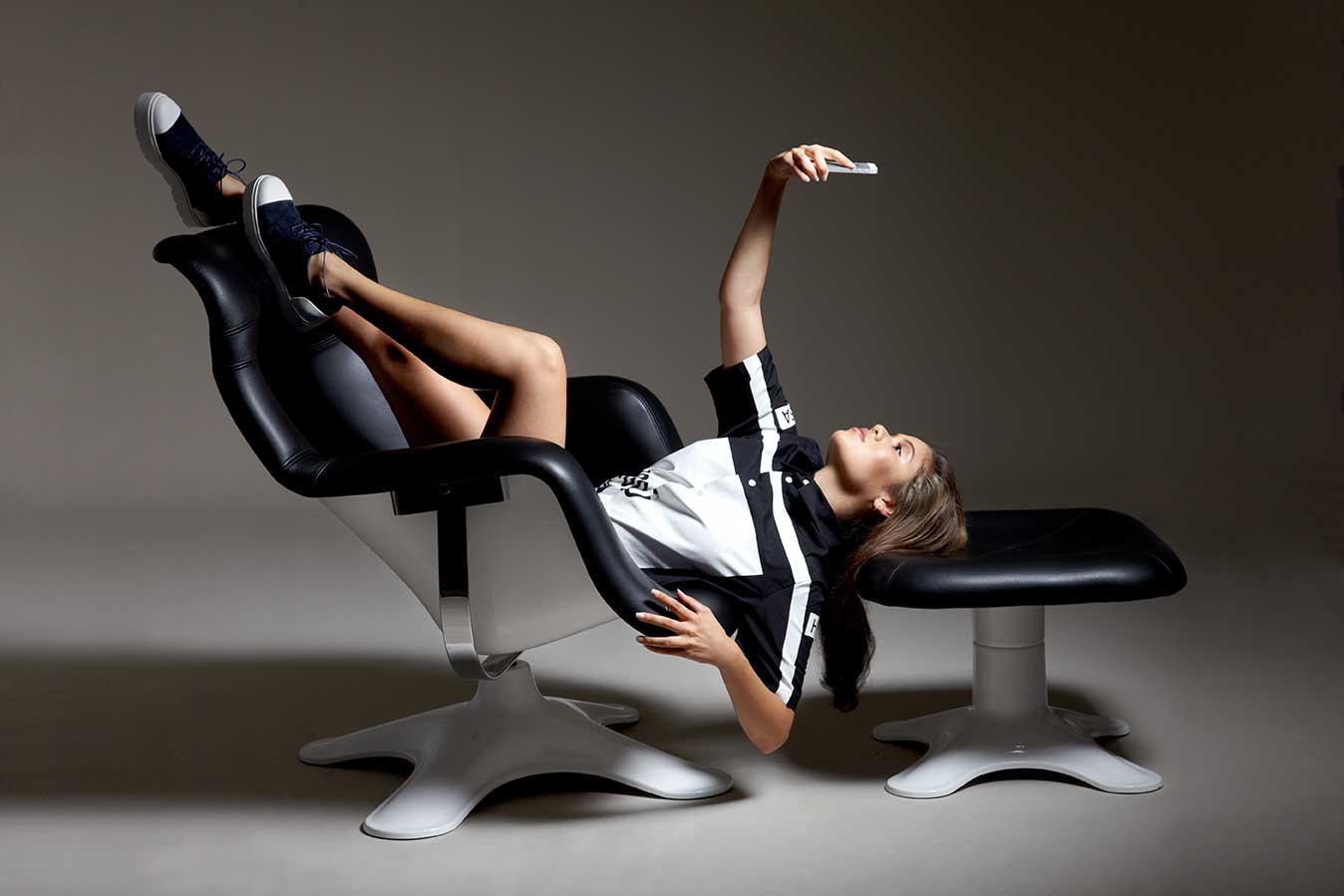 What better way to take a selfie than lying on your back with your legs up in the air? Analisa is doing just that on ARTEK's rotating Karuselli lounge chair with matching footrest. Designed by Finnish iconoclast Yrjö Kukkapuro in 1964, Karuselli today comes in a white-fiberglass shell with black-leather upholstery. The shirt is by HOOD BY AIR and the two-tone shoes are by CAMPER.

Analisa has met her sartorial selfie match in Antonio Citterio's Febo 2013 armchair and ottoman. The Febo 2013 comes with a detachable headrest and is available in 33 colorways, in fabric or in the softest of leathers (pictured), finished with a characteristic blanket stitch; available through the MAXALTO collection from B&B Italia. The 100-percent-wool rug is Dune by Danskina and is available through MAHARAM. The dress is by TELFAR and the shoes are by NICHOLAS KIRKWOOD.

Analisa is taking her selfie activity for a spin on the Whirl chair (2014). Designed and produced in an edition of five by Brooklyn-based designer Ian Stell, the Whirl is made from brick-laid laminated plywood on a steel frame with go-kart bearings, which allow each of the circular panels to rotate and roll around the room. It is available through MATTER, New York. The sweater is by MARC JACOBS, the pants by VAQUERA, and the shoes by ADIDAS.
For a more professional selfie moment, Analisa chooses the Scissor chair, designed in 1968 by the late Ward Bennett, whose prolific oeuvre too often goes unacknowledged. Inspired by ocean-liner deckchairs, the Scissor looks best with a tubular-steel frame and leather upholstery. Available through HERMAN MILLER. Analisa's pants, shirt, and shoes are by COMME DES GARÇONS, and her glasses by SLOW AND STEADY WINS THE RACE.