DESIGN STORY: Textiles That Cover You Like Kisses
...And headpieces. And drapes. And all manner of home textiles — from natural cotton to engineered synthetics — piled on your head and body. Add a touch of jewelry and it's a wrap.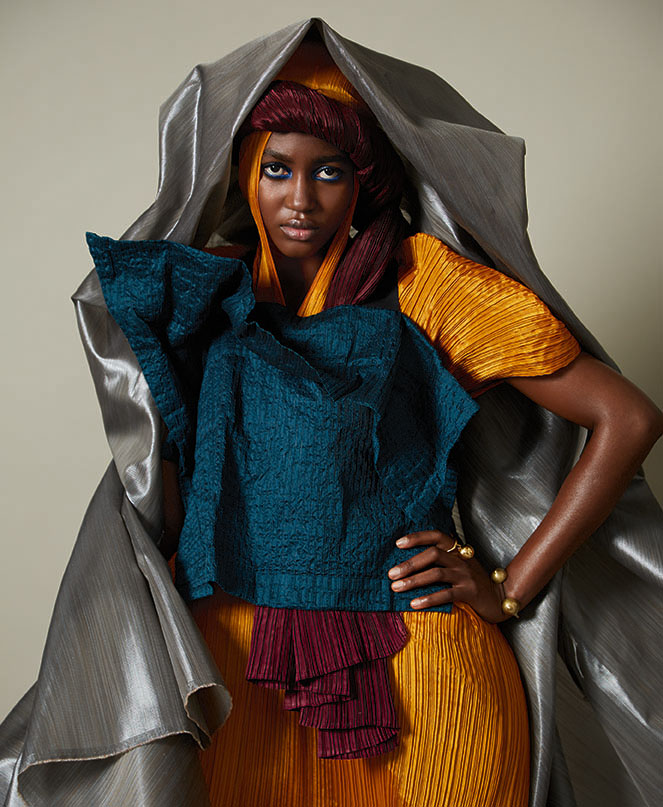 When the sun comes out, sometimes more is more. Aicha has ensheathed herself in generous layers of Acoustic Baleen, a semi-transparent drapery fabric by DESIGNTEX, available in six shades. Also keeping her protected are some artfully draped scarves and a shirt by ISSEY MIYAKE PLEATS PLEASE. Around her wrist: a brass Double Opus cuff by QUARRY. The 14-karat-gold Locket ring by PANCONESI and available through SSENSE.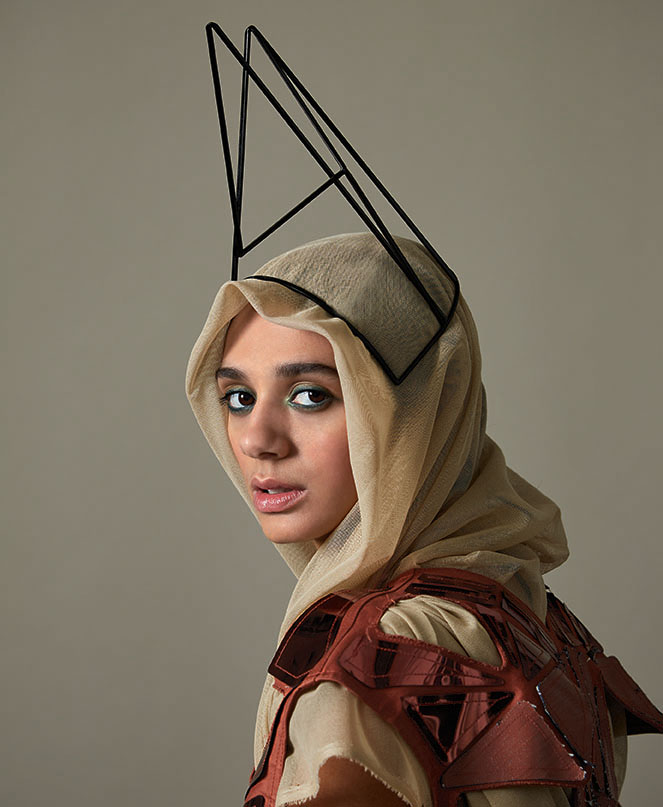 Amaya knows how to capture your attention. Case in point: this arresting total look courtesy of RICK OWENS. The dress and Babel brass crown are straight off the runway from Owens's spring/summer ready-to-wear collection. The fine-mesh polyester Phase fabric in an "Origin" hue by MAHARAM, normally used for curtains, provides Amaya with the perfect cover.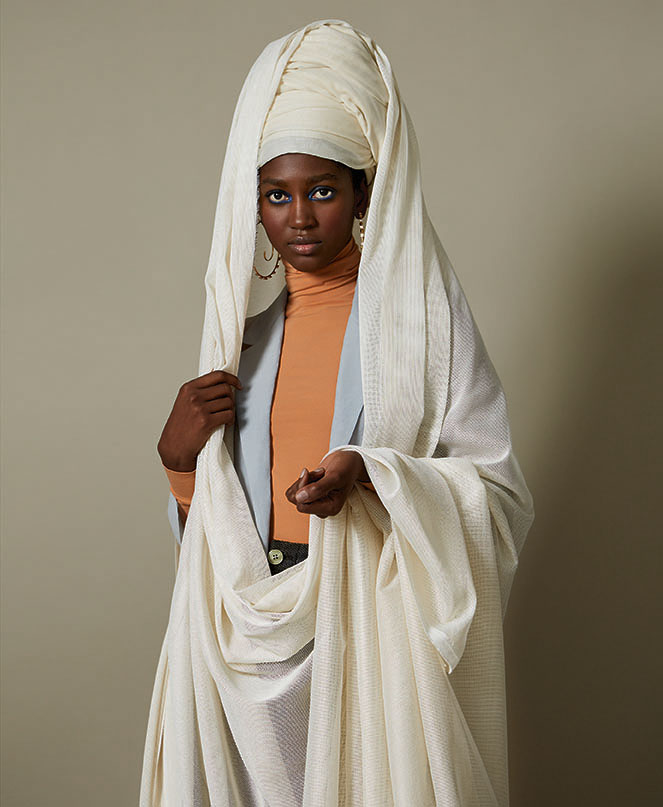 Aicha knows a thing or two about elegantly draping textiles. Here she matched Zen, a sheer metallic leno weave mesh, with a makeshift turban made out of Anna, a cotton-like polyester blend. Both fabrics are by DEDAR and would normally be used for window draping. The tangerine turtleneck by DUMITRASCU is layered with a powder-blue blazer by MARYAM NASSIR ZADEH. The pants are by LINDER. The crystal-studded vermeil Upside Down hoop earrings are by PANCONESI.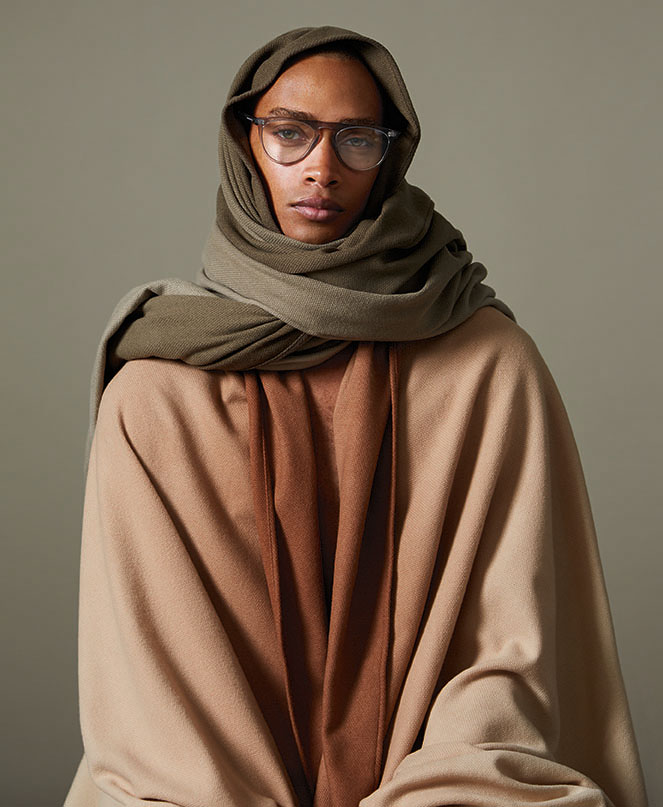 Always mindful of overexposure, Daje wrapped himself in two Soft Plaid blankets designed by Marta Ferri for MOLTENI & C. Made from precious Australian merino wool, the collection comes in three different gradients: "Rust" and "Olive" (both pictured), as well as "Dolomite." Daje accessorized the look with Loewe 001 by LOEWE, an eau de toilette that combines bergamot and mandarin with tart wooden notes and earthy Indonesian patchouli. The glasses are by BURBERRY.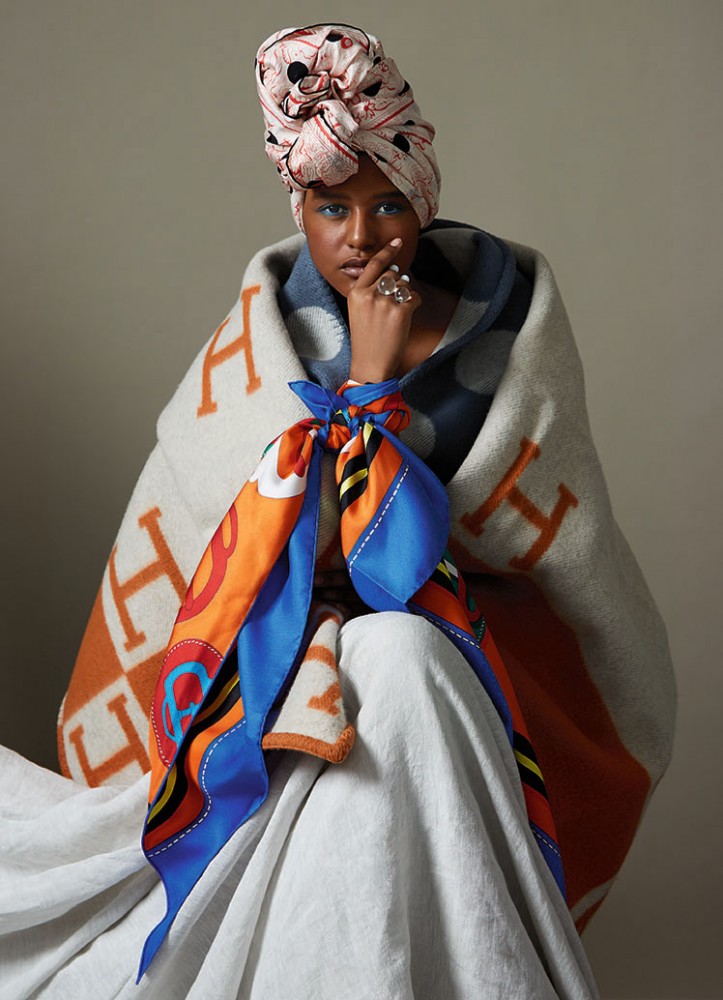 Meron strikes a regal pose sheathed in layers of HERMÈS that include Les Sangles, an orange merino-wool blanket splashed with the house's signature "H," and Avalon Dots, a large cashmere throw in blue. The motif of the silk carré around her head is Chasse aux Pois, while Bouclerie Moderne adorns her right wrist. Covering her legs is Anna, a polyester blend with a natural sheer-cotton look by DEDAR. The rock-crystal ring is by SASKIA DIEZ.
Malik (left) and Daje (right) are united in their mission to cover up. Daje's head is cloaked in Acoustic Lumin, a flame-retardant polyester drapery fabric by DESIGNTEX. The blue coat he's wearing and the T-shirt wrapped around Malik's head is by RAF SIMONS. Malik's pants are by Y–3, the shirt and underwear are his own. They are both wearing Artek Standard — an eau de toilette combining musk, white wood, and rusted metal — created by COMME DES GARÇONS in collaboration with ARTEK.
Sometimes covering up can be revealing. Meron's headscarf, made from vegan silk, is a collaboration between the New York fashion label TELFAR and the American-style beer producer BUDWEISER. Her short-sleeved shirt in blue and taupe is by ACNE STUDIOS and is printed with drawings of grand opera houses from around the world. The glasses are by MICHAEL KORS.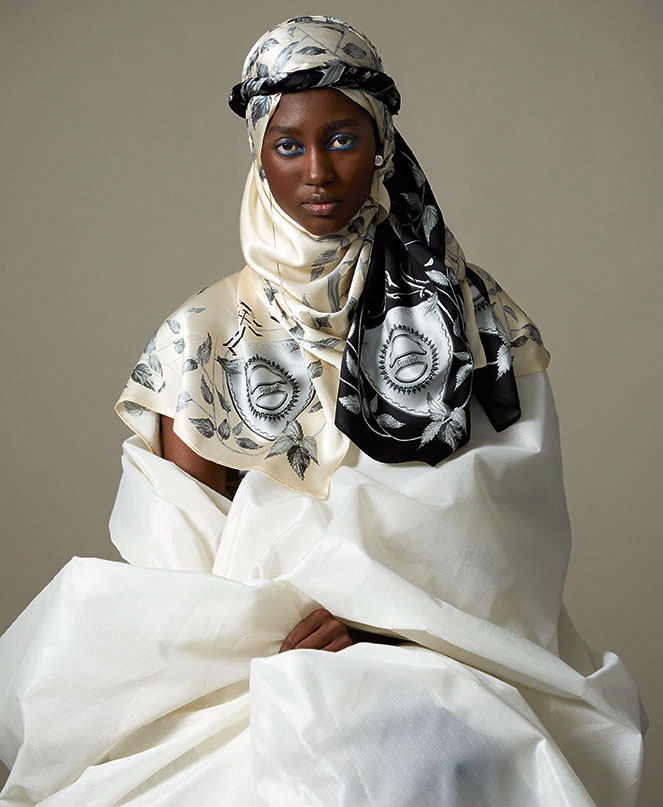 Aicha's artful headscarf arrangement is made from two complementing Holmium silk scarves produced by GMBH. The Berlin-based label founded by Benjamin Alexander Huseby and Serhat Isik also made the silver Hammer earrings and chain. Wrapped around Aicha's body is Acoustic Lumin, a sturdy drapery fabric produced by DESIGNTEX and available in six different shades.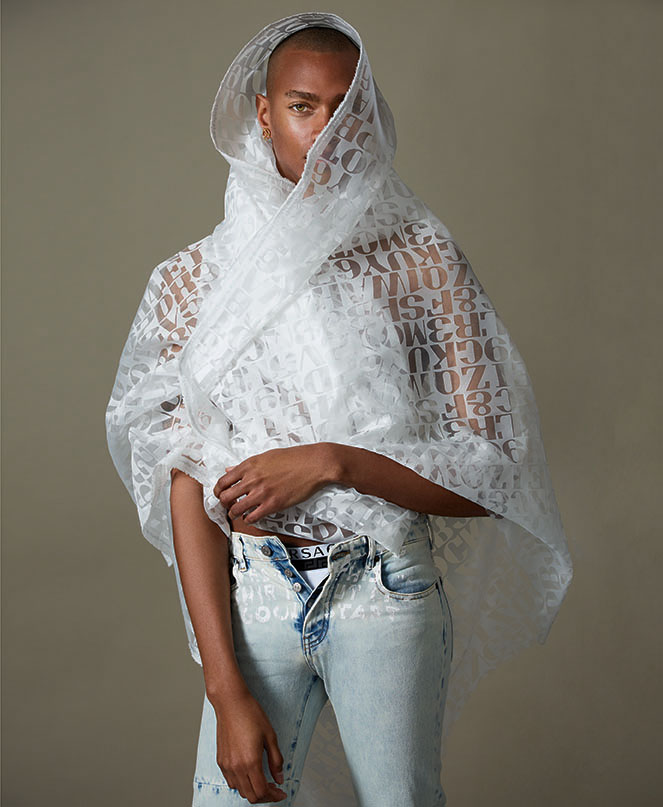 American textile-design legend Alexander Girard imagined the Alphabet pattern in 1952. It's still being produced in a durable polyester blend by design company MAHARAM, who recommend it as a window curtain. It looks equally great wrapped around the head and body of Daje, who is casually completing the look with pants by MM6 MARGIELA, cotton stretch underwear by VERSACE, and gold logo stud earrings by TELFAR.
Meron and Amaya share the beauty of Bounce and a love for BALENCIAGA. The sheer-woven polyester drapery fabric wrapped around their heads is by KNOLL TEXTILES. Digitally printed with an organic motif and rendered in a purple "Flair" colorway, Bounce complements Meron's ribbed purple logo cardigan. Her gold-tone Pantashoes as well as Amaya's gray-ribbed logo dress are also available through BALENCIAGA while the earrings are courtesy of BING BANG.
Taken from PIN–UP 26 Spring Summer 2019.
Photography by Vincent Dilio.
Styling by Avena Gallagher.
Talent: Aicha (Red), Amaya (Red), Meron (Wilhelmina), Daje (Fenton), and Malik. Makeup: Caitlin Wooters at Art Department using MAC. Makeup assistant: Gabby Stevens. Styling assistant: Gregory Miller. Assistant on set: Charlotte Miller. Special thanks to Horacio Silva.