30 OBJECTS: A Survey Show To Define Design In The First Two Decades Of The 21st Century
The first two decades of the 21st century coursed with contradictions and concerns, bookended by the fever dream of the Y2K scare and the reality of the COVID-19 global pandemic. Reviewing this complex era, curators Felix Burrichter and Camille Okhio have created a virtual exhibition, selecting 30 objects that sketch out a broad outline of the past 20 years, through the lens of PIN–UP. 
Robber Baron, Studio Job, 2007 (left) and Chair_One, Konstantin Grcic for Magis, 2003 (right). Rendering by Rubén Gutiérrez-Martin.
ROBBER BARRON, STUDIO JOB, 2007
The late 1990s and early 2000s were dominated by Dutch design, finding support from key retailers like Murray Moss. Design companies like Droog, and designers like Marcel Wanders, Jurgen Bey, Hella Jongerius, Wieki Somers, and later Maarten Baas, propagated a style that was cheeky, lurid, and pragmatic all at once, using simple, utilitarian materials and punning references to create furniture of maximum effect. Studio Job's work from the early to late 2000s represents both a continuation of this style and its complete antithesis. The pop-cultural and historic references are still there, but they're executed by highly skilled artisans in Studio Job's ateliers, using only the most precious woods, metals, and stones, and making ample use of gold. Sculptural work like the Robber Baron series, released only a year before the global financial crash, also paralleled the rise of the burgeoning collectible-design market. — Felix Burrichter
CHAIR_ONE, KONSTANTIN GRCIC FOR MAGIS, 2003 
In the early to mid-aughts, no architectural rendering was complete without Konstantin Grcic's Chair_ONE standing in as a signifier for contemporary aesthetics. The design is a perfect example of Grcic's early work, which combines an affinity for sculptural forms with tough materials and an everyday nonchalance. The aluminum lattice was structured like an unfolded soccer ball, but in the context of the early 2000s also manifested the trending wireframe aesthetic of 3D-rendering programs (digital renderings, simulations, and testing — still novelties at the time — all played into the design process). In that sense, Chair_ONE is representative of the cynicism-free techno-euphoric atmosphere of the post-dot.com era, a time when technological and digital innovation were met with excitement rather than exhaustion. — Felix Burrichter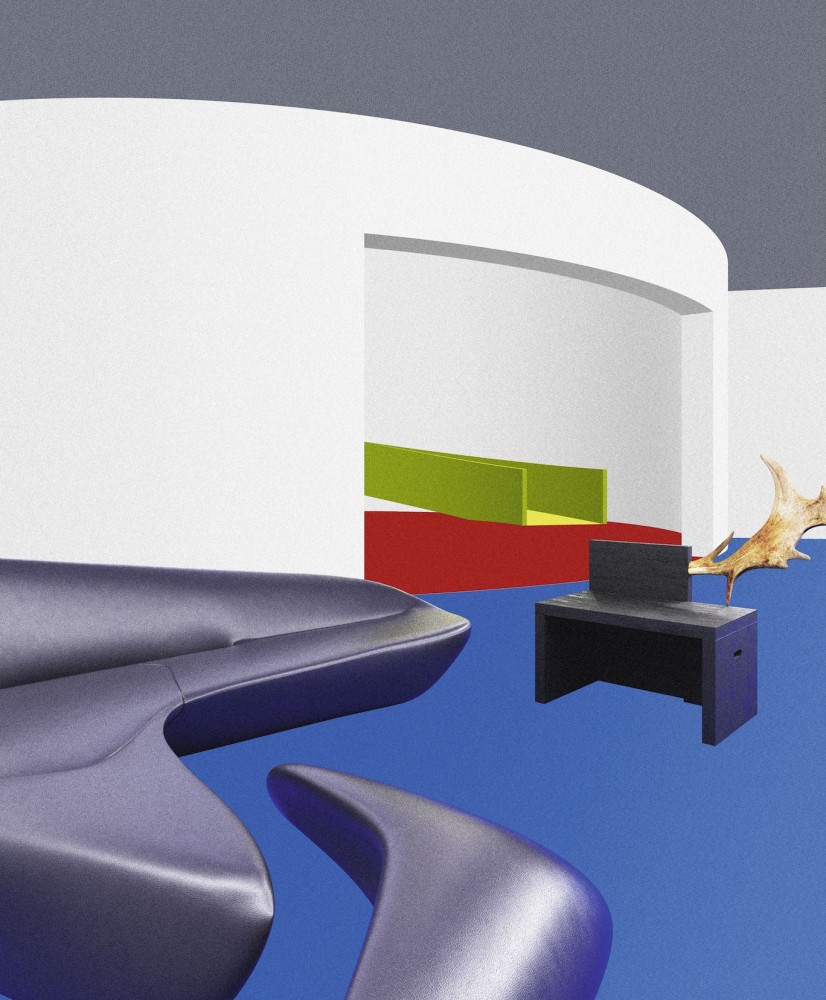 MOON SYSTEM SOFA, ZAHA HADID FOR B&B ITALIA, 2007
Born from the newly developed digital-animation techniques of the mid-1990s, the promise of Parametricism is the largesse of form. The ability to sculpt 3D models into sinuous, bulging shapes has seduced a faction of the architectural elite to imagine beyond the perceived strictures of rectilinear space. "Why" is less important than the sheer joy of formal determinism. This logic extends programmatically as well. Did Guangzhou need an opera house? Not really, but behold the way Zaha Hadid made the main hall's balconies appear like waves rippling across the pearlescent, cavernous ceiling. Hadid's curvaceous Moon System sofa operates along similar visual lines. According to B&B Italia, its manufacturer, the sofa is simply a "design statement." The content of that statement? Does it matter? — Carson Chan
STAG BENCH, RICK OWENS, 2006
Even before goth fashion king Rick Owens presented his first furniture collection in 2007, prototypes decorating his Paris townhouse were featured in the first-ever issue of PIN–UP, among them his Stag bench. Distinguished by its addition of an antler to Judd-like boxy plywood, the horned settee is an elevated manifestation of the period's hipster design, obsessed with taxidermy and drunk on the romance of the hunt. At the same time, the bench refers to an old European tradition of "trophy furniture" dating back to 19th-century Germany and Austria, when noblemen and women would decorate their case goods, chairs, and chandeliers with the externalized bones of their conquests.—Camille Okhio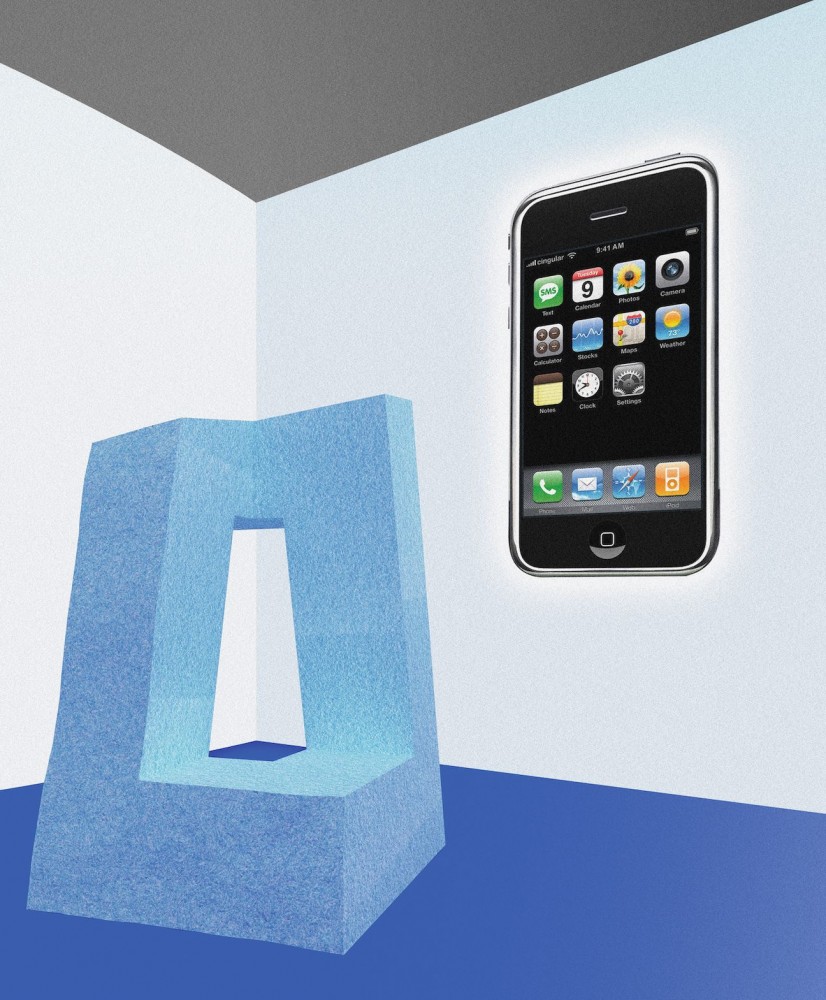 CCTV HEADQUARTERS 1:100 SCALE MODEL, OMA, 2004
OMA's CCTV building in Beijing, a monument to China's rise in wealth and influence in the late 90s and early 2000s, looks like a blocky version of a Henry Moore sculpture, suggesting a correlation between abstract art and the abstraction of capital. The hallmark of corporate monumentality is the scalelessness of the project — no transaction is too big or too small. In his 1970 essay "Public Art-Private Art," American architect James Wines coined the term "plop art" to describe the abstract Modernist public sculptures often found in front of corporate buildings (think Mark di Suvero's I-beam installs). For Wines, plop artworks are museum sculptures scaled-up and "plopped" outside as they outgrow the confines of the lobby gallery. If the appearance of these oversized trinkets on public plazas signaled an ascendant moment in the evolution of global neoliberalism, what is at play when these sculptures balloon, like the CCTV, to the size of buildings themselves? — Carson Chan
IPHONE, JONY IVE FOR APPLE, 2007
There were popular smartphones before the iPhone (Sidekick and the beloved BlackBerry, for example), but when Apple upgraded their iPod technology to phone function in 2007, nothing would ever be the same again. By today's standards, iPhone 1 was limited in what it did, but a compact touchscreen device that combined the ability to browse the web, listen to music, and make phone calls all in one device was nothing short of revolutionary. The sleek, minimum-button neo-Ramsian design by Jony Ive (a departure from Apple's more colorful output from the beginning of the decade) was both shocking to the keyboard-using public and added to its mythical desirability. The iPhone's slate form remains the standard for mobile devices to this day. — Felix Burrichter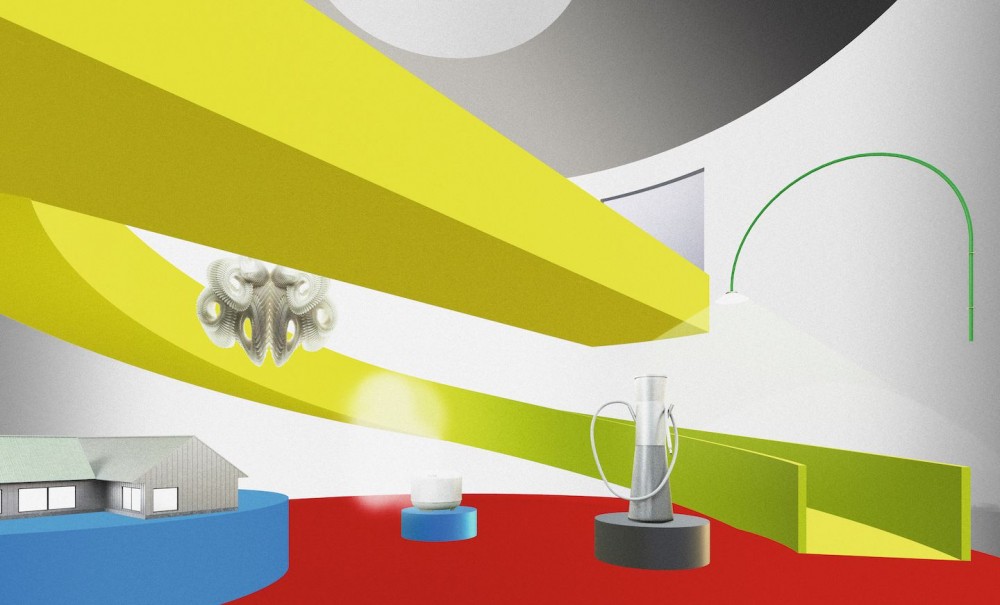 HOUSE NO. 7, MOS, 2015
As if recoiling from the heady philosophical conceit of the warped, skewed, and fractured Deconstructivist architecture of the 1980s and 90s, some contemporary designers have found formal reassurance in the vernacular simplicity of the pitched roof. It's the silhouette of a house if a child were asked to draw a house. For firms like MOS (founded in 2008), buildings are neither "ducks" nor "decorated sheds" as Venturi Scott Brown argued at the dawn of architectural Postmodernism; a house is a house is a house. Finding theoretical grounding in the archetypal house, MOS's many pitched roofs — including the one on House No. 7, shown here in a 1:50 model — don't merely reference the shape but seem to suggest that the cultural project of architecture has developed its own intelligence, and the pitched roof is part of the foundational grammar of its language. Simple truths, like roofs, are desperately needed in our age of deep fakes and alternative facts. — Camille Okhio
3D-PRINTED TOP, IRIS VAN HERPEN, 2010
While 3D printing has been around since the 1980s, about a decade ago there was an explosion of interest as the technology became more affordable and home printers came on the market. Iris van Herpen's 3D-printed couture, which first went down the runway in 2010, helped to galvanize our collective fascination with the futuristic technique — in 2011, Time Magazine listed one of her printed dresses among the year's best inventions. In the years since, 3D printing has jumped quickly from fashion and architecture models to action figures and even home-printed guns. With her constructed exoskeleton, Van Herpen presaged the frivolity and release of a benign toy as well as a lethal instrument. — Camille Okhio
ULTRASONIC AROMA DIFFUSER, MUJI, 2010
Filling our noses with lavender and eucalyptus, Muji's ultrasonic aroma diffuser is contemporary minimalism for your desk or nightstand. A simple cylinder, with few markings marring its milky surface, the diffuser has been the urban intellectual's gadget of choice for the past decade. Muji, the Japanese design house known for its no-frills aesthetic, has barely altered the diffuser's design since it was released in 2010. Its ultrasonic wave technology, when employed to spread frankincense or myrrh, gestures at the collective desire for ancient healing in a futuristic form. — Camille Okhio
SHISHA, PORSCHE DESIGN, 2011
Ubiquitous until as recently as the early 2000s, cigarette smoking has almost completely lost mainstream appeal over the past 20 years. As the social acceptance of conventional smoking waned, two larger trends of the post-cigarette, legal-weed age emerged: high-end smoking accessories and the mainstreaming of electronic vapes like the Juul. Water pipes, once the mainstay of hookah lounges, also got a luxury revamp. With models like this Porsche shisha pipe in a Silicon Valley brushed-aluminum aesthetic, nicotine-delivery devices have evolved from social connectors to bachelor-pad status objects. — Felix Burrichter
HANGING LAMP NO. 3, MULLER VAN SEVEREN, 2011
After discovering, in 2011, that their 19th-century home near Ghent was missing a socket above the dining table, Belgian designers Fien Muller and Hannes Van Severen created a series of wall-mounted lights that could behave like ceiling lamps. With simple, pencil-thin lines and teeny shades, the fixtures had an uncanny ability to lend a sense of architecture to a space. Hanging lamp no. 3, in particular, subtly referenced an architectural detail that became a hallmark of 2010s design: the rounded arch. Over the course of the decade, stylized arches would be used for doorways, windows, vanity mirrors, and fruit bowls. The ubiquitous, Neoclassical-cartoon form suggests the faintest fascist undercurrent, as if Rome's Palazzo della Civiltà Italiana — commissioned by Mussolini in 1938, it now serves as Fendi's headquarters — was on everyone's mood-board. — Hannah Martin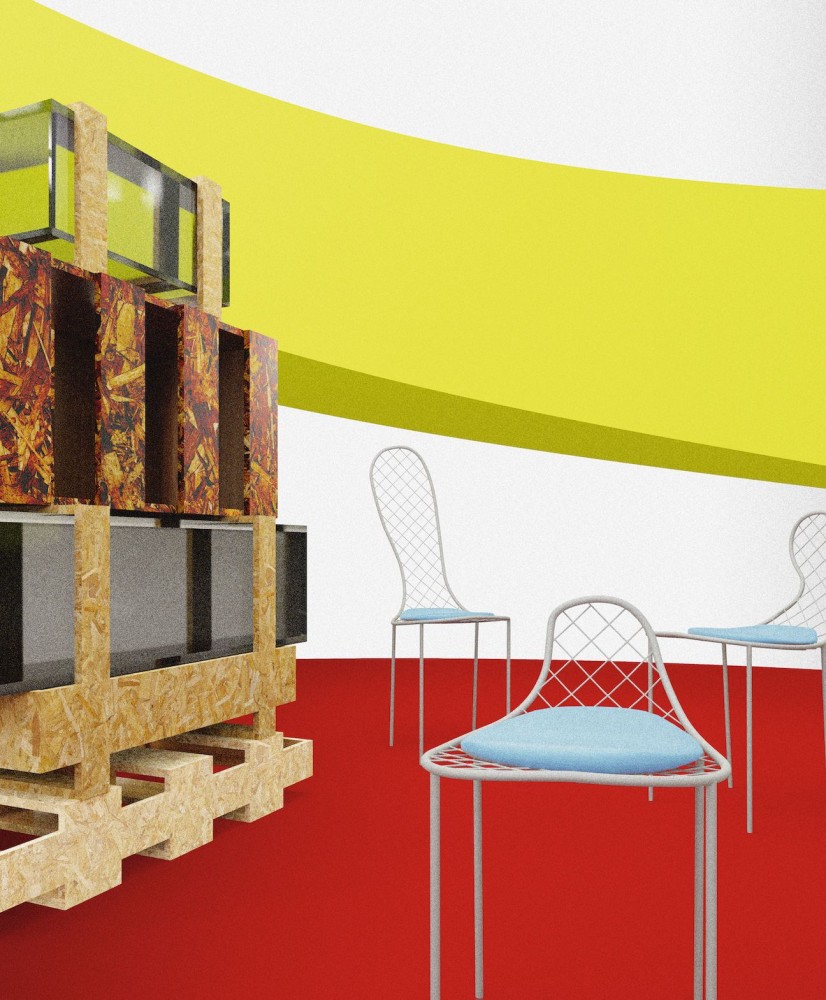 PARTICLE CABINET, BETHAN LAURA WOOD, 2010
The work of Ettore Sottsass had a massive influence on the design world during his lifetime, but it was around the time of his death — in 2007 at the age of 90 — that Memphis, the Postmodern design movement he co-founded in Milan in the early 1980s, began its current return to the spotlight. The irreverent shapes and perky, highly-saturated hues of Memphis furniture became hot in the secondary market, but also inspired a new generation of designers such as Bethan Laura Wood. Her Particle cabinet took formal and material inspiration from Sottsass's Memphis-era bookcases, combining totem-like shapes with references to industrial materials (in her case shipping crates), finished with that Memphis staple, laminate, here printed with glorious fake wood. — Felix Burrichter
FAMILY CHAIRS, JUNYA ISHIGAMI FOR LIVING DIVANI, 2010
By the second day of previews at the 2010 Venice Architecture Biennale, a handwritten sign saying "I'm sorry it's broken" stood in front of architect Junya Ishigami's impossibly delicate installation. Attempting to limn the boundary between structure and air — between something and nothing — Ishigami sought to create a 4-meter-high structure from strands of carbon fiber the thickness of angel-hair pasta. No matter that it collapsed shortly after construction, the exhibition's jury awarded Ishigami the Golden Lion for best project. True beauty, it seems, emerges the very moment it's about to vanish, and the aftermath reminds us of what it briefly was once. Ishigami's *(Family* chairs)(https://livingdivani.it/en/products/armchairs-and-chairs/family-chair/) are almost as spindly (his penchant for transparency comes from his time at SANAA), but they hold up. The back of the tallest appears to slouch to one side, like a head nodding to sleep. — Carson Chan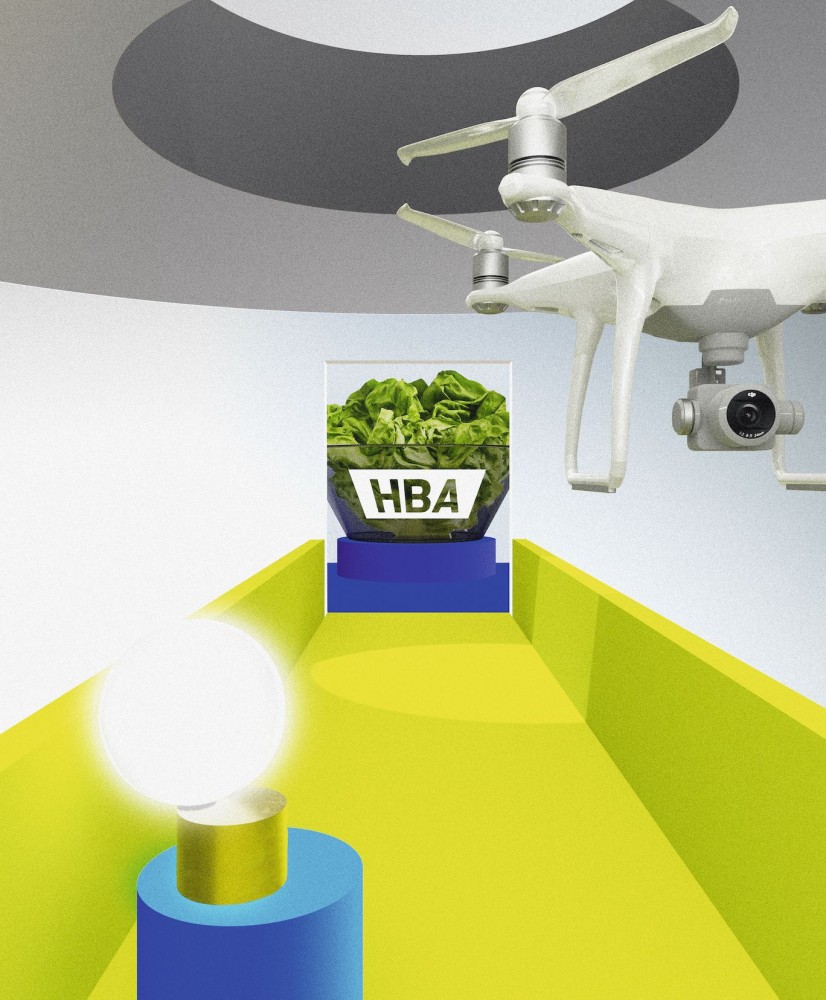 CLASSICS SALAD BOWL, HOOD BY AIR FOR DIS, 2014
The first half of the 2010s not only cemented streetwear as a bona-fide member of the high-fashion family but also ushered in a logomania that saw T-shirts, pants, and jackets plastered in brand names and emblems only seen before on BMXers or race car drivers. The trend can be traced to cult label Hood By Air (HBA), founded in New York by Shayne Oliver in 2006, from where it proliferated onto Paris runways and trickled out into the mainstream over the ensuing years. By 2014 it was so inescapable that post-Internet art collective DIS, known for their uncanny stock-image aesthetic and post-ironic attitude, commented on the trend by slapping an HBA logo on an otherwise unremarkable domestic object: a glass salad bowl. — Felix Burrichter
TIP OF THE TONGUE LIGHT, MICHAEL ANASTASSIADES, 2013
If there was an award for world's most-copied lighting designer of the early 21st century, Michael Anastassiades would win every year. He started experimenting with spherical light sculptures in 2013, and has continued to develop the idea and spread his globe- shaped lamps through partnerships with collectible-design gallery Nilufar and industrial manufacturers like FLOS. Though the delicate balance between glass and brass — a favorite material of Anastassiades's — is the designer's secret sauce, it hasn't stopped the rest of the design world trying to replicate his success. — Felix Burrichter
PHANTOM 4 ADVANCED DRONE, DJI, 2013
In 2006 unmanned aerial vehicles (UAVs) were permitted in U.S. civilian airspace for the first time. When DJI introduced their first commercial Phantom drone in 2013, people joked about the prospect of goods delivered by miniature helicopters overtaking the skies. Since then, prices for consumer drones have continuously dropped, making UAV photography a standard for filmmakers, influencers, and hobbyists alike. But just like GPS or the Internet, the drone is another case of military technology being normalized. The easy-to-use drones have also become a favorite of law enforcement. Like many of today's technologies — from smartphones to AI assistants — the drone has turned many into willing participants in their own surveillance. — Felix Burrichter
BATARA PAVILION MODEL, STUDIO ANNE HOLTROP, 2013
In 1955, architecture critic Reyner Banham called Alison and Peter Smithson's concrete school design in Hunstanton an exemplar of New Brutalist architecture. Derived from the Swedish nybrutalism and associated with the French béton brut (raw concrete), the English-language term embodies notions of savage, unsparing, unadorned cruelty that the architecture itself never really delivered. That is until 2012, when Arno Brandlhuber took a sledgehammer to the windows of a former East German underwear factory to make them bigger, or 2013 when Anne Holtrop dug massive holes in the ground to cast his concrete pull-up walls for Batara, a pavilion for the Wageningen University campus in the Netherlands. The resulting ragged edges and boulder-like craggy surfaces look like they can cause damage and, at the same time, crumble into shards like a loose cliffside. 21st-century Brutalism redux. — Carson Chan
PINK VESSEL, THADDEUS WOLFE, 2014
To make his otherworldly glass works, Brooklyn-based Thaddeus Wolfe starts by sculpting a Styrofoam model; the model is then covered with plaster, the Styrofoam scraped out, and the resulting plaster mold filled with molten glass. Once the vitreous center hardens, the plaster is broken off in chunks to reveal shimmering confections that, after days of careful finishing, look like something excavated from a cave or brought back from another planet. Wolfe's newfangled take on craft — now-established talents like Misha Kahn in New York and Chris Schanck in Detroit embrace a similar approach — looks simultaneously futuristic and archaic. But Pink Vessel, from 2014, did plant one foot firmly in its present, knowingly or not: it's cast in that cake frosting-meets-Pepto Bismol hue that proliferated on Pinterest (and still does): "Millennial Pink." An archeological artifact, perhaps, of our very recent past. — Hannah Martin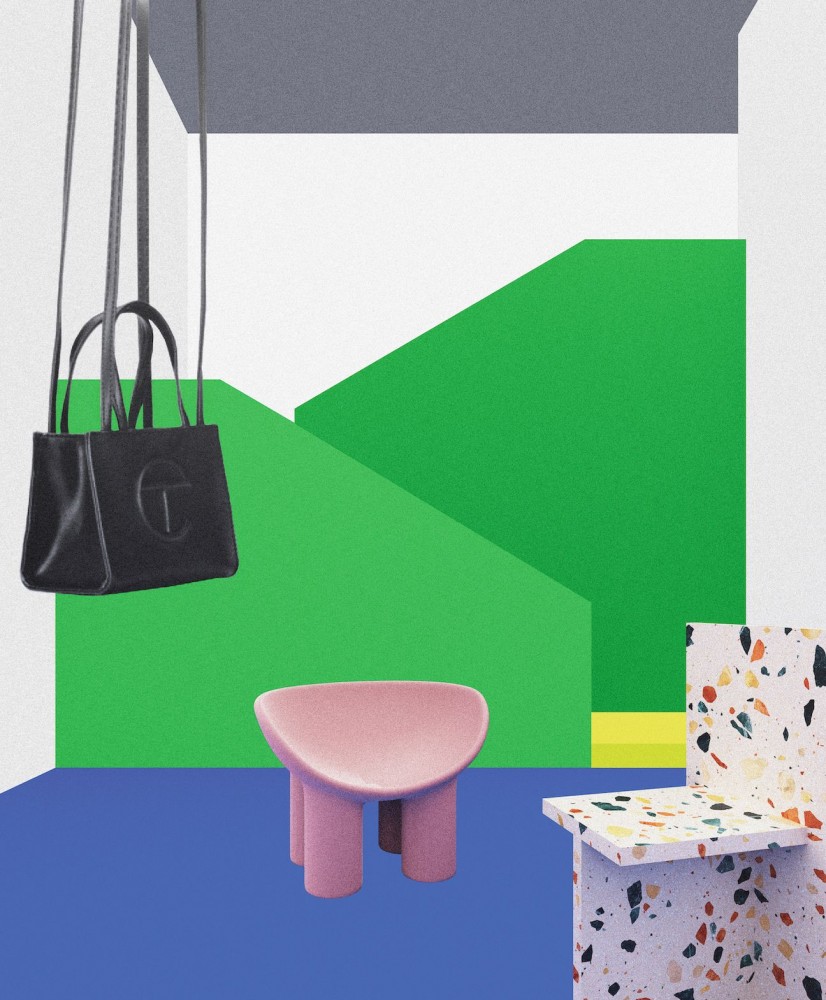 SHOPPING BAG MINI, TELFAR CLEMENS, 2014
Touted as the "Bushwick Birkin," designer Telfar Clemens's shopping bag is the status symbol that complicates status. Clemens's eponymous brand Telfar has long trafficked in subverting aspirational signifiers by, for example, queering polo shirts and democratizing prep. With his logo-embossed handbags, available in three sizes, Clemens has tapped into the aspirational appeal of the brand-name bag, but for the consumer who wants to signal their allegiance to a queer Black-owned fashion company. Formerly the it-bags for insiders, Telfar bag mania went mainstream in 2020 (fans include Oprah, AOC, and Wendy Williams). Comparably inexpensive — the mini, which helped along the recent small-purse phenomenon, retails for $150 — the bags are only available direct-to-consumer online and with each "drop" they sell out almost immediately. — Camille Okhio
ROLY-POLY CHAIR, FAYE TOOGOOD, 2014
Bulbous and cartoonish, Faye Toogood's Roly-Poly chair tottered into the market in 2014. Originally made in fiberglass and sold at a prohibitively high price points, it was later developed in a more affordable plastic version by Italian manufacturer Driade. Unequivocally "cute," the chair draws you in with expectations of comfort, given its roomy curved seat, but in reality is almost impossible to settle into. Seven years later, Mr. Roly-Poly continues to live comfortably on our Instagram grids, if not in our actual homes, indicative of how reassuring childlike aesthetics have captured the collective imagination in recent years. — Camille Okhio
MARMOREAL CHAIR, MAX LAMB FOR DZEK, 2014
When, in 2014, British designer Max Lamb launched Marmoreal, a marble-resin terrazzo, the look felt radical — a new take on the common, seemingly sustainable composite that emerged in Renaissance Venice as a clever use for leftover marble. At the Milan debut, Lamb used it all over — for walls, floors, tables, shelves, and chairs, like this one. It was Instagram gold, in a year when that really began to matter. Rodman Primack, then the creative force behind Design Miami, lined his shower with it (he likens it to "walking into a panettone"); Maison Kitsuné ordered it for their stores; slabs were air-freighted across the world for hotels, boutiques, and private residences. But Marmoreal (the name itself means made of or like marble) set off something bigger, and soon, the material — or sometimes just the motif — was literally everywhere, from paper plates to Crate & Barrel (Pinterest deemed it a "top trend to try" in 2018). A "tyranny of terrazzo," as New York magazine writer Molly Fischer put it in her 2020 landmark essay on the Millennial aesthetic. — Hannah Martin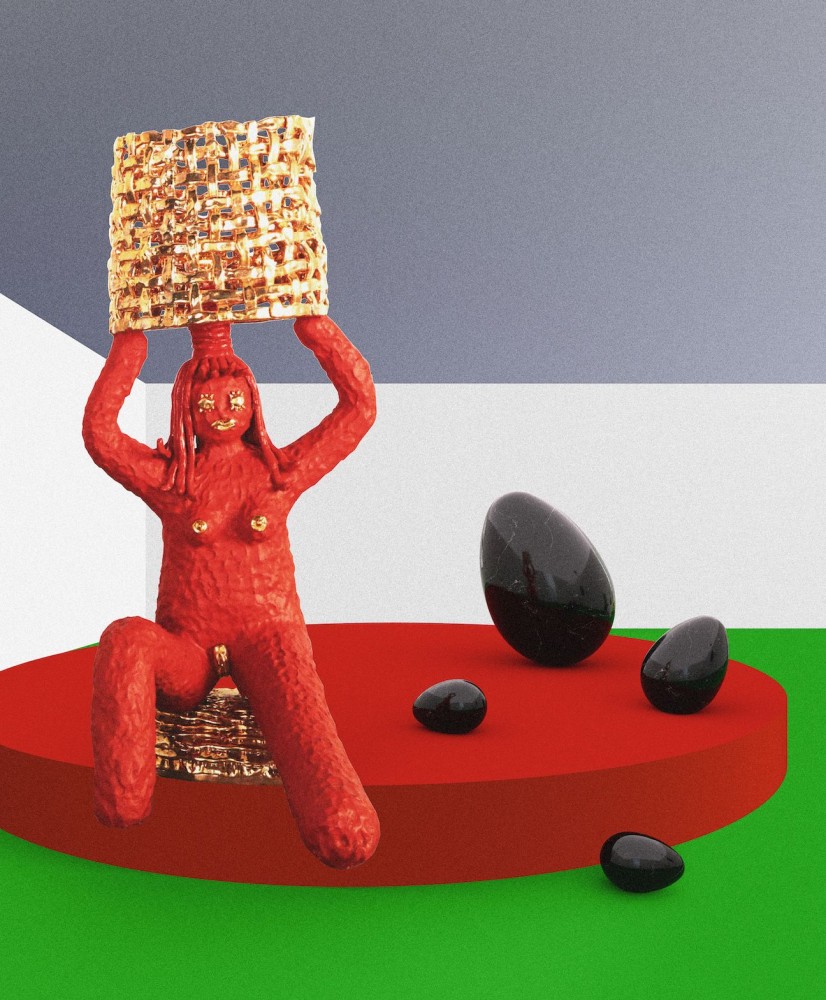 SITTING GIRL FLOOR LAMP, KATIE STOUT, 2018
Katie Stout's lumpy, frumpy lady lamp series tumbled upon the design scene roughly four years ago and has steadily shuffled about since. Whether upside down doing a handstand or paired up in a friendly piggyback ride, Stout's figures always seem to be having fun. Rendered in her self- described "naïve pop" style, the lamps are a joyful celebration of the female form, more lighthearted than erotic, even if her colorful characters at times have cords coming out of their vaginas or mouths. Never taking herself too seriously, Stout has been embraced by the design world as a beacon of white feminism, capturing the movement's peaks and troughs, fun and flaws, in playful clay. — Camille Okhio
JADE EGG, GOOP, 2017
Tight and taut! That's the word on the yoni egg, infamously popularized by Gwyneth Paltrow in 2017 through her e-commerce brand Goop. The jade and rose-quartz stones, intended to be carefully placed in one's nether regions, are supposedly the key to a sprightly vagina and cosmic confidence. A 2019 lawsuit, however, successfully made the case that Goop's many claims, including that the egg could balance hormones and that its use dated back to ancient Chinese queens and concubines, were unfounded. Goop was fined 145,000 dollars for misleading consumers. Still the egg remains popular with those blessed with reproductive caverns, and is representative of how new-age luxury is today's snake oil. — Camille Okhio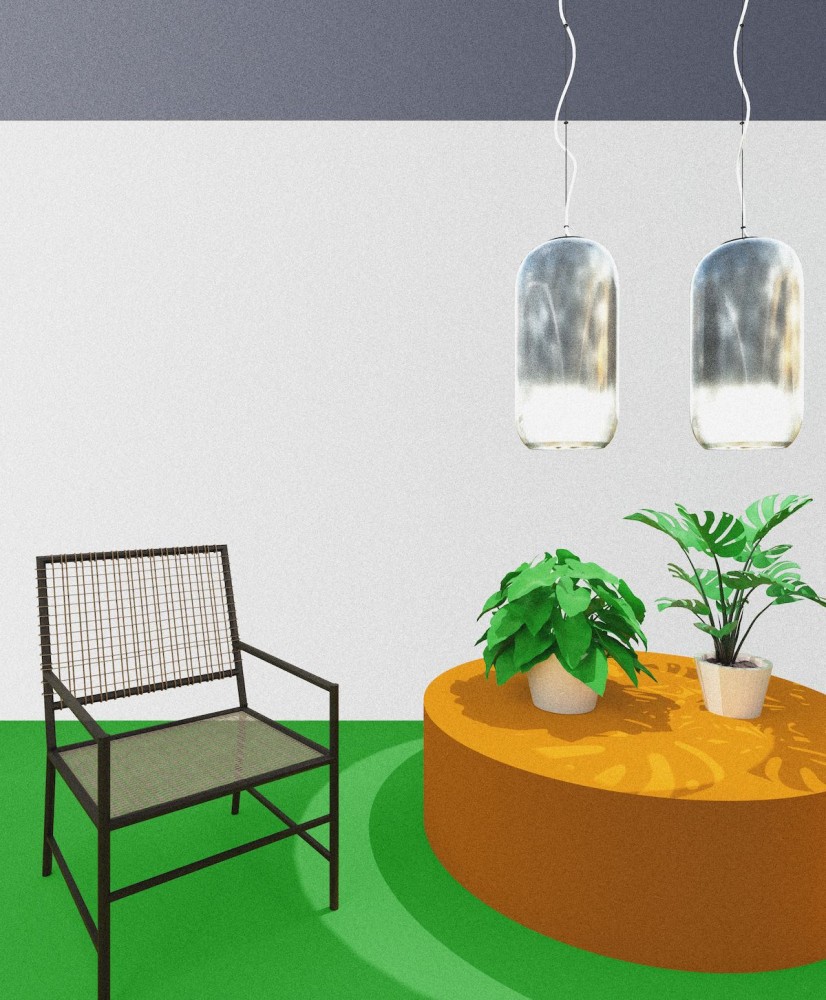 LOUNGE CHAIR II, STUDIO MUMBAI FOR MANIERA, 2016
Stuck within city limits, many of us have found that the pandemic travel bans simultaneously amplified our sense of place while intensifying our online lives. Sitting at the computer, we've attended birthday drinks in Berlin, made faces at newborns in Mexico City, sat in on lectures in Shanghai, and had work meetings in Marrakech. Think about Studio Mumbai's Lounge Chair II. It possesses the effortless sleekness of Scandinavian Modernism, it features bark-rope woven surfaces reminiscent of the Thonet chairs in Parisian cafés, and it was designed, and hand finished with henna, coconut oil, and beeswax, in Mumbai. As an object, it speaks to a world after belonging — a world where images and ideas course around the planet through cables, bouncing off orbiting satellites every time we send a text message. "Where r u?" — Carson Chan
GOPLE LAMP, BIG FOR ARTEMIDE, 2018
The climate crisis is what philosopher Timothy Morton calls a hyperobject, a thing that is too large in size, too expansive temporally, to be easily imagined by the human mind. For us to understand it, the climate needs to be narrated, spun-out into stories with human-sized stakes. Some architects see the climate emergency as something we can build our way out of. Take Bjarke Ingels, whose Amager Bakke waste-to-energy power plant in Copenhagen, completed in 2019, makes use of the building's required chimney height to incorporate a ski-slope atop the facilities. Trash is converted into energy, and the citizens of Copenhagen now have a ski slope to enjoy. But there's more to the story. Denmark doesn't produce enough trash — 1 million tons were imported from the U.K. and Germany in 2018 to keep the lights on, burning even more carbon in the process. Can we design our way out of ecological problems? BIG's pill-shaped LED Gople lamp for Artemide boasts an adjustable light temperature that helps plants photosynthesize. Unless you live in a bunker, why not simply put the plant next to the window? Dealing with climate change and the environment requires us to get the story right — we can't afford simply to change the story if the truth is no longer convenient. — Carson Chan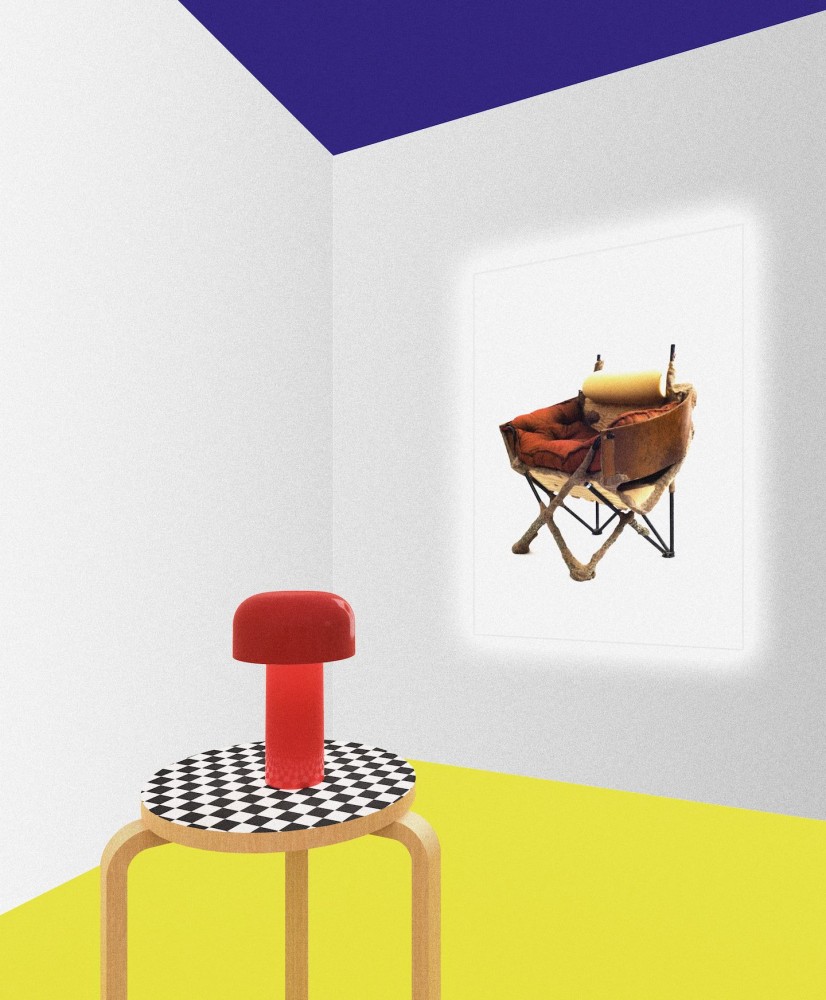 BELLHOP LAMP, BARBER OSGERBY FOR FLOS, 2017
As portable electronic gadgets grew ever more ubiquitous, it was only a matter of time before batteries would be strong enough not just to power smartphones, cameras, and laptops, but also all other domestic objects (let's not even mention e-bikes, cars, or drones). Lamps used to define space through their designated position, but a new generation of wireless lights such as the Bellhop — designed in 2016 by Edward Barber and Jay Osgerby for the London Design Museum restaurant, and launched on the market by FLOS a year later — follow their user rather than the other way around. FLOS was among the first companies to offer wireless lights, but today, with improved battery technology, there are few companies that don't feature one in their collection. — Felix Burrichter
CRUST BUCKET COMES TO TOWN (SLIPPER CHAIR), JESSI REAVES, 2016
Scrunch it up and throw it away. A movement in art and design has spent the last five years feeding us our own excrement. Crumbled, busted, and recycled objects some- how weaseled their way into the corners and crevices of our homes. Artist Jessi Reaves's Crust Bucket Comes to Town references early 2000s apocalyptic visions, mining the debris of our post-industrial consumer culture. A vision of comfort cobbled together from the far reaches of the junkyard, it combines scraps of fabric, polyurethane foam, and plywood with the frame of a collapsible camping chair. What has been dubbed the "trash aesthetic" responds to the frightful consumerism, bloodthirsty capitalism, and regressive value hierarchies embraced by the world of design for the last century. Crust Bucket is Mad Max in an armchair. — Camille Okhio
STOOL 60, SUPREME X ARTEK, 1933/2017
We still live firmly in the era of the "x," but 2017 may have been the point when we reached peak streetwear-collab saturation. It was the year we saw both Junya Watanabe MAN x The North Face and Adidas x Palace for the Wimbledon tennis tournament, and even the design world sought out some skater cred (or vice versa) with Alvar Aalto x Supreme, produced by Artek. It was a marriage of two cult brands: Aalto is the ultimate designer's designer and, for hypebeast types, it doesn't get cooler than Supreme. Keeping with Finnish Modernism's penchant for modesty, the collab was a rare occasion when Supreme didn't just emblazon their box logo over a product, instead reproducing Artek classics — Stool 60 and Bench 153 — with a black-and-white checkerboard pattern manually applied by silkscreen. — Camille Okhio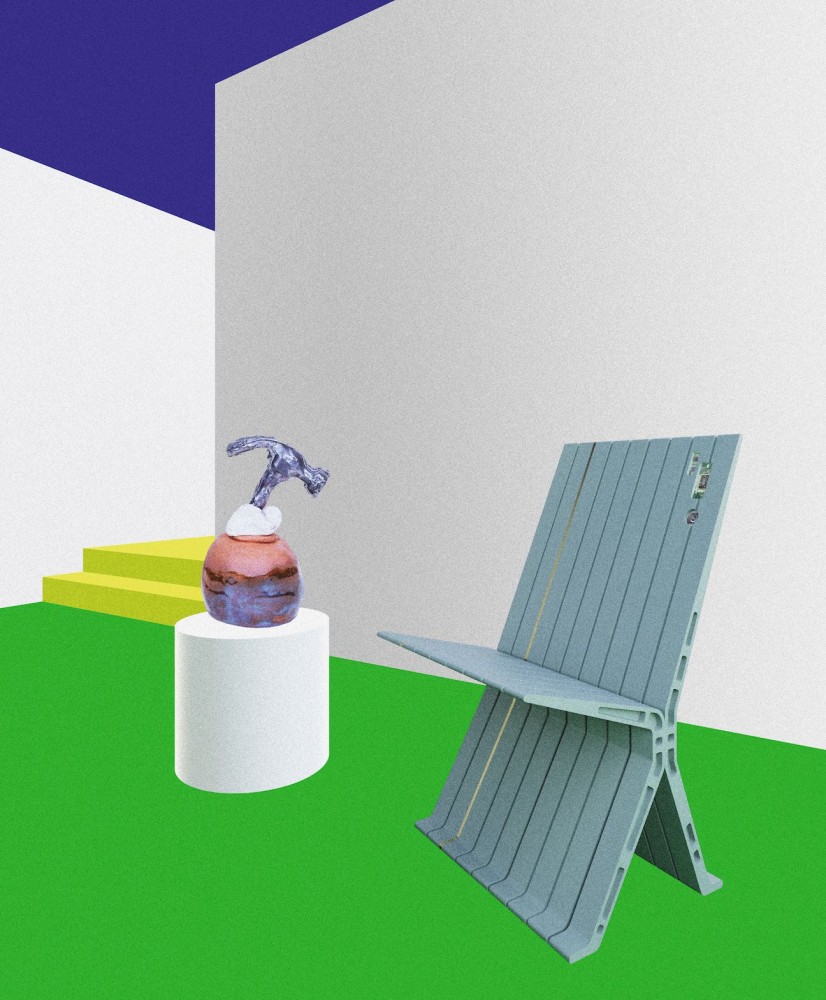 REPARATION HARDWARE, ILANA HARRIS-BABOU, 2018
Neo-colonial initiatives blossom aggressively in the soil capitalism and consumerism keep fertile. With Reparation Hardware — a fictional design company presented in the form of a video and an installation — artist Ilana Harris-Babou proposed a searing and darkly humorous critique of the overfed, upwardly-mobile-furnishings haven of a similar name, Restoration Hardware. In highlighting their enthusiasm for the appropriation and dilution of ancient and culturally significant artifacts, which are displayed without context in their many stores, and referencing "reparations" — financial compensation for the descendants of enslaved African Americans — Harris-Babou exposes the rot at the heart of the American Dream, as well as the nostalgia aspirational design stores have for a rosy past which never existed. — Camille Okhio
ORE STREAMS, FORMAFANTASMA, 2017
After nearly every nation on Earth signed up to the 2016 Paris Agreement, climate concerns could no longer be dismissed by the design world as a mere fringe problem. Indeed, throughout the 2010s, more and more designers began grappling with the problem of waste. Only Formafantasma, though, really examined the question at a systemic level. With their Ore Streams project of 2017, they sought both to put obsolete e-waste to use and to raise awareness of what was causing the garbage glut in the first place. The analogue design objects they made from these once high-tech digital materials are part of a larger research initiative which has found that, by 2080, most of the world's metal resources will no longer be below ground but above it. The materials for this 2017 chair were all mined from existing products. — Felix Burrichter