ROCK STARS: Chen Chen and Kai Williams's new Mineral Explorations
Behind the façade of a seemingly ordinary West Village townhouse, an unusual arrangement of stones awaits you — sliced open, glued onto surfaces, and arranged in groups. From some, purplish smoke snakes out, riding low along the floor. On the mantles and shelves are axes, their blades roughly carved in rock — you only know they're not Stone Age relics because of their aluminum handles. This primordial set-up is the latest installation by designers Chen Chen & Kai Williams, on view now through the summer at Casa Perfect, The Future Perfect gallery's new West Village offshoot.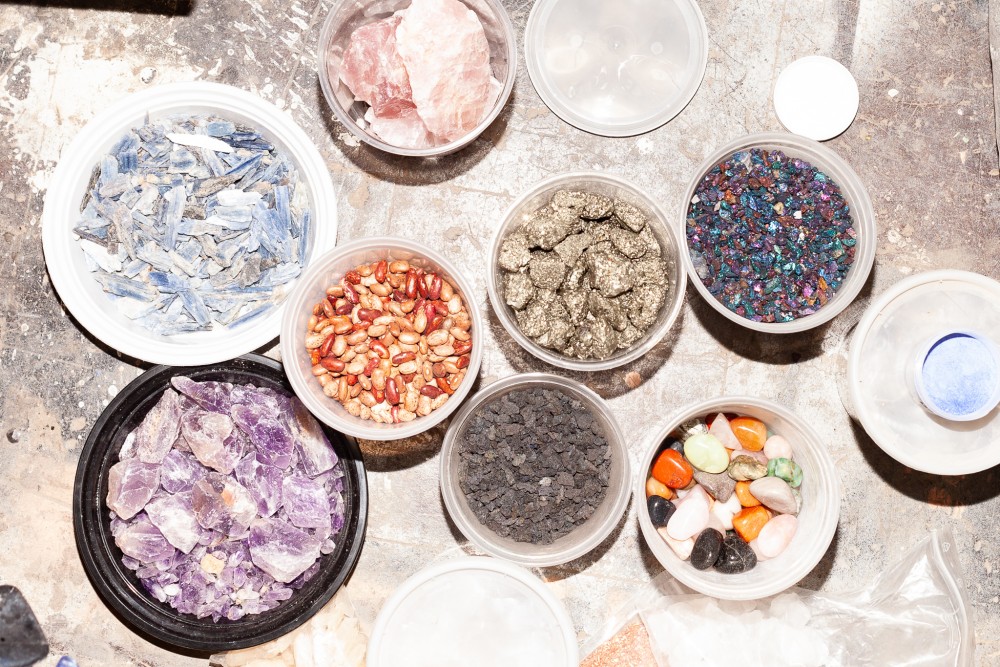 Chen and Williams, who founded their eponymous Brooklyn studio in 2011, are by now masters at mining strange materials and sprinkling them with a dash of their dry sense of humor. Their signature Cold Cuts coasters consist in a hardened mixture of resin, wood, spandex netting, and other materials, which, once set, is cut into slices; they've worked with New York's Whitney Museum to make paperweights from the institution's trash (museum staff still send them boxes of detritus); and most recently they ran a knife-making workshop in Japan, using leftover and waste plastic to make the handles, part of a continued fascination with utensils (particularly knives) which they documented in their 2013 book Shanks.
A selection of stone samples, most of them marble from Massachusetts and Maryland, waiting to be transformed. Photo by Sean Santiago.

Geology table 2 (2017); Various stones split in half and mounted on steel armatures. Available through The Future Perfect.
With their new collection for Casa Perfect, the pair is taking material mining to new levels, with sliced rocks supporting glass shelves, boulders becoming tables, marble being cut into 90-degree corners and mounted inside thick glass cubes, and mirrors that appear like strange orbs bubbling out of geological finds. Neither the mirrors' transparency nor their reflectiveness is immediately revealed: silver is poured over the back of the glass, allowed to spread, and then spray-painted to prevent it from oxidizing; some of the paint, mostly around the center, is black, but around the edges it's clear, producing gradations of translucence, shine, and opacity that have a magical strangeness to them. "It sort of looks like we made it in Photoshop," deadpans Chen.
These steel granules and brass globules are the materials behind Chen and Kai's Caviar Sconce series. Photo by Sean Santiago.

Pyrite Caviar Sconce (2016); Steel granules, epoxy, anodized aluminum, glass, LEDs. Available through The Future Perfect.
The objects in the Casa Perfect show all expose the guts of the geological, taking natural forms and slicing them clean open to reveal their insides in disarming ways. As Chen puts it, "Even the most boring-looking rock can be really interesting inside." The duo sourced their raw materials from a variety of places: gem shows, marble quarries in Massachusetts and Maryland, landscaping stores, not to mention friends, who would frequently gift rocks to them. But they started off with simple stones from garden suppliers, since they're "often wary of using precious materials, at least at first," Williams explains. After an initial phase of experimentation and happy accidents — a staple in their work — they moved on to a broader range of stones like marble, malachite, and quartz. For the bigger pieces, such as a boulder acquired from the same supplier that keeps Central Park looking "natural," Chen and Williams used a stone-cutting shop which produces ashlar for bridges.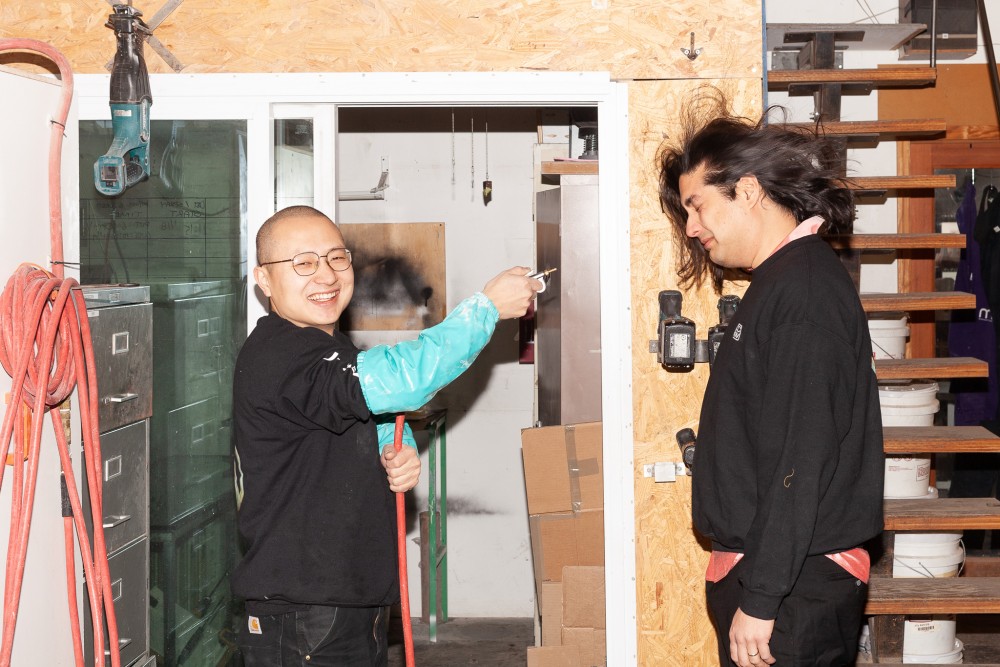 In the context of the Anthropocene — the hypothesis that humanity's actions have so fundamentally changed the Earth that our era is a new geological age — Chen and Williams's mineral explorations could be read as symptomatic of a sentimental obsession with a seemingly "better" past, a time of Netflix reruns and mass political regression where rocks represent a return to "earth" and to simpler times. Yet, in slicing open natural stones and making them adhere to glass, metal, and even LEDs, Chen and Williams are commenting on humanity's strange and ambiguous relation to the so-called natural world, demonstrating that the boundaries between what is "natural" and "artificial" are, and always have been, well, artificial.
Text by Drew Zeiba.
Chen Chen and Kai Williams were photographed in their Brooklyn studio by Sean Santiago for PIN–UP.
Taken from PIN–UP 26, Spring Summer 2019.