HUTS FOR HANDS: Fragments of an It-Narrative in Nano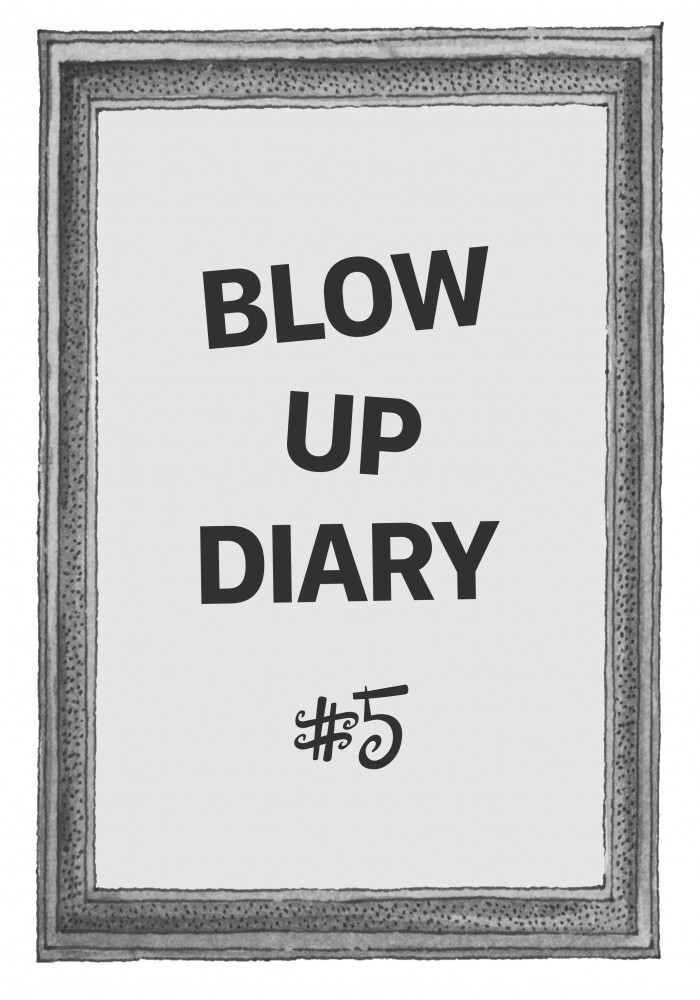 The exhibition Blow Up curated by Felix Burrichter and designed by Charlap Hyman & Herrero and currently on view at Friedman Benda gallery New York, is an exploration on design, scale, and the conditioning of childhood. As part of the exhibition program, we asked five writers to write a special diary entry around the theme of childhood, design, and their ideas of domesticity.
A real mouse-skin rug adds a Lilliputian "game" touch to this hall…even an ordinary cigarette dwarfs the diminutive features of the dining room. A match stick illustrates the size of these pipes, for instance. 
A game of Telephone in scale, of dial-in and dial-out. —
The effect of Alice's "Drink Me": alchemy for telescoping in to interiors in perpetual close-up, high-density enviros, via eyes "mounted on some snail-like stem." 
Notice the plaster snail in Gertrude Jekyll's green velvet-grass garden, "mown in imagination" for Queen Mary's Dolls' House… 
Augmented reality in analogue, this optical outreach of swanlike craning — an effort to compress the scope of one's gaze into the keyhole of the small, a house in hieroglyph.
"How funny it'll seem to come out among the people that walk with their heads downwards! The antipathies, I think —" 
"Plunge" into tininess. 
Listen! 
A tiny gramophone, with its first and last breath whispering "God Save the King."
A cottage piano, responding to your touch in tinkling tones scarce audible to mortal ears!…nursery rhymes set to microscopic music. 
Seventy technicians later, Queen Mary's Dolls' House gramophone (5.5 inches tall), spins shellac in sonatiny — inspiriting Gaston Bachelard's provocation for studies of "'miniatures' that appeal to each sense."  Capsule-like as Carl Sagan's Golden Record sent into space for supraterrestrial listening, the subsonic sillage of Rule, Britannia! lures us into the deep time of dolls' houses.
This is perhaps the place to draw attention to the future-historico-scientific aspect of the Queen's Dolls' House. 
One thousand two hundred bottles of real liquor in Queen Mary's Dolls' House cellar, corked in hand-labeled mini bottles, glass-blown to scale for corresponding vintages left to age: "If you were small enough, you could get tipsy in the cellar." 
An allegory for inebriate (in)dimensionality —
We become amazed and confounded at the wonders of minuteness; nor can we distinguish in its effects this extreme of littleness from the vast itself. 
A media archaeology of play might be mapped in gesture — in the extension of a hand into a dolls' house drawing room, or the opening of lips to overdub a Dollomite's voice…
Dolls' houses are wrapped up in digits, only in correspondingly nano registers. ("Nano" derives from Greek nanos for "dwarf.")
We puppet dolls' houses. Huts for hands. House puppets. Subtract the shell, and a cartography of the micro-movements of rearrangement emerges, writ large in air.
Thus, space. And not by means other than the gestural. 
Nanontology
Played from without — so as not to thumb away their contents into annihilation — unboxed in imagination instead, they remain instruments for interior tuning. Animist receptacles. Narrativity generators. Phoney houses. Fictohouses. Fairy houses. Houses in hieroglyph. Toy dwellings. Worlding devices. Talkie furniture. Pedagogical puppet theatres. Prostheses. Spaces of social practice. Sites for spatial practice. Exercises in vicarity. Ventriloquy. Microcabinets of curiosity. Maquettes for inhabitation. Objects whispered into… 
The first miniature rooms in 17th-century Holland were built into cabinets, without proper fronts — cabinets of curiosity in microcosm. (They only grew faces later.)
There is a jest about houses with Queen Anne fronts and Mary Ann backs. It does not apply to the Queen's Dolls' House, every face of which is for delight. 
Scenography: Blow Up, four and some centuries later.
Enter an epidermal cabinet, its exterior channeling Tom Thumb(e)'s boots "made of chicken skins," and encounter "industrial skins"  — a dollscape of biomorphic molds at "actual size."
Bubble wrap mille-feuille — a telephone (talkie furniture), baroque with exaggeration, that sounds through a Lobster Quadrille receiver — ear plinths, auricularly curved — arrowed notation in coiled abaca — another phone, but of mollified enamel — a dancing crib with tissue-like wilt — an Ultrasuede settee in Florine Stettheimer pink, ultra-micro soft — steel stovetop prototype — sponge-like steel mesh… Modern molecules.
If a dolls' house were a burrow, it might look like Kiesler's model for Endless House, ever unbuilt in 1:1.
All threshold.
Mise-en-scène for ma(i)crobial musings —
Playing at tea parties is great fun — and, of course, there's always a lot of… model gossip. 
View of Blow Up exhibition. Photography by Timothy Doyon. Courtesy of Friedman Benda.

View of Blow Up exhibition. Photography by Timothy Doyon. Courtesy of Friedman Benda.

View of Blow Up exhibition. Photography by Timothy Doyon. Courtesy of Friedman Benda.

View of Blow Up exhibition. Photography by Timothy Doyon. Courtesy of Friedman Benda.

View of Blow Up exhibition. Photography by Timothy Doyon. Courtesy of Friedman Benda.

View of Blow Up exhibition. Photography by Timothy Doyon. Courtesy of Friedman Benda.