MASA Nomadic Design Gallery Took Over a Castle in Mexico City
Founded by Héctor Esrawe, Agé Salajõe, and Brian Thoreen in 2019, MASA is a nomadic design gallery that seeks to create space for collectible design in Mexico City. For the site of their second exhibition, Recover/Uncover, MASA (together with guest co-curator Su Wu) chose a castle-like building in the San Miguel Chapultepec neighborhood, built by German royals in the early 1900s. Continuing their ethos of embracing the city's "weird, awkward, and mysterious moments," the collective has taken advantage of the structure's idiosyncrasies. Visitors need to climb through a large window in the castle's main room, for instance, to see Perla Krauze's installation on the front patio. Marking the threshold between inside and outside, Krauze's tiled floor of found local stones, shifts as you walk, mirroring the tectonics of the city itself. This pleasant unease is indicative of the mood of cultural production in the Mexican capital today — open to experimentation, fluid, and without rules.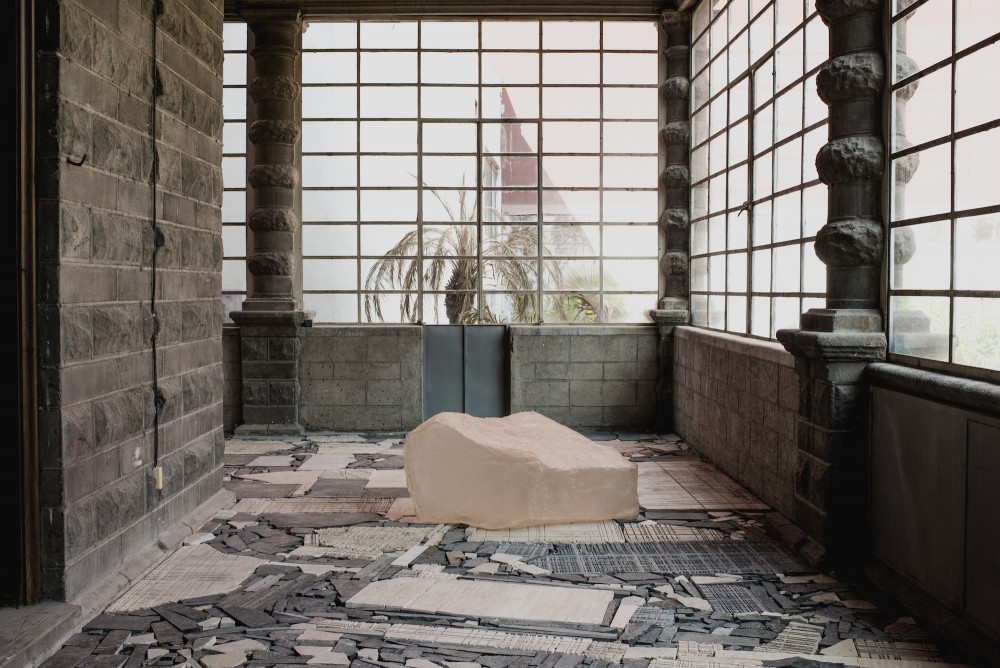 How did MASA begin? Was there a clear impetus, or did it develop more organically over time?
Brian Thoreen: It was definitely more of an organic process. It started mostly with Héctor, Agé, and I lamenting about the lack of collectible design spaces in Mexico City. While the conversations never fully had a consensus, something that we decided to do was come together to curate shows — we were wanting to have conversations around art, design, and trying to elevate the dialogue in Mexico.
Héctor Esrawe: The first MASA exhibition was related to a particular moment where people from all over the world were moving to Mexico City for the first time in recent history. It also involved a renaissance of many workshops and craft studios looking back and asking what we are as a culture. And I think that was very appealing to many people from abroad and it was a moment to talk about this. So in addition to being the first collectible design gallery, MASA also took a self-reflective approach on a reality that has been cooking for a bit of time. The mood was ripe.
An exterior view of the building in Mexico City where Recover/Uncover takes place, the second exhibition organized by nomadic design gallery MASA. Image courtesy MASA

Adeline de Monseignat's Seed Stack in the backyard of an early 1900s castle in the San Miguel Chapultepec neighborhood. Image courtesy MASA

Exterior View of Recover/Uncover on view in Mexico City until April 8, 2020. Image courtesy MASA

Perla Krauze Stone and Tiles . Courtesy MASA
Considering how much you expanded your list from the first exhibition to the second to include more international designers, how do you balance who you work with?
Agé Salajõe: With the first one, we intentionally included individuals who were living and working in Mexico City. We also included conceptual art as well as design. Then we thought it was important to open it up a bit more. However, everyone from abroad that we included (in Recover/Uncover) still has a connection to Mexico. For example, Rooms Studio travels to Mexico a lot. They wanted to work with stone and fell in love with the stone here and they've found themselves spending increasingly more time here and wanting to produce their work here. The same with Misha Kahn, who is now producing in Mexico as well. The world coming here is still very new for the country.
BT: Exactly, it's still maintaining a link to Mexico, while intentionally being more open to the international design community. We wanted our first show to highlight people living and working in Mexico and historical artwork of people who had lived and worked in Mexico such as On Kawara and Leonora Carrington.
There is a range of materials in the exhibition, from volcanic stone, wood, and grass, to rubber and silicone. How do you situate the dichotomy between ancient stones and more modern materials?
BT: I tend to like these kinds of more raw materials, like stone, brass, and bronze, and in my mind, rubber kind of fits into that. It's not an ancient material, but it is a raw material that gets better with age. For my personal practice, it's finding methods of using these materials in mysterious ways, which I think relates to ancient architecture and ideas of simplicity and the use of certain forms, but also to brutalism, and these sorts of things. So for me, the rubber fits in with these ancient materials. But as a whole for the show, there is a sensibility from people living and working in Mexico that is broad but also specific in terms of referencing Surrealism, as well as pre-Hispanic and contemporary movements, you know all these things that make Mexico what it is, which is why we are all drawn here.
Installation view of Recover/Uncover a site-specific exhibition curated inside a 1900s castle in Mexico City. Image courtesy MASA

Installation view with works by EWE Studio and Rooms Studio. Image courtesy MASA

Recover/Uncover, MASA nomadic design gallery's second exhibition. Image courtesy MASA

Installation view of Recover/Uncover curated by MASA founders Héctor Esrawe, Agé Salajõe, and Brian Thoreen. Image courtesy MASA
Considering the fluidity of both art and design objects in the installation, do you have set definitions for what constitutes each?
BT: I think it's important for there to be distinctions, but I don't think those distinctions need to be rules. I like the blurry line between art and design. I like pushing the limits of design and art.
HE: What we all share as a philosophy is that we love to walk in between these latitudes. We love the freedom. We don't want to commit to anything. We want to have a wider possibility of opening doors. To walk between lines is to learn more.
Do you think these lines are more blurred in Mexico City? New York has these hierarchical traditions. Many people get lost in the language of these at times.
BT: It seems to me to be more open here. People in more traditional art cities like New York and London — and LA even,  which is where I come from — can be very strict about those distinctions. I think that because collectible, contemporary design is a new market, and a new thing here, there are no rules. There haven't been decades of curators and writers making these distinctions. A couple of days ago I was talking with Adeline de Monseignat an artist who's in this show —  she's worked across mediums, but had never made functional work before. Seed Stack (2020) was her first functional piece. For years she tried to separate the two and didn't want to let herself go there. And for the first time, for MASA, she decided to go there. I was looking at her sketchbook last week, and some works were sculptural and some functional, but both using the same language. She was blurring the distinction in a single body of work, from piece to piece. And I really liked hearing from someone whose work I really respect, of a newfound openness.
AS: It's the same with Mario García Torres. The liberation he managed to create in these pieces (Tallé la forma del Miguelito en esta piedra para poder sentir su energia en todo el cuerpo 2020, a series of roughly cut stone charis).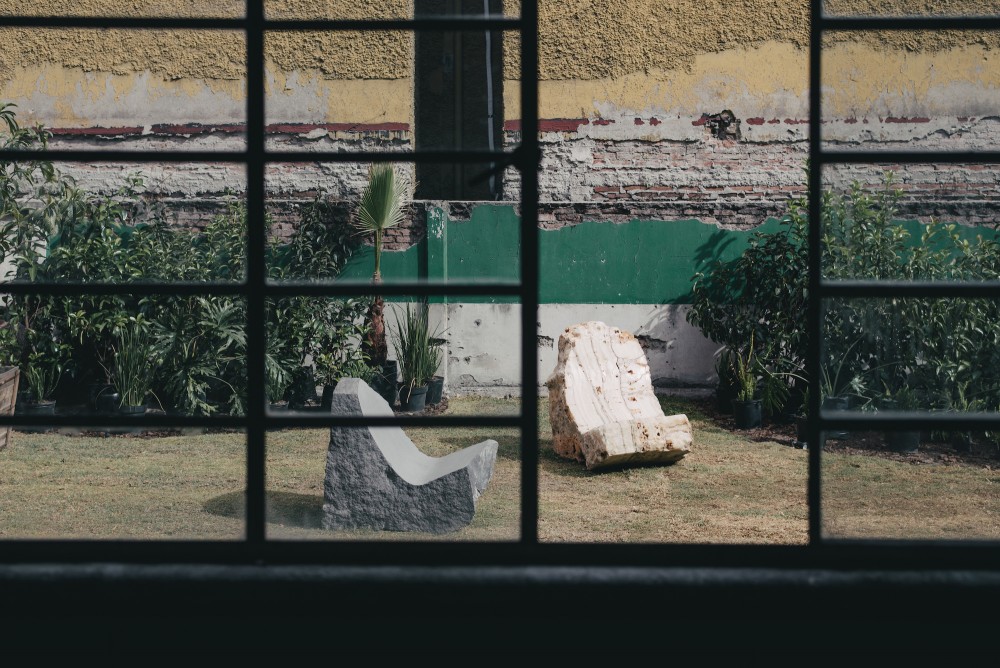 BT: And it's nice seeing that come through, especially from established artists. Jose Dávila is another artist in this show who doesn't usually make functional work, but he was really kind about exploring it with us. That's the beauty of MASA. We are open. We have the freedom of doing what we want when we want. We are a collective. We are nomadic. We just want to keep having these conversations, and keeping it growing. 
Interview by Samantha Ozer.
Photography by Genevieve Lutkin. Images courtesy MASA.
Recover/Uncover is currently closed due to the Coronavirus with virtual tours coming soon.