STYLE DIPLOMACY: Inside Acne Studios' New Headquarters, A Former Embassy In Stockholm
The red sofa is Jonny Johansson's redesign of a 1958 Swedish design classic by Carl Malmsten. The curtain is by British artist Daniel Silver. Photography by Annabel Elston. Courtesy of Acne Studios.

Main entrance to Floragatan 13 in Stockholm. Built in 1972 in a Socialist Modern style, the building is now the creative and administrative hub of Acne Studios. Photography by Annabel Elston. Courtesy of Acne Studios.
In the late 1960s, at the height of the Cold War, Czechoslovak architecture firm Atelier Beta Prague Project Institute — whose members included Jan Bočan, Jan Šrámek, and Karel Štěpánský — designed a beautiful pair of Brutalist embassies, one in London and the other in Stockholm. While the British building still houses Czech and Slovak diplomats, the Stockholm address — Floragatan 13 — has since lived many lives. Today, from afar, it appears that little has changed since the building's completion in 1972, but this proud ambassador of Socialist Modern has just been repurposed as the creative and administrative hub of Acne Studios, Sweden's most covetable fashion export.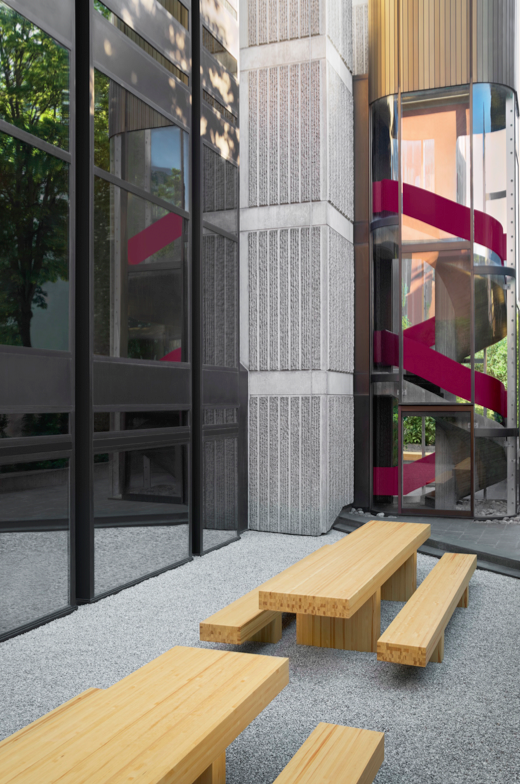 Located in an upscale residential and diplomatic quarter of Östermalm — one of Stockholm's 14 inhabited islands — Floragatan 13 stands back from the street, its corner entrance stair simultaneously sinking into and rising out of the sidewalk. Space is carved around the imposing concrete façades on all sides, accessing a rear rock garden populated with wooden benches for sunny afternoons. Tightly composed, the seven-story asymmetrical elevations are ruled by grids, stacks of glazing on the entrance front having been slung between stairwells that are clad in precast panels of bush-hammered concrete. Brutalism has come to be associated with the postwar welfare state, and Floragatan 13 displays some of those democratic ideals in its full-length ground-floor windows, which expose not only lobbies and common areas but also the inner workings of offices and meeting rooms. A sculptural glass stairwell adorns the northern façade, while an imposing antenna crowns the building, its multiple triangulations of crisscrossing wires and supports featuring a space-age ring orbiting the central mast.
The carefully restored Atelier Beta Prague Project Institute's colorful original stairway design from 1972 at Acne Studios's Floragatan 13. Photography by Annabel Elston. Courtesy of Acne Studios.

The canteen's red tiling and the circular wooden tables by Pierre Chapo contrast with the bush-hammered concrete walls. All lighting fixtures for Floragatan 13 are custom designs by Benoit Lalloz. Photography by Annabel Elston. Courtesy of Acne Studios.

The cafeteria in Acne Studios new Stockholm headquarters with wall tapestry-style curtains by British artist Daniel Silver. Photography by Annabel Elston. Courtesy of Acne Studios.
Inside Floragatan 13, Acne Studios — led by creative director Jonny Johansson — and local firm Johannes Norlander Arkitektur have both restored and transformed the building in equal parts. "Politicians were working here until recently," Johansson explained to PIN–UP. "Among them was (former Swedish Prime Minister) Carl Bildt, an important negotiator during the Yugoslav Wars. Other parts of the building were occupied by various businesses, including a law firm, all of which had different furniture and aesthetics. I wanted to keep the space itself, strip it down and build it back up again in a more functional way for us." For Norlander, this involved unifying the interior spaces. "We saw great potential in the key materials and the tectonics of the original building," he says. "A lot of effort went into highlighting those qualities. This included sandblasting large portions of the concrete walls and ceilings that had been painted over through the years, replacing broken brickwork, and restoring the aluminum cladding. All later interiors, mostly added in the 1990s, were demolished to expose the building's raw structure." But that doesn't mean the design teams weren't shy of making their own mark. Take the cavernous basement canteen: once a wood-framed amphitheater, it has been totally transformed with red floor tiles, a whole wall of mirror, and repurposed-textile wall hangings by British artist Daniel Silver.
While the structure was being renovated, Johansson began to commission furnishings for the space, inviting some of his closest collaborators to Stockholm to tour the soon-to-be brand HQ. To light the grand library and the rabbit warren of design ateliers, photo studios, showrooms, and offices, he called upon French specialist Benoit Lalloz, whose measured, white-but-not-too-bright system of brushed aluminum LED lights is a defining feature of the refit. Existing modules for Acne Studios stores are joined by entirely new experiments for Floragatan 13, in particular a series of handblown ombré lanterns that resemble electric insulators and subtly echo the brand's signature hue. "We were able to create the pink light by crafting a double lamp," says Lalloz. "We combined two elements — an interior opalescent bell and then the dégradé pink lamp over the top. The dégradé effect is due to the varying thickness of the glass at different points." 
Max Lamb designed these colorful runestone-like seating elements especially for the lobby. The lighting fixtures in acne studios' signature pink hue are custom designs by Benoit Lalloz. Photography by Annabel Elston. Courtesy of Acne Studios.

Max Lamb's seating elements in the lobby. Photography by Annabel Elston. Courtesy of Acne Studios.
To furnish the lobby and the sixth-floor boardroom, Johansson turned to London-based designer Max Lamb, who had created furniture for the label in the past, notably at Acne's global flagship store on New York's Madison Avenue. For Stockholm, Lamb embarked on an extensive geological tour of the Swedish countryside, handpicking local basalt and granite boulders that he then polished into a series of throne-like chairs and humble stools. "I wanted a Viking grave made from Swedish stones, and a Viking table in the boardroom," says Johansson. "I was first attracted to Max not only because of his aesthetic but also because of his methods, which felt so contemporary to me. Environmentally, he is sane."
The wooden chairs and table in the boardroom, located in the ambassador's former apartment, were designed by Max Lamb, who was inspired by the simple and sturdy shapes of Viking craft. Photography by Annabel Elston. Courtesy of Acne Studios.

The ateliers inside Acne Studios's Floragatan 13. Photography by Annabel Elston. Courtesy of Acne Studios.

Conference room at Acne Studios in Stockholm. Photography by Annabel Elston. Courtesy of Acne Studios.
Johansson too has contributed furnishings, resurfacing his 2010 redesign of the Nya Berlin, a 1958 classic by Swedish designer Carl Malmsten. His warping of Malmsten's twoseater sofa was among his early 3D-printing experiments, and he asked the original factory to remake his prototype. Although a self-confessed fan of Swedish furniture, Johansson has resisted filling the building with emblematic Scandinavian design, the only touches of nostalgia being Czechoslovak: the globular poured-glass column lamp that once hung from the library ceiling (now in Johannson's office), and original bentwood Thonet seating designed by Jan Bočan in 1970.
"Thinking of my education here in Sweden led me to realize that our HQ could somehow reflect the vibe of a fashion school," says Johansson, whose pride and joy is the fashion and photography library on the ground floor, built to rival that of London's Central Saint Martins. "And that idea set the tone. Basically, I wanted to bring in my local church painter to paint the ceilings, not put a Kusama in the hallway just because we could afford it. I wanted to call people I had relationships with already and give them free rein here." And that is, to a point, precisely what he has done — bringing the rigor back to a meticulous Modernist monument while injecting it with a dynamic sense of color, warmth, and collective creativity.