RETAIL APOCALYPSE: Dominique Gonzalez-Foerster and Nicolas Ghesquière (2002–12)
Designing retail spaces, especially fashion retail spaces, follows a different set of rules to other forms of architecture. They're often ephemeral in nature and, although commercial, do not always have clear goals or functions. According to Fredi Fischli and Niels Olsen, directors of exhibitions at ETH Zürich and the authors of a new book Retail Apocalypse, these and other conditions make retail architecture and enduringly Postmodern endeavor and experience. The world of fashion retail also harbors paradoxes that reflect broader quandaries of how we've consumed culture throughout the past century, especially from the 1970s until now, in a post-pandemic world of the 21st century. For their book Fischli and Olsen gathered a group of architects, artists, designers, theorists, and general cultural observers with a relevant connection to retail, such as the French artist Dominique Gonzalez-Foerster and her collaboration with fashion designer Nicolas Ghesquière. 
Balenciaga Chelsea location by Poste 9, New York City 2009. Photography courtesy Grégoire Vieille and Poste 9.

Entrance to the now-defunct Balenciaga store on 22nd Street in New York's gallery district Chelsea. Photographed by Marcelo Krasilcic, originally published in Purple magazine
Gonzalez Foerster has focused her career on interiors and installations, though she's avoided being categorized as a designer or architect. Despite that, with interdisciplinary studio Poste 9, Gonzalez-Foerster redesigned nearly all Balenciaga stores worldwide between 2002 and 2012, during the creative directorship of Nicolas Ghesquière. Poste 9 reinterpreted each boutique with features reflecting local contexts and histories, drawing on Gonzalez-Foerster's background in film and scenography.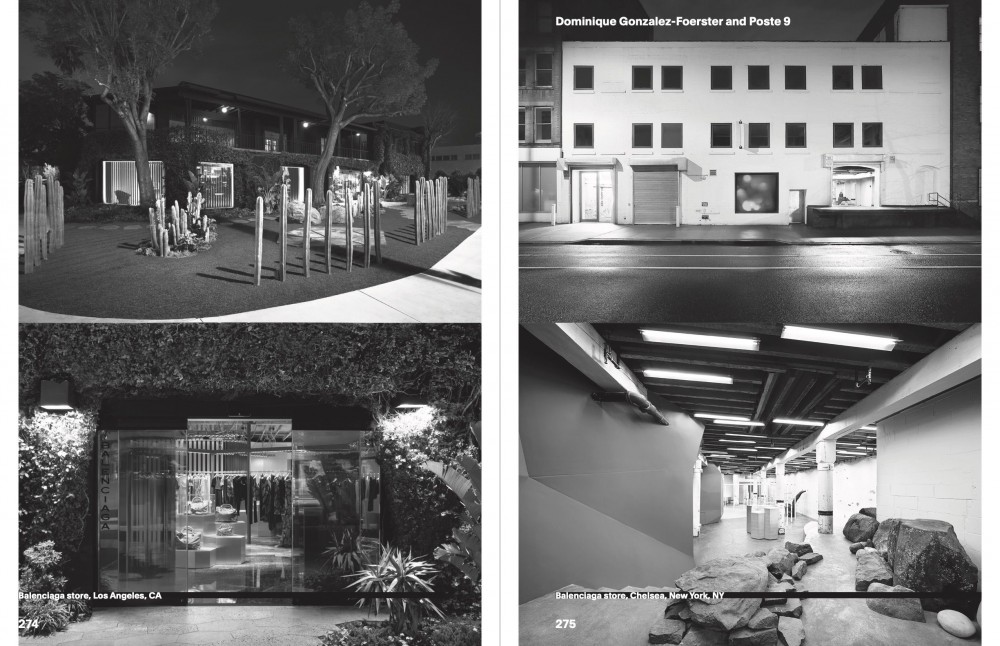 Philip Pilekjær: How did this project come about, and what was your motivation as an artist to take on the task of designing a line of retail stores?
Dominique Gonzalez-Foerster: It was a proposal by M/M (Paris), and since I was very much into architecture at that time, it turned into a wonderful experiment. Alongside this, I liked Nicholas Ghesquière's clothing very much but also his method, ways, and inspirations. It was not so much about retail in my mind, more about learning and collaboration. He could have been a musician or a writer.
How did you translate the skills from your art practice into this other field of work?
At the time, lots of stores had a white cube or gallery look. I thought we should go another way and develop landscapes and more immersive spaces.
Detail of Dominique Gonzalez Foerster's design for Balenciaga's London boutique. Photographed by Bella Howard, originally published in Purple magazine.

Page excerpted from the book Retail Apocalypse (gta, 2021) edited by Fredi Fischli, Niels Olsen, and Adam Jasper.
Did it feel like a job?
It felt like a great experience, like developing videos and stage design for French singers Christophe and Alain Bashung, or like making short films that were shown in Cannes. It felt like going beyond galleries and museums, which is what I wanted at that time.
All the stores are designed for their specific milieu and so there's no uniform identity, which undermines the trademarks that are usually at the core of creating fashion stores. Did you deliberately disregard these conventions?
Absolutely. That was a choice from the beginning, as a fertile reaction, and the language was developed and complexities added in different steps over more than ten years and for about 120 spaces.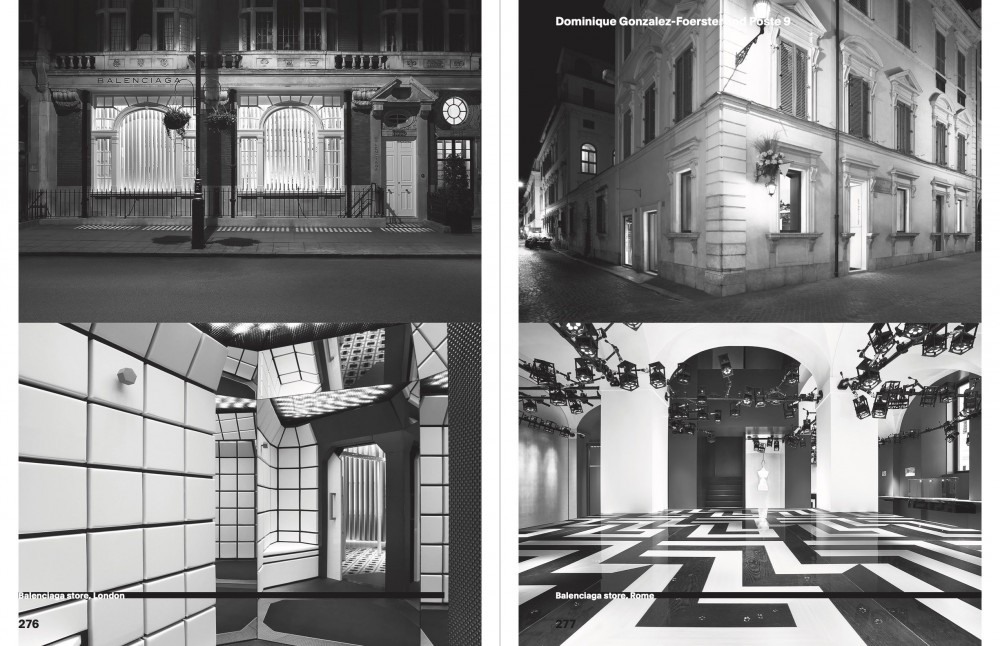 You ended up collaborating on these stores for more than a decade and your collaboration also spilled over into your own art. Your show Expodrome at the Musée d'art moderne de la ville de Paris in 2007 included collaborations with Nicolas, right?
Yes, it was great to develop La Jetée and Solarium with Nicolas for Expodrome. We had always wanted to do a film together.
Perhaps the ability to move between distinct cultural spheres opens up opportunities for artists to make a living from whatever skills they might have developed through their art. As an artist, letting oneself be absorbed into other economies might paradoxically be a strategy to stay part of an art world that is less commercially viable.
Yes. It can be an interesting choice, but only if the company is ready to take some risks and experiment, and if the designer is brave enough to support a completely new way, which is not always the case.
View of Dominique Gonzalez Foerster's design for Balenciaga's Paris boutique at 336, rue du Faubourg Saint Honoré (since remodeled).

Detail of Dominique Gonzalez Foerster's design for Balenciaga's London boutique. Photographed by Bella Howard, originally published in Purple magazine.

Double page excerpted from the book Retail Apocalypse (gta, 2021) edited by Fredi Fischli, Niels Olsen, and Adam Jasper.
Your work on these stores took place under the banner of Poste 9, a collaboration between Martial Vieille, Benoit Lalloz, and yourself. How do you see the role of Poste 9 within your artistic practice?
Poste 9 has been a brilliant collaborative and practical tool. Architecture and larger productions require different settings and frames. But Poste 9 is also a place on the beach in Ipanema — very important.
The new book Retail Apocalypse (gta, 2021), edited by Fredi Fischli, Niels Olsen, and Adam Jasper, can be ordered here. (Special support by Artek.)
Fredi Fischli and Niels Olsen are directors of exhibitions at the Institute of the History and Theory of Architecture (gta) at the Swiss Federal Institute of Technology (ETH). Together they've curated numerous international exhibitions on art and architecture including Readymades Belong to Everyone at the Swiss Institute in New York, Trix & Robert Haussmann at the KW Institute for Contemporary Art in Berlin and the Nottingham Contemporary, and Inside Outside/Petra Blaisse — A Retrospective at Triennale Milano (all 2018).
A version of this interview appeared in PIN-UP 28, Spring Summer 2020. Additional editing and writing by Akiva Blander.