SWISS CONGENIALITY: Interview with Annabelle Selldorf and Swiss Institute director Simon Castets
Since its opening in 1986, Swiss Institute has moved location several times, including stints on Broadway and Wooster Street. Its most recent incarnation at in New York's East Village is by far its most spectacular. Located in a former branch of Chase bank on the corner of St Marks Place and 2nd Avenue, the four-level building was originally constructed in 1954 by Alfred Hopkins and Associates. Renovated, or rather "repurposed" by Selldorf Architects, the 7,500 square foot new space has art packed into every corner — not merely as part of the inaugural exhibition READYMADES BELONG TO EVERYONE (curated by Fredi Fischli and Niels Olsen and on view until August 19 — read our review here), but also of the shifting installations of the new SI On Site program that takes over every last stairwell and crevice with original artist commissions. With just a few weeks until the opening of two new exhibitions — one by Franz Gertsch and by Julien Nguyen respectively — PIN–UP sat down with Swiss Institute director Simon Castets and architect Annabelle Selldorf in the new second-floor library for some friendly banter about the ongoing excitement (and the many challenges) of the institution's exponential development.
When you were looking for a new space for the Swiss Institute, what exactly were you looking for?
Simon: We were looking for a million things at the same time. As a nonprofit that's open to the public free of charge and intention to welcome as many people as possible, we wanted to be street level; we wanted to be relatively centrally located; we wanted to have good ceiling height; and we wanted to have enough room, or at least as much room as we had on our former location on Wooster Street. And most importantly, we wanted it to be affordable for us, which was the trickiest part.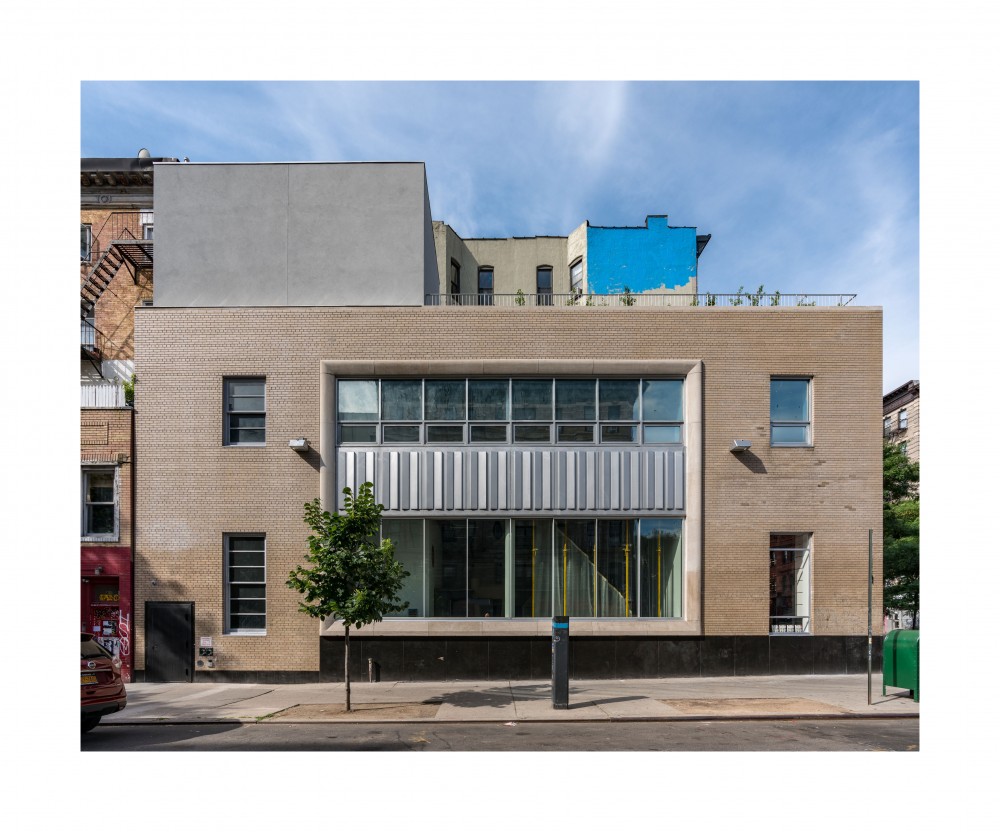 What did you think when you were first presented with this building?
Annabelle: Oh I loved this building from the moment I first saw it. My office is not very far from here so I already knew it for many years but I'd never been inside. I love these bank buildings because it's a certain typology.
Simon: This one was designed by Alfred Hopkins who wrote a book called The Fundamentals of Good Bank Building (1929).
Was the building in good shape when you first visited?
Annabelle: It was in rotten shape. It was also empty, there were no more bank counters, only the big safe was still there. And smelly toilets.
Did you keep the safe?
Simon: We were on the fence about keeping the safe. We were looking at the advantages, which is that we would save a lot of money by not removing it, and it's kind of funny, it adds a "steampunk" touch. But on the negative side it took up a lot of space and we thought, "Well, it's very gimmicky and we might get tired of it very fast." And then Annabelle, who usually sees the bright side of everything, she wanted the safe out.
Annabelle: That's right. Everybody kept saying, "Oh, it's so cute let's keep the safe," but I felt very strongly about it: I said the safe has got to go. I think getting rid of it was my biggest contribution to the whole project. Everything else Simon decided. (Laughs.) But, I also immediately agreed with Simon that what is so amazing about the location is it is a real neighborhood. And the opportunity of having your own building creates a grounding that is very rare for an institution like this.
Simon: Most importantly, I think having a corner is a unique attribute. It's a corner lot, and it's also the heart of the East Village. Actually, it's the heart of New York. Did you know that where we're now sitting is where Peter Stuyvesant's farm was? This was Peter Stuyvesant's orchard, right here.
Annabelle: And we're bringing the trees back, at least on the roof. (Extinct in the Wild, an installation by artist Michael Wang comprising planters that feature formerly native plants that no longer grow in New York without human care, runs part of the perimeter of the roof.)
Simon: It's kind of ironic that on this increasingly commercialized island that is Manhattan we repurposed a space that has been built as a bank and transformed it into a space that is free and open to the public, to show art, not to sell things to people, but always free of charge.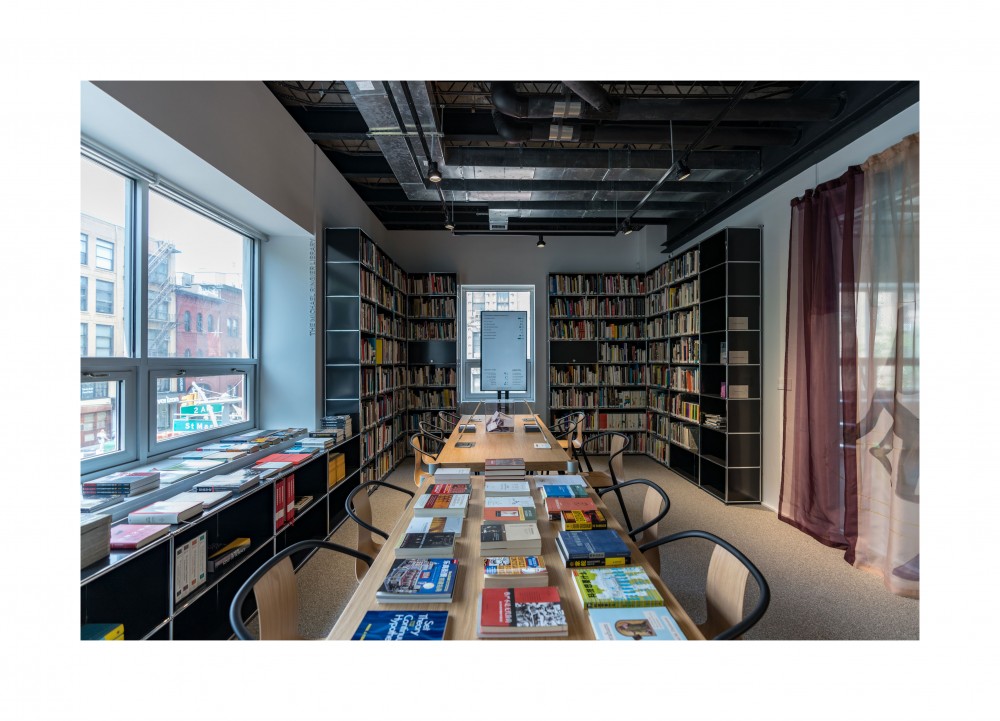 Apart from the safe and some smelly toilets, what would you say, architecturally speaking, was the biggest challenge?
Annabelle: I think the biggest challenge was Simon. (Laughs.) And I mean that as a compliment. He's the most uncompromising client I ever had. He has a very powerful vision and he pursues that and he will just not relent to get what he wants to get. And he goes against the grain. And I think that's been great every single time. But it makes people run around the block sometimes. Several times. For example, from day one Simon wanted to avoid a dropped ceiling. There were any number of reasons why that was a much tougher, more expensive thing to do. But it also made the ceiling appear higher, and it also takes the edge off of being a polished, white-box space. And there are several examples like that. So we really questioned every single detail and it wouldn't have happened had it not been for Simon.
Simon: I can also say that Annabelle has been the most uncompromising architect I've ever worked with because I've never worked with an architect before. (Laughs.) But seriously, there's been a really generative dialog between us about every single aspect of the building. Every inch of the building. Every tile has been put into question. Every outlet, every piece of furniture, every type of window, the color of the railing and the staircase, the rubber floors. Everything was discussed. It's been a constant push and pull situation but it's not like one was doing the pushing, the other was doing the pulling. It was always in both directions. It was about re-thinking what one would do for an art space. You have to understand, this building was meant to have ten people at a time as a bank. Now, we'll have hundreds of people at a time — it really is repurposing to the max.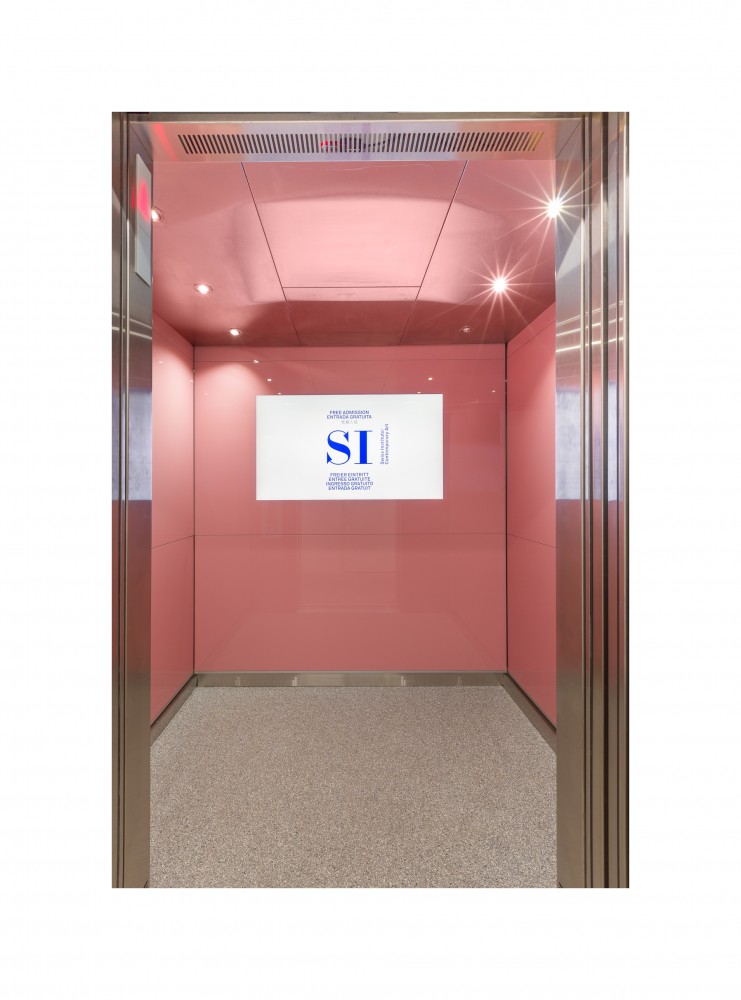 What do you consider the Swissest thing about the building?
Simon: The Swissest thing in the building is the elevator, because it's a Schindler elevator.
Annabelle: And it's millennial pink.
Simon: The color is actually called Memorable Rose and it's a paint color by Sherwin-Williams. It was selected by the artist Pamela Rosenkranz as part of the SI On Site program. Her elevator installation is called Color of a Tongue (Director), and it's the color of my tongue. Pamela is really tongue-in-cheek like that — no pun intended.
What are some of the other permanent or semi-permanent SI On Site installations in the new building?
Simon: Raul de Nieves did an installation of resin flies in the staircase (Humility (999), 2018), John Armleder did the mirror wall in the bookshop downstairs (Royal Flush, 2018), and Valentin Carron and Michael Wang both have big installations on the roof. There are 15 in total and there will be more in the spring, including new uniforms by Telfar for the Swiss Institute staff and a fountain by Méret Oppenheim. The SI On Site program works on another kind of timeline, which is constantly evolving — some of it is changing, some of it is staying.
Annabelle: During the process of this new building Simon wasn't just offering a new space, he was simultaneously looking at art, talking to artists, curating shows, bringing people together, and that the evolution is very much a part of it. It's a building that really comes to life through its purpose. Although, the spaces look great empty, too. It's not to say they're so fancy — they're not overwhelming, but they're also not neutral. The space has a lot of character.
Simon: And that's also thanks to Annabelle's love of art. When I would come to Annabelle and say, "Oh, great news. I've talked to Valentin Carron, one of my favorite artists and he has this genius idea which is to make a giant heart made of logs that he describes as a mix between a Carl Andre woodblock sculpture and a Robert Indiana and it is going to be very large, it's going to weight several tons, it's going be painted purple and green, and it's going to be very sad looking. That's the idea." (Vecchio Cuore, 2018) And Annabelle would say, "Great. I love it." If you look at Annabelle's architecture, you can imagine that some people might have a level of anxiety bringing up this kind of thing to her if they don't know her really well. But then she didn't think of this place as a building that was there for itself. It's always a means to an end.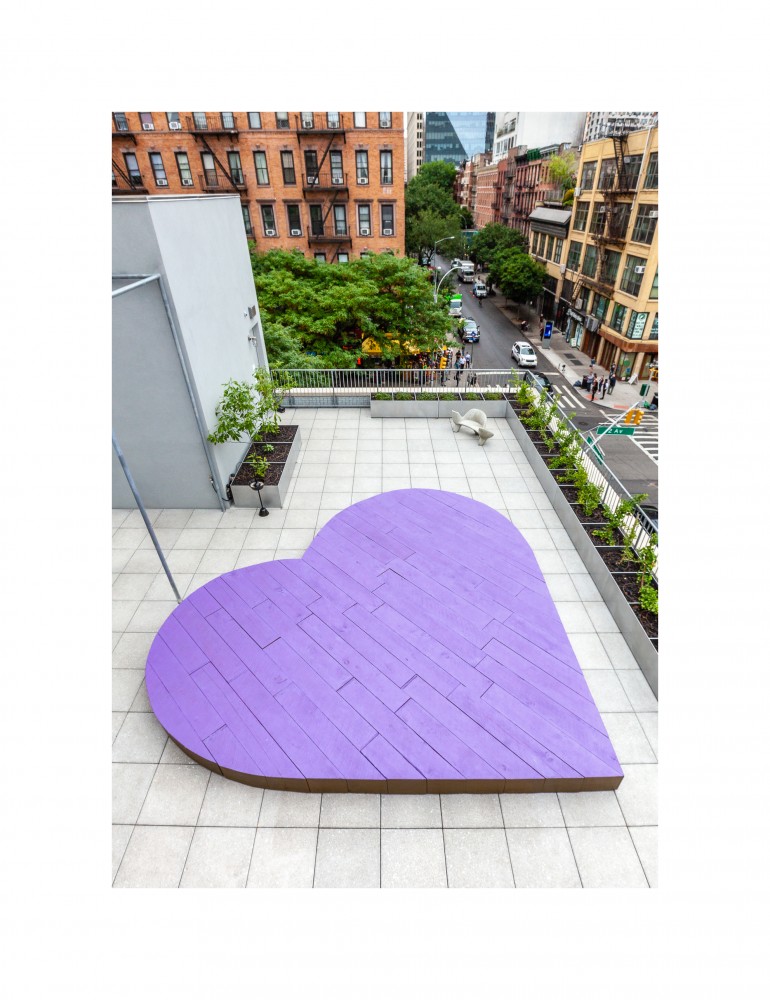 I heard there were also some heated debates about the use of the roof?
Annabelle: Oh, my God. I thought I was going to kill him. (Laughs.) He kept insisting. "We need the roof, we need the roof." But making the roof accessible meant that we had to reinforce it, which I was worried about. We had to increase the live load for people and for installations. And I kept thinking, "When are you going to be outside already, for crying out loud? Who's going to be doing anything outside?" And now I am a total convert — I'm so glad we did that. It looks so great. 
Simon: It's also something that really sets Swiss Institute apart from many other art spaces in the city.  
Annabelle: Although, let's see how it goes in January. (Laughs.)
Interview by Felix Burrichter.
Portraits of Annabelle Selldorf and Simon Castets were taken by Benjamin Rouletat the L'Arlatan hotel in Arles.
Tickets to the 2018 Swiss Institute benefit in November 2018 can be purchased here.