INTERVIEW: Raf Simons Feels at Home Designing The Fabrics of Our Lives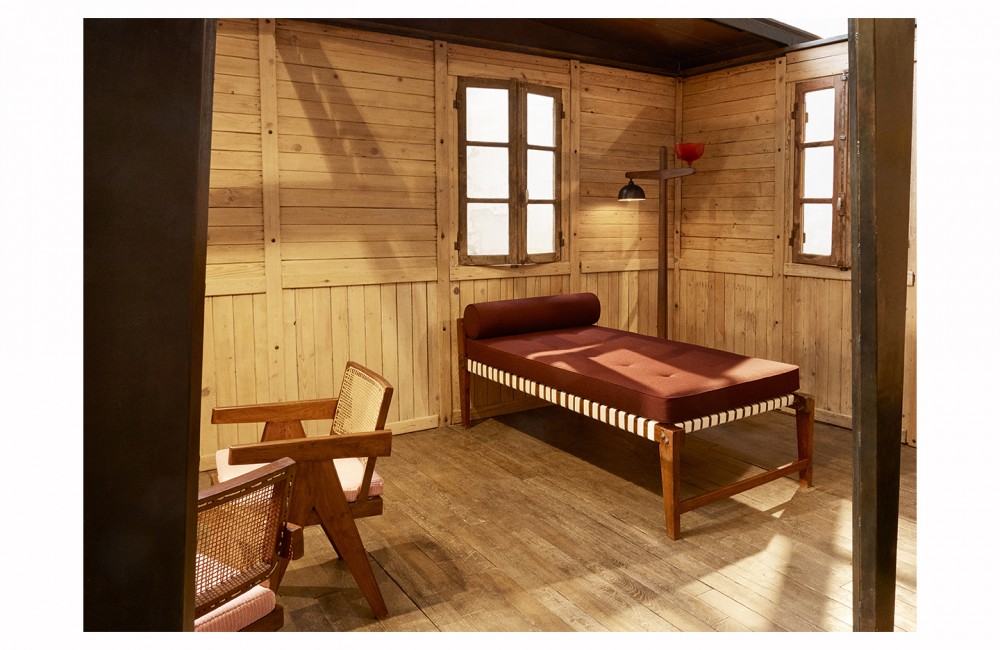 When, in 2005, Raf Simons took on the job of creative director at the then struggling brand Jil Sander, it catapulted him from perennial hero of indie fashion to big-league player in the world of womenswear design. In the years that followed, first at Jil Sander in Milan, then Dior in Paris, and finally Calvin Klein in New York, Simons ran with the hyper-accelerated schedule of contemporary fashion, all the while continuing to design for his own eponymous label. Beginning in 2014, he also took on a decidedly slower-paced endeavor: a full line of home textiles for the Danish fabric company Kvadrat. Earlier this year in Milan, not long after leaving New York to move back to Antwerp, he unveiled the installation No Man's Land, an intriguingly titled showcase for his latest collection of Kvadrat textiles. Scattered through the former parking garage were three Jean Prouvé prefab homes filled with rare, mostly French, mid-century furniture by the likes of Pierre Jeanneret, Le Corbusier, Mathieu Matégot, and Jean Royère, all upholstered in Simons's new designs. It was in this industrial-meets-bucolic setting — chipped paint, wood cabins, and large flowerbeds of craspedia — that a visibly relaxed Simons met PIN–UP for a talk.
We're sitting here in a beautiful Jean Prouvé prefab house, on Jeanneret furniture, there's a beautiful flower bed designed by your friend, the florist Mark Colle. Why did you call this installation No Man's Land?
It was interesting for me to play with this juxtaposition between a domestic, warm, intimate feeling, and nature. Nature as an open space where people don't take control at all — I'm not talking about manicured gardens. I grew up in nature, in a small village, on a small street, with a little house between farms. I rejected it when I was 16 years old — I couldn't get out fast enough. To live in a city, travel, you know. But now, after all these years, I'm attracted to finding a place in nature again. That's the no man's land I'm interested in.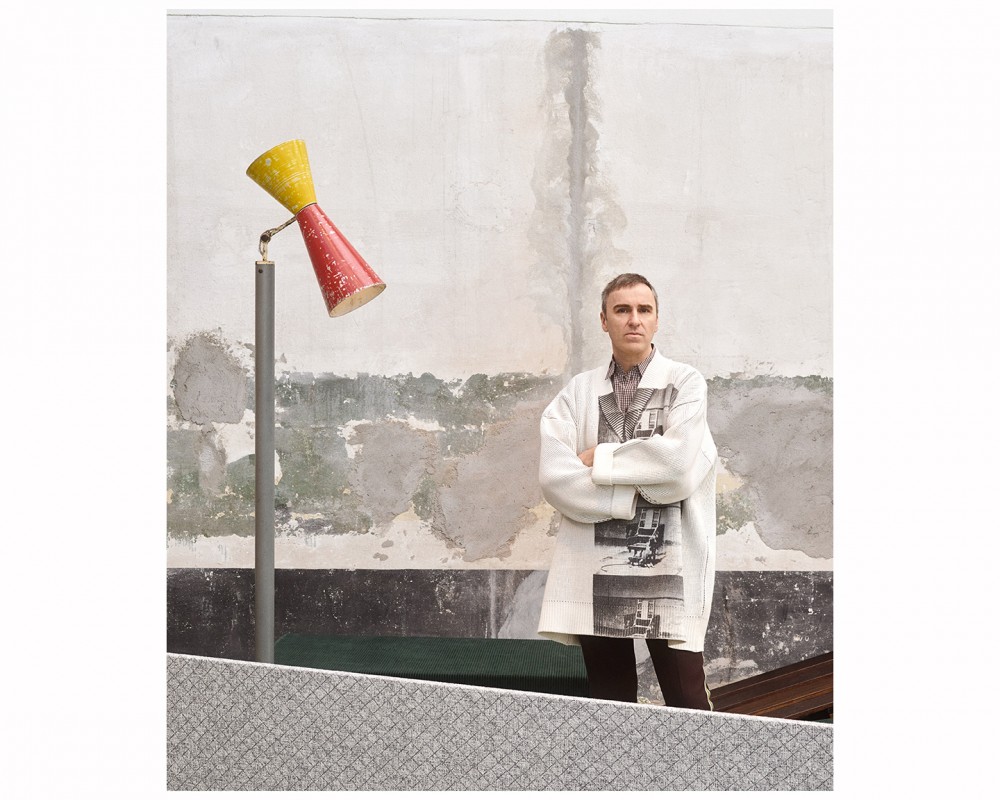 Sometimes those no man's lands can also be industrial spaces that nature reclaims.
Yes. Nature will always come back. It will come back to all of us, sooner or later. I lived in New York for a few years where there is almost no nature. People are obsessed with buildings. Sometimes I was much more inspired by the space in between two buildings, spaces that weren't used. Which is also a no man's land. The stuff you find in those forgotten places inspires me, whether for color, material, or surface.
What was the inspiration for the new home textiles?
The first two are Novus 1 and Novus 2 and they have a subtle fence-like grid structure. They were inspired by Jean Royère's Tour Eiffel furniture. The result is a very beautiful fabric because you perceive it as a fence and you don't perceive it as a fence; you perceive it as a grid and you don't perceive it as a grid, depending on the colors. The third fabric is called Atom and was strongly inspired by a kind of abstract fragment from a pointillist painting. We did a similar fabric a few collections ago, which was called Ria. But when you see Ria on a bigger surface, you see that a pattern emerges and the dots repeat. This time I wanted no visual repeats — with Atom they're gone, which is extremely difficult to achieve from a technical point of view. And then we also did a corduroy, Phlox, which is always a big challenge.
Raf Simons installation for his new Kvadrat collection. Photography by Caspar Sejersen.

Raf Simons installation for his new Kvadrat collection. Photography by Caspar Sejersen.
Corduroy is a fabric loaded with associations.
Yes. Both in fashion and in design. It reminds people of bad 1970s upholstery, like your grandmother's sofas. (Laughs.) The coloration is very interesting because corduroy takes light in such a different way from any other fabric. I was attracted to see how a corduroy could be developed so as to be used and presented in a very minimal way. Phlox comes in 17 colors, some of them very strong, like green, yellow, pink, or red.
Tell me about your use of color.
I'm obsessed with color. I always have been. I never really understood why there is so little use of color in design, in furniture, in architecture, and in interior design. Something is holding people back from using color. And if they do use it, they don't usually dare juxtapose colors. You can have very, very pigmented intense primary colors mixed with classics or dark colors, which makes for very different end results. But I think we are the only ones doing that, as far as I can tell. When I go into people's interiors — and I mean modern interiors — it's always rather held back.
Swatches from Raf Simons's new Kvadrat collection. Photography by Caspar Sejersen.

Raf Simons installation for his new Kvadrat collection. Photography by Caspar Sejersen.
Where do you source your colors?
From flowers, for example. I cut them open and look at the center of the flower, kind of like a doctor. Sometimes you have to use color swatches because the flower will decay and the color will change. But I always try to do it from reality. I don't like to use books because I know the color has already been altered through photography.
So I imagine you arriving at your Kvadrat meetings with a basketful of flowers?
That sounds very romantic. (Laughs.) But no, I'm just obsessed with environments where lots of colors come together, like in a flower store. So when I'm in Antwerp, I always go see my friend Mark Colle, who has a small but very good, hands-on flower shop. I also love paintings of flowers, especially the simple ones. There are so many beautiful juxtapositions.
Raf Simons installation for his new Kvadrat collection. Photography by Caspar Sejersen.

Raf Simons installation for his new Kvadrat collection. Photography by Caspar Sejersen.
How did your work with Kvadrat begin?
When I was working at Jil Sander, I was talking with the person in charge of fabric development and research and I asked him to find a fabric that's not normally used in fashion. And then he came in with all these Kvadrat fabrics, and I was having a ball right away. Some of them were like felt, they were incredible. I did two shows with them. Then one day I got a phone call from Peter Saville, who was working with Kvadrat, and who suggested that we do a capsule collection together. We presented the first fabrics in 2014. And that's how the collaboration with Kvadrat started.
And is all the furniture here really from your personal collection?
Yes it is, except the two Rietveld chairs, which we got from Cassina. And the Prouvé houses we borrowed from Patrick Seguin, of course. I love these houses. They give you so many possibilities for an inside-outside relationship. But you can also close them and create something warm, small, domestic, and cozy. I wish I could live in one of them. I like the idea of being able to put one of them up anywhere, spend the summer in it, and then pack it back up for storage.
Raf Simons installation for his new Kvadrat collection. Photography by Caspar Sejersen.

Raf Simons presented his new collection of textiles for Kvadrat in a demountable house designed by Jean Prouvé. In the background: Pierre Jeanneret's
Lampadaire à Deux Lumières next to a sofa and chairs by Jeanneret and Le Corbusier. Photography by Caspar Sejersen.
If you had to pick one place to put it up right now, where would it be?
In all honesty, I've been away for a few years now, so for me it would be kind of fascinating to have one in the dunes of Belgium, right by the sea.