DESIGN STORY: COUCH POTATO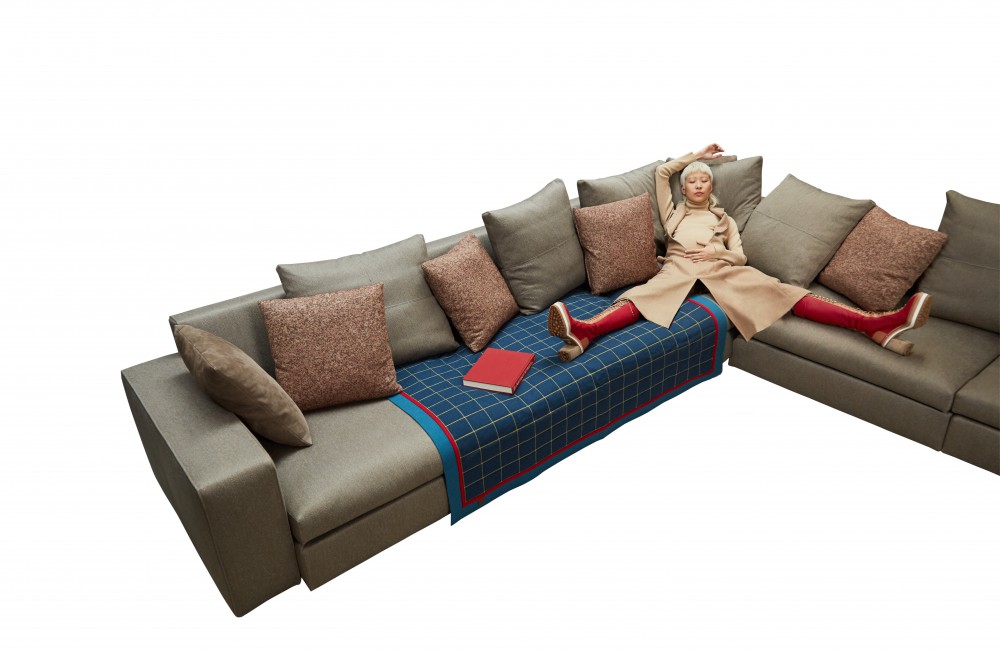 Let's face it: being pregnant is tough! There's a new life growing inside you and you might be facing some third-trimester fatigue. But now is the time to get that beauty rest because once the little bundle of joy arrives, shuteye will be in short supply. And what better place to do just that than on a cushy sectional? Take for example the Turner seating system, designed in 2008 by the late Swiss designer Hannes Wettstein for MOLTENI&C. Available with settees, corner pieces, chaise longues, and poufs in various sizes, the Turner offers seemingly endless possibilities for configuration. Thanks to Wettstein's ingenuity, the Turner's depth of seating can be adjusted by a mere flip of the hand. Perfect for the exhausted mommy to be. The quilted Coin du feu blanket is by HERMÈS. The beige dress, turtleneck, and red thigh-high boots are all by HERMÈS, too.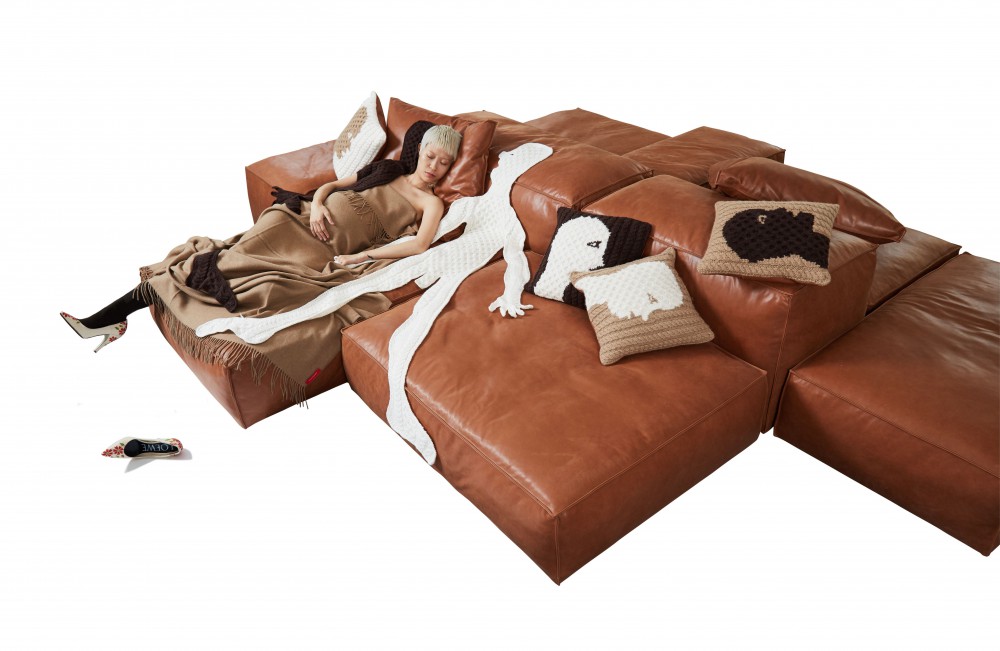 When you're pregnant you're sleeping for two, so better double up on dozing now. For best results try out Piero Lissoni's Extrasoft, the mother of all lounge seating. Thanks to Italian design company LIVING DIVANI the Extrasoft has been in production since 2008; since 2016 it is also available as a bed version. Mother-to-be Mimi is accompanied by a variety of knitted men (and matching pillows) from the This is Home collection by Spanish fashion house LOEWE, designed by Jonathan Anderson and presented during Milan Design Week in April 2017. The camel wool blanket is called Stellar and is from Raf Simons's exclusive line for KVADRAT. Mimi's floral-embroidered leather pumps were designed by Jonathan Anderson for LOEWE.
So, you found the doula of your dreams and now you're on Cloud 9? Prolong your euphoria by resting on Marcel Wanders's Cloud sofa for MOOOI. First released in 2012, the Cloud's rounded shapes and matching pouf are available in a variety of fabrics, fluffy enough to provide a comfortable resting space, yet sturdy to withstand any prolonged maternity test. The pear-colored cotton velvet pillow and the Loam pillow are both by MAHARAM. The canary yellow baby alpaca throw is called Sigmar 2 is a Raf Simons re-edition of Fanny Aronsen's original design for KVADRAT. The black leather bear is a collaboration between PIN–UP and the design company MAHARAM. Mimi is wearing a floral dress by KENZO, flared wool leg warmers by TELFAR, and fur slippers by SACAI.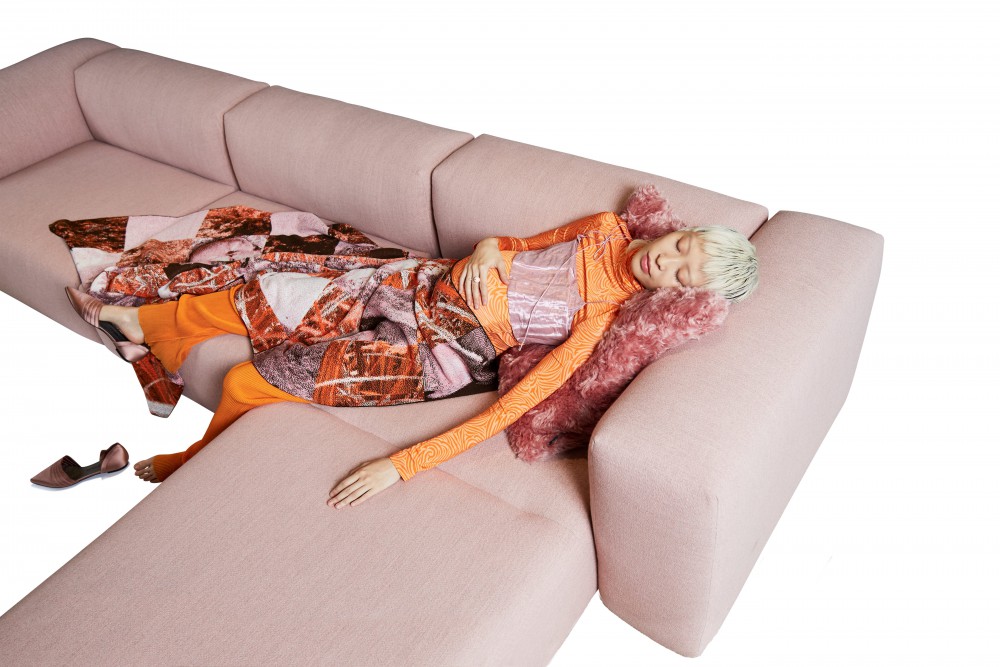 Need a comfy gestation station? Look no further than Jasper Morrison's Soft Modular Sofa. Designed for the Swiss design company VITRA, the Soft Modular Sofa was first presented in 2016. This version is upholstered in a soft pink Dumet cotton blend that was developed by VITRA's in-house design team. The multicolor merino wool blanket is a work by the creative collective DESIGN DISPLACEMENT GROUP and is called The Death of Graphic Design, an Opera: JEALOUSY. It is available through CHAMBER gallery in New York. The texture of the soft pink furry Argo 2 pillow, designed by Raf Simons, is woven from the long silky hair of the Angora goat and is available through KVADRAT. Mimi is wearing orange silk pleated pants by PRISCAVERA and a pressed tank shirt by MARYAM NASSIR ZADEH. The turtleneck is by CREATURES OF THE WIND, the pink silk shoes by PEDRO GARCIA.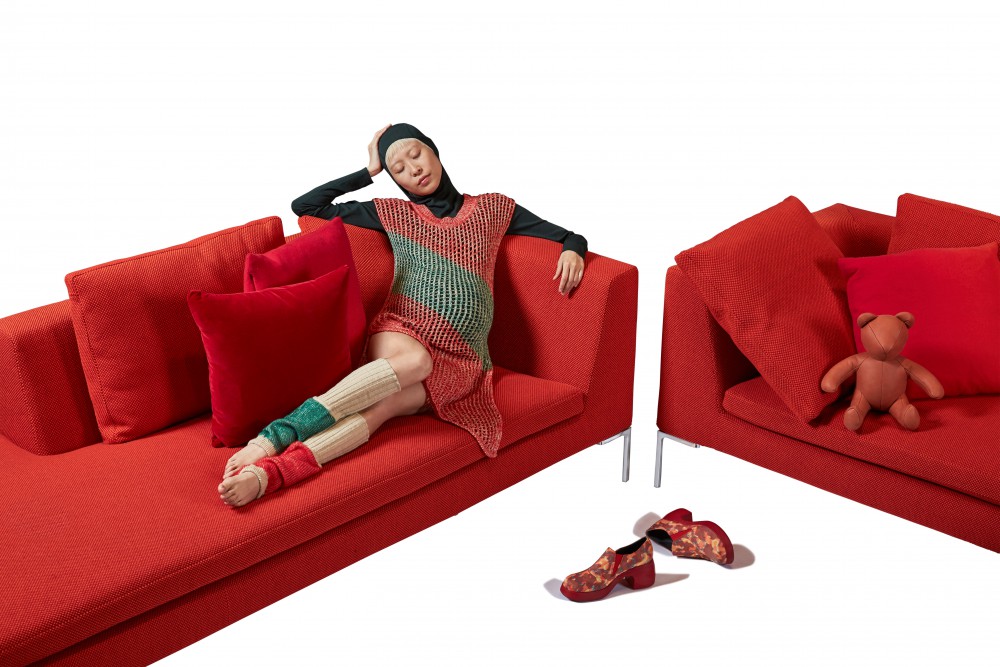 Bump up your nap game by taking some time out on Charles. The modular seating system, an homage to Charles (and Ray) Eames, was designed 20 years ago by Antonio Citterio for the Italian sofa superbrand B&B ITALIA. With their raised base and slender, L-shaped feet, Charles's three-seat sofas, chaise longues, and corner pieces have lost none of their allure. The Velvet pillow in oxblood red is by CALVIN KLEIN HOME. The red leather bear is from a collaboration between PIN–UP and the design company MAHARAM. Mimi is wearing a hooded top by DION LEE. The crocheted dress and leg warmers are by VIVIENNE WESTWOOD. The shoes are by ECKHAUS LATTA for CAMPER.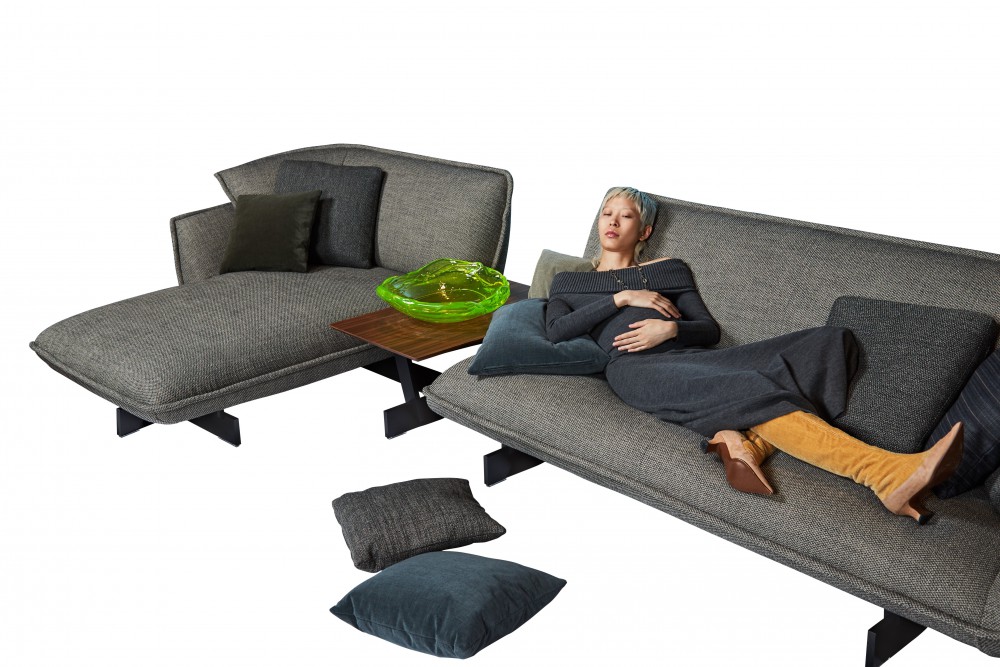 When you're expecting, expect the unexpected: from crazy cravings to in-utero hiccups. Thankfully Patricia Urquiola's versatile 550 Beam Sofa System for CASSINA is sturdy enough for any situation a mommy-to-be may find herself in. Outfitted with modular padded elements and perfectly sized additional cushions, the 550 Beam even offers integrated low tables, perfect for placing a glass of water (hydration is key) or a beautiful decorative object, such as the yellow-green Frozen bowl which the Czech designer Maxim Velčovský designed for LASVIT. Mimi's grey knitted off-the-shoulder dress is by GABRIELA HEARST. The yellow suede overknee boots are by VIVIENNE WESTWOOD. 
Styling by Avena Gallagher. Model: Mimi Jung (MIDLAND). Styling Assistant: Joe Van Overbeek. Hair and Makeup: Justin Henslop. Studio assistants: Amir La Sure, Malik Knight Fequiere, and Louisa Nolte.
Taken from PIN–UP No. 23, Fall Winter 2017.