DESIGN STORY: Home Jewelry
The knives are out this summer. So are forks, spoons, and even colanders. When it comes to dressing up, domestic goddesses everywhere know there's only one rule of thumb: throw on everything but the kitchen sink.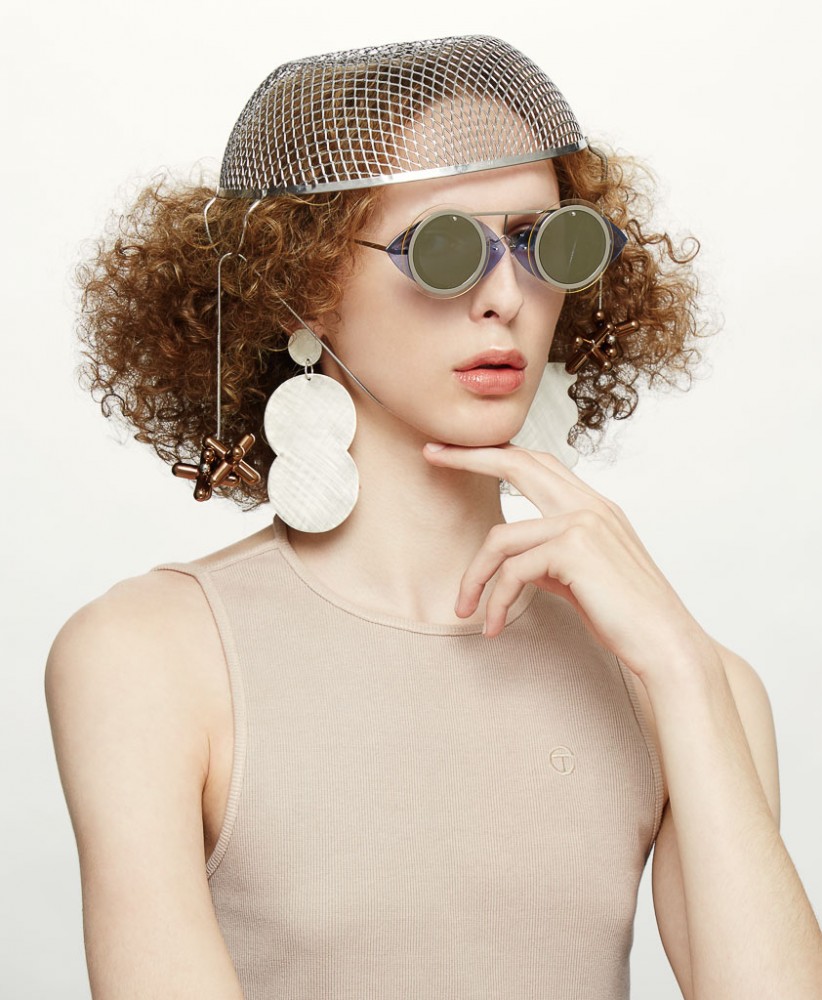 Nat is wearing the AC04 colander, designed by Achille Castiglioni, held in place by a decorative Tripod trivet on a chain designed by Gabriele Chiave. Both are produced by ALESSI. Nat's earrings are by GEORGINA TREVIÑO and the sunglasses are a collaboration between the Dutch design powerhouse MOOOI and GENTLE MONSTER. The top is by TELFAR.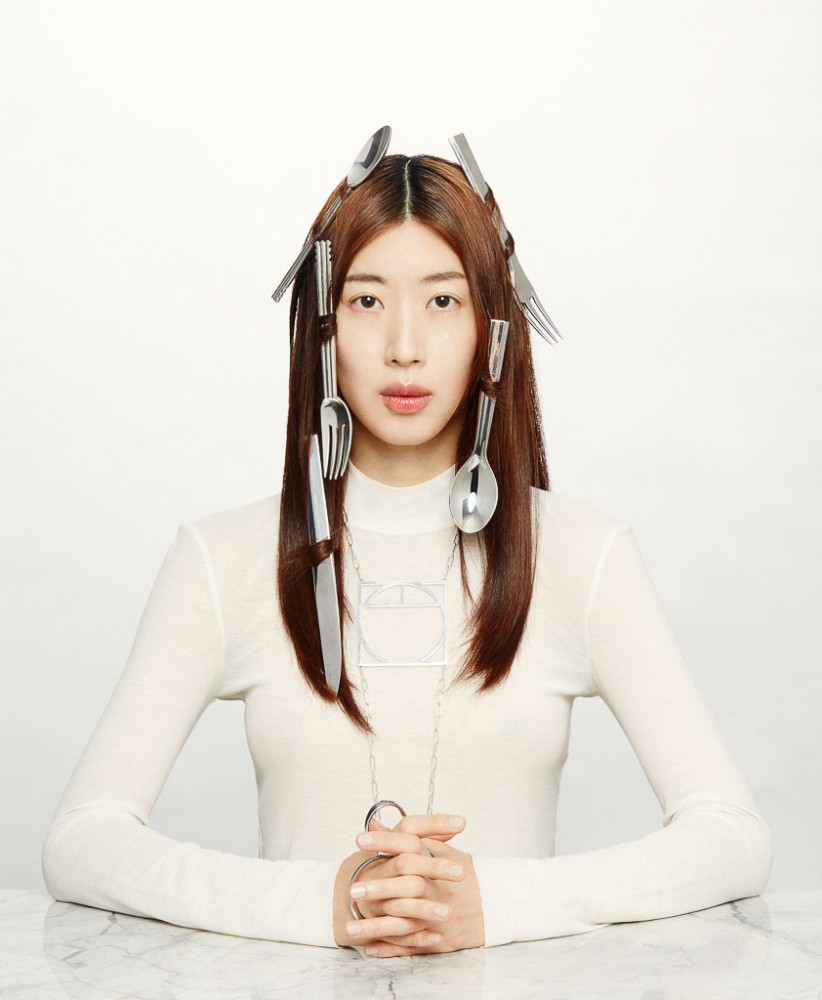 Jiyoung braided some of France's finest silverware into her hair, including a Nantes fork and dessert spoon, both silver-plated, and a Zermatt fork, knife, and dessert spoon, all made of stainless steel. All silverware is by PUIFORCAT. Around her neck Jiyoung is wearing a sterling silver Chaîne d'ancre Game necklace by HERMÈS. In her hand she's holding the Voile spaghetti measure designed by LPWK and Paolo Gerosa for ALESSI's Objets Bijoux collection. 
Born with a silver spoon in your mouth? Try going through life with a coffee maker around your neck. Nat paired her EDGAR MOSA necklace with the iconic La Conica espresso coffee maker designed in the 1980s by architect Aldo Rossi for ALESSI. Nat's earrings are by GEORGINA TREVIÑO, the bandeau top by BEVZA, and her hat by ERIC JAVITS.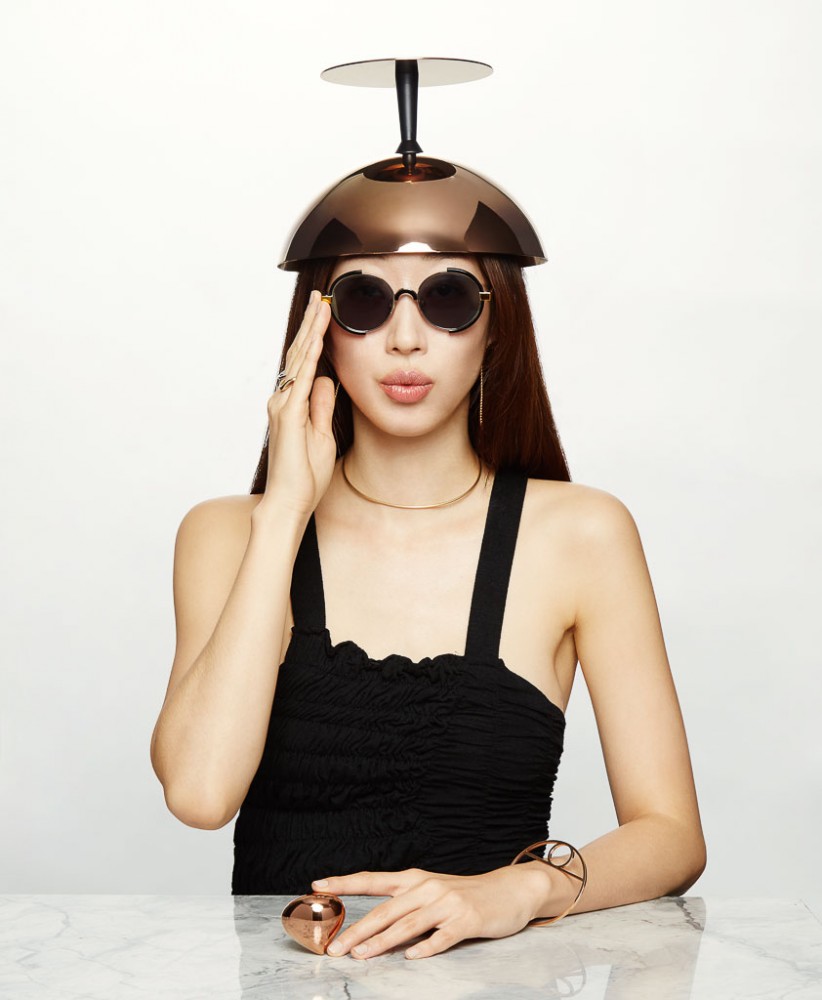 Meanwhile, for Jiyoung the season's essential bowl cut involves an actual bowl. The one she's wearing is a limited edition dark copper version of ALESSI's AC04 fruit bowl, designed by Achille Castiglioni. Always at her fingertips: the Chestnut pill box by Gabriele Chiave and Lorenza Bozzoli for the Objets Bijoux collection by ALESSI. Infinity glasses by MOOOI for GENTLE MONSTER. The bracelet is from the Chaîne d'ancre Game collection by HERMÈS, the necklace is by ONE SIX FIVE, the ring by KOTA OKUDA, the earrings are by SARAH RACHEL BROWN. The dress is vintage COMME DES GARÇONS (via James Veloria).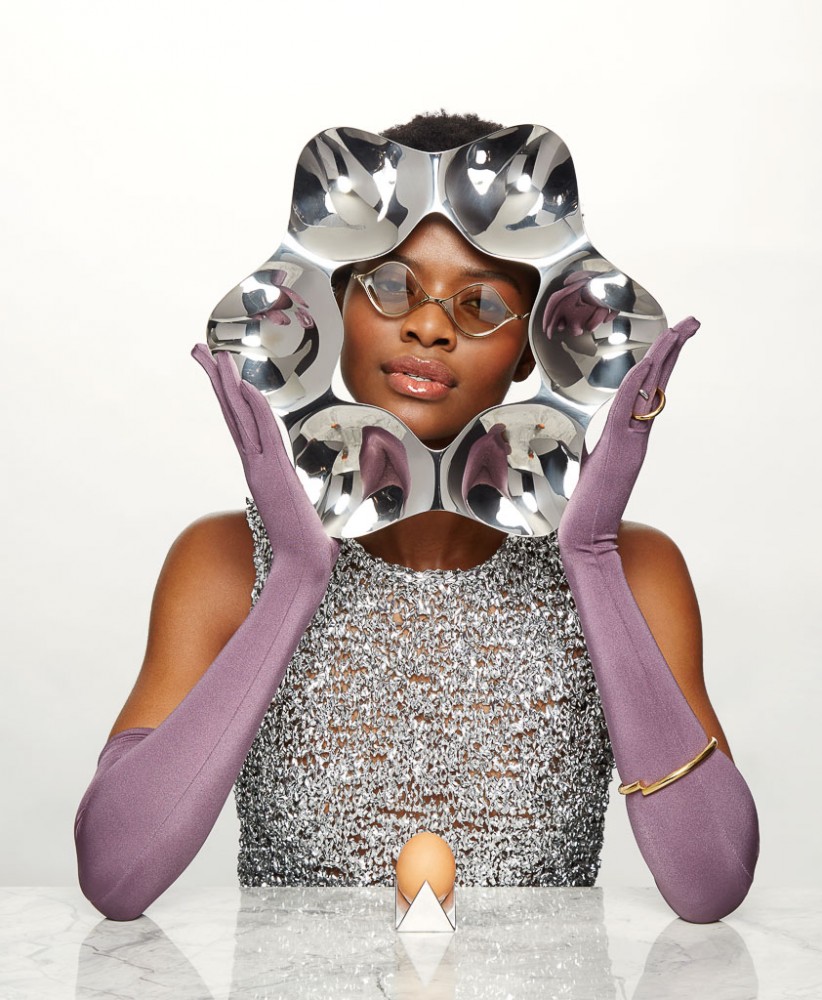 Nothing sets the table for a big night like a hip chip-and-dip set — and few wear it better than Wemi. Her Super Star hors-d'oeuvre bowl is a design by Tom Kovac for ALESSI. The bangle is by EDGAR MOSA, the ring by KOTA OKUDA, and the silver top and sunglasses by SLOW AND STEADY WINS THE RACE. The Roost egg cup is by Adam Goodrum for ALESSI.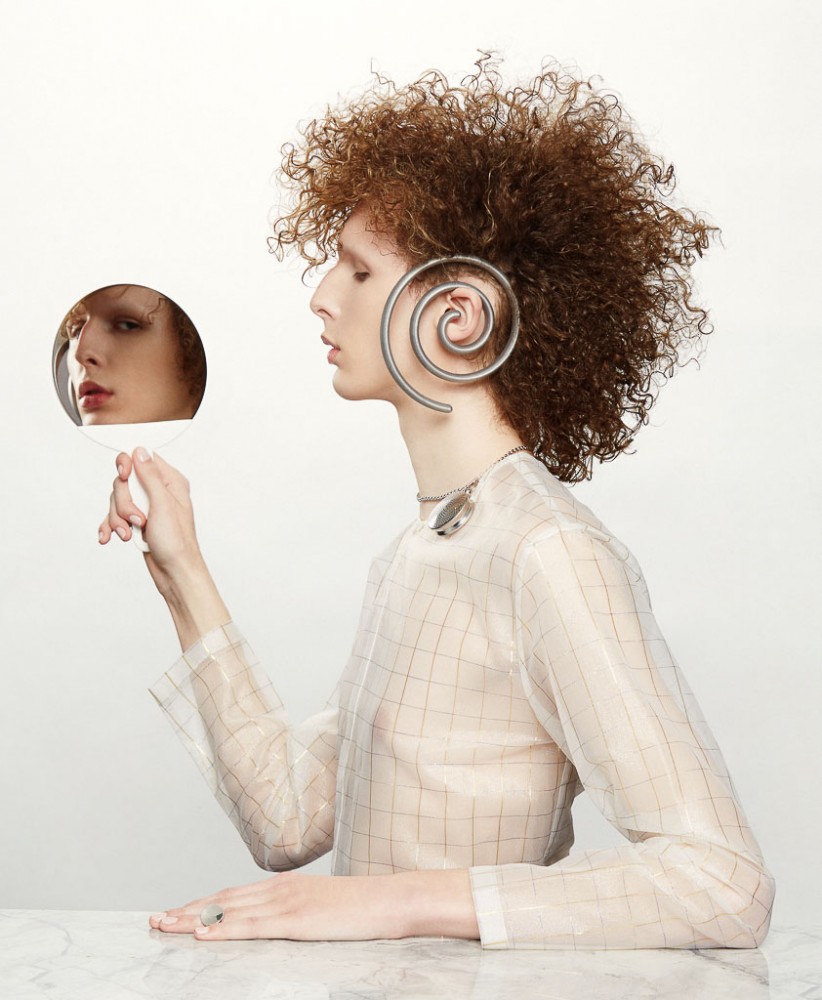 For her part, Nat is ready for hot gossip with an ornamental trivet worn around her ear. The sand cast aluminum piece is a design by Jamie Wolfond and Sam Anderson for GOOD THING, as is the mirror Utility, which was designed by Visibility. The T-Timepiece tea infuser worn around Nat's neck is a design by Titus Wybenga for ALESSI's Objets Bijoux collection. Her top is by CFGNY and her ring is by BING BANG.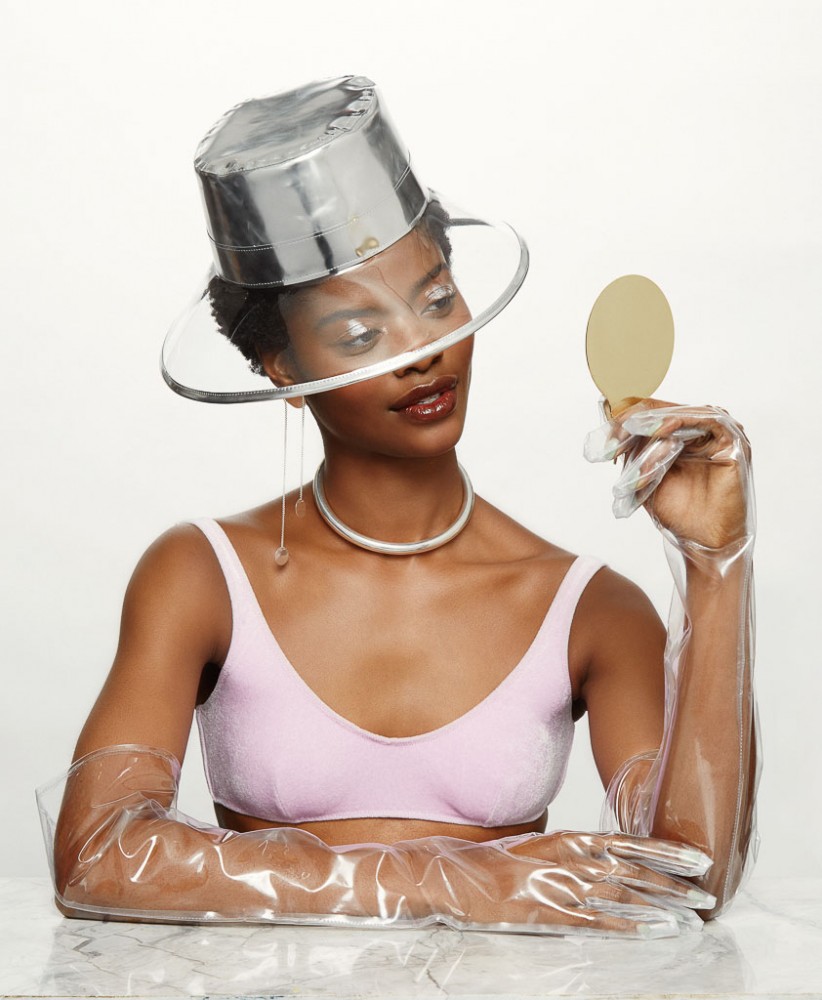 Household chores and attention-getting style can fit like a glove. Case in point: Wemi's exceptional protective wear, which includes gloves by LACRASIA, a hat by ERIC JAVITS, necklace and earrings by SASKIA DIEZ, the velvet bra is by BASERANGE. The hand mirror is a replica of a bronze model from Cyprus from 6th century B.C. It is produced by MICHAEL ANASTASSIADES.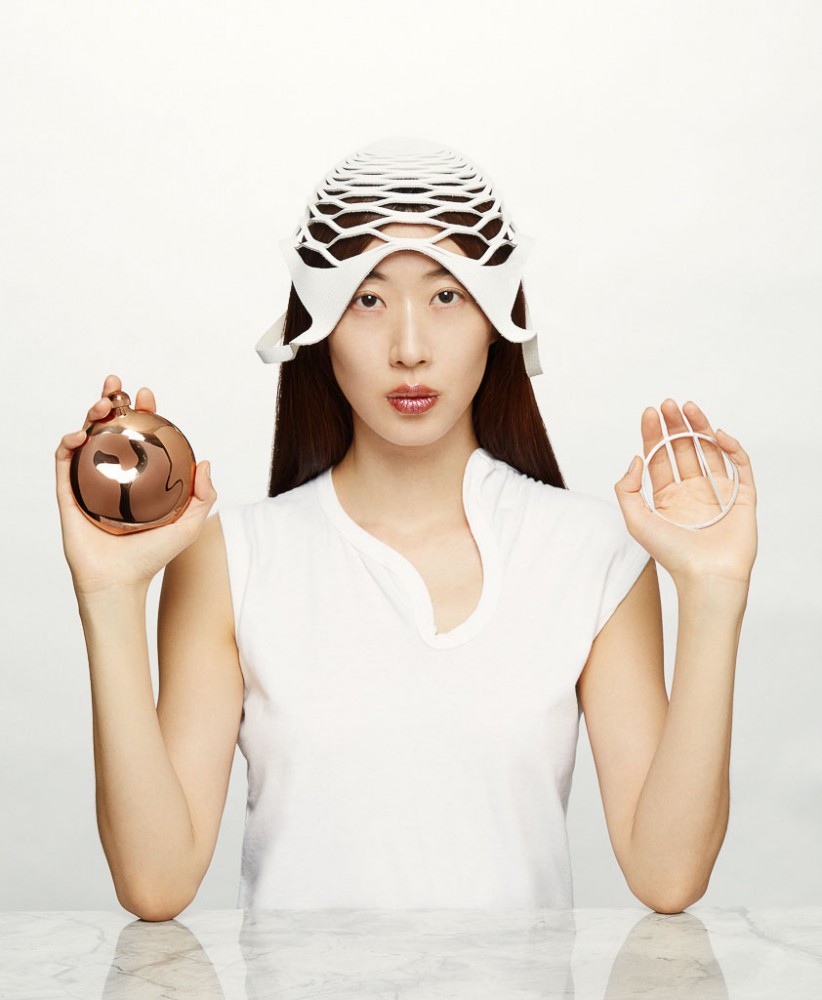 Meanwhile, Jiyoung  is putting her head, as well as all her eggs, in one basket: the Market Tote in porcelain-colored leather, worn as a headpiece, is a design by Various Projects for MAHARAM. In Jiyoung's left hand is a Chaine D'Ancre Game bracelet by HERMÈS, in her right hand the Shot hip flask designed by LPWK and Paolo Gerosa for ALESSI's Objets Bijoux collection. The white shirt is vintage COMME DES GARÇONS (via James Veloria).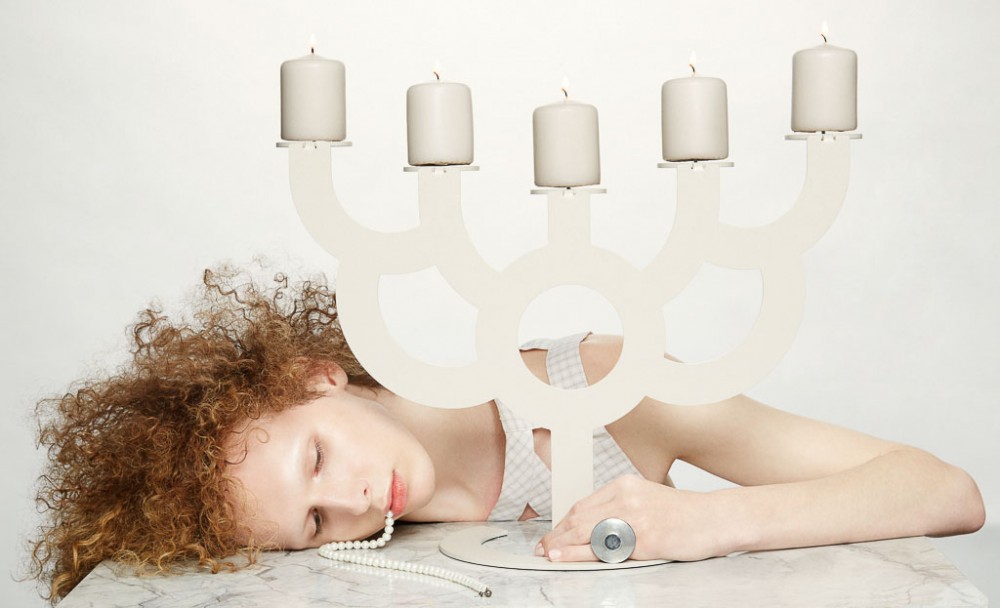 Sometimes the best night out can't hold a candle to a good night's sleep. Resting behind the candelabra, Nat is wearing a shirt by CFGNY, a strand of interconnecting pearl earrings by SLOW AND STEADY WINS THE RACE, and a classic sink stopper as a ring. The five-prong Little Bold candelabra is a design by Dutch designer Roderick Vos for MOOOI.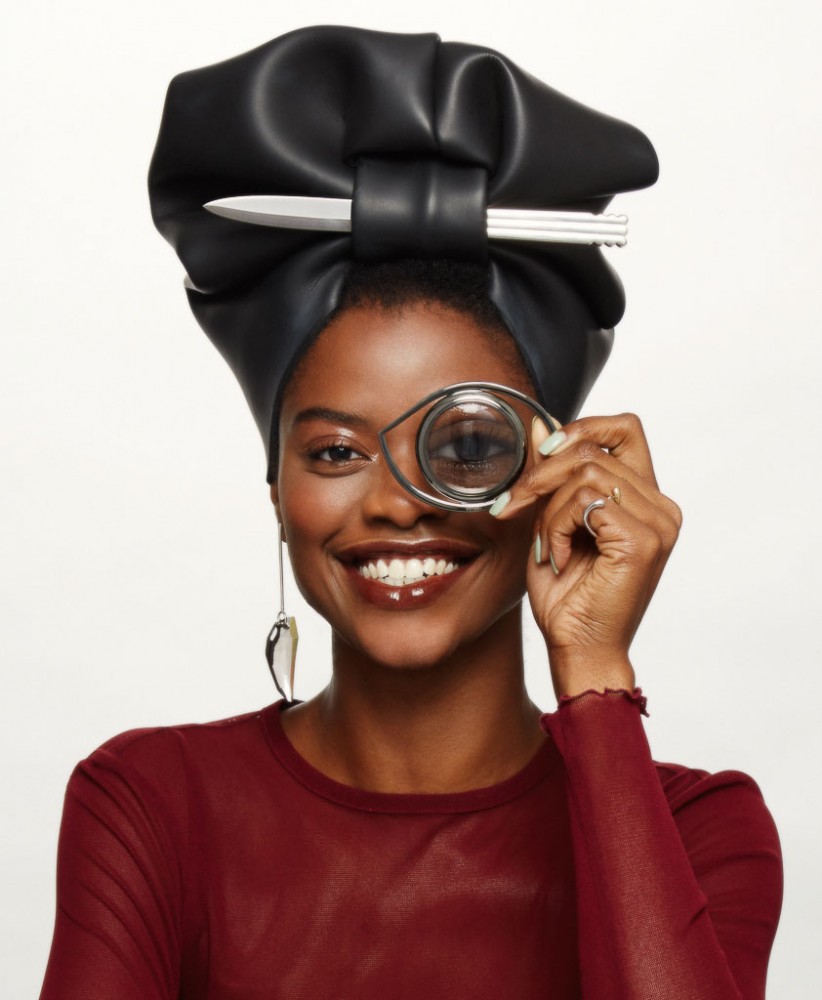 Wemi is serving serveware... on her head! A Nantes table knife by PUIFORCAT adorns a pleather hat by GRAHAM TYLER. The Œil magnifying glass is by HERMÈS. The earring is by CLOSER BY WWAKE, the rings are KOTA OKUDA, and the top by PRISCAVERA.
Taken from PIN–UP 24, Spring Summer 2018.
Photography by Vincent Dilio.
Styling by Avena Gallagher.
Styling assistant: Mitch McGuire. Make up by Marcelo Gutierrez using Chanel Beauty. Grooming by Evanie Frausto. Talent: Jiyoung Chang (Fenton), Wemi Ahunamba (Industry), and Nat Carlson. Assistants on set: Tyler Mariano and Hyosun Kim. Special thanks to Horacio Silva.