UZBEK PAVILION CURATORS CHRIST & GANTENBEIN ON MAHALLAS AND THE FUTURE OF URBAN LIVING
2021 marked the first time the Republic of Uzbekistan participated in the Venice Architecture Biennale. Titled Mahalla: Urban Rural Living, the Uzbek's pavilion's installation, curated by architects and ETH Zurich professors Emanuel Christ and Christoph Gantenbein and researcher Victoria Easton, was an abstract reproduction of a traditional Uzbek mahalla house typology. Mahallas are a form of urban organization, at once a housing solution, cultural center, and self-governing body, ubiquitous throughout Uzbekistan with 524 mahalla communities in the capital city of Tashkent alone. Christ, Easton, and Gantenbein were interested in examining this typology as a study of potential modes for living in dense urban environments, in keeping with the theme of this year's Biennale: "How will we live together?" The installation featured a soundscape made from field recordings capturing the everyday sounds of Tashkent by Spanish sound artist Carlos Casas accompanied by Dutch artist Bas Princen's large-scale photographs of urban and domestic details of mahalla houses (a VR experience can be seen here). Natalia Torija Nieto communicated with the trio about their project as well as their thoughts on possible futures for city living as we adapt to new post-pandemic norms.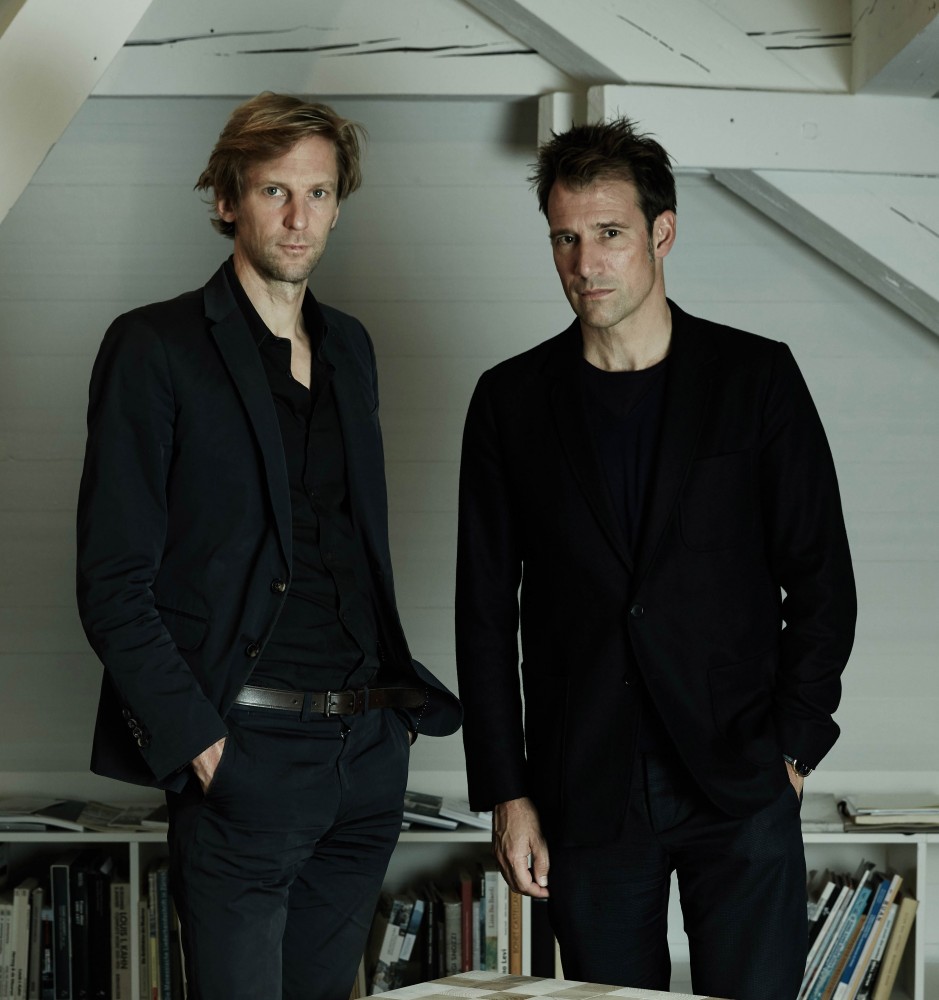 Natalia Torija Nieto: How did you start your research on the mahalla living typology? 
---
Emanuel Christ, Victoria Easton, and Christoph Gantenbein: Up until now, our research with ETH Zurich was concentrated on the ordinary buildings of the 20th-century metropolis, the city's ubiquitous and generic fabric which can be found, for example, in Hong Kong, Rome, New York, etc. The study of the mahalla slightly shifted the focus of our research. A mahalla is a unit within an urban system; a form of community life, structured through rituals and traditions; and an important institutional authority, providing governance at the local level. The basic building block of the mahalla is a courtyard house found not only in Tashkent but also in other Uzbek and Central Asian cities. There are numerous variations on the courtyard house, the sum of which gives rise to the homogenous urban structure of these traditional neighborhoods. Living and working in coexistence with nature are united there, in a finely tuned ecosystem. The urbanization of Tashkent began about 2,000 years ago. This carpet city developed since then and has evolved and survived until today. Recurrent interest in this pattern can be traced back to the many studies conducted by Soviet architects seeking to understand and reinterpret the phenomenon in a contemporary model, not unlike, say, the French architects confronted with the historical medina in Casablanca. 
The constructivist pioneer Moisei Ginzburg (1892–1946) stated as early as 1926 that the mahalla could show contemporary architects a way to deal with a specific national context. Many Soviet reports went on to expound the qualities and potential of the historical settlements, which resulted in various unrealized or partially implemented carpet housing or low-rise / high-density projects. Thus, our study surveyed houses within the historical areas of Tashkent, as well as modern Soviet interpretations of the type.
Installation view of Mahalla: Urban Rural Living at the 2021 Venice Architecture Biennale. Photography by Giorgio De Vecchi / Giulia Di Lenarda – gerdastudio. Courtesy Christ & Gantenbein.

Installation view of Mahalla: Urban Rural Living at the 2021 Venice Architecture Biennale. Photography by Giorgio De Vecchi / Giulia Di Lenarda – gerdastudio. Courtesy Christ & Gantenbein.
What were some of the original ideas on covering the scope of the mahalla in an urban context and how did these develop over time working with the CCA Lab in Tashkent and ETH Zurich?
The project started via the interest of Uzbekistan's Art and Culture Development Foundation (ACDF) in our academic work. ACDF was looking for an external view of the country through a scientific approach. We chose to study the mahalla as it ranges within our interest of the ordinary. We felt that these areas needed to be better understood and, most of all, documented as they represent a highly precious heritage. A crucial part of our research took place in Tashkent, where very authentic mahallas can still be found. We documented this relevant phenomenon, which is undergoing dramatic changes. Several scholars from Uzbekistan, who have spent years studying the architectural and social formation of the mahalla, contributed their expertise to the project. Students from the CCA Lab, a cross-disciplinary unit led by the Uzbek artist Saodat Ismailova, accompanied us throughout the research, providing access to documents, conducting interviews, and visiting various mahallas together with us. They helped us understand the underlying meanings and contemporary challenges of the mahalla, seen through the eyes of today's young Uzbek generation. During the pandemic, we conducted many Zoom meetings with the CCA Lab team in Tashkent to keep the study going remotely.
Can you describe the three different formats of the exhibition: model, sound, and film/photo?
---
We built a 1:1 model of a mahalla house, which occupies the entire space of our venue in the Arsenale. It is made from yellow steel tubes, which form an abstract representation of the building. The existing house from which it is inspired is about 340 square meters and shelters up to 18 people from different generations. In the exhibition, people can spatially experience the house, and ad-hoc communities are formed on-site by the visitors' interaction with the space. We chose to provide the real-life scale experience, with an atmospherically and emotionally strong interpretation, taking advantage of the wonderful area provided by the Biennale.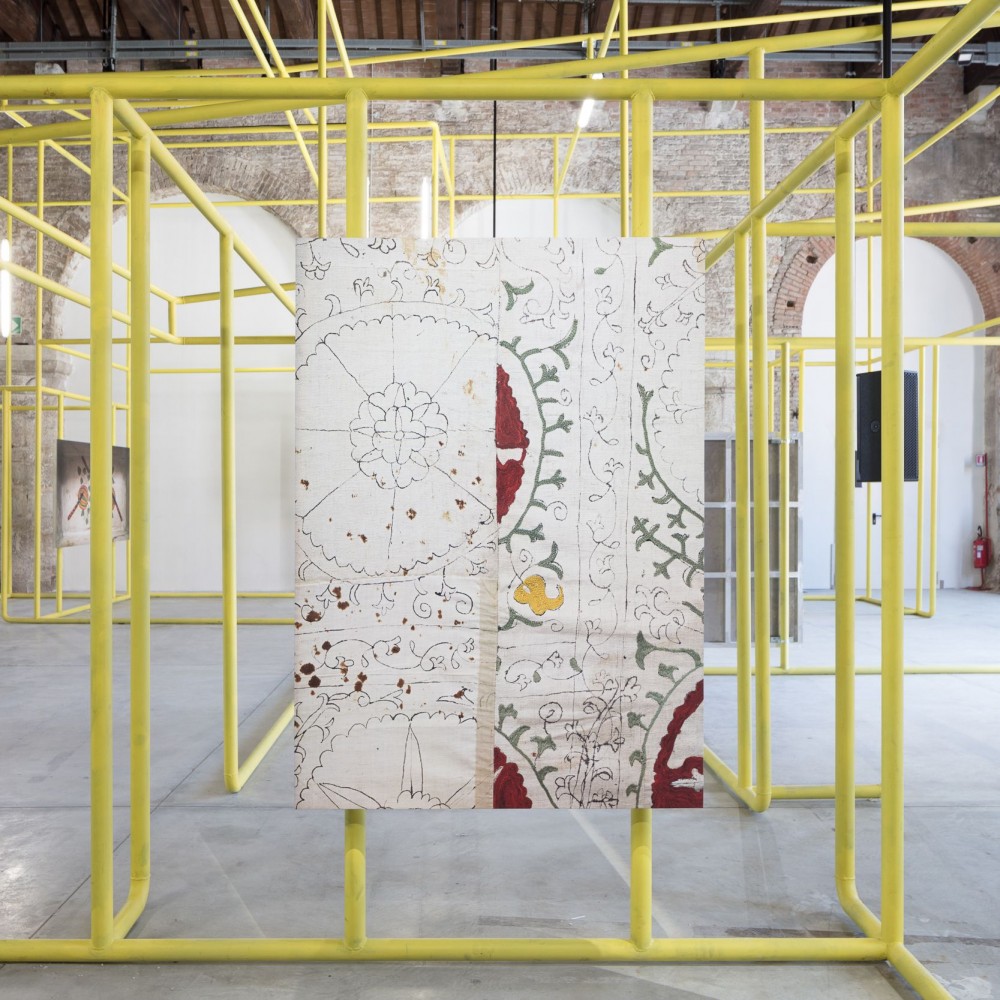 Pervasive throughout is the soundscape created by Carlos Casas: it transposes to Venice the ambiance of daily life in various mahallas in real-time. Casas created atmospheric soundscapes recorded in Tashkent. They are played back in the venue through ambisonic technology, so the visitors of the exhibition can experience different habitats, from room to room. Some of the sound blocks are dynamic, so there's a lot of variation throughout the day. Bas Princen's images – extracts of mahalla houses as fragments of spaces – interfere suggestively. They depict details of some mahalla domestic spaces and streetscapes, and invest the pared-down space with the haptic material qualities of mahalla architectures. Surfaces in close-up speak of the craft that goes into technical construction and furnishings as well as of their everyday usage.
To complete the experience, an augmented reality app displays point cloud models of real houses, which were surveyed in Tashkent with 3D scanners. The app allows the visitors to experience the house suggested by the soundscapes and by the 1:1 model. The accompanying publication Mahalla – The Survey published by Humboldt Books provides the complete research in various formats. And a free-of-charge catalogue gives voice to various local and international experts on the topic who were consulted during the research.
Images from Mahalla: Urban Rural Living. Courtesy Christ & Gantenbein.

Images from Mahalla: Urban Rural Living. Courtesy Christ & Gantenbein.

Images from Mahalla: Urban Rural Living. Courtesy Christ & Gantenbein.
Can you talk about the tapchan and other elements brought to interpretation into contemporary life and use?
---
The tapchan is a traditional Uzbek furniture piece, vital to gatherings in any courtyard house. It is a raised platform, built out of wood or steel, used for sitting and eating together, and it is mainly found in the gardens in mahallas. The tapchan is covered with fabrics decorated with ornaments inspired by natural patterns. We chose to reproduce and reinterpret this furniture typology in the exhibition to symbolize community within the space. Under the guidance of Saodat Ismailova, students of the CCA Lab created this emblematic item of Uzbek culture. CCA Lab participant Munis Juraeva created a contemporary interpretation of traditional embroideries executed by artisan Madina Kasimabeva. For Venice, artist Munis Juraeva created similarly crafted embroidery together with artisan Madina Kasimabeva.
Images from Mahalla: Urban Rural Living. Courtesy Christ & Gantenbein.

Images from Mahalla: Urban Rural Living. Courtesy Christ & Gantenbein.

Images from Mahalla: Urban Rural Living. Courtesy Christ & Gantenbein.
How have you approached the question "How will we live together?" a year after the original opening date of the Biennale? What can we draw from the mahalla in a post-Covid world?
---
With our contribution, we question alternative models for the urban habitat. We present the mahallas because we are convinced that they address many of the fundamental issues we think about when we try to imagine the future of coexistence. Can we reconcile working and living in a single environment? Are we in need of a higher sense of community? In which density are we able to live? Should we be able to eat from our own garden? Can these neighborhoods, with their various low-rise and high-density structures and close-knit social organization, provide a sustainable model for modern urban society, a form of urban rural living?
Another fundamental issue raised by the project is how to deal with existing built substance and heritage from an architectural and social point of view. It is about sustainability in general. Besides the group work realized by our partners in Uzbekistan together with our team at Christ & Gantenbein, we are incredibly humbled by the significant increase of the awareness of the importance of the mahalla that our study has created in Uzbekistan, even before the opening of the Biennale. We have recently learned that mahallas that were set to be replaced by new developments have, in fact, been preserved.