LIVE ACTION: Inventor Robert Propst and the History of the Modern Cubicle
In 1968, the American furniture manufacturer Herman Miller launched Action Office 2, a pioneering system of office furniture that laid the blueprint for the modern cubicle as we know it. Its designer, Robert Propst (1921–2000), was a prolific inventor responsible for much of the research-driven innovation at Herman Miller during his 22-year-long tenure with the company (he quit in 1980). Continuing our three-part series highlighting the comprehensive new book Herman Miller: A Way of Living, we spoke to industrial designer Leon Ransmeier (who edited the book together with Amy Auscherman and Sam Grawe) about the impact of Action Office 2 on American office culture and the wildly diverse array of Propst's other inventions, including many illustrated by never before seen images. Coinciding with the book's publication, there is an exhibition of the same name currently on view at the Herman Miller showroom at 251 Park Avenue South in New York, where many of the exhibits can be seen up close.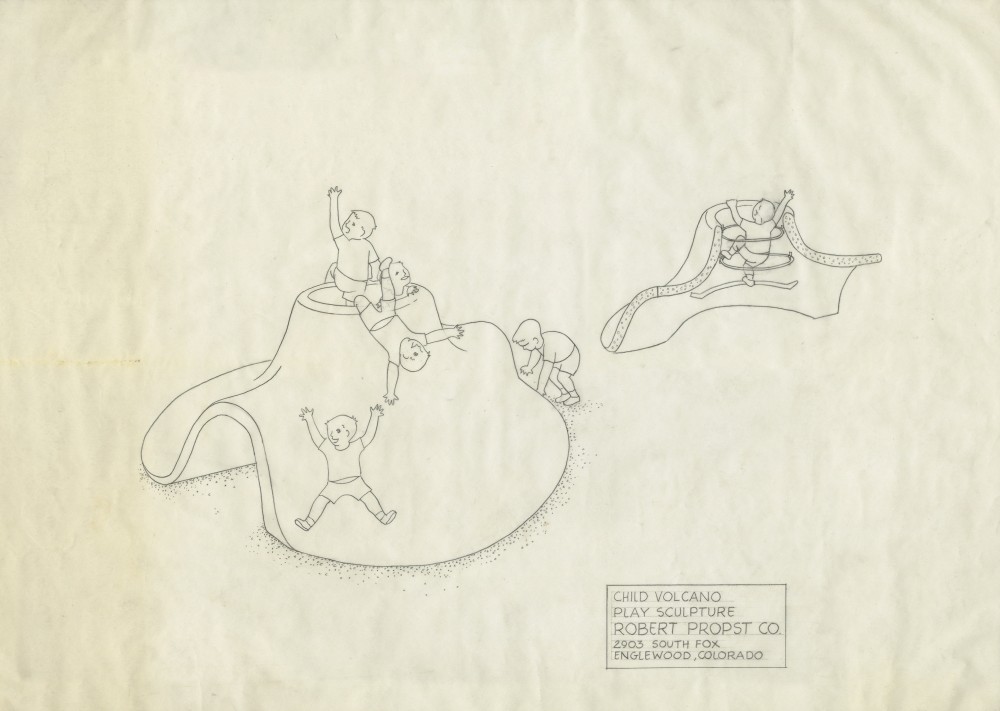 "In the 1950s Propst was designing concrete playground equipment. One of the images that didn't make it in the book is this drawing of a play sculpture called Child Volcano. At the time, Propst was still based in Colorado, where he grew up. Initially he studied chemical engineering in college, but halfway through the program he dropped out and began studying fine arts instead. Still, he always had an engineer's mind. This play sculpture has a beautiful form but the title and upside-down child are a bit alarming."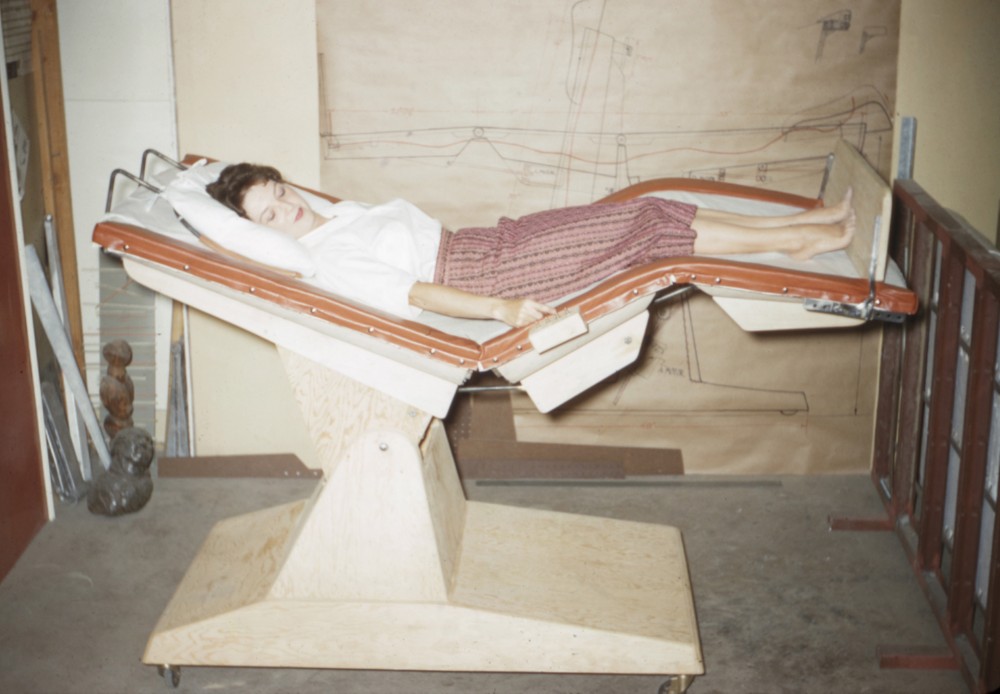 "Here's another of Propst's designs from around the same time frame. It's a bed-chair for hospital use from 1959. The photo looks like it was taken in a garage. It shows a woman — I think it's Propst's wife — laying on the prototype that he engineered. The bed-chair never went into production, but together with the rest of these designs one can begin to understand the diversity of his approach."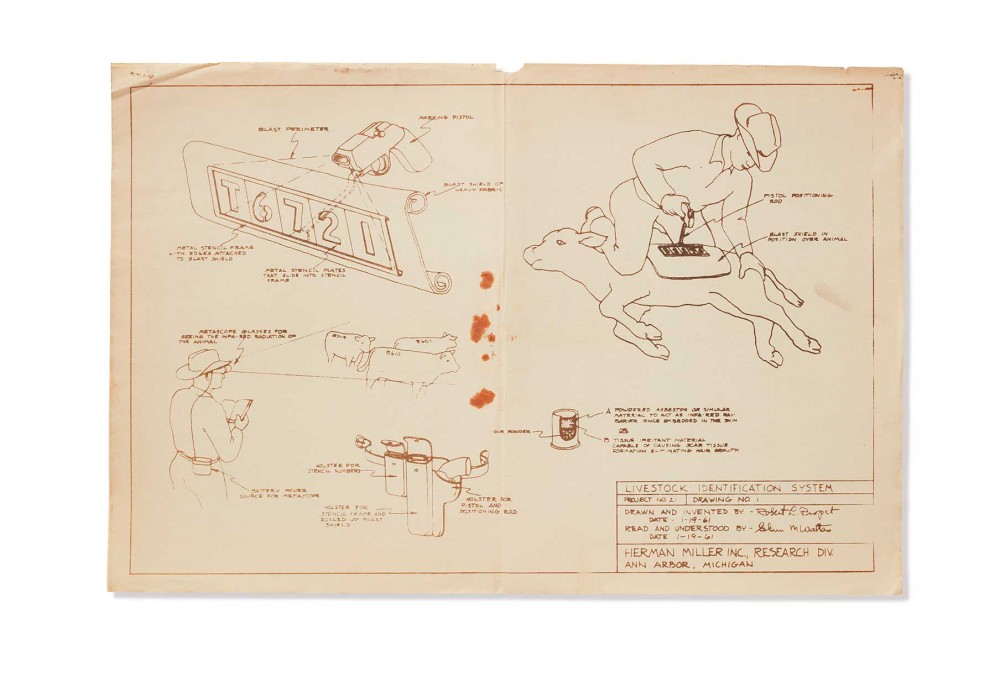 "Going chronologically in these selections, Propst's next project was this livestock identification system, designed while working for Herman Miller in Ann Arbor in 1961. He grew up on a ranch where he was accustomed to branding cattle and riding horses. It's ridiculous to propose this idea to a furniture company, but with Propst nothing was out of bounds. He was trying to reinvent everything — office furniture, children's playgrounds, hospital beds, and even livestock marking devices. The system included a pistol that would shoot powdered asbestos or abrasive through a stencil into the side of a cow and special infrared glasses for seeing the animal's ID number."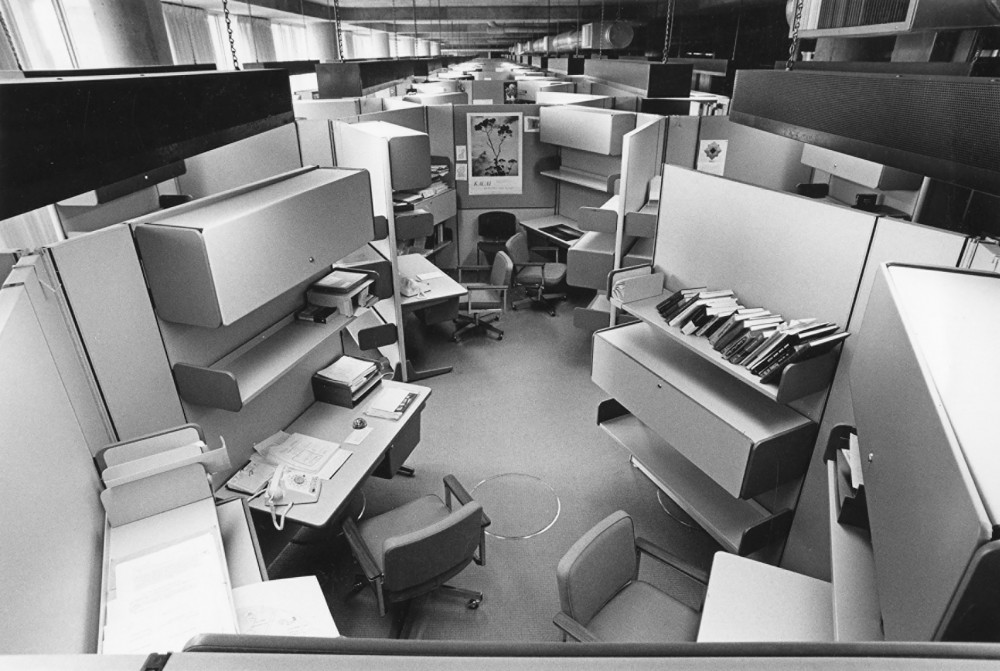 "Propst's goal for Action Office 2 was to be a flexible system to encourage what he called fortuitous encounters: spontaneous conversation, idea sharing, and so forth. Even though Propst designed the system with humanistic intentions, it made it possible to cram a lot of employees into a relatively small footprint and give everyone a semi-private enclosure. This installation would have been right after Action Office 2 launched in 1968. Notice the 120 degree angles here, which later became 90 degrees, AKA the cubicle."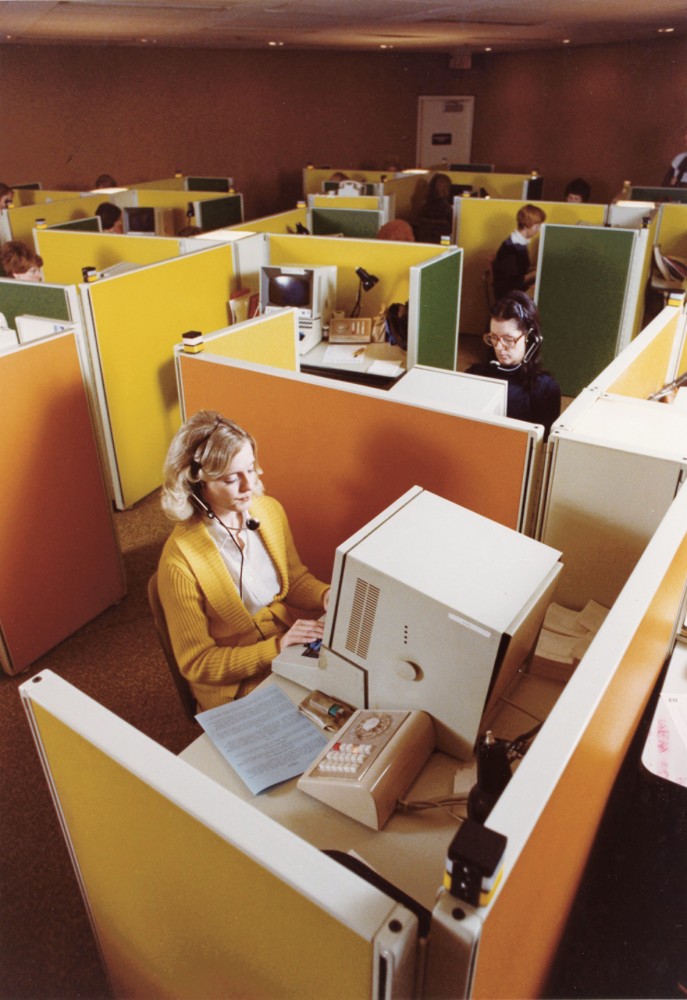 "You can see here that the system is starting to take on the cubicle aesthetic of a rat's maze. This is an image from 1976 of Action Office 2 in the corporate offices of Braniff International airlines, which Alexander Girard made famous for his airplane interiors, airplane paint jobs, corporate branding, etc."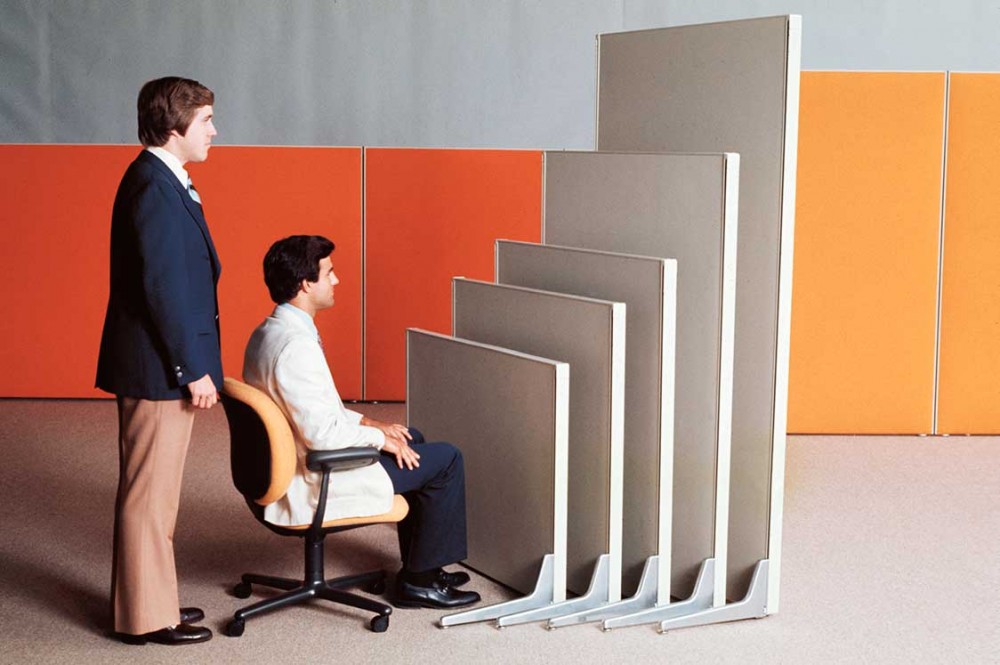 "The point of the image from 1979 is to show the different heights of panels, but these two men staring at the wall is pretty funny. It's also poignant in that a lot of people spent a lot of their waking hours seated and staring at a panel."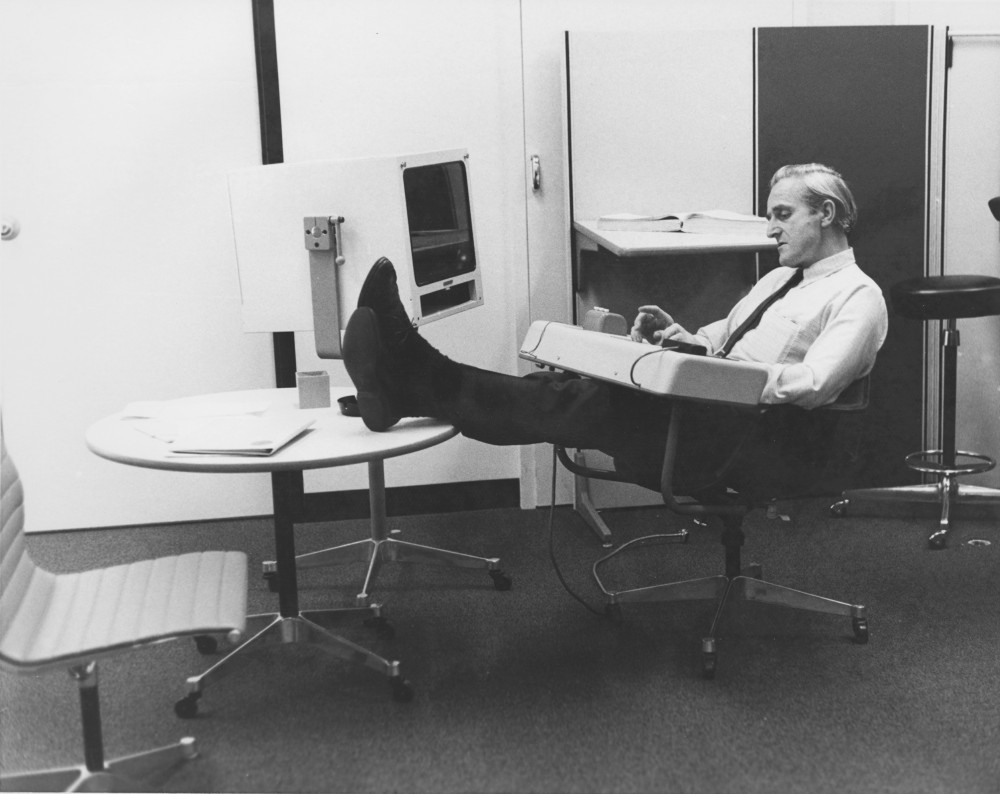 "Douglas Engelbart was an early pioneer in networked computing and is credited with the invention of the computer mouse while working at the Stanford Research Institute, a very important place in the history of personal computers and Silicon Valley. Together with Jack Kelley, who worked for Propst in the Herman Miller Research Corporation, they created these appendages for Herman Miller furniture that supported computing devices. Here you can see Mr. Engelbart sitting in an Eames fiberglass chair with casters, outfitted with steel tubes to support his user interface which consisted of a keyboard, a mouse and another device he called a Keyset. In 1968 he demonstrated the inventions and an early network of computers in what came to be known as 'The Mother of All Demos.'"
President's report featuring perforated detachable serigraph designed by John Massey, 1970.

Complete offering of Co/Struc components, 1970.
"This is the president's report to shareholders from 1970 when Herman Miller went public. It includes a poster by graphic designer John Massey that you could detach from the lower portion and frame on your wall. Even though at the time Action Office 2 was only two years old, it was already growing exponentially. After its initial success, Propst and his team turned their attention to the healthcare systems furniture Coherent Structures, otherwise known as Co/Struc. They introduced it in 1971 but they'd been working on it since the 1960s. One of the reasons that Herman Miller went public was to finance the tooling for Co/Struc. Since it's all plastic, it was hugely expensive to develop all the molds, so they sold the shares to pay for it."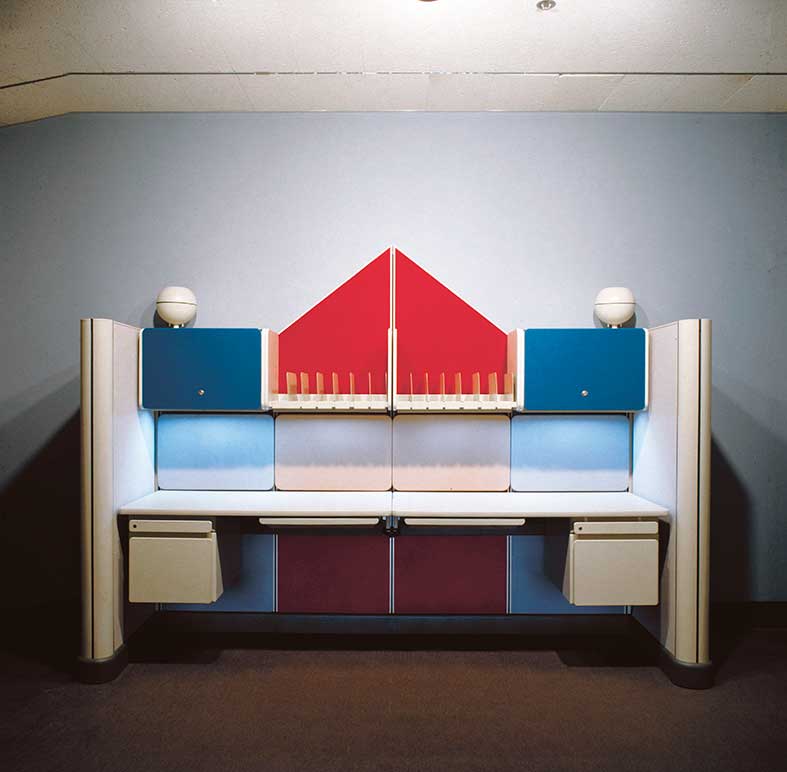 "After Propst left Herman Miller in 1980, Jack Kelley who was still working there collaborated with Italian designer Clino Castelli to overhaul Action Office 2 and make it more contemporary, updating the materials and colors. For an installation at NeoCon in 1983, they created a series of alters out of Action Office 2 components and they ended up winning best showroom of the year. To put it in context, Memphis was launched in 1979."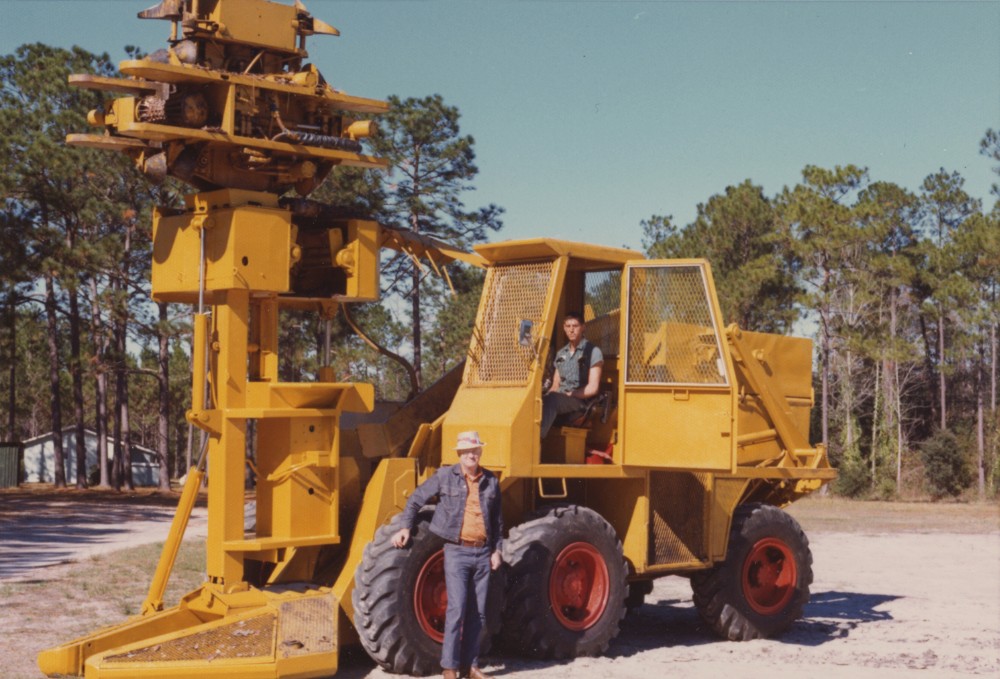 "This is a timber harvester that Propst was developing in the 1970s while he was still active at Herman Miller. After creating the most influential office furniture ever — I don't think you could make something more disruptive to the office environment than his panel-based organization system — he was still creating a ton of other stuff."
Text by Leon Ransmeier as told to PIN–UP.
All images courtesy and copyright © Herman Miller Archives unless otherwise noted.