IDEASCITY NEW ORLEANS: A State of Exuberant Hybridity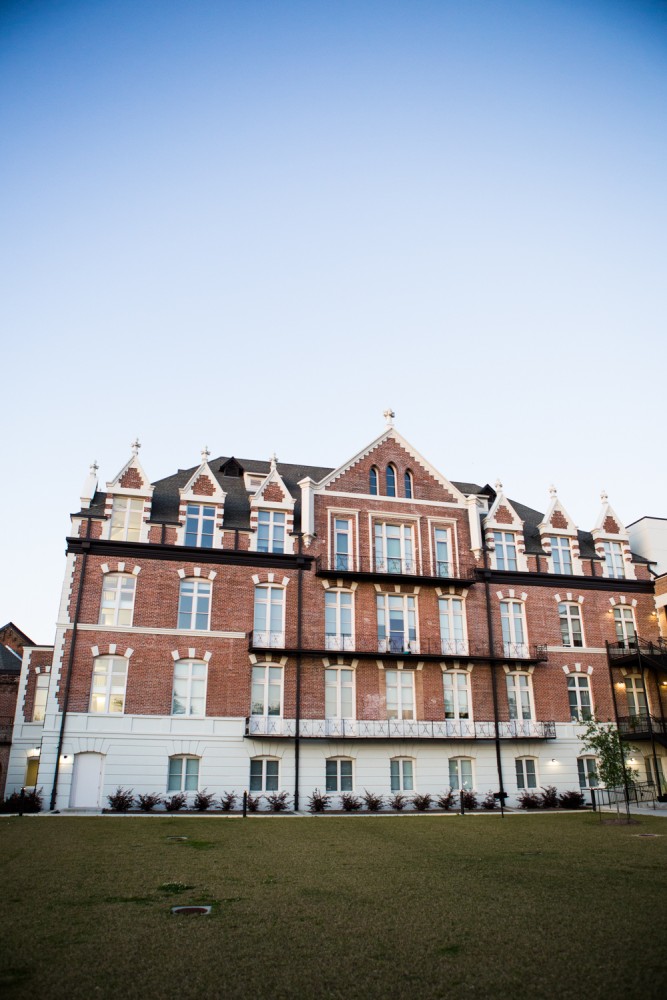 On a sunny Saturday in New Orleans's Tremé neighborhood dozens of people — architects, artists, musicians, poets, anyone, everyone — gathered in the courtyard of the Bell Artspace, a recently renovated conglomerate of live-work spaces for artists converted from an old middle school and former church. Coming from across the country and world, as well as from right in the neighborhood, the diverse group was there to celebrate the culmination of IdeasCity New Orleans, an interdisciplinary festival curated by V. Mitch McEwen and staged as the eleventh iteration of the New Museum's roving curatorial program that was founded in 2011 to explore art, architecture, and urban space.
Visitors to IdeasCity gather in a hollowed-out 19th century church to view the work of the program's 20 fellows. Photograph by Sarrah Danziger for PIN–UP.

Photograph by Sarrah Danziger for PIN–UP.

"At center" is an installation by the artist John Ludlam that provokes visitors to consider the social impact of single use plastic waste. Photograph by Sarrah Danziger for PIN–UP.
No place is like any other, but there is really no place like New Orleans. The locus of so many intersecting cultures and legacies — Chitimacha and other Native Americans; African Americans; Afro-Caribbeans; Creole peoples; Cajuns; French, Spanish, and Anglo colonizers; and now other national and global transplants — the present city is also in many ways representative of the distillation of the current crisis of capitalism-driven climate change, the enduring effects of Hurricane Katrina being just one example. It made sense then that IdeasCity began with a keynote by Kate Orff of the landscape architecture and urban design studio SCAPE. She discussed the landscape and landscape architecture in relation to the petrochemical industry, urging that the practice can and should center social justice. New Orleans sits below sea level and is constantly negotiating the shifting banks of the Mississippi and its own constructed and contested urban space. Orff explained that Southern Louisiana is rapidly losing land to climate change and yet pipelines — like the Bayou Bridge Pipeline, a project led by the same corporation behind the Dakota Access Pipeline, Energy Transfer Partners — are being constructed right on top of land shifting out from under it, largely as a result of greenhouse gasses released by combusting the chemicals the pipes transport.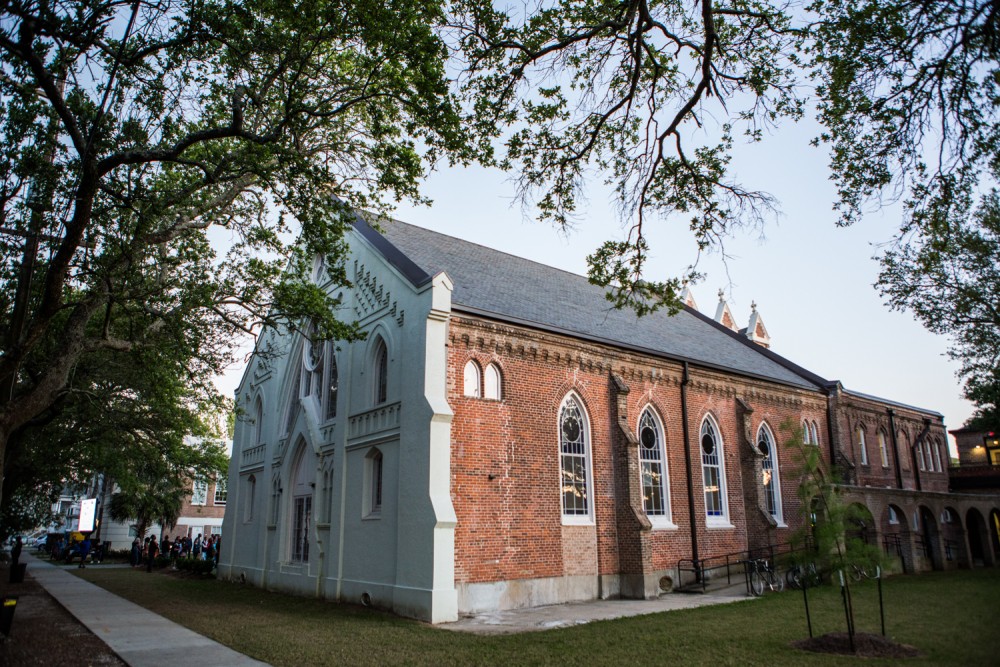 Over the course of the nine hours of presentations and performances, intersecting themes that concern not just architects, but all of us, emerged at all scales. From housing and healthcare to the landscape and the weather, the United States' geological, urban, and human realities are shaped by the legacies of colonization and slavery which echo, loudly, into the present, especially in a city like New Orleans. As McEwen put it, "The plantationocene is real." But as much as it spotlights the intersection of so many of today's most pressing issues, New Orleans also embodies the hope and promise needed to face them. The city exemplifies an exuberant hybridity that's vital to tackling these entangled problems. And with this edition of IdeasCity, McEwen accelerated interdisciplinary problem solving by curating an event themed "everyday festival," inviting a range of architects, artists, musicians, filmmakers, performers, scholars, activists, and entrepreneurs to share, question, and celebrate.
Fashion designer Chloe Dewberry created a mock "souvenir" from Louisiana's infamous Angola Prison that forces its wearer to reckon with the legacy of slavery and the present of mass incarceration. Photograph by Sarrah Danziger for PIN–UP.

Ariel René Jackson and Joseph Cuillier present their sculpture that served as the modular beginnings of a new type of school. Photograph by Sarrah Danziger for PIN–UP.

IdeasCity visitors watch and listen. Photograph by Sarrah Danziger for PIN–UP.

Kristina Kay Robinson's Temple of Color and Sound expands and contracts for the different venues she installs it in. Photograph by Sarrah Danziger for PIN–UP.

Visitors at IdeasCity New Orleans. Photograph by Sarrah Danziger for PIN–UP.
The luminaries who contributed included architects Marshall Brown as well as Ada Tolla and Giuseppe Lignano of LOT-EK, curator Gia Hamilton, filmmaker dream hampton, The Roots founding member Black Thought, and scholar and musician Beth Coleman, among many others. It was also a true festival. On and around the courtyard's stage, there were performances by the children of Make Music NOLA and by the Washitaw Nation, who marched in their vibrant feathered costumes and got the whole yard moving. Stilt walkers (commissioned by Tulsa-based artist Crystal Z. Campbell) roamed about, performing in conversation with the Bell Artspace's 19th-century architecture.
And it was quite the turnout. The presenters and performers on stage were hardly the only notables. "Solange Knowles was there, Thelma Golden, Dread Scott — all brilliant people I would have loved to host on panels, were instead there as engaged audience, along with residents of the Bell Artspace and local neighbors," McEwen said, reflecting on the event's attendees. "That was better than I could have planned. It was magical."
While there were the festivities on the stage outdoors, the arguable centerpiece of IdeasCity New Orleans was taking place in a hollowed out 19th-century church just behind the stage. McEwen and IdeasCity had invited ten fellows from New Orleans and the surrounding area and ten from across the world to participate in a week-long residency program. (With the exception of two fellows, Louisianans Atianna J. Cordova and Hannah Chalew who spent a month working with design mentors to construct an easy-to-transport community engagement cart focused on green infrastructure and a mobile solar-powered sculptural pavilion, respectively, and showcased their work outdoors.) The fellows explored the city with guides, historians, organizers, architects, and other artists. "Fellows did visits to the Mississippi River where we saw graveyards, oil refineries, plantations that had become prisons, all adjacent to each other on the river," explained McEwen. They then showcased work they developed during the residency and inspired by their explorations in in a daylong exhibition of sculptures, installations, zines, performances, and more.
Big Chief David Montana performing on stage with other mambers of the Washitaw Nation. Photograph by Sarrah Danziger for PIN–UP.

An audience member doubles down on documenting the Washitaw Nation's performance. Photograph by Sarrah Danziger for PIN–UP.

The Washitaw Nation performed music and dance on stage in full dress. Photograph by Sarrah Danziger for PIN–UP.
What was so rare and refreshing about IdeasCity was that it really was about ideas, not the perfect polish of a museum-ready show, but the equally potent power of proposition. And, of course, the artists were right there to talk about and engage their work. Yin Kong, a New Yorker, showed people how to make exhibitions out of everyday artifacts and facilitated storytelling while Banu Çiçek Tülü, a Turkish artist and researcher living in Berlin, walked around in curious "headphones" to start conversations on what she termed "sonic violence." The artist duo Ariel René Jackson, a New Orleans native living in Austin, Texas, and designer and educator Joseph Cuillier, also from New Orleans but living in New York, created "practical art," sculptures that proposed new forms of education which respect and empower individual communities' traditions and ways of knowing, in their case integrating gardening and small-scale farming into an educational community.
Colombian artist Santiago Pinyol, who is based in Rotterdam, invited festival goers to help him translate poems in a way that challenged and questioned the Trump administration's attitudes towards non-English languages, as well as broader xenophobic sentiments in America. New Orleans-based fashion designer Chloe Dewberry created a provocative garment that interrogated the history of incarceration in the U.S. by confronting the wearer head-on: all the text on Dewberry's denim apron, a mock "souvenir" from the notorious Louisiana State Penitentiary (commonly called Angola prison) was upside down, designed to speak not out to the world but to the robed person. Visitors were invited to wear it and read critical dates related to slavery and incarceration that were literally threaded together and patched onto the garment like logos on a pair of jeans.
Artist Hannah Chalew sits in her vine-covered solar pavilion. Photograph by Sarrah Danziger for PIN–UP.

Hannah Chalew's sculptures provoke questions about the human impact on the environment. Photograph by Sarrah Danziger for PIN–UP.

IdeasCity curator V. Mitch McEwen, LOT-EK's Ada Tolla and Giuseppe Lignano, and artist and performer Katey Red during a panel discussion moderated by Sharifa Rhodes-Pitts. Photograph by Sarrah Danziger for PIN–UP.
Lizania Cruz, another artist from New York by way of the Dominican Republic, invited activist Nziki Wiltz to discuss her personal experiences, spanning the aftermath of Hurricane Katrina and her work with the grassroots organization VOTE, which advocates for the voting rights of formerly incarcerated people.
Another fellow, also working at the intersection of incarceration, policing, and social justice, was Caroline Sinders, originally from New Orleans but based in Berlin. Her recent research has focused on Palantir, the Peter Thiel-led predictive policing and counterterrorism tech company which swooped into New Orleans in the aftermath of Hurricane Katrina and whose software has widely been decried as a racist extension of the surveillance and police state, but at IdeasCity she took a more general approach, inviting festival-goers to think about the ethical quandaries of A.I., asking whether or not we should even be making it at all through open questions and informative zines.
Artist Crystal Z Campbell's photos and videos investigating the effect of petroleum extraction the urban landscape. Photograph by Sarrah Danziger for PIN–UP.

Visitors of all ages enjoyed the IdeasCity festival. Photograph by Sarrah Danziger for PIN–UP.

A sculptural installation by Nic Brierre Aziz that investigated his own experiences of racism within educational institutions. Photograph by Sarrah Danziger for PIN–UP.
Across the fellows' work, alternate histories and possible futures featured frequently, the difference between them narrowed. After all, in the moment of the apocalypse, what else do we have but the future? One speculative work in particular, by fellow and New Orleans-based artist Kristina Kay Robinson, was particularly powerful. Imagining if the 1811 German Coast Uprising, a slave rebellion in what is now the state of Louisiana, had been successful, Robinson has spent years envisioning the nation she calls Republica that would have hypothetically have followed, a state where everything: faith, politics, ethnicity, architecture, science, education, would be in flux, where anything could be done or redone. As part of her practice around Republica, Robinson inhabits the character Maryam de Capita who resides in a peripatetic shrine (The Temple of Color and Sound) which she builds in various art spaces and other venues both in New Orleans and further afield, including recent installations during this bast Art Basel Miami Beach. I had met Robinson the day before, as "herself" and when I saw her in character walking on the Bell Artspace grounds, the effect was jarring. It wasn't just her appearance with a wig, or the incense, objects, and candles; a master actress, Robinson had changed her whole presence. She brought Republica into the festival and wherever she went, she was convening this new nation.
Bounce start Katey Red performs at the IdeasCity afterparty co-hosted by PIN–UP. Photograph by Sarrah Danziger for PIN–UP.

Bounce icon and New Orleans-native Katey Red with twerking partygoers. Photograph by Sarrah Danziger for PIN–UP.

Katey Red's performance got the crowd moving. Photograph by Sarrah Danziger for PIN–UP.

Guests at Poor Boys bar after party. Photograph by Sarrah Danziger for PIN–UP.

IdeasCity festival after party at Poor Boys bar. Photograph by Sarrah Danziger for PIN–UP.
At its best moments, IdeasCity too felt like a place of pure possibility, a place very much of New Orleans, but also of a world where we are all increasingly inseparable from one another, networked not just digitally, but enmeshed in a web of complexities and challenges that can't be solved by individuals or individual disciplines alone. In its first ever edition in New Orleans, what IdeasCity 2019 showed and celebrated was that to survive and thrive in this world we need different modes of cultural production and technological and scientific work to engage with one another — be it dance, poetry, architecture, urban design, robotics, music, organizing, politics, environmental science, or fields not yet known.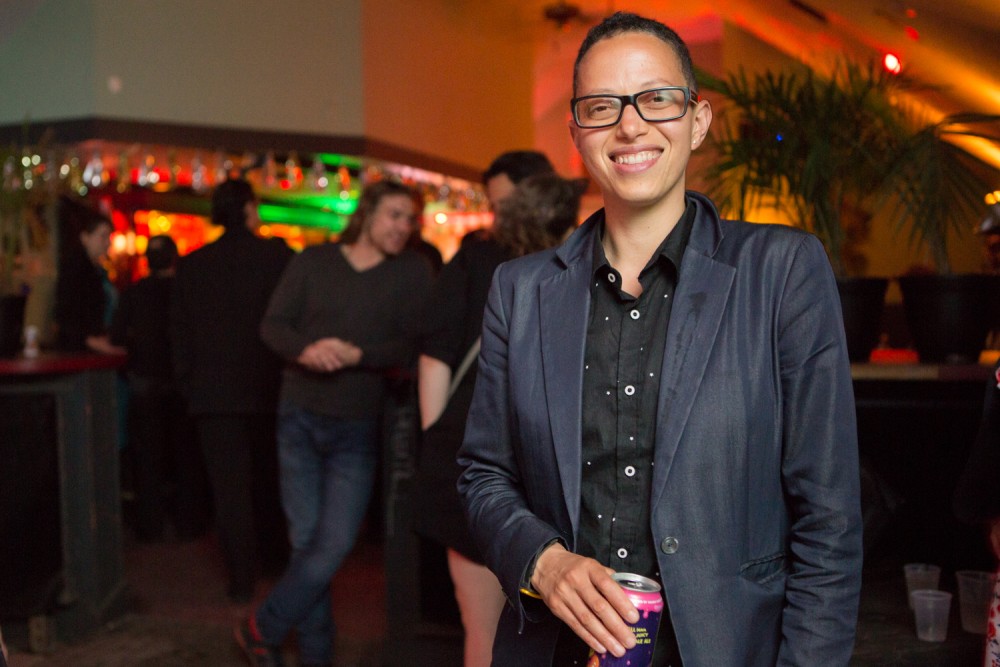 After a long day of celebrating, what else could we do but celebrate more? IdeasCity and PIN–UP headed over to Poor Boys Bar for a night of drinks, dancing, and a jaw-dropping performance by bounce artist Katey Red, whose music and twerk routines got everyone moving, with dancers climbing off the stage and literally onto the walls, totally transforming the neighborhood dive. "I am hooked on New Orleans now," said McEwen after the festivities wrapped around 1 a.m. "I want to keep thinking material, political, ecological reality through New Orleans."