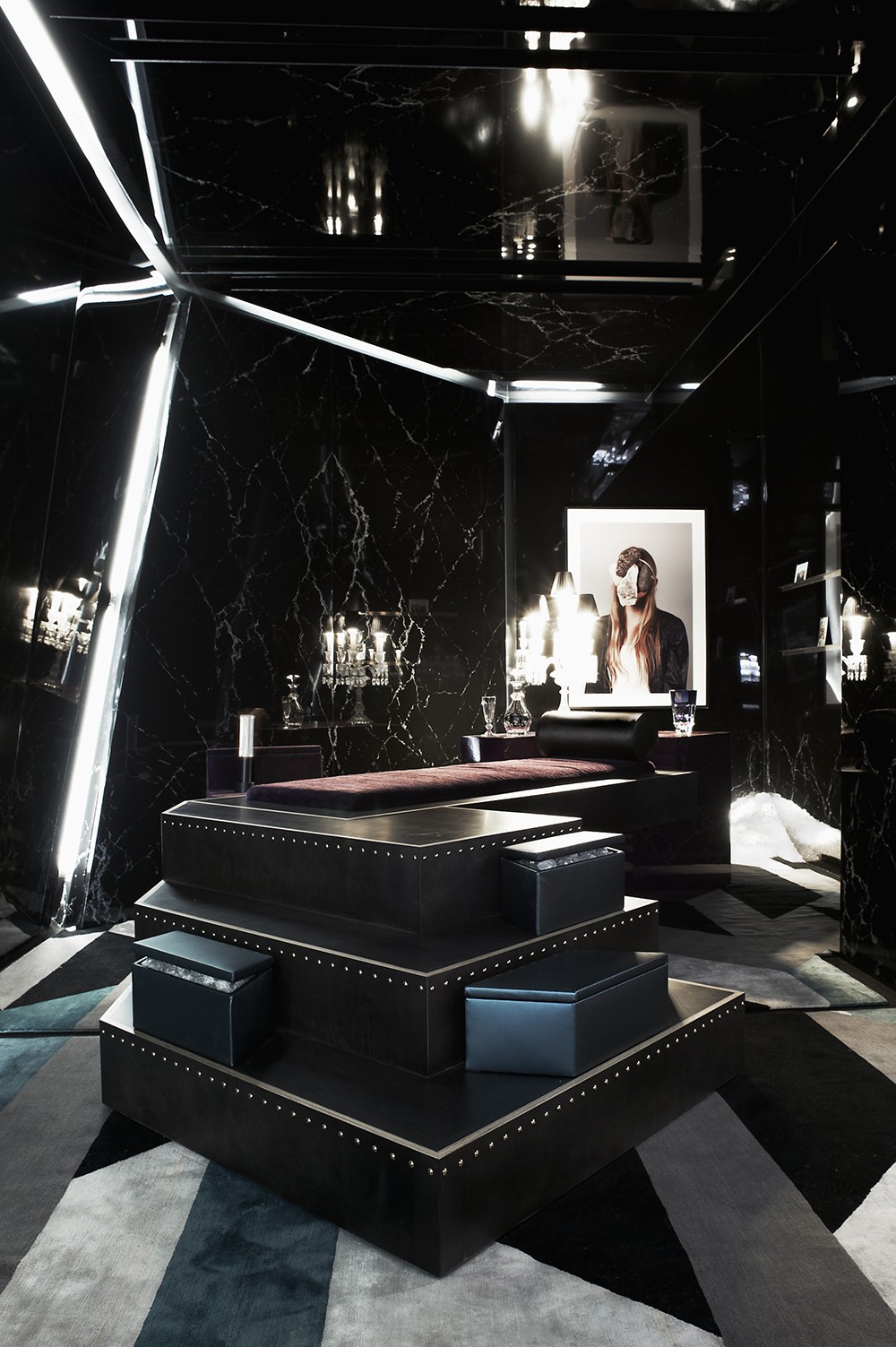 AN AMERICAN IN PARIS: INTERVIEW WITH Rafael de Cárdenas
For the third year in a row the French edition of AD is teaming up with Parisian auction house Artcurial to create AD Intérieurs, a two-week showcase where a number of interior designers and decorators are given carte blanche to create small, temporary spaces. The New York-based Rafael de Cárdenas of Architecture at Large is the only American among the 13 participating names, which include French decorating luminaries such as François-Joseph Graf, Vincent Darré and Joseph Dirand. In New York de Cárdenas is perhaps best known for the interiors he created for OHWOW Gallery, the Nike Stadium on Bowery or his limited edition furniture collection. For his installation at the Artcurial the designer chose to up the ante with more refined materials (brass, lacquered wood, and heavy granite) while decidedly muting his signature color palette. The result — a dark 300-square-foot installation called Derniers Jours, which includes brand-new table and chair designs, a pyramidal bed, as well as artwork by Mélodie Mousset, and a spooky soundtrack specifically created for the space by Allies for Everyone — sets itself apart from the more conventionally elegant spaces in the Artcurial show. PIN–UP caught up with the designer on opening night to find out how it all came about.
What was the inspiration for the design of the installation?
There are a few movies that I like to watch over and over again, and at the time when I started working on this project I had the movie The Hunger on heavy rotation at my house. What I especially love about it is Catherine Deneuve's character's wardrobe, which was very Art Déco, but also very contemporary. And the more I watched it the more I noticed the design of the rooms, and how the spaces in the movie are designed in a very classic way, but at the same time they look super contemporary. Another thing that fascinates me is that Catherine Deneuve's character's lovers live forever, but they also start dying — even though they don't actually die — so there's a kind of decay. That's why I called the installation Derniers Jours, or final days, because I like the idea that your final days can last forever. So in a way I created a bit of a crypt with the idea of these lovers in mind. The space has two sides to it, a sleeping area, and an eating and working area. It's a melancholic space, and also very romantic, I think.
How did you get invited to participate?
Marie Kalt and Sophie Pinet from AD France came to my opening last year at Johnson Trading Gallery in New York. They expressed a lot of interest and shortly thereafter they did a story on me and my apartment… and then around the same time they asked me if I wanted to participate in the AD Intérieurs in Paris this year. I actually said "no" at first.
Why did you hesitate?
Because I was scared — I've never done anything like this before, and I knew it was going to be a considerable financial investment. And I have to admit that I was a little bit afraid to be the only American to participate. There is such a history of interior design, and specifically decorative arts, in Paris, and it kind of belongs to this city, so I was intimidated. But eventually Marie said to me: " I wouldn't be asking you if I didn't think your work was strong enough." And so I finally gave in.
You operate internationally: Kuala Lumpur, London, Moscow, and of course New York. What is special about working in Paris?
The experience with the builders here in France was perhaps the best I've ever had and it's probably the highest quality pieces I've ever made — there is a real difference in the level of craft. As for the public, they're very sophisticated when it comes to decorative arts and decoration, and they're very keen to it, and they make a real effort to understand it.