BOOK CLUB: JONATHAN OLIVARES - SELECTED WORKS
Looking back over the last decade in the career of L.A.-based designer Jonathan Olivares, his new book Selected Works takes the term broadly, featuring both his furniture and writing. Ditching the usual critical essay model (save for an introduction by Bobbye Tigerman, LACMA's associate design curator), Olivares's texts — which range from discussions of the ins and outs of furniture manufacture and distribution to poetic musings on Walmart — not only demonstrate the breadth of his prolific practice but also give the reader a deeper historical context and a theoretical ground in which to situate the featured products. And products are very much the book's central focus. Olivares demonstrates an unceasing interest in what it means to live among objects and how objects live among each other. For him they are agents in their own right, bending, contracting, reacting to, and controlling their object-oriented world. Benches are turned upside down like dogs kicking legs into the air, seats are set against each other in their own private dialogue, and architectural order gets upended in a room designed not as a space to hold furniture, but in reaction to the single daybed it houses (a room commissioned by Office KGDVS from Johnston Marklee for Biennale Interieur 2016, in Kortrijk, Belgium). Hardly inert, these objects live.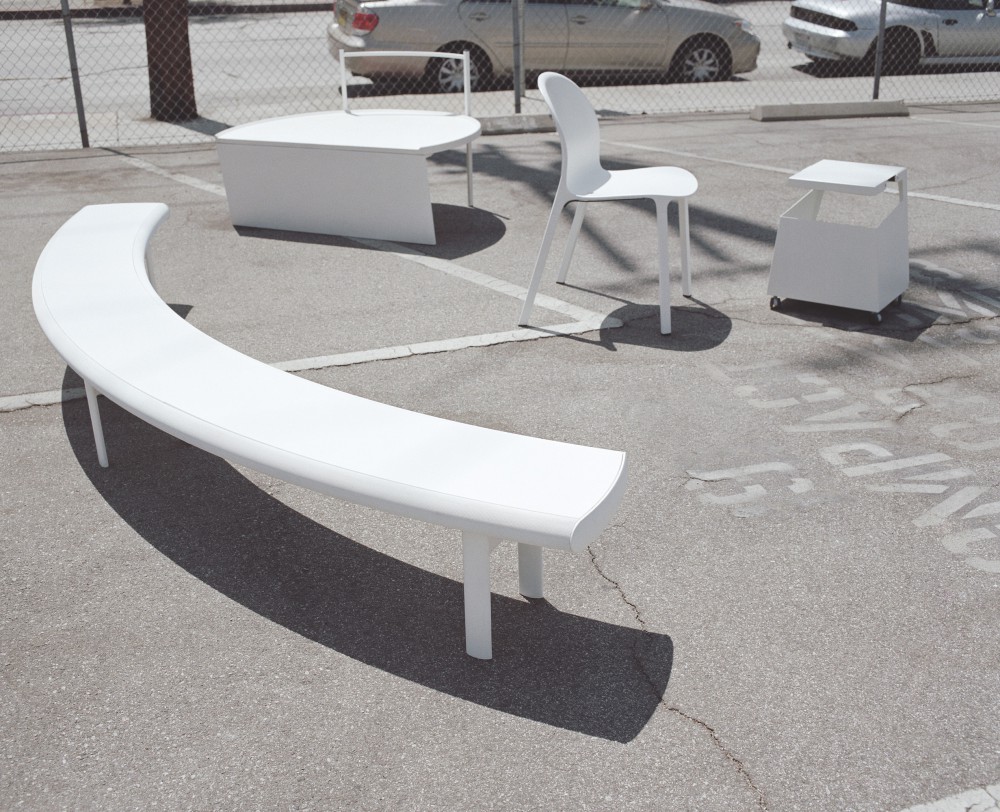 Despite the furniture's liveliness, the book's photos, most of them by Zoë Ghertner, retain Olivares's signature elegance and simplicity, speaking to the inspiration he derives from the clean lines of skate rails, the curvaceous forms of which are still visible in work such as his 2015 adaptable Aluminum Bench, for Zahner. The many possible permutations of the bench also served as the inspiration for a collaboration with the artist Nathan Antolik that resulted in a series of seemingly abstract drawings exhibited at Volume Gallery, Chicago, in 2015.
An inspiration for any burgeoning designer thinking about what it means to live among objects, Jonathan Olivares: Selected Works is invested in a world where furniture comes alive, or, even more radically, reminds us that in many ways these objects always already were living alongside us. As Olivares himself puts it, after witnessing chairs being thrown at a Texan punk bar he'd gone to with his mentor Konstantin Grcic, "Objects are just as much a part of the animation of life as the people who use them."
Jonathan Olivares: Selected Works, by Jonathan Olivares (powerHouse Books, 2017).
Text by Drew Zeiba. Taken from PIN–UP 23, Fall Winter 2017/18.