INTERVIEW: Sharjah Architecture Triennial Curator Adrian Lahoud on Tradition and Advocacy
Lately architecture biennials and triennials have thrown the building out of the proverbial window and showcased instead the towering challenges of our planet in social, political, and ecological crisis. Chicago looked at indigenous communities, Lisbon at the poetry of constraints, and Oslo called for radical de-growth. Tents were pitched, resources scratched together, locally, communally, sustainably, the scent of compost hanging in the air. Many of these concerns also occupy the UAE's inaugural Sharjah Architecture Triennial curated by Adrian Lahoud. Titled The Rights of Future Generations the exhibition focuses on what Lahoud deems the Global South's specific "archipelago of struggles" and the echoes thereof across generations. Works by over 30 architects, activists, performers, engineers, anthropologists, and musicians have been invited to rethink modes of living and discuss climate justice, post-colonial legacies, and water scarcity. Lahoud is no stranger to translating advocacy and social responsibilities into architecture and vice versa. While the former Research Fellow in the Forensic Architecture project at Goldsmith University, and current Dean of the School of Architecture at the Royal College of Art, has proven through other exhibitions and projects a nuanced understanding of MENASA urbanity, the Sharjah Triennial might be his most daring and spiritual undertaking yet.
This first major platform for architecture and urbanism in the Middle East, the triennial kicked off last month with a celebratory opening night program, fusing music, dance, and rituals — some even conjuring reincarnation. Perhaps the latter is linked to the sudden death of the triennial's founder Khalid Al-Qasimi earlier this year. His twin sister Hoor Al-Qasimi, although shaken to have lost her "soul mate," was the ideal candidate to bring her brother's vision to life. After all she was the one who installed the emirate noone had ever heard of firmly into the art world canon when she took over the Sharjah Biennial in 2009.
In contrast to its flashy skyscraper-filled neighbor Dubai, Sharjah is the most conservative of the UAE's emirates. But what the 800,000-person metropolis lacks in glitz and scale, the triennial compensates for with intellectual ambition. Set mostly in repurposed buildings from the 1970s and 80s, such as the open courtyard Al-Qasimiyah School and the decommissioned Al-Jubail Souk (a former fruit and vegetable market), Lahoud's sweeping exhibition shines with a fearless desire for experimentation and unpretentious community. PIN–UP spoke with him opening week of the triennial which launched November 9.
Hoor Al-Qasimi and Adrian Lahoud at the Atacama Press Conference, part of the inaugural Sharjah Architecture Triennial. 2019. Photo courtesy of Sharjah Architecture Triennial.

Marina Tabassum Architects, Inheriting Wetness, 2019. Photo courtesy Antoine Espinasseau.

Installation view of Studio Anne Holtrop, Material Gesture: Gypsum, part of the inaugural Sharjah Architecture Triennial, 2019. Photo courtesy Antoine Espinasseau.

Installation view of Dima Srouji with Dirar Kalash, Silvia Truini, Nadia Abu El-Haj, and Omar Jabareen, Depth Unknown, 2019. Photo by Antoine Espinasseau
Eva Munz: What do you think makes the discipline of architecture equipped to solve the world's problems?
Adrian Lahoud: I don't think architecture capable to solve anything, but then again it is an excellent platform to do pose problems. For lots of reasons architecture has a very specific way of solving problems. I did a PhD on scale. Architects think about scale, both in very abstract and conceptual ways, but also extremely practically. At a certain point you have to decide whether the door should go there or there, where the window should go. And architectural education is extremely broad; you're expected to have very technical knowledge and deep humanistic understanding. You're not necessarily trained to be creative. We live in an era of incredible specialization therefore this education is extremely precious because of the combination of practical, scientific, abstract, theoretical, combined with more humanistic styles of knowledge and research. For instance, I worked for an artist after graduating, then for landscape architects. Artists and architects have been working together very comfortably. I'm not interested in policing distinctions.
How did you approach the location and what interested you about Sharjah?
We spent the first six months launching a massive research project on Sharjah, on the history of education, housing, and landscape. The idea was that we were going to then commission a series of nine projects, which would be a direct response to these. Then funding met some roadblocks, so we had to cut (some of the nine) and the fact that they all didn't materialize is a shame, but I think it's probably true of every single biennial and triennial. So the first six months of the research work is really focused on a very direct response to the conditions in Sharjah. We opened yesterday with this procession of dhow sailers (sailing ships), from the Creek to Al Jubail, a repurposed fruit and vegetable market. Then we had the panel at the Platform, which is an outdoor community space in a residential neighborhood we reanimated. Then we have the Al Qasimiyah School, which is one of 28 school buildings in Sharjah, some of them are still in use, but quite a few of them are abandoned and with no plans  what to do with them. I guess it would it be nice to have a series of architecture and design proposals that reimagine new uses for these buildings. We'll do that in the future. This is the first edition of the Sharjah Architecture Triennial and look at the (success of the) Sharjah Biennial, the art fair will have its 15th edition in 2021. It takes time. I like how most biennials or triennials develop gradually and have a long-term perspective. They don't try to make a megaproject overnight. This is my ethos as well.
Where there any limitations or projects you were unable to realize?
It would have been nice to do a series of architectural propositions and design proposals as a direct response to Sharjah on top of the program. That was the only thing I was unable to do. Having worked in London, Australia, and overseas for a long time, I felt more free with this project here then I would have in any other city in the world. Just being an Arab male in predominantly white British institutions like the Royal College of Art comes with another set of constraints. The politics of Sharjah and its history are fascinating. Sheikh Sultan and Hoor Al-Qasimi are extremely progressive politically, so there was not a moment when I felt there was something I was unable to say. I know everyone is surprised by that. I felt the particular organization of freedom and constraint here super empowering. Maybe I'm speaking from a personal perspective as someone with an Arab background, to suddenly be around people that I share a commonality with was an immense experience, perhaps one of the most exciting ones in my life.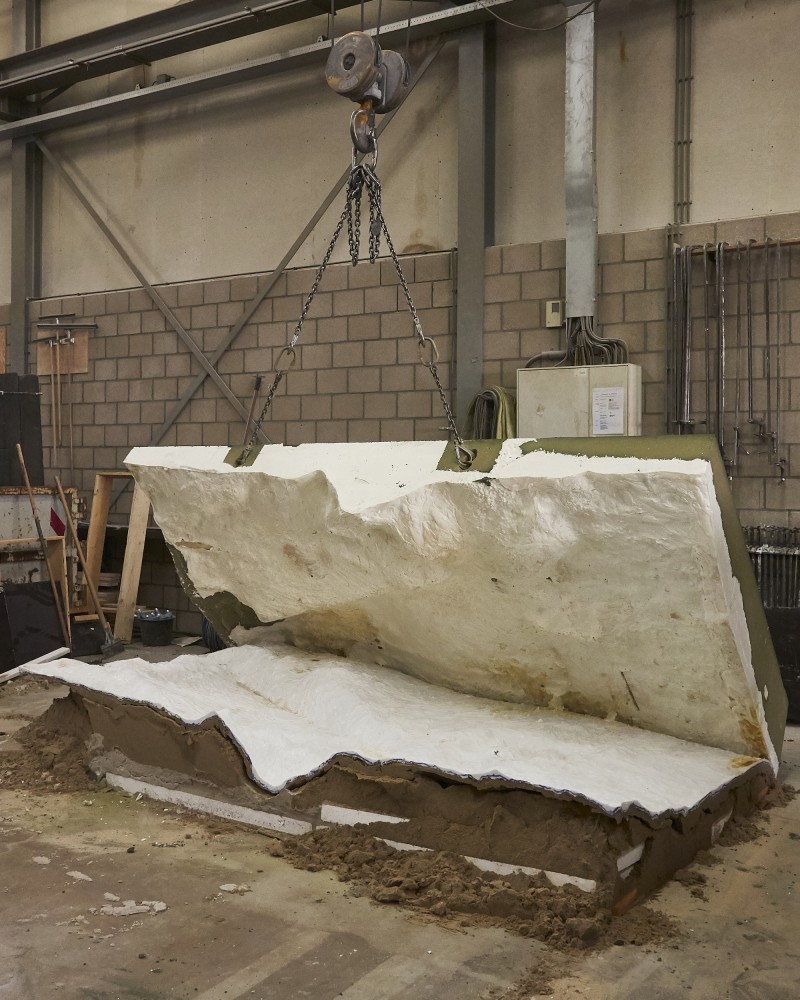 I just watched Lawrence Abu Hamdan's performance Once Removed (2019) about the work of Bassel Abi Chahine, who believes he is a reincarnated fighter in the Lebanese Civil War. His ability to draw audiences into these worlds is uncanny.
Isn't it fantastic? Lawrence graduated from the Goldsmith Center for Research Architecture. I just caught him between projects. We started talking about reincarnation, birthmarks, and the semiotics of reincarnation, which I thought was really exciting. When we discussed this piece over the last year, I wanted to explore the relationship between the rights of future generations and this idea of reincarnation. I wanted to think in alternative terms about intergenerationality. Lawrence kind of moves diagonally between generations. From one family line into another, into another culture, or into another political position. There are quite a few projects that deal with reincarnation in different ways here at the triennial. For instance the project on the Balinese irrigation system where religious offerings maintain the ecosystem is very interesting, because they allow you to break the blood of the generational relationship.
There were a lot of newcomers and participants who do not usually work in this context. Some of the projects seem to suggest shrinking social structures as one solution to many problems. There is a polyphony of voices which express the idea of rights of future generations differently in different projects. It was really important for me as a curator not to make my own proposal of what Sharjah is, but allow other perspectives. I'm really into the singular sensibilities of each project. Each is in its own world and that's true for any curatorial project. I remember I was impressed by the notions of modesty. I wouldn't use the term de-growth or anything like this, but there is an attempt to re-enchant people with everyday things. I really wanted to stay away from orchestrating an architecture triennial where you see a bunch of claims for like what architecture should be like in the "future."
You're thinking in terms of futures, plural?
Yes, but also the future in the context of a rural village in Chile or Australia. That might be extremely modest in terms of its formal manifestation. And if that's the appropriate future in that space, then the question is do they have the power to make their future come into existence? The future in Dubai might be floating cars and dizzying skyscrapers but I mean, that model of the future is kind of dead. It's not that I'm anti-technology or anything, I just noticed this excess of architectural culture and the obsession with the spectacle surrounding architecture is dead. I wanted a certain modesty for this exhibition. There was no VIP event and there won't be one. How can you propagate progressive politics and then shuttle people to a VIP event? There were no special press preview days, we opened for everyone at the same time. We try to put on as much free food on the table for visitors whenever we can. It is supposed to be low-key and focused on content, discussions, and people meeting each other. That ethos is extremely important for me. In terms of the exhibition itself, everyday-ness is politically extremely powerful.
The opening procession of dhow sailers initiated by anthropologist Nidhi Mahajan from the Sharjah Creek deals with some of these intimate regional specifics. The dhow project shows these wooden sailing vessels that have crossed the Indian Ocean for centuries. Now Narendra Modi, the Prime Minister of India, has restricted the import of livestock into the UAE. With that, there are 40,000 dhow sailors out of work. The dhow project uses the triennial to explain the value of the dhow trade for the livelihood of the sailors to the Indian government. Mahajan adopted their traditional rituals and turned them into a performance. The procession is really just a vehicle for that political message. The same goes for the press conference by the Chileans, who looked at the power of the mystical geoglyphs of the indigenous Huatacondo community as they resist aggressive copper and lithium extractions on their lands in the Atacama Desert.
Ngurrara Canvas II Awakening Ceremony at the inaugural Sharjah Architecture Triennial, 2019. Photo courtesy of Sharjah Architecture Triennial.

Geoglyphs of Talabre, 2015. Courtesy Atacama Desert Heritage Foundation.

Construction of Nidhi Mahajana's commission. Courtesy Nidh Mahajan.

Dhow procession as part of Silences and Spectres of the Indian
Ocean, Nidhi Mahajan's commission for the Sharjah Architecture Triennial, 2019. Photo courtesy Talie Eigeland.
I'm also very curious about the ceremony by the indigenous Australian Ngurrara people.
The Ngurrara Canvas II Awakening Ceremony is an excellent example for the dual power of these practices. On one hand it looks like a very good example of indigenous abstract painting. On the other hand, it's the only instance of paintings being used as proof of native title, as a sort of map, in a land rights claim. They stood on the canvas and testified to their country while they were on that painting. Even though it looks traditional from their perspective, it's a radical art object. And this is what's so interesting — when I started I was extremely allergic to something that appeared traditional.
Because that would reinforce the nostalgic and condescending views on the Global South?
It would. But I also realized that what I classify as traditional and non-traditional is sometimes mistaken. When I first looked at the Ngurrara Canvas it seemed, to me, traditional when in fact it's avant-garde. I think that's been a learning process for me. Or when I listened to the gamelan musician Dewa Alit, I realized they are hardcore avant-garde. Let's say I believe I'm kind of politically progressive, I understand subaltern politics, etc. I think that in fact my fear of tradition seriously questions my politics. It means that in fact my definition of what's conservative, experimental, or radical is irrelevant. These definitions are theirs to make. They want to reinvent something and if that looks traditional to my untrained eyes, that's my problem.
There is a lot of performance and music in the program. Music has a superpower where language often fails us.
For sure! When the South African singers Al Ahly Thikr Jamaah walked onto the Platform yesterday, everyone, whether you're educated or non-educated, everyone felt ritual. It was a ritual moment and you could feel the community. The singers prepared the audience. We were led into the space to have a discussion with their slow walking and tranquil music. Recital, repetition, music for me is a way of bringing these things to life and making them meaningful in a way that nothing else can. Otherwise we'd just have yet another academic discussion about things and ideas.
There was a brilliant moment after the panel on the Platform, when one of the residents asked about India's Prime Minister Modi's decision to build a Hindu temple in Ayodha where a mosque once stood. It took the panelists completely by surprise.
That was really a precious moment that showed how the space worked. We have other interventions like this planned. There are two projects taking place over the course of the next three months with that goal. Godofredo Pereira is running an initiative together with community organizations called Last Evenings on Earth (named after Roberto Bolaño's Últimos atardeceres en la tierra) with a series of film screenings that will take place in the industrial neighborhoods in Sharjah. We didn't invite any of the participants, media, or international visitors because we wanted it to be for the people here. Pereira has been asking the locals to pick a film they remember from their childhood so they could curate a program around that. The films that embodied their idea of the future. They certainly don't need us to help them imagine it.