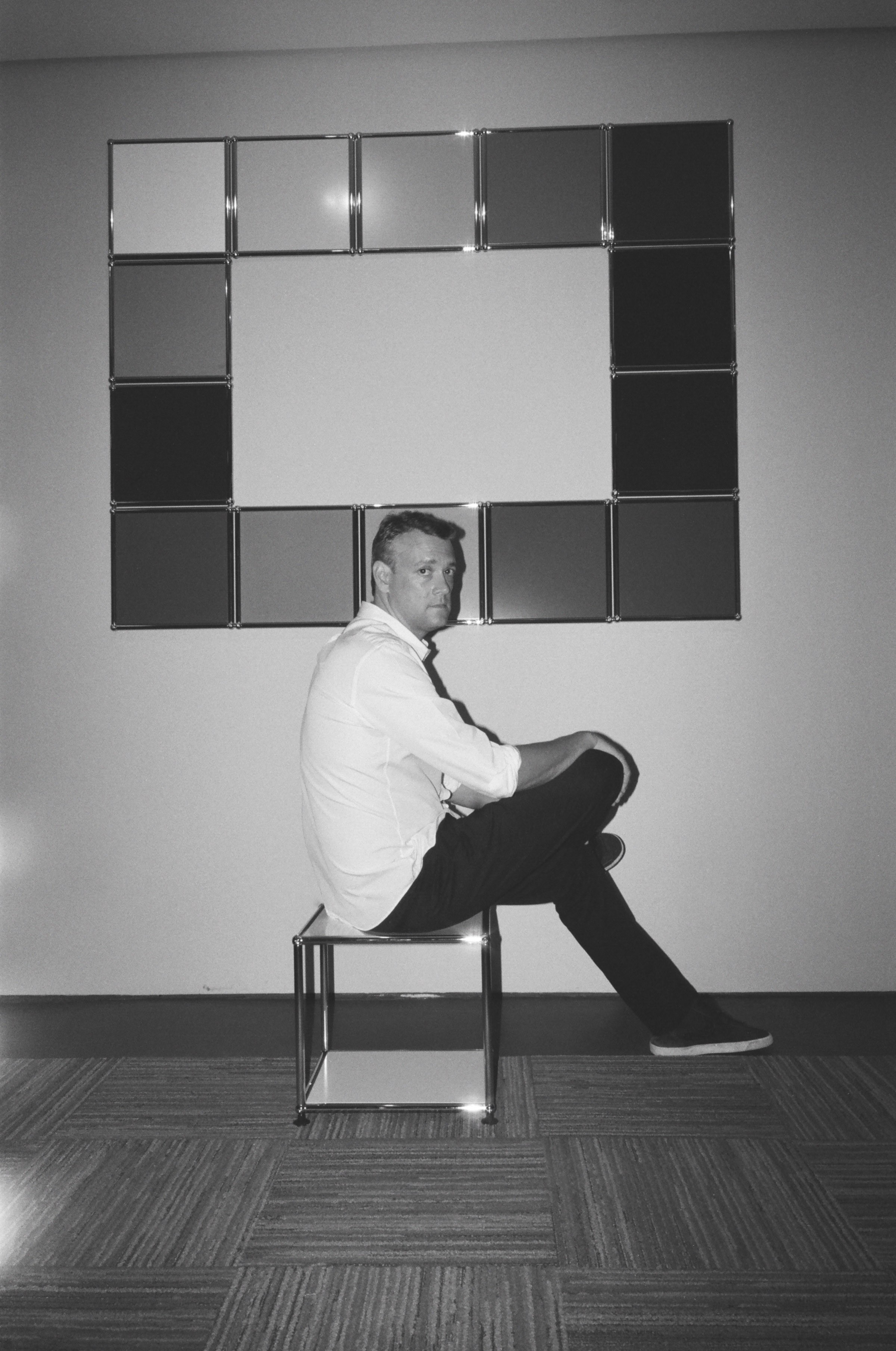 NEW POWER GENERATION: BRYAN YOUNG OF YOUNG PROJECTS
Asked to describe the 2015 Gerken Residence — a 6,000-square-foot apartment in Tribeca with elegant outdoor terraces, bridge-like black corridors, and a core block clad in rippling plaster panels — architect Bryan Young of Young Projects says he can do it two ways: "the architecture community" way, or the "broader audience" way. For the layman, he says, the white central square that gives the apartment its sense of drama can be summed up as "reconsidering the technique of crown molding to define more fluid geometries and a contemporary aesthetic." For an architecture audience things get more complicated — "It's about chatter, disruption." Both the visual effect and the process of creating the home's defining feature were an exercise in taking something familiar and making it new. The pulled plaster was not just a digital form, having been shaped mostly by human hands following a computer-drafted design. It's a technique typical of Young Projects, which describes itself as "interested in building, making, and explicitly trying to create a sense of ambiguity."
Before founding the studio in 2010, Harvard-trained Young honed his skills in the New York architecture world, working for the celebrated Architecture Research Office (ARO) as well as the New York branch of Brad Cloepfil's Oregon-based Allied Works Architecture. "It was a conscious decision to work for two firms that I think prioritize building," says Young, who collaborated closely with Cloepfil on his elaborate fixtures and interiors for New York's Museum of Art and Design, including the building's airy cable-bound staircase.
In his own practice, Young has stayed close to the principles of materiality and fabrication, seizing on new formal solutions as ideas emerge from his process of technical research. For the Wythe Townhouse in Brooklyn (2016), Young used a corrugated-polycarbonate veneer, whose tone and rhythm give the building a feeling of tasteful otherness, commanding attention while still managing to participate gracefully in the surrounding urban scenography. For the Hive Lantern (2010) — a collaboration with designer Michael Young, his brother — parametric patterning is combined with a metallic finish to create an almost unnervingly perfect synthesis of the natural and the synthetic. And for an Upper East Side pied-à-terre renovation, Young transformed a banal postwar apartment through the addition of a continuous ribbon of wood, turning a hallway into a contoured funnel and a wall into a built-in closet.
One of Young's ongoing projects is Playa Grande, a resort in the Dominican Republic, for which he plans to replicate his previous successes with pulled plaster in the poured concrete walls of the compound's spa. Before the project's anticipated opening in about a year and a half, Young has tasked his team with "experimenting in some very expressive colorful aggregates, sandblasting them to reveal the color." Although all the firm's projects have an immediate visual appeal, their competitive craftsmanship is aimed at shooting a little bit over the audience's heads. "We don't want people to quite know what they're seeing," confesses Young.
By Ian Volner. Photography by Rachel Chandler. Photographed at USM New York shoowroom.
The New Power Generation Portfolio Special is a collaboration between PIN–UP and Architizer, the leading online resource for architecture, which is empowering the profession through its vast building database, daily content, Source marketplace and the global awards program for today's best architects, the A+Awards.
Taken from PIN–UP No. 21, Fall Winter 2016/17.