VASE ACE: INTERVIEW WITH ARCHITECT- DESIGNER BERNARD DUBOIS
In his work the Belgian architect Bernard Dubois is known to play with scale and perception, taking materials thought of as purely "architectural" and using them to create furniture and other smaller-scale installations, effortlessly blurring the lines between art, design, and architecture. For PIN–UP's installation at OFFSITE, the foremost platform for independent design in New York, Dubois designed a quartet of geometric vases. Hand-made from palisander wood, the four objects were produced in collaboration with Casa International. PIN–UP caught up with Dubois on the 15th floor of the Grace Building in Midtown Manhattan where he was putting the finishing touches on the OFFSITE installation, a collaboration with the floral artist Brittany Asch of BRRCH FLORAL.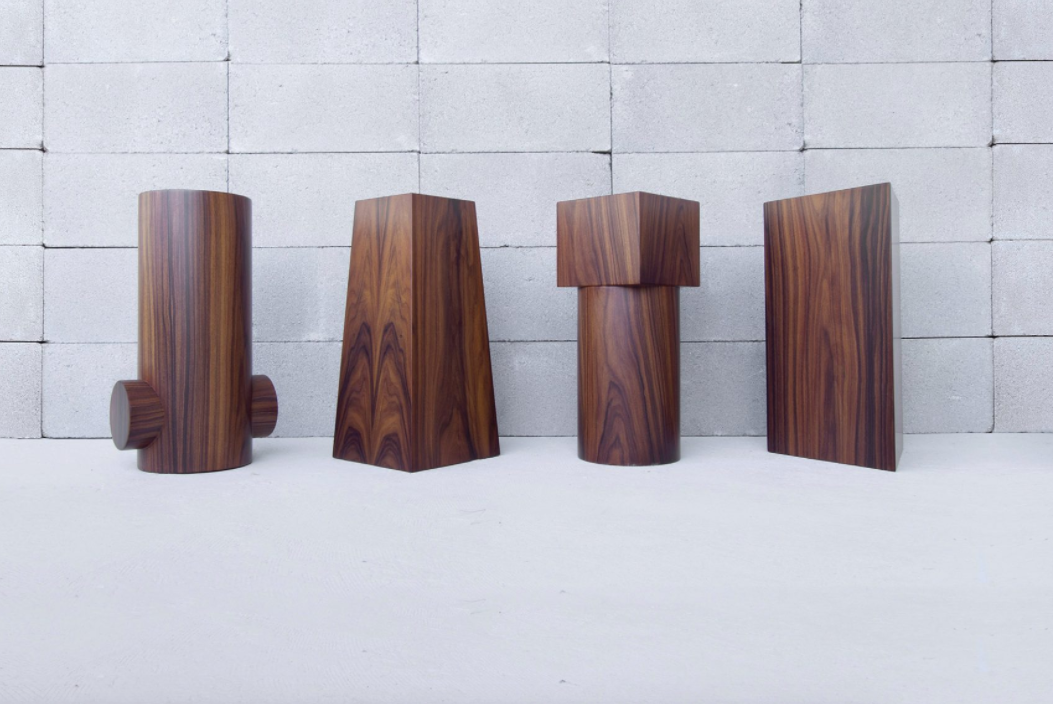 What was your inspiration for the four vases?
It's the first time I design vases, and I am very happy to do it because I really like the idea of an architect being involved with all scales — from architecture to interiors, furniture, and other objects of a smaller scale. In general, every time I get a commission to design something I always try to kind of naively invent something that I haven't seen before or to import different shapes or geometries from different references. In this case, I didn't think of the history of the vase, I just thought about it formally and functionally. I like to push things even to the limit of their functionality, this time, for instance, working with wood meant a challenge. The shapes of the vases are inspired by several things. The cylinder with a transversal cylinder cutting through it on the bottom is inspired by industrial sewers that are made of huge concrete cubes with cylindrical forms meeting with others of different sizes. These always present a very interesting shape combination. Another example, the other cylindrical vase with a cubic shape on top looks a bit like a château d'eau (water tower), which, if you scale it, it can become a vase keeping the same function.
You're mostly known for using concrete or stone, such as marble, for your installations. What was interesting about working with wood? 
I like working with raw materials in general — I'm not particular about concrete or stone — I find there is beauty in the rawness of the material. And just as I like importing forms from another field or from another reference, I also like to repurpose materials in a different way. For example, stone is usually meant for architecture rather than furniture, and it is used mostly as a finishing material. However, I have made furniture out of stone and made it completely structural. In this case, the wood for the vases is sculpted, something that is unusual in architecture where wood typically comes in panels. These shapes could have easily been molded in concrete, yet I chose to put the material to a test and in a way stay away from the conventional.
Why did you choose Palisander wood? 
Palisander evokes an old-school, luxurious and slightly masculine environment. I thought it would make for an interesting contrast with this kind of forms.
For the pedestals you're using concrete bricks, similar to what you've done at the Valextra store in Milan and Korea, and the PIN–UP installation at Flash Art gallery in Milan a few years ago. What fascinates you about this generic material? 
Bricks, in general, have an enormous historic background with references that may originate from all different contexts. Concrete blocks have been used by both modern and traditional architects; and likewise in art, with the work of Carl Andre or Sol LeWitt, for example. For the Valextra project, the shape might be very ambiguous and it reflects this minimal influence, but the way the piece has been assembled is closer to the postmodern projects of James Wines. Its ambiguous references leave it open to interpretation.That's what I like about concrete bricks: they are compliant and their meaning can change depending on the design.
Is there a direct reference to the different seasons in the vases? 
Not directly. I think the theme of the seasons was used more for the bouquets. But even though the vases where not season-specific, you could certainly classify each one, if you wanted to.
Do you have a favorite season? 
I like spring because it's very melancholic.