MATTER IS LIGHT: Getting Lost with Per Kirkeby at Château La Coste
The late Per Kirkeby, who died in May of this year at the age of 79, was best-known as a painter — one who was generally shoved into the Neo-Expressionist category for want of a better place to put him. But in addition to his earthily colorful canvases, the Danish artist also produced pieces in bronze, as well as a remarkable series of sculptures in brick, a material he began using as early as 1965. It wasn't until 1973, though, that he constructed his first brick sculpture with mortar, but by the end of his life he had produced over 60 of these "buildings without purpose," as he called them — the very last of which to be completed, Brick Labyrinth, was posthumously unveiled this fall at the Château La Coste in France.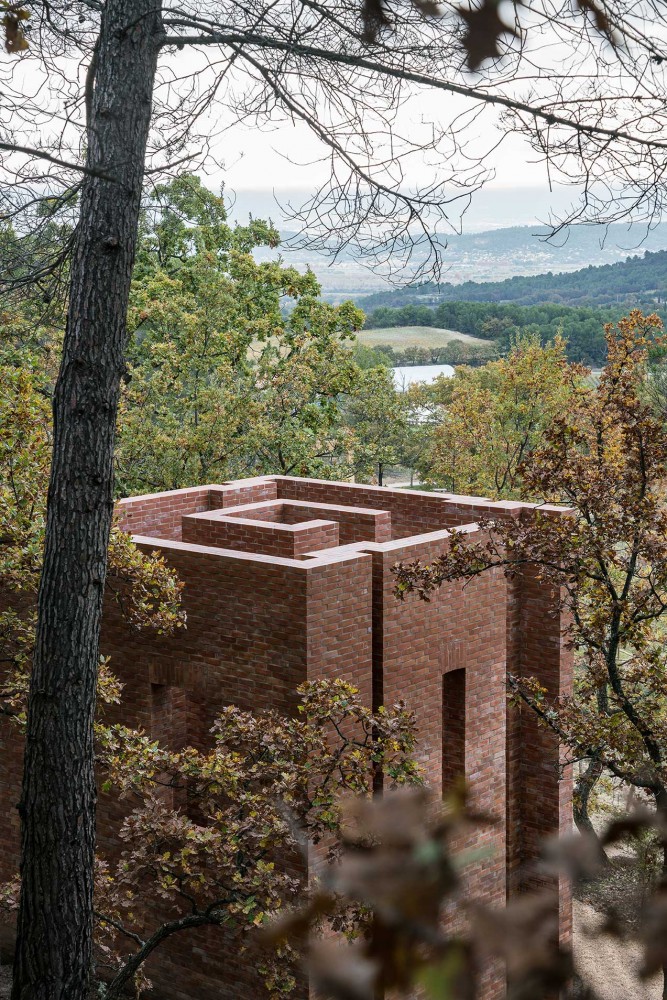 For those readers unfamiliar with the Château La Coste concept, we should perhaps elaborate. Located about a half hour outside Aix-en-Provence, it's essentially a vineyard: 600 acres of land, producing various organic whites, reds, and rosés, as well as oil from its olive groves. But its owner, Irish developer and hotelier Paddy McKillen, who acquired the estate in 2001, has also turned it into an unparalleled art and architecture park, with a winery by Jean Nouvel, a visitors' center, chapel, and pavilion by Tadao Ando, a gallery space by Renzo Piano, a music pavilion by Frank Gehry, an auditorium by Oscar Niemeyer (this is not an exhaustive list), and countless outdoor artworks by the likes of Ai Weiwei, Louise Bourgeois, Andy Goldsworthy, Tracey Emin, Richard Serra, etc., etc. — the majority of them specially commissioned for the site. Château La Coste is also a gastronomic center (one of its restaurants is run by Argentine celebrity chef Francis Mallmann), and the estate includes a luxury hotel whose rooms enjoy stunning views across the natural beauty of the neighboring Luberon Valley.
Photography by Stéphane Aboudaram l We are content(s).

Photography by Stéphane Aboudaram l We are content(s).
            Kirkeby was invited to contribute a piece to McKillen's collection back in 2006, after a visit to Château La Coste. (As is so often the case, life intervened to delay matters somewhat.) He chose the site for his sculpture himself, inspired by a nearby ruin, which, he wrote, "kicked me. I am always looking for something I can relate to. Both in terms of space but also 'meaning.' Here you find something deprived of its purpose, and build something beginning with no purpose, except being light and shadow." Square in plan, Brick Labyrinth is made from local Provençal bricks laid in a 1/3 running bond, and takes the form of a mysterious, roofless squat tower that is half hidden in an oak grove. While it's impossible to get physically lost in its cramped confines, you can lose yourself in its detailing, which includes window openings with voussoirs and what look like (but aren't) downpipe grooves in its flanks. On rainy days the bricks become shiny with water and catch the light in different ways, while in the torrid sun of a southern summer a play of strong shadows will contrast with the dazzling light pouring through the various openings. As time goes by, moss and lichens will soften the redness of the tower's bricks, until eventually it will seem as though it has always been there, a timeless structure, impossible to date.
Photography by Vincent Agnes.

Photography by Vincent Agnes.

Photography by Vincent Agnes.
            Clearly, to some extent, Kirkeby's brick pieces are a reaction to minimalist contemporaries such as Carl Andre and Donald Judd. But critics have also linked them with Kirkeby's upbringing in the Bispebjerg district of Copenhagen, where not only did he live in a red-brick row house, but also in the shadow of the extraordinary Grundtvig's Church (P.V. Jensen-Klint, 1913–40), whose six-million handmade yellow bricks are arranged in a soaring Expressionist composition of Danish nationalist Romanticism. While there's nothing overtly religious about Brick Labyrinth, it has often been argued that the art museum has replaced the church as the principal place of "worship" in modern secular culture, and Kirkeby's little tower could therefore be read as a latter-day chapel for contemplative communing with the local Provençal wood nymphs. It's an image that sits well with his enigmatically organic paintings, a selection of which are currently on display at Château La Coste in tribute to this somewhat inscrutable artist — asked about his work, he once replied, "I'm a painter and have painted a painting. And really, I don't want to say anything more about it."