VIDEO: A New Perspective On Luigi Caccia Dominioni
In the history of post-war Italian architecture, many success stories were directly tied to the economic and cultural blossoming of Milan. But while some names are perhaps better known internationally, no architect represented the essence of Milanese culture more than Luigi Caccia Dominioni. When he died in 2016, at the age of 103, he had built over 100 projects in his native city, from apartment buildings to factories, stores to public fountains, and theaters to monasteries. If he remained so long under the international radar, it's perhaps because his quintessentially Milanese approach often produced what were very subtle interventions in the city's urban fabric.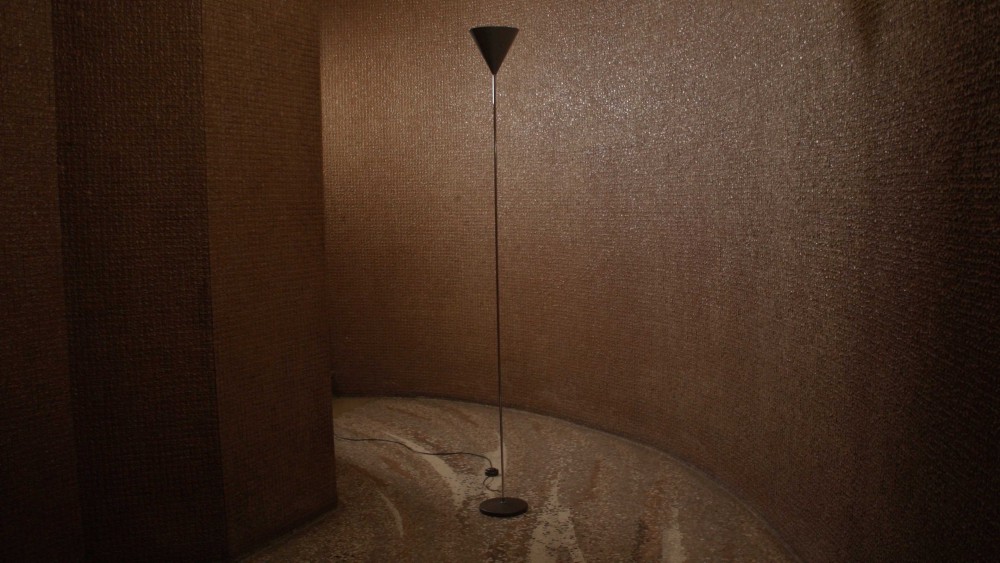 Despite his discretion, Caccia Dominioni left an indelible mark not only on Milan, but also on future generations of practitioners, becoming the ultimate "architect's architect" who counts the likes of David Chipperfield and Cino Zucchi among his biggest fans. "The truth is, I'm a Baroque architect. Modern architecture began with the Baroque," Caccia Dominioni declared in one of the rare interviews he accorded (published in PIN–UP in 2014). For him, the Baroque was a fundamentally modern movement, inspiring not only in its sinuous details but also in its transformation of classical ideals to produce a radical sensuality and dramatic energy.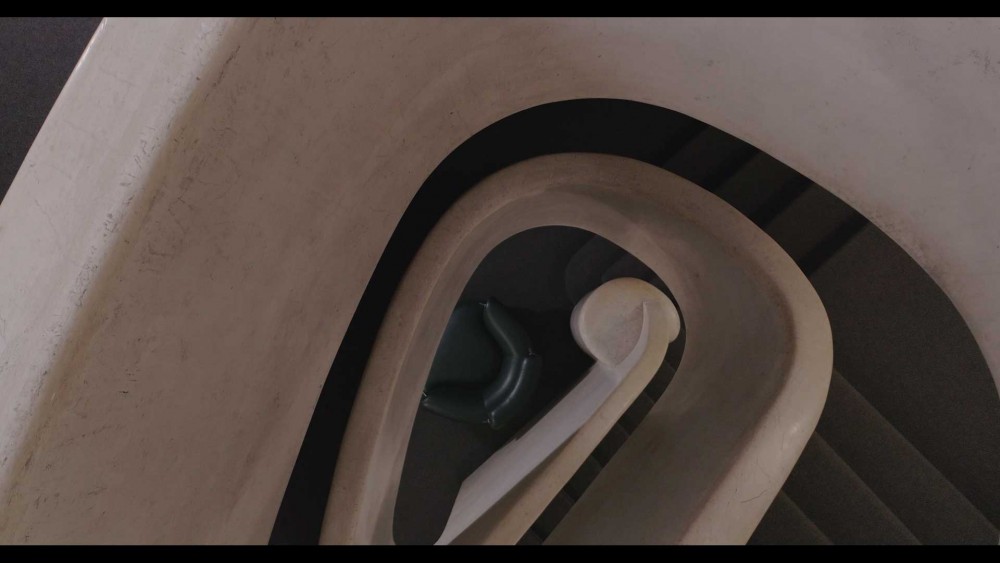 It was with this same energy, and with the same historic acuity paired with an unabashed taste for modern form which he brought to his architecture, that Caccia Dominioni created his furniture designs for Azucena. The company, which Caccia Dominioni co-founded in 1947 with Ignazio Gardella, immediately became the connoisseur's go-to address for intelligently conceived pieces that combined a sense of simplicity and good taste with formal and technical ingenuity. Designs like the Imbuto and Monachella lamps (both 1953) share a sense of refinement and attention to craftsmanship which can also be found in the slender folding legs of the Cavalletto table (1948) and in the Nonaro chairs (1962). His most famous piece is undoubtedly the Catilina armchair (1958), whose minimalist metal frame combines Modernist economy of means with a neo-medieval sense of form.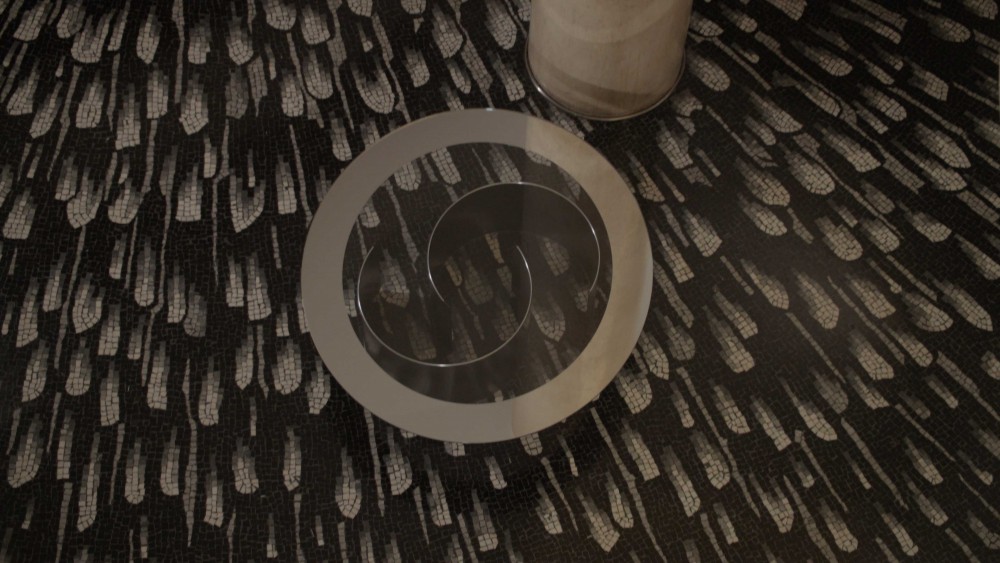 When Caccia Dominioni died, the future of Azucena was uncertain. But with its recent acquisition by the distinguished Italian design brand B&B Italia, Caccia Dominioni's furniture-design legacy is secure. To celebrate, PIN–UP visited some of his most impressive Milanese buildings where we photographed his most iconic design pieces — among them the 1960 ABCD armchair, the 1973 Chinotto chair, the 1963 Cilindro stool, and the 1973 Toro lounge chair. From the winding hallways and graphic mosaic floors of the Teatro Filodrammatici (1967) to the mysterious corridors and swirling mosaics of the Corso Italia apartment complex (1957–64, both conceived together with the artist Francesco Somaini), not to mention his own home and studio at Piazza Sant'Ambrogio 16 (1949–53), these spaces are emblematic of Caccia Dominioni's unusual talent for effortlessly marrying thoughtful Classicism with delightful innovation. By photographing them with the help of the latest drone technology, PIN–UP provides something that the late architect always very much appreciated — a new perspective.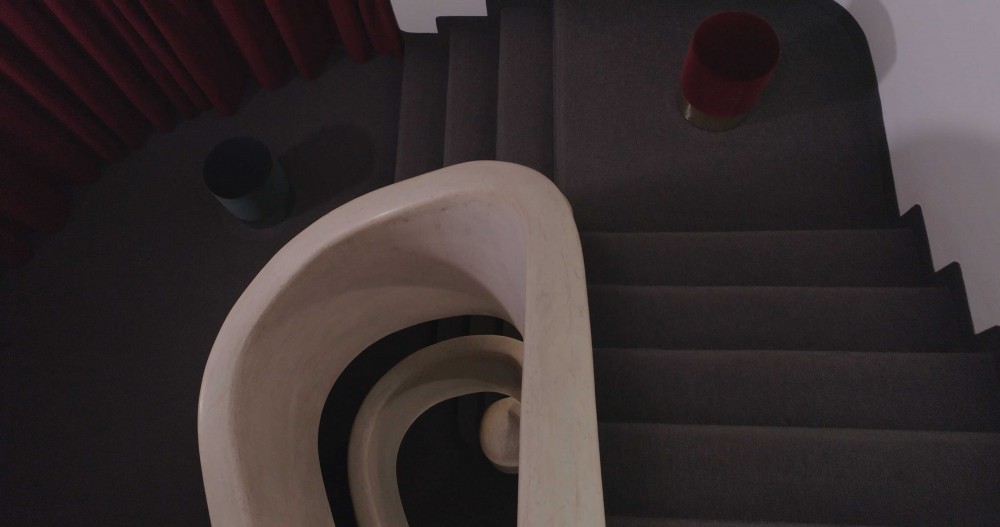 Luigi Caccia Dominioni: A New Perspective, (2018); 1:38 min., video projection.
Creative Direction by Felix Burrichter Direction of Photography by Davide Trotta Editing by Anthony Valdez Sound Design by Donnatella Set Design by Cameranesi Pompili Set Assistance by Caterina Pomante Art Direction by Erin Knutson Commissioned by B&B Italia
Filmed on location at Teatro Filodrammatici, Via Filodrammatici, 1, Milano Corso Italia Apartment Complex, Corso Italia 22, Milano Caccia Dominioni Studio, Piazza Sant'Ambrogio 16, Milano Special thank you to Dan Sherer, Valentina Angeloni, and the Caccia Dominioni Family
A PIN–UP Production © 2018